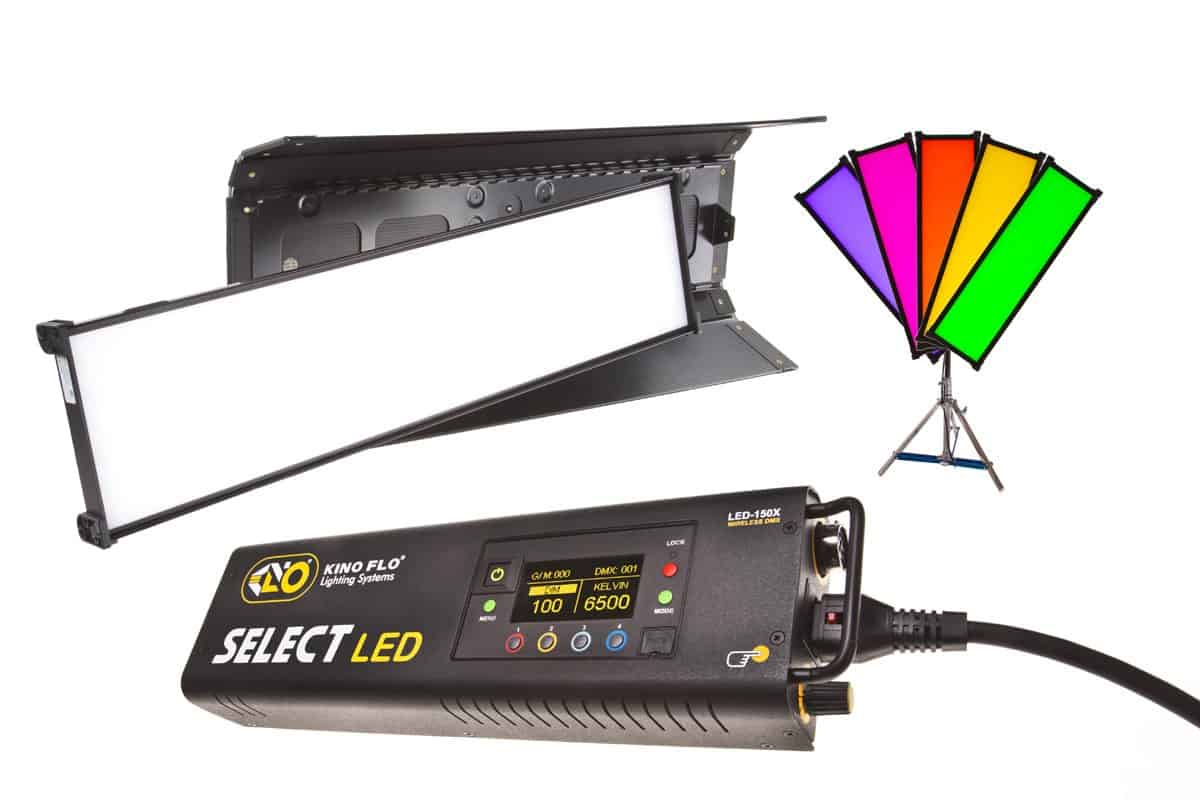 Kino Flo Lighting Systems will premier its new Select Freestyle line of location lighting systems for motion picture and television production during this month's NAB 2017 Trade Show in Las Vegas.
The new Freestyle systems come with durable, lightweight LED panels that can easily be removed for use as set practicals or for unconventional mounting when lighting in tight quarters.
Weighing in at 8lb/3.5kg, the removable Freestyle LED's are a force multiplier when it comes to production lighting. The LED panels include rigging points for suspending from a grid or screwing into a set wall, and a twist-on mounting plate assembly for 360 degree orientation or for building into light arrays. Like all Select LED Kino's, the Freestyle panels deliver bright, controllable >97 CRI white light, full hue and saturation control color, cinema gel presets, and RGB chromatic selection via the AC/DC Select controller.
Lighting professionals also can program Freestyle fixtures to operate between 2500K to 9900K, or choose a full range of color, lumen level, and green/magenta correction remotely by standard DMX or wireless DMX. The same hand-held Select controllers can run fixtures remotely on 50 feet of head cable without hooking into a control board.
Color and luminosity remain stable over the rated life of the LED's using Kino Flo's advanced True Match® daylight and tungsten color management system, which has been the engineering science behind the success of the company's LED's introduced five years ago in the Celeb fixture line.
The passive-cooled fixtures do not overheat the LEDs – so no heat sink fins or whirling fans. The Freestyle's 150W Select Controller technology achieves bright, soft light with continuous dimming from 100% to 0% on a linear or square curve without flicker at higher camera speeds or at varied shutter angles. There is no light level change when shifting from 2500K to 9900K, and the color doesn't change when the light levels rise or fall.
The Freestyle comes complete with the full color, programmable Select controller, Head Cable (25ft), Complete Fixture with removable LED panel, and a twist-on Center Mount with the new KinoGrip for hand-held lighting. Like the original Select LED systems, the Freestyle is available in Select 31 (3ft) and Select 21 (2ft) sizes.
The new Freestyle fixtures join the growing family of Kino Flo lighting products, including new this year at NAB in Las Vegas: The Celeb 250, 450, 450Q and 850 LED full color studio fixtures, with an expanded chromatic palette and improved light output.