Contrasting Views
Jessica Lee Gagné, Pepe Avila del Pino & Chris Teague / Mrs America
Contrasting Views
Jessica Lee Gagné, Pepe Avila del Pino & Chris Teague / Mrs America
Mrs. America, screening on the BBC, plays like a series of short films during each of its nine episodes, following a different lead character and focussing on a different peg from the same wheel of the American feminist movement in the 1960s and '70s. As soon as Jessica Lee Gagné read the first two episodes, directed by famed duo Anna Boden and Ryan Fleck, she was completely on board even though she'd been wanting to take a TV break after her last show - Escape At Dannemora.
"I am super-intense and involved in what I do," says Gagné who not only loved the writing for Mrs America, but also revelled in the chance to film stars such as Cate Blanchett, Rose Byrne, Uzo Aduba, Elizabeth Banks, Margo Martindale, Sarah Paulson, Melanie Lynskey and more. "I'm very present. I told Ryan and Anna that and they were really into it."
Due to the schedule of the shoot for all nine episodes, Gagné signed-on as the lead cinematographer, creating the overall look of the show, choosing the cameras and lenses, and filming episodes one and two, seven and nine with Boden and Fleck. Episodes three and four were shot by Pepe Avila del Pino with Amma Asante directing, whilst five, six and eight were shot by Chris Teague with Laure de Clermont-Tonnerre and Janicza Bravo (episode eight) as directors.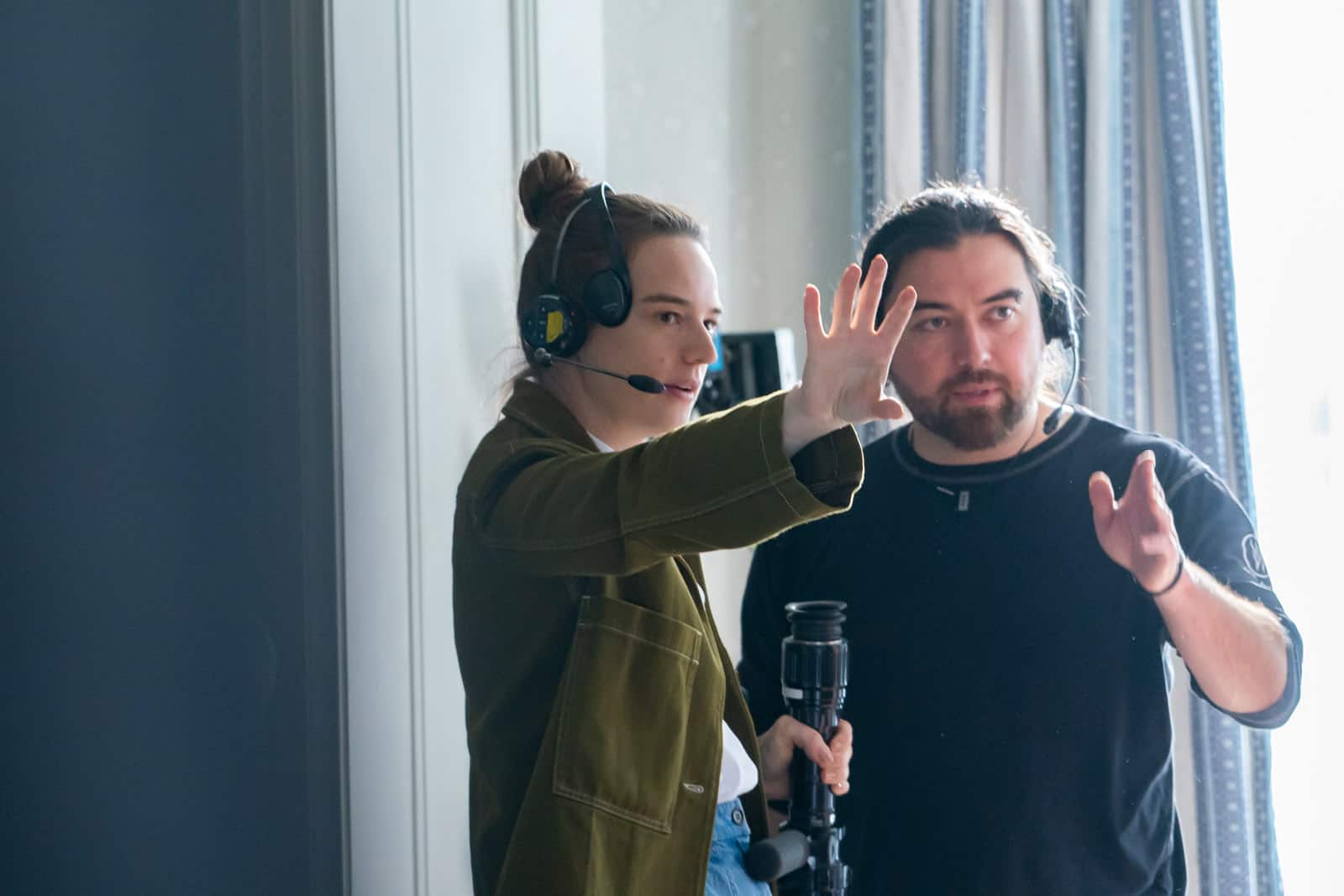 "Before Mrs. America," says del Pino, "I'd shot pilots of Ozark and The Deuce, where I had to make the decisions that would set the technical parameters. In this case, I found it really interesting to be given the tools (camera and lenses) with which I would be painting the picture. This freed up the creative process, where I no longer had to think about what set of brushes would be better (like the lens/sensor combination), but instead was able to fully-concentrate on how to use these given tools for the stories we needed to tell."
Teague hadn't worked with another DP on a show before, and his conversations with Gagné focussed on how she accomplished the look and how it should progress through later episodes. They walked the sets and she talked him through set-ups and her philosophy behind the lighting.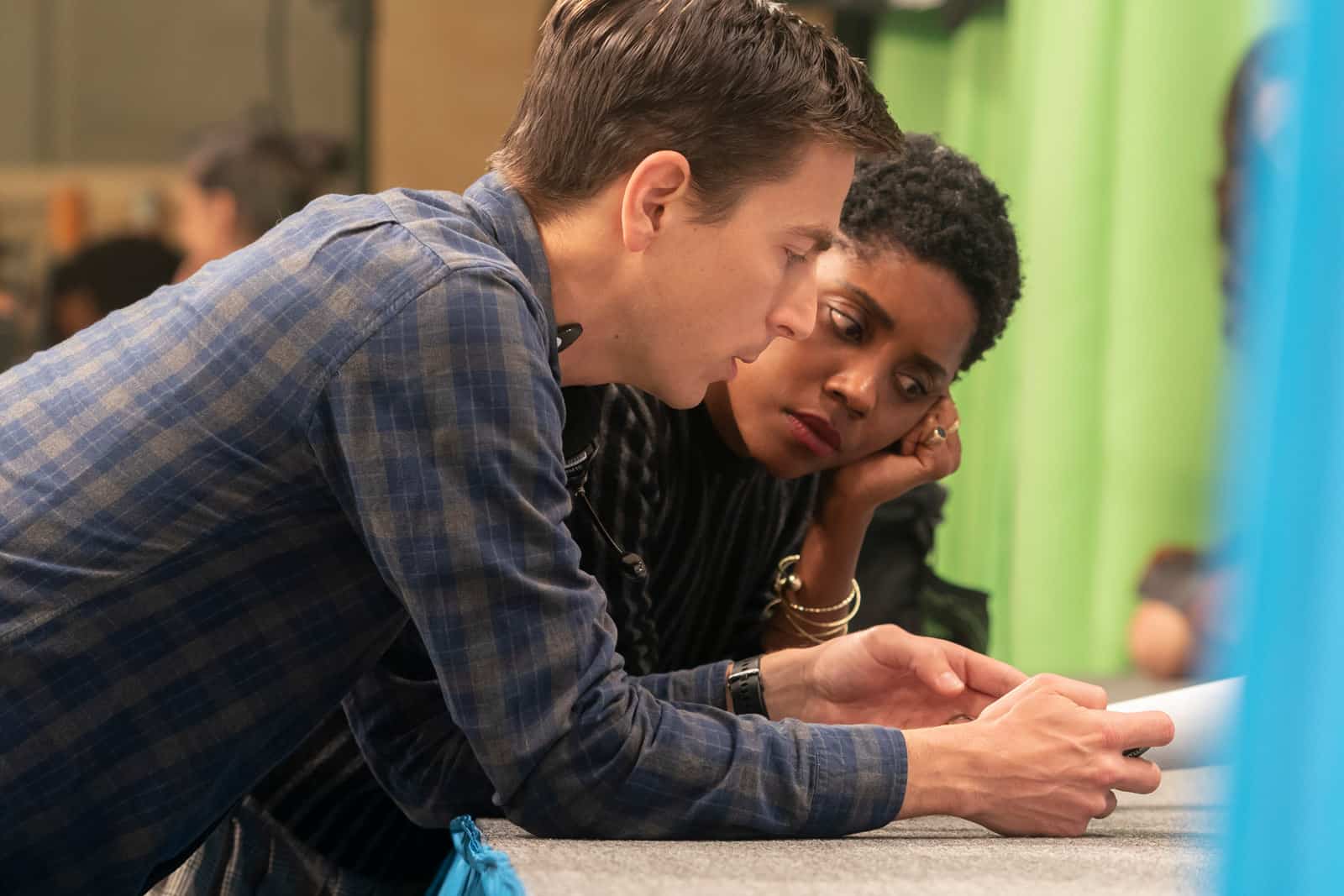 "Typically," says Teague, who's known for his work on Broad City, Russian Doll and GLOW, "I'm having these kinds of lighting, composition and colour discussions with a director, so it was fun to talk with another DP where the depth of technical discussion and the level of specificity was greater. And, even though she had a ton of information to impart, Jessica still encouraged me and my directors to find ways to make it our own."
The three shared an office where piles of photography books worked as references for the women whose stories they were telling and the timeframe in which they happened. And because there are two distinct groups among these stories - the feminists and the anti-feminists - Gagné had to create two distinct aesthetic palettes. There was some question as to whether shooting one series with two aesthetics would work, but Gagné took on the challenge knowing that she could prove that if they were done well, two sets of lenses and two lighting and movement philosophies can be seamless.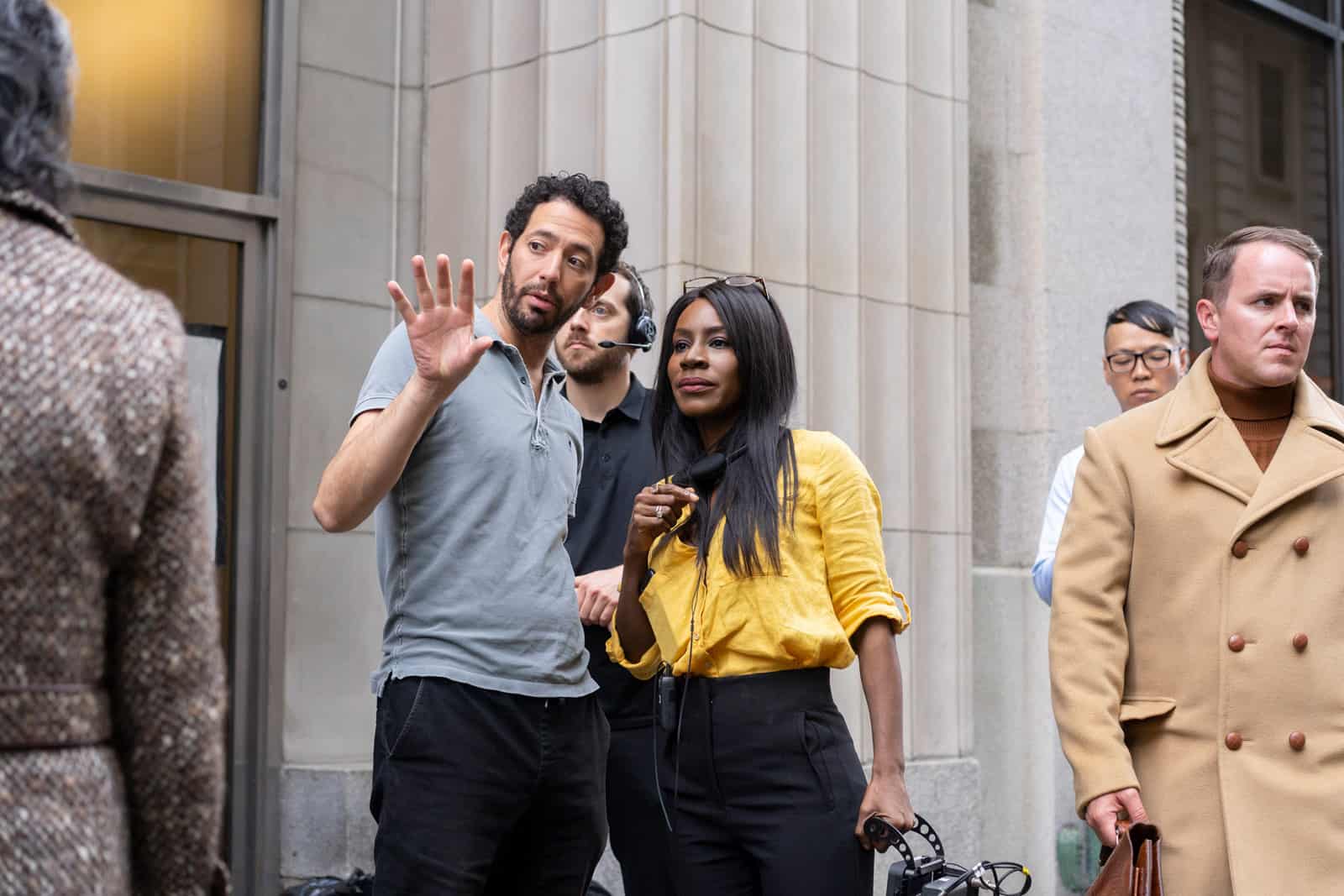 "Before Mrs. America, I'd shot pilots of Ozark and The Deuce, where I had to make the decisions that would set the technical parameters. In this case, I found it really interesting to be given the tools (camera and lenses) with which I would be painting the picture.
- Pepe Avila del Pino
The show's constant was the Sony Venice, a camera that Gagné adores and believes is only beginning to get the recognition it deserves. She credits colourist Tom Poole at Company 3 with really understanding the colour science of the camera and creating the perfect LUT that was applied throughout the series.
There were two sets of lenses that helped to bring the disparate aesthetics to life. For Phyllis and the anti-feminists: a full set of Panavision T-series Anamorphics, a 70-200mm ATZ and an 11:1 Anamorphic zoom. For the feminists: T4.5/5 Panazooms, "incredibly useful and textured glass which allowed us to shoot many scenes with three cameras", an MAP55 Panatar and a 50mm Pathé.
"We did a lot of zooming with the feminists," says Gagné, "very Maysles Brothers or D.A. Pennebaker. There were so many scenes with as many as six people talking, which is so realistic to how life actually happens. So I wanted to stick some cameras in there and just film them with a mix of colours. In the shadow there'd be blue with a warm sun coming in, and then, at night, we'd have metal halide green and some warmer Tungsten light."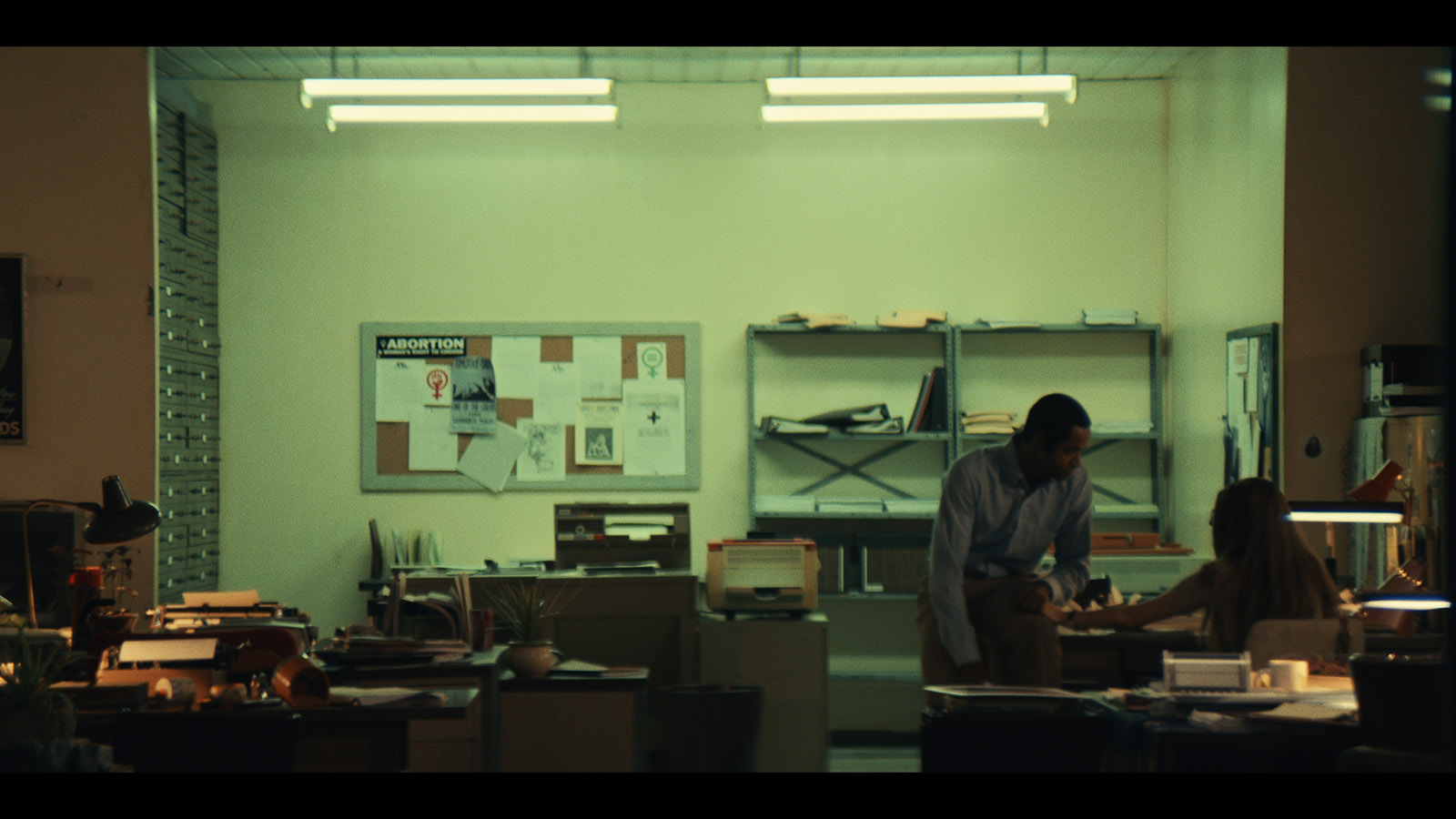 For Phyllis and her anti-feminists everything was much more rigid. Gagné conjured with references such as Revolutionary Road (2008, dir. Sam Mendes, DP Roger Deakins CBE BSC ASC) and Carol (2015, dir. Todd Haynes, DP Ed Lachman ASC) - using longer lensing and less camera movement; if any, it would be Steadicam or on a dolly in studio mode. With Phyllis, everything was to have contained framing and controlled lighting, which was always an HMI-balanced white and cooler balanced LED bulbs for the practicals.
"Every shade in her house was deliberately chosen from a neutral palate," says Gagné who walked-through with production design to approve each practical to ensure that none were too warm. "Everything was homogenous and slick, whereas with the feminists we got to bring in more darkness, more grit and dirtiness."
But the look went beyond just contrasting Phyllis's and the feminists' aesthetic - specific women had different looks. For episode three, which followed Shirley Chisolm (Aduba), the first black woman to run for President of the United States, del Pino sought to convey her arc in a more controlled and formal visual vocabulary, despite the fact that she was on the side of the feminists. "There is also a sense of institutional weight on that episode that we wanted to convey through architecture," he says, "bigger empty spaces, white walls, top lighting."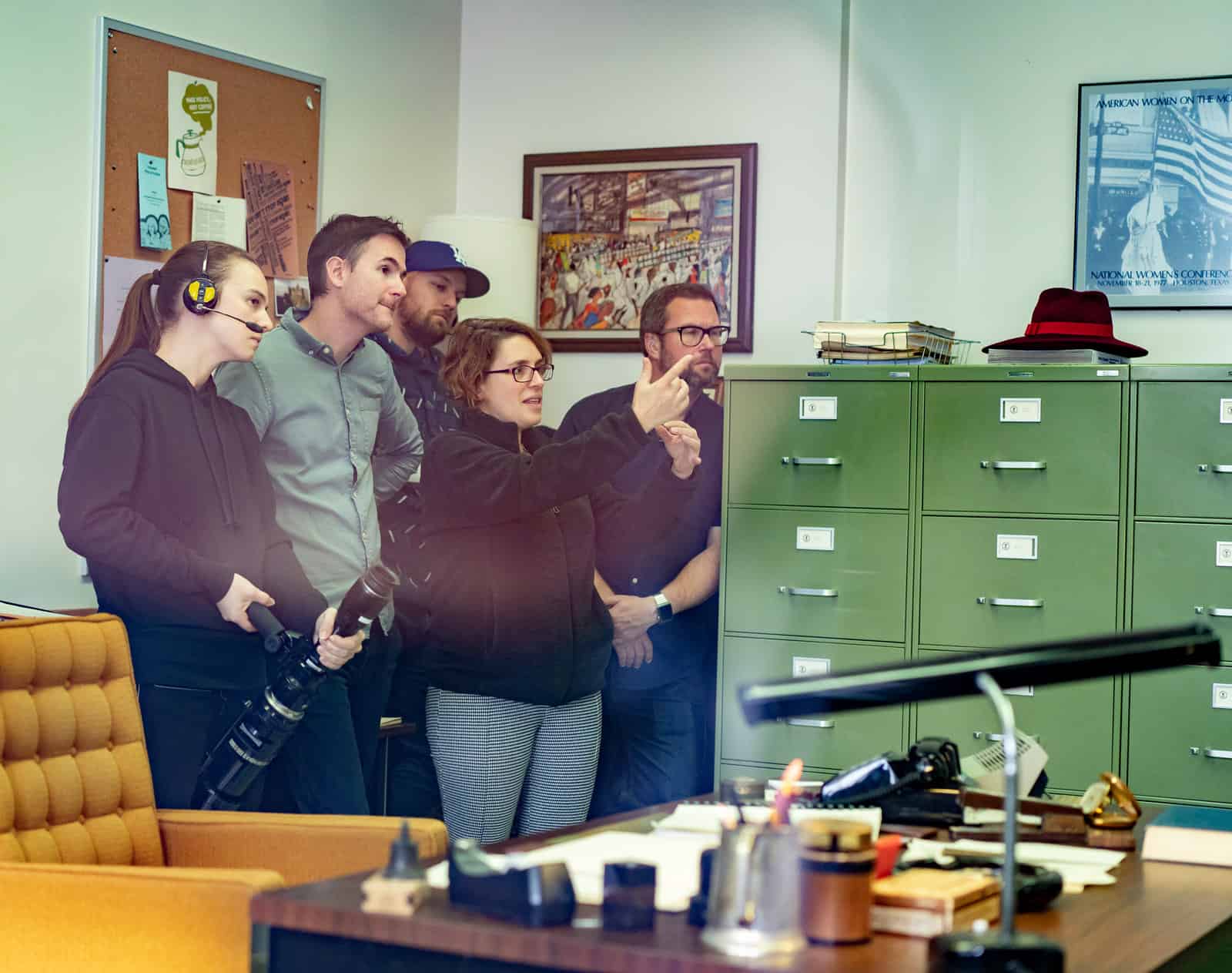 Overall, as the season progresses and the fight for women's equality begins to fizzle out, the show becomes much darker. They began with a lot of fill light, glorious, sunny lighting for Phyllis, but as the show goes on, they were putting her in a lot darker and harsher lighting situations so as to demonstrate both her character and the story's arcs.
"It was ironic what happened," says Gagné. "This huge movement of women ended up dying out; I wanted the light to do that as well, to go toward a black or white situation, whereas in the beginning, everything seemed possible."