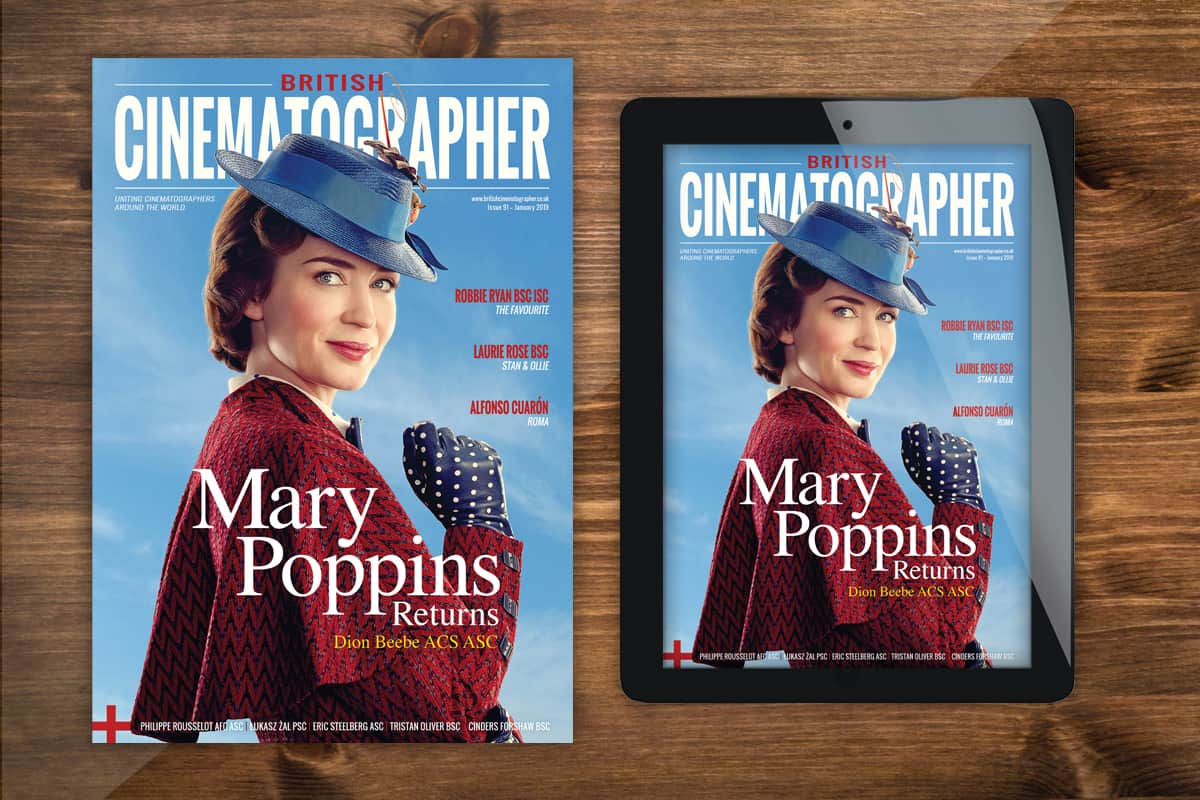 Feast your eyes on the new edition of British Cinematographer magazine – digitally* via our website, or in print**, from 25th January 2019.

On the Cover
Dion Beebe ACS ASC on Mary Poppins Returns

After previously teaming up on 'Best Cinematography Oscar' nominee Chicago and winner Memoirs Of A Geisha, Dion Beebe ACS ASC joins forces for a fifth time with director Rob Marshall to bring Mary Poppins back to life more than 50 years after the original.
Beebe tells us about paying homage to a classic whilst wrapping a new generation into the story, the value gained from constructing LUTs in pre-production, and the fun to be had with a mixed-bag of lighting tricks.

Philippe Rousselot AFC ASC on Fantastic Beasts: The Crimes of Grindelwald

Having lit the opening movie in the franchise, Frenchman Philippe Rousselot AFC ASC picks up his magic wand (or should that be light meter?) again to capture the second in the Fantastic Beasts series – The Crimes of Grindelwald.
He reveals why being terrified at the start of a production is a good thing, why the Leica Thalia were the lenses of choice, and his delight at working once more with colouring 'wizard' Peter Doyle.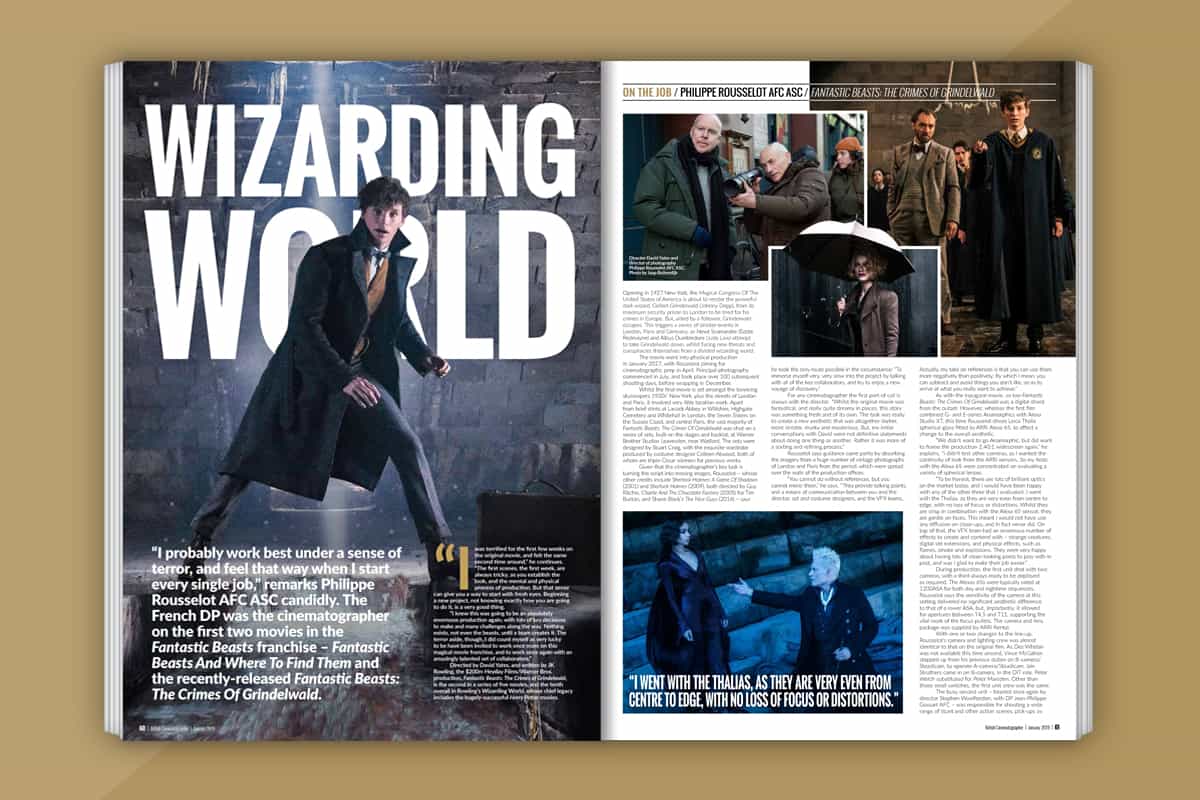 Robbie Ryan BSC ISC on The Favourite

Already taking the awards season nominations by storm, with nods for the ASC gongs and the BAFTAs, Robbie Ryan BSC ISC's The Favourite is a popular choice right now and described by one critic as "like a playground that turns into a battleground that becomes a prison".

Ryan tells British Cinematographer why using film is incredibly flexible and durable, his joy at working with the Helix system – plus an ultra-wide 6mm spherical lense, and the challenge of getting inside director Yorgos Lanthimos' vision.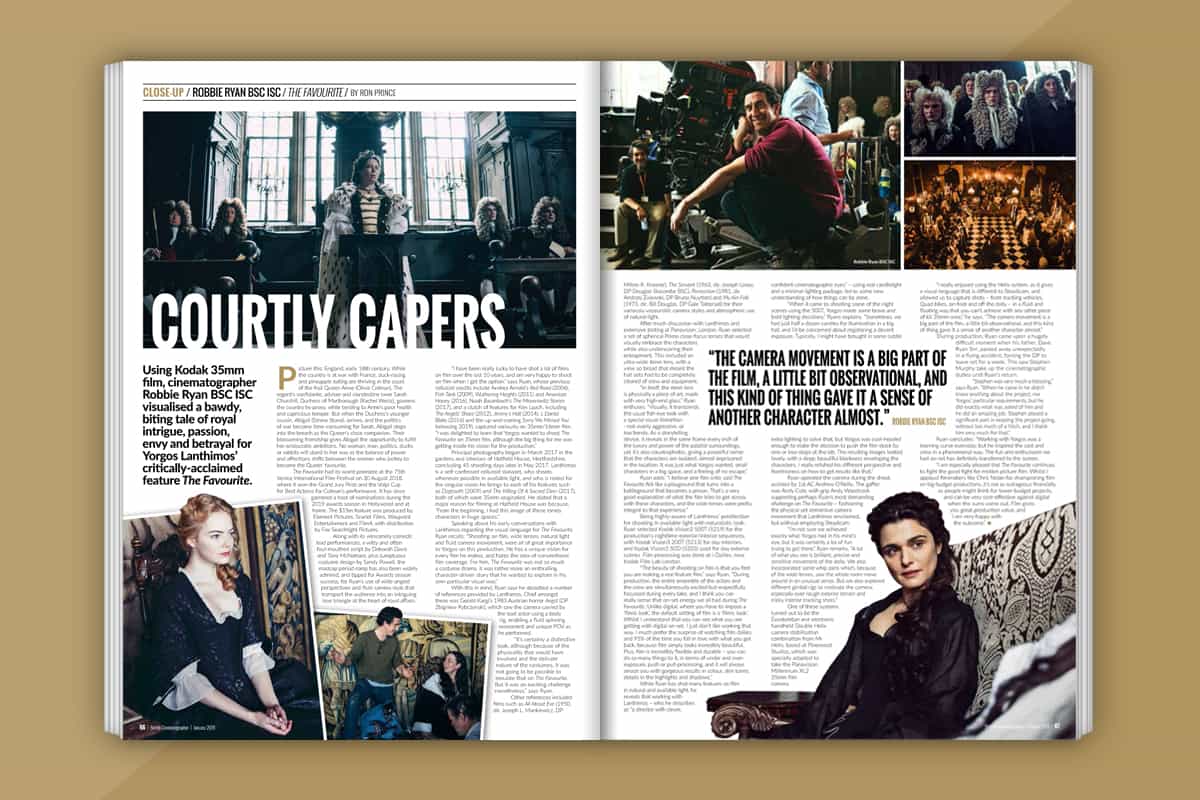 Alfonso Cuarón on Roma

Roma is a semi-biographical take on legendary Mexican filmmaker Alfonso Cuarón's upbringing in the nation's capital, and has already won Venice's Golden Lion and a Bronze Frog at EnergaCamerimage, as well as picking up many more nominations in the current awards season.
He speaks exclusively to Trevor Hogg and British Cinematographer about painting his memories on-screen in a contemporary black-and-white look, rotoscoping almost every shot, and restaging the infamous Corpus Christi Massacre.

Don't Miss…
Plenty more soundbites, comment and opinion from productions by Laurie Rose BSC, Łukasz Żal PSC and Eric Steelberg ASC.
We also have a look back at Tristan Oliver's work on stop-motion production Isle Of Dogs, and learn more about tenacious Cinders Forshaw BSC, Kino Flo's Frieder Hochheim, the newly formed ScreenSkills, plus gaffer Martin Smith and DP Bart Sienkiewicz.
And that's not mentioning the diary of one man's journey through the recent EnergaCamerimage festival, a preview all of the exhibitors at the 2019 BSC Expo, our regular comprehensive guide to which DPs are shooting who and where, BSC president Mike Eley's column, and more…
A subscription is still the only way to read the complete British Cinematographer, so buy one today to fully experience Europe's No.1 cinematography magazine.

ISSUE 91: AVAILABLE ONLINE* AND IN PRINT** FROM 25TH JANUARY 2019.
* With an active 'Digital Only' subscription, or the digital part of an active 'Print & Digital' subscription.
** Issue 91 will only be received in printed format by those with an active 'Print' or 'Print & Digital' subscription purchased before 14th January 2019. Any new 'Print' or 'Print & Digital' subscription purchases made from 14th January 2019 onwards, will NOT receive this issue in print as part of their purchase.