Find out what's inside our action-packed latest edition of British Cinematographer magazine – available digitally* via our website, or in print**, from 16th November 2020 onwards.

On the Cover
Haris Zambarloukos BSC GSC on Death On The Nile
In our latest cover story special, Adrian Pennington speaks to Haris Zambarloukos BSC GSC to find out all about his incredible work lensing Death On The Nile. Disney's follow-up to Murder on the Orient Express sees director Kenneth Branagh star as the fabulously mustachioed sleuth tasked with the death of an American heiress whilst onboard a honeymoon cruise in Egypt.
In a fascinating interview, Zambarloukos discusses his varied references for the film, filming on the Nile and shooting the first eight minutes of the film in French and in black & white.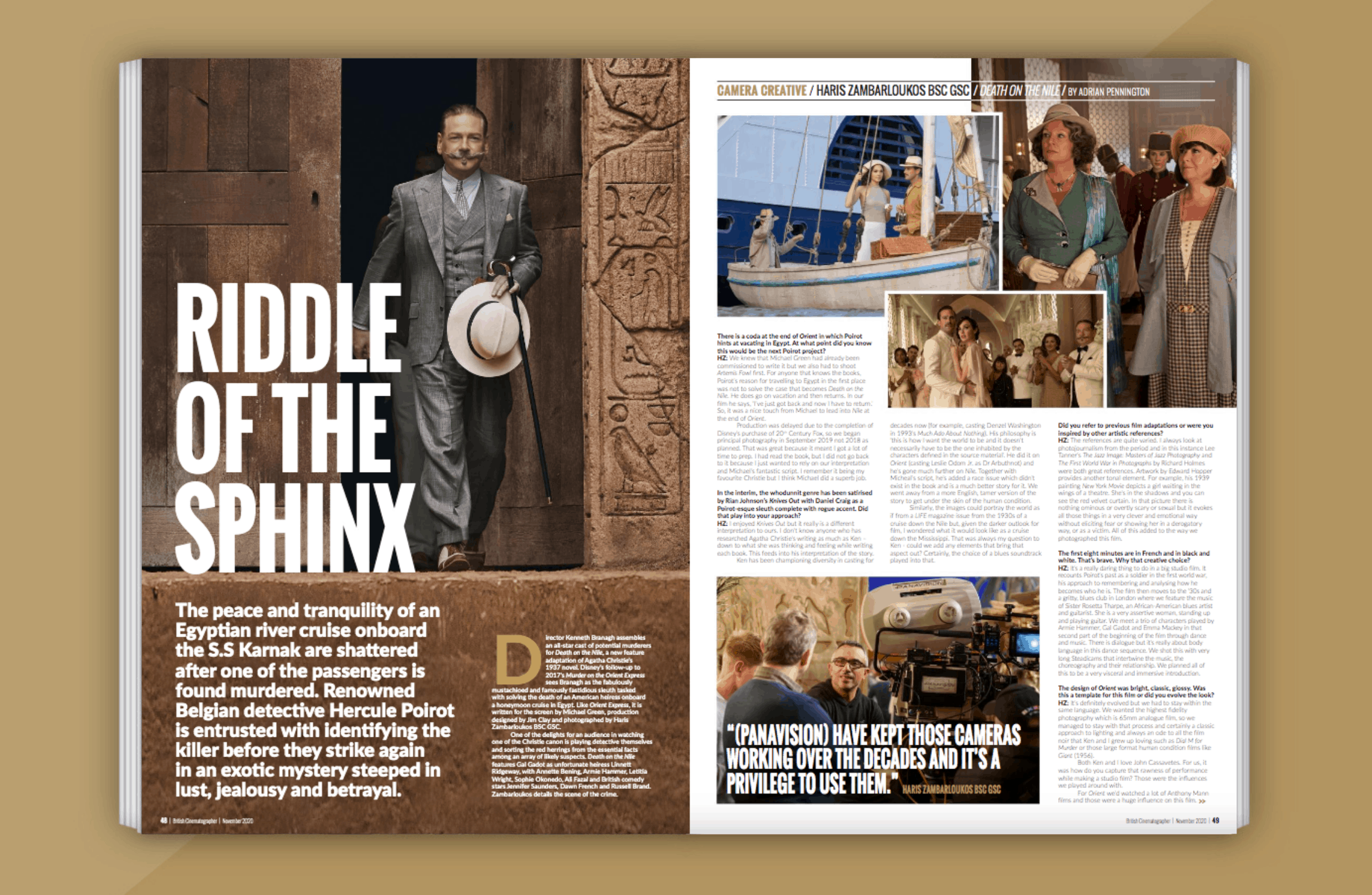 Dick Pope BSC on Supernova

Writer/director Harry Macqueen's second feature Supernova explores love, loss and the heartbreak of coping with a terminal illness that is cruelly causing cherished memories to fade.
British Cinematographer's new Editor, Zoe Mutter, caught up with Pope to discuss his experiences capturing the heartfelt drama.
Clapperboard… Philippe Rousselot ASC AFC
In his remarkable career, French Cinematographer Philippe Rousselot ASC AFC has won the award for Best Cinematography at the Oscars, BAFTAs and the César Awards.
This year, he's the recipient of the Camerimage Lifetime Achievement Award. The man himself recently took the time out to tell us all about his filmmaking philosophy.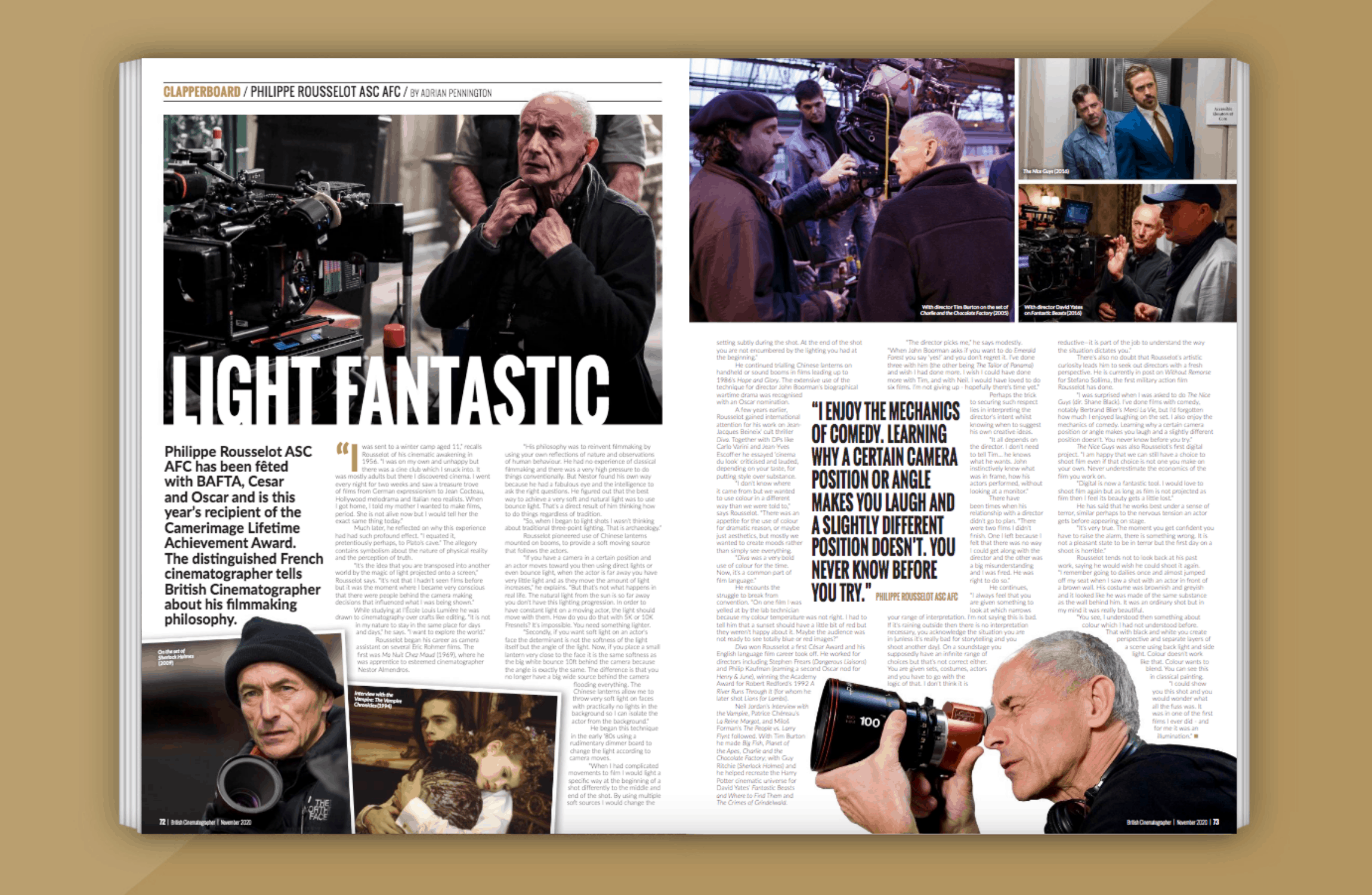 Phedon Papamichael ASC GSC On The Trial Of The Chicago 7

Phedon Papamichael ASC GSC has been making good use of the 1960s lately, gaining BAFTA and ASC nominations for his work on Ford v Ferrari. Now he finds himself at the tail end of the storied decade with Netflix's The Trial of the Chicago 7.
In our latest edition, he shares his experiences lensing the Netflix production and collaborating with writer/director Aaron Sorkin.

There's also all of this…
We've collaborated with the team at EnergaCAMERIMAGE to put together an exclusive insight to everything that's going on at this year's festival.
As the global pandemic continues, BSC President Mike Eley talks about the importance of respecting & protecting the film industry.
We talk to Laurie Rose BSC on Rebecca, Annika Summerson on Mogul Mowgli, Karim Hussain on Possessor, Martyna Knitter on Rose and Stephen J. Brand on Sideshow.
We shine a light on Cullum Ross in our latest installment of Gaffers 'R' Us, the talented Tom Hurley is the focus in Meet The New Wave and we examine the inventive creations of Steadicam specialist Chris Fawcett.
And that's not mentioning our special features – in which we explore both the Director/DP and the Effects Supervisor/DP relationships – as well as our comprehensive guide to which DPs are shooting who plus much, much more!
A subscription is still the only way to read British Cinematographer. You can purchase your subscription to our award-winning magazine now by clicking here.

ISSUE 102: AVAILABLE ONLINE* AND IN PRINT** FROM 16th November 2020 ONWARDS.
* With an active 'Digital Only' subscription, or the digital part of an active 'Print & Digital' subscription.
** Issue 102 will only be received in printed format by those with an active 'Print' or 'Print & Digital' subscription purchased before 13th November 2020. Any new 'Print' or 'Print & Digital' subscription purchases made from 13th November 2020 onwards will NOT receive this issue in print as part of their purchase. Eligible subscribers should expect to receive their copy within 7 days of the release date if in the UK.