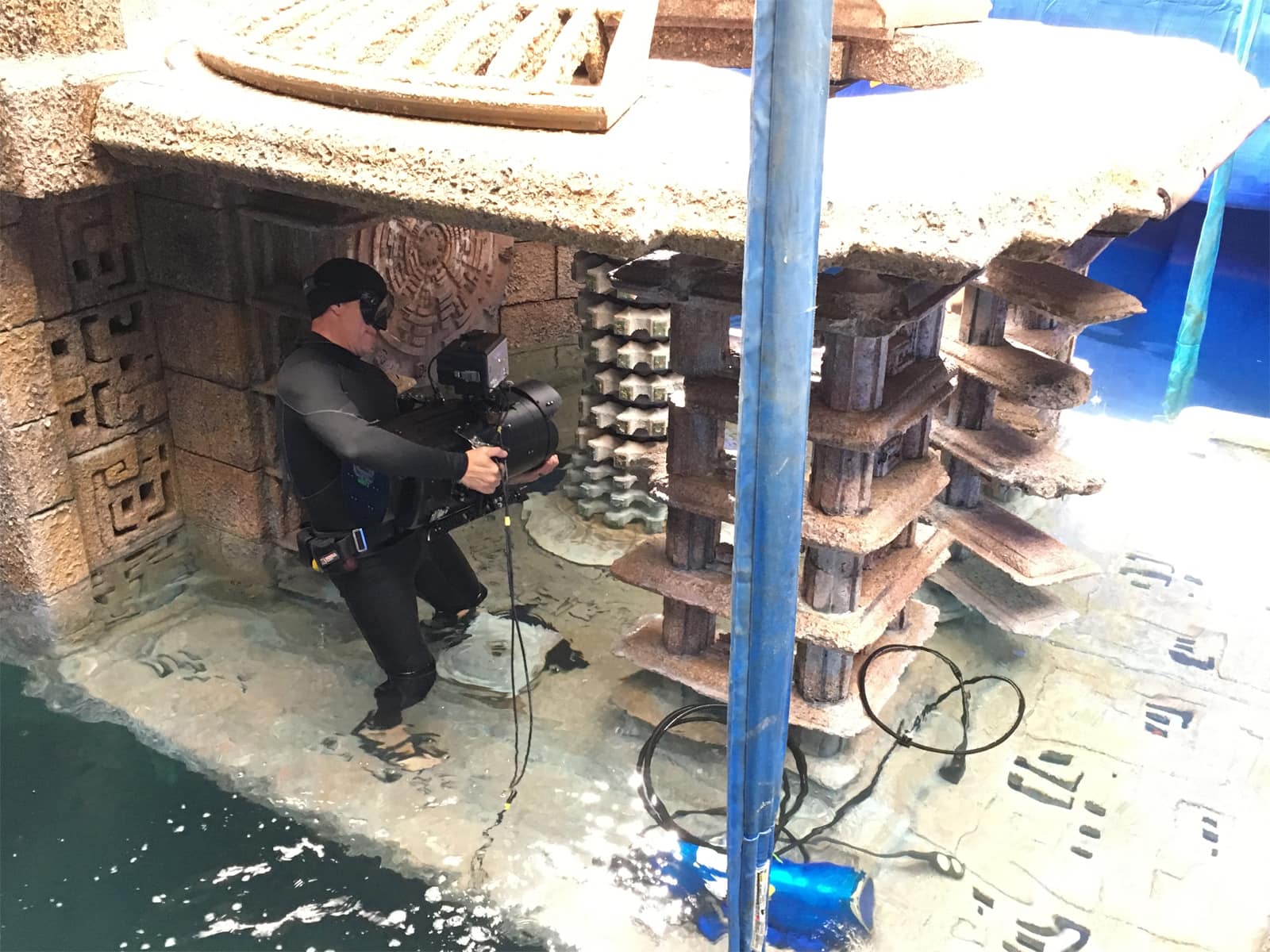 Underwater cinematographer Ian Seabrook's work on Disney's summer blockbuster Jungle Cruise premieres in theatres nationwide on July 29, 2021.
The film is based on Disneyland's theme park ride. Stars Dwayne Johnson and Emily Blunt embark upon a jungle riverboat adventure filled with extraordinary stunts and underwater work, some of which can be seen in the below trailer.
Underwater sequences were photographed in Sep. 2018 at Blackhall Studios in Atlanta, GA, using the Alexa SXT Plus camera with Panavision lenses, enclosed in Seabrook's custom underwater housing.
Aquatic cinematography is rarely without challenges and Jungle Cruise did not disappoint. For a sequence involving a sunken puzzle being raised from the water, the appropriately named Seabrook was submerged with the (stunt) performers while the entire puzzle set was then raised by a crane on the exterior of the tank. To get the shot, Seabrook held the 80 pounds of camera and its housing as the set was raised, placing an almost unbearable amount of pressure on him as the set rose to the surface.
Jungle Cruise is an American period fantasy adventure film directed by Jaume Collet-Serra from a story by Glenn Ficarra and John Requa. The underwater dp has dozens of entertaining anecdotes to share about the challenges he faced on this film.
Seabrook's credits include; Batman v Superman: Dawn of Justice, Deadpool 2, It: Chapter Two and the upcoming Untitled Thai Cave Rescue Documentary. Seabrook has worked on a prolific number of high-profile documentaries, television shows, commercials, music videos and IMAX productions, earning Double Gold Medals for Outstanding Cinematography at the 2019 Telly Awards.
The cinematographer's next project, M. Night Shyamalan's, Old, opens nationwide on July 23.