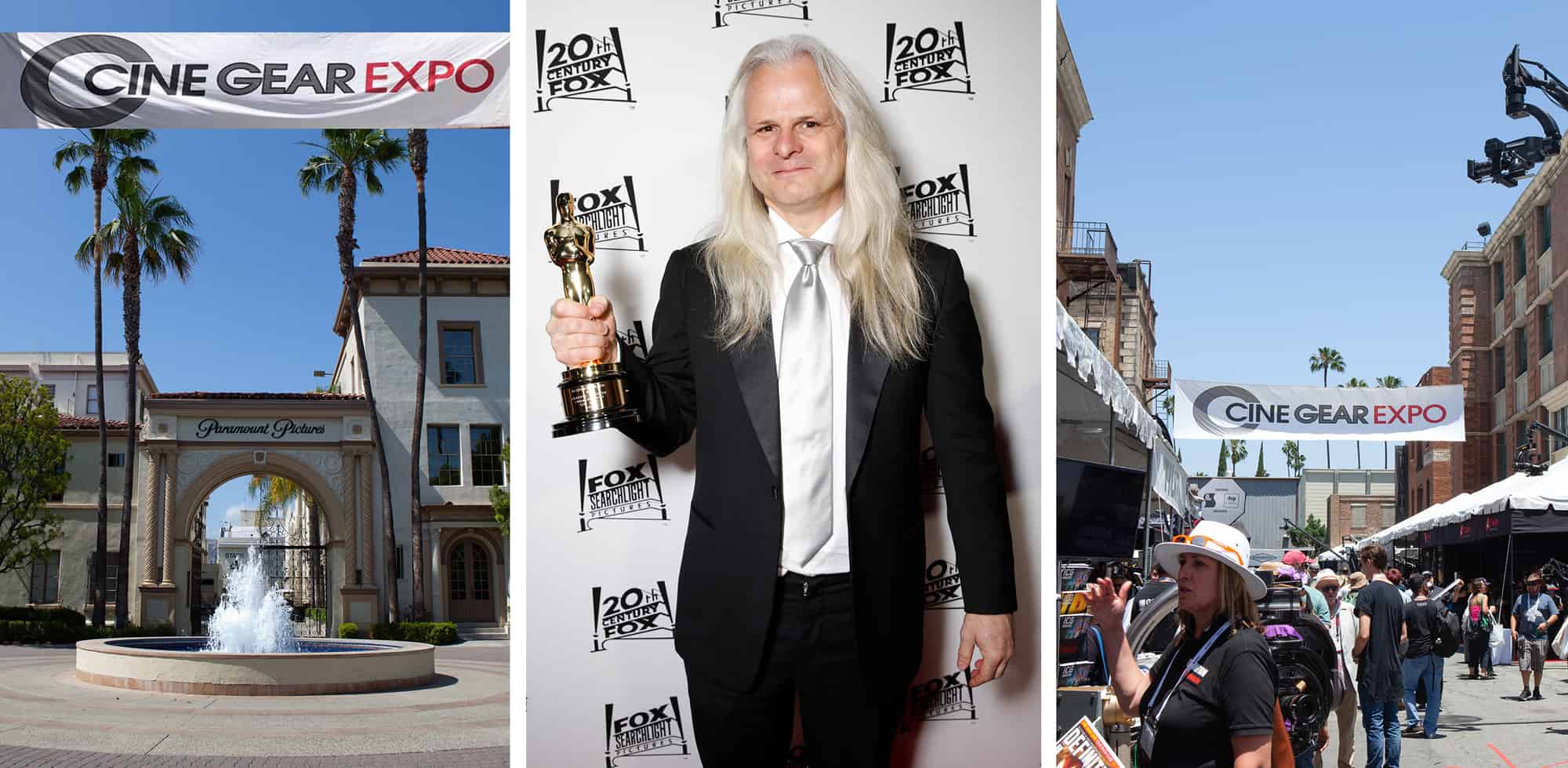 This year Cine Gear pays tribute to Academy Award®-winning cinematographer Claudio Miranda ASC for Visionary Achievement in Cinematography. A pioneer in digital filmmaking, he embraces the latest technology to capture some of the big screen's most groundbreaking imagery. He shot the first entirely digital feature, The Curious Case of Benjamin Button for which he earned Best Cinematography nominations from the Motion Picture Academy, BAFTA and the ASC. His use of enhanced environment LED technology gave life to ultra-real lighting and out-of-this-world vistas on Oblivion and Tomorrowland. Breathtaking visuals on Life of Pi garnered Miranda a 2013 Best Cinematography Oscar® and top accolades, worldwide.
May 30 marks the 2019 kick-off for Cine Gear Expo at Paramount Studios in Hollywood, and there's plenty going on.
The Expo opens with the Film Competition screenings on Thursday, in Paramount's Sherry Lansing Theatre. Winners will receive prizes like cameras, lighting, support, and accessories thanks to the generous donations of the Film Series Sponsors.
Independent Short Finalists screen at noon to 2:15pm:
Judas Collar, Alison James
Josiah, Kyle Laursen
Échappe´, Allison Mattox
Shoe Shiner, Andrés Gallegos
Control Option Escape, Gandja Monteiro
Won't Forget You, Maarten Swaan
We Vanish, Astrid Dominguez
Vagabond, Nicole Baer
Music Video/Commercial Finalists at 2:30 – 3:00pm:
Midland "Burn Out", T.K. McKamy & Cameron Duddy
Requiem, Jason Cruz, Michael Pescasio
Man Upon The Hill , Bona Palma
Lyft Commercial: Best Choice, Nathan Cheney
Weezer – High as a Kite, Nathan Presley
Willow Beats – Be Kind to Yourself, Oren Kanski
Winters Song, Ryann Thompson
Nike x Darling, Nathan Presley
The Racer, Brad Day
Hermitude – Everyday, Nathan Presley
Student Short Finalists screen at 3:15pm – 5:20pm:
Balloon, Jeremy Merrifield
You'll Only Have Each Other, Allison-Eve Hammersley
A Rodeo Film, Darius Dawson
Away, Milena Korolczuk
8, Gabriele Fabbro
Simon, Diego Vicentini
Untitled, Kathryn Boyd-Batstone
Kissed, Elwood Walker
The Visitor, Stephen Ohi
The Concert Of Life, Lina Li
Screening tickets may be purchased individually or via the Film Series Pass for all screenings: http://www.cinegearexpo.com/la-expo-passes-and-tickets
Each year the industry's leading equipment brands use Cine Gear Expo as the launch site for their latest tech. Its "hush hush" until the Exhibits open on Friday, May 31. Look for big news from the likes of Panasonic, Blackmagic Design, K-Tek, Band Pro, Atomos, and Fujinon, among others.
Friday and Saturday, there are FREE seminars and panels by top equipment leaders such as Sony, Canon, Panasonic Lumix, DJI, Zeiss, Fujifilm, Blackmagic, LACie, NebTek, Colorfront and G-Technology as well the ASC, Local 600, SOC, IMAGO, and DCS. Visit http://www.cinegearexpo.com/la-expo-premier-series for the seminar schedule.
Space is still available for select Master Classes including AbelCine's AC Essentials 101 and Camera Movement and Storytelling being held on Sunday, June 2. http://www.cinegearexpo.com/master-classes
Friday, June 1, 8:00pm – 10:00pm at The Paramount Theater and Paseo Grounds, Cine Gear's Industry Reception and Awards Ceremony will recognize Film Competition winners as well as individuals and manufacturers who have performed outstanding service and made significant contributions to advancing the arts and crafts of filmmaking.