Camera Corps, the broadcast industry's leading supplier of speciality camera systems, reports a flying start to 2017, partnering with IMG Productions in a highly innovative project for the BDO World Darts Championships.
"Channel 4 UK secured an agreement in summer 2016 to become the new terrestrial home of the British Darts Association's 2017-2018 BDO World Darts Championships," comments  IMG Productions' executive producer/director Simon Wheeler. "We produced the live coverage and managed the technical resources. Keen to try something new for the event's 40th year, we approached Camera Corps to deliver an advanced style of tracking shot showing players entering and exiting the stage. Camera Corps has long experience of capturing sports action in a really eye-catching way and proved highly efficient. The shots were excellent, offering stable tracking and insightful shots of players connections."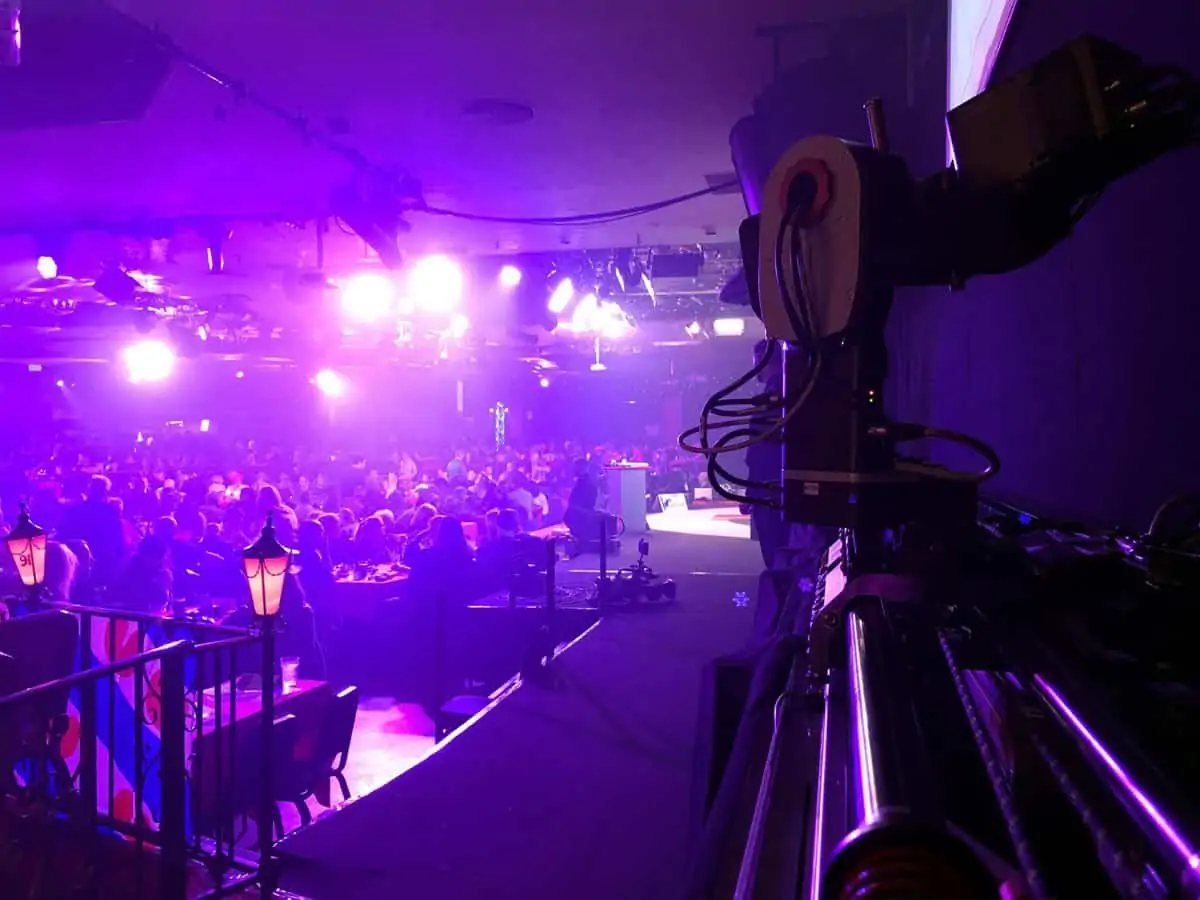 "The challenge was to televise each player's entrance plus the audience reactions as contestants walked towards to the oche prior to commencing each game," details Camera Corps' commercial manager Barry Parker. "We proposed locating our recently developed low-level track behind the player's walkway. This was fitted with an Egripment 205 remote head, Hitachi DKH-200 camera and Fujinon 12×4.5 lens. It formed an ideal solution and integrated well with the existing camera coverage. Working closely with IMG, the OB provider, set builders and the venue, our senior track engineer James Woods provided and operated an 8 metre section of track. The track was mounted at head height and semi-concealed so that all the audience could see was the camera lens. Used across the finals weekend, it proved to be a smooth, quiet and unobtrusive system providing memorable shots of players and fans as well as adding to the overall coverage both in HD 1080P and upconverted to 4K for BT Sport's coverage."
Held on January 7-15 at the Lakeside Country Club in Surrey, the BDO 2017 World Darts Championship was broadcast free-to-air on Channel 4, with live coverage also available in 4K on BT Sport. Channel 4 showed afternoon games and the first semi-final. BT Sport showed the evening games and the second semi-final and the final was shown on both channels. Live coverage of all matches was also made available via the BDO's globally accessible YouTube channel. World number one Glen Durrant won the Championship with a 7-3 victory over Danny Noppert on a memorable night of action. Lisa Ashton was crowned women's world champion for a third time after recording a comprehensive straight sets victory over eighth seed Corrine Hammond.
Camera Corps
A Vitec Group company, Camera Corps (www.cameracorps.co.uk) specialises in providing remote camera solutions for reality television shows as well as very large-scale sports, entertainment and stage events. Camera Corps has achieved a pre-eminent reputation for its ability to acquire exciting and unusual television content from exceptionally challenging environments.