Blackmagic Design has announced the availability of Blackmagic Camera 4.0 Public Beta. This public beta lets customers install and test Blackmagic's major new camera operating system and user interface for the URSA Mini. Blackmagic Camera 4.0 Public Beta is available for download free of charge from the Blackmagic Design website for all Blackmagic URSA Mini customers.
Since it was announced at NAB, Blackmagic Design engineers have worked with professional cinematographers and DPs on the new camera operating system and have designed an interface they hope will revolutionise the way operators interact with and use digital film cameras.
The public beta of the new camera operating system replaces multi-level menus, large numbers of buttons, and hard-to-find settings, with an newly-designed interface that puts the most important and often used functions at the operator's fingertips. For example, the new heads-up display dramatically reduces the number of menus and submenus needed to find specific settings and commands. This means users can change settings such as ISO, white balance, shutter angle, iris, frame rate and frame guides without having to navigate through any menus. They can also quickly toggle back and forth between different settings, allowing them to try different combinations of settings on-the-fly. They can also save and load presets for different shooting situations and save them to a card for use on different cameras.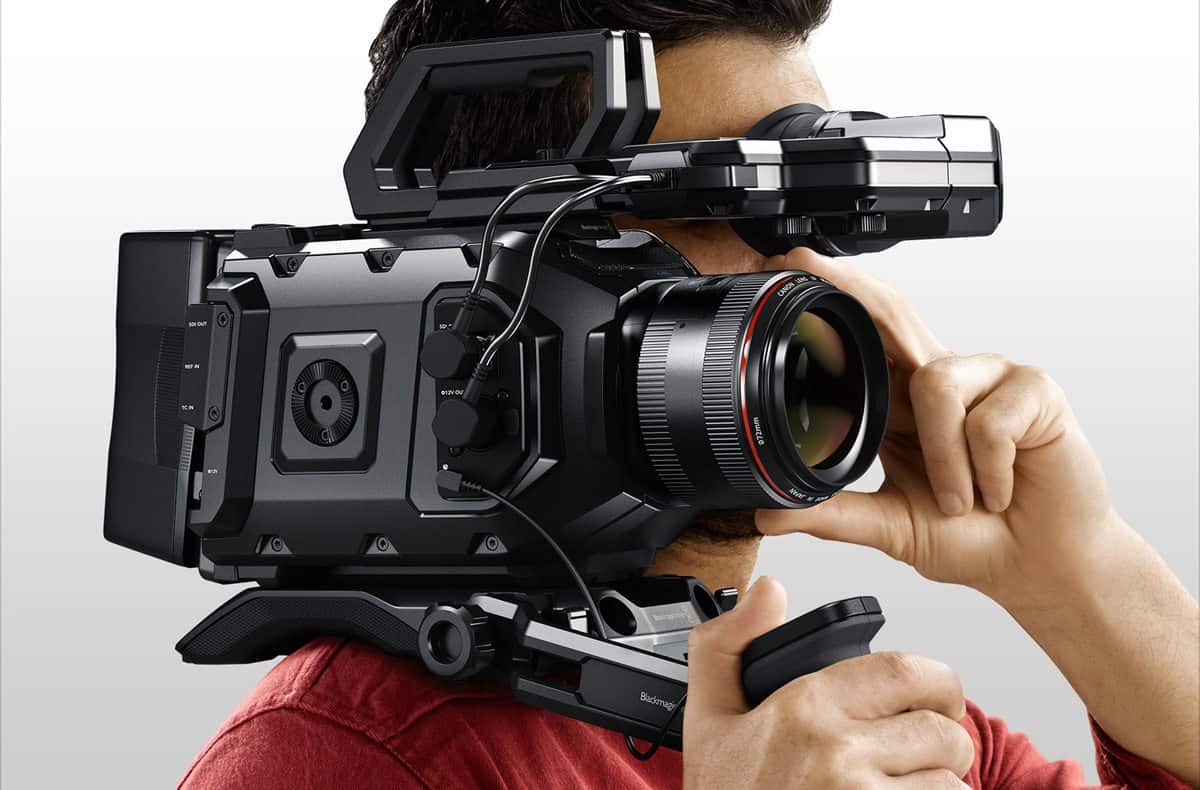 In addition, there are now custom white balance and white balance presets, along with tint control settings. Operators also get more accurate shutter angle selection, including a large easy-to-use on-screen keyboard for quick entry of settings. The public beta of the new URSA Mini camera OS also improves focus assist. Users can now adjust the colour for focus assist overlays, or they can choose to use more traditional focus peaking tools that highlight the sharpest areas of an image.
The new URSA Mini camera OS has a new "slate" page for entering metadata that can be accessed by swiping left or right on the screen. This brings up a slate for both the shot and the entire project. Entering metadata is simplified through the use of predictive entry suggestions. A preloaded dictionary of commonly used terms can be applied as metadata tags with a simple tap. In addition, lens metadata is automatically read from electronic lenses or can be entered manually, along with production specific information, technical information and much more. All of this metadata is saved with the files and can be used by software such as DaVinci Resolve for editing and color correction.
"The combination of URSA Mini's 4.6K resolution with 15 stops of dynamic range and the new camera OS is incredibly exciting," said Grant Petty, CEO, Blackmagic Design. "Our dream is to design the world's most advanced cameras with an incredibly modern OS that's faster to use and more feature rich than has ever been possible before. Its a privilege to be able provide this update to our URSA Mini customers who are some of the worlds top cinematographers and who blow our minds with their creative work!"