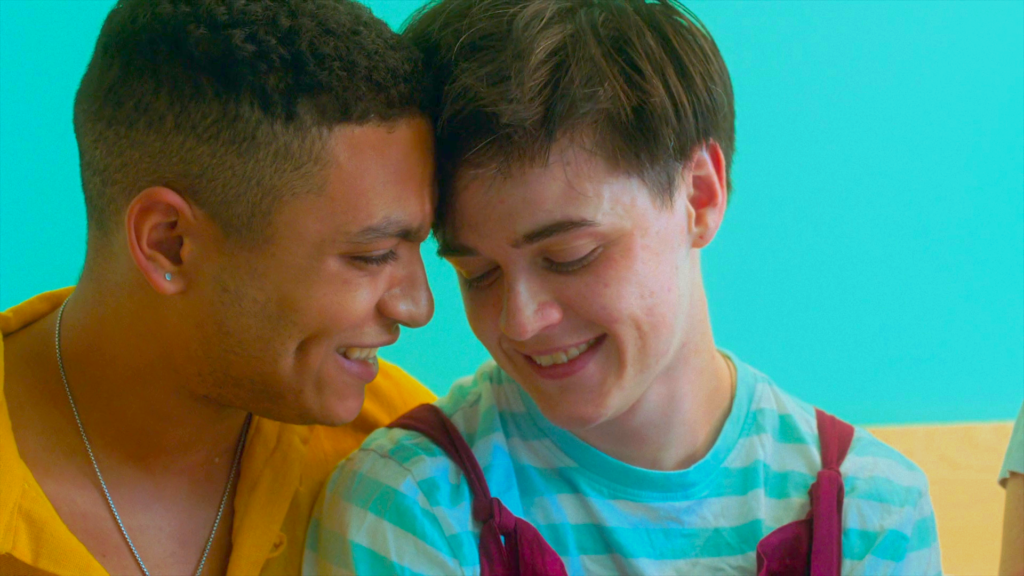 The BFI has announced the programme of 45 short films that have been selected to screen in the 14th edition of the BFI Future Film Festival, which will take place online from 18-21 February 2021. The films, which will all be available to watch for free on BFI Player during the Festival (UK only), are eligible for the BFI Future Film Festival Awards, supported by Netflix, the nominees for which are also revealed today.
3 of the 10 Awards will be judged by an esteemed Festival Jury chaired by Number 9 Films' Elizabeth Karlsen, alongside activist and filmmaker Waad Al-Kateab (FOR SAMA), broadcaster and filmmaker Reggie Yates (BBC3 EXTREME SERIES) and actors Daisy Edgar-Jones (NORMAL PEOPLE) and Malachi Kirby (MANGROVE).
BFI Future Film Festival Awards Jury Chair, Elizabeth Karlsen (Producer, Number 9 Films) said: "It's an honour to be this year's Jury Chair and I very much look forward to deliberating with my fellow jurors on some of the most exciting, thought-provoking and original work out there from talented young filmmakers."
Netflix is the 2021 Festival's Main Sponsor and year-round sponsor of BFI Festivals. They are supporting the BFI Future Film Festival Awards and presenting the Best Documentary Award, which includes a year of mentoring with Jonny Taylor, Netflix's Original Documentaries Commissioner. We are also thrilled to announce Blackmagic Design – one of the world's leading innovators and manufacturers of creative video technology – as this year's official partner. They will be supporting the New Talent Award and hosting a number of DaVinci Resolve training workshops throughout the festival (more details of which will be announced on 29 January).
Award-nominees across ten categories will be in the running for prize money totalling more than £10,000 and further mentorships from industry leaders – the winners will be revealed at the BFI Future Film Festival 2021 Awards Ceremony supported by Netflix, which will take place virtually on 21 February. This year's Festival, which is aimed at aspiring filmmakers aged 16-25, is completely free of charge, thanks to support from Julia and Hans Rausing, enabling young people from every corner of the UK, and across the world, to benefit from masterclasses and talks from the best in the business. Full details of the events programme (which will be available globally) will be announced on 29 January.
AWARD NOMINEES AND FILM PROGRAMME
This year's programme of 45 shorts made by young filmmakers aged 16-25 are an extraordinary collection of films that tackle a broad range of subjects, from race, disability and sexuality to friendship and fandom, as well as some nods to the pandemic. These films, which are all available to watch for free on BFI Player from 18-21 February (UK only), all display phenomenal skill and creativity and no doubt feature many future stars of the film industry, both in the UK and internationally.
Nominees – BFI Future Film Festival 2021 Awards, supported by Netflix:
Best Director (Supported by Julia and Hans Rausing – Judged by BFI FFF Awards Jury)
Prize: £1,500
BULLDOG (Kieran Stringfellow, 2020, UK) is a beautifully executed film that follows a rough sleeper who has a score to settle after spending the night in a cell (also nominated for Best Film)
DAMN HOBO! (Luis Gerardo LoGar, 2020, Mexico) is an ethereal film depicting a homeless man getting lost in Mexico City, with music as his only guide; nominated for four awards in total it is also in the running for Best Experimental Film, Best International Film and Best Writer
When Daphne and Mafer meet at a hotel, they quickly become something more than friends in INSTRUCTIONS TO LET GO (Gustavo Gamero, 2019, Mexico), nominated for Best Director and Best International Film
THE ROSE OF MANILA (Alex Westfall, 2020, Philippines, USA), which is nominated for Best Director, Best Experimental Film and Best International Film, depicts a formative moment in the life of young Imelda Marcos
Best Film (Supported by Chapman Charitable Trust – Judged by BFI FFF Awards Jury)
Prize: £1,000 + grading package from Digital Orchard
BULLDOG (Kieran Stringfellow, 2020, UK) – see Best Director section
DOUBLE HAPPINESS (Scarlett Li, 2020, China, USA) is a funny and original piece that questions whether a traditional Chinese wedding makes parents regress to their most childish selves; also up for Best International Film and Best Writer
Brilliantly madcap animated musical MEOW OR NEVER (Neeraja Raj, 2020, UK), which is also nominated for Best Animation and Best Writer, stars a 'cat'-stronaut who travels the galaxy looking for the meaning of life, along the way encountering a space pup eager to help
Rory Wilson's powerful and nuanced LOCO (2020, UK) follows a train driver who is left traumatised after an incident on the tracks
Best New Talent (Supported by Blackmagic Design – Judged by BFI FFF Awards Jury)
Prize: £4,000 + Blackmagic Pocket Cinema Camera 6K and a copy of DaVinci Resolve Studio from Blackmagic Design + mentoring support from BFI Film Academy
The hero of CRISPY LOVE-LINE (Stefania Bodescu, 2020, UK), which is also nominated for Best Animation and Best Micro Short, is a young man with a deep passion for crisps, who leaves a comment online, kicking off a one-sided, virtual love story
Chloe May Law's HEARTTHROB (2020, UK) is a timely short about a teenage girl who has to face the true nature of her favourite musician when allegations against him come to light (also nominated for Best Writer)
MUSIC FOR THE END OF THE WORLD (Emmanuel Li, 2020, UK) is another timely film – would the apocalypse really be all that bad? Teenage Freddie certainly doesn't seem to think so, as he boogies his troubles away on a gorgeous sunny hill
In MOV (Sam Arbor, 2019, UK), Yandass just wants to dance; when something gets in the way, she is plunged into a scary world where her passion takes over (also nominated for Best Experimental Film)
Best Documentary (Supported by Netflix – Judged by Jonny Taylor, Netflix)
Prize: One-year mentoring package from Jonny Taylor, Original Documentaries Commissioner, Netflix
AS FAR AS OUR EYES CAN SEE (Lilly Zhuang, 2019, UK, USA) is a visual diary written by five hands instead of one – an attempt to snatch the eternal out of the ever-fleeting flow of time
Two men share their experiences of working in the food industrial complex in DISJOINTED (Clara Helbig, 2020, UK, Germany)
In FACES (Patrick Taylor, 2020, UK), a group of young people discuss the joys and challenges of being mixed race
JUDE (Amos Menin, 2020, UK) is a powerful film in which the filmmaker's Grandfather recounts how he lost everything as a child escaping the holocaust
LIFE IS A HIGHWAY (Neelakshi Yadav, 2020, India), which is also nominated for Best International Film, follow the rickshaw drivers, or 'Autowalas', of New Delhi, as they talk about the economic struggles, stigmas and socio-political issues that impact their livelihoods
Best Animation (supported by BlinkInk – Judged by Bart Yates, BlinkInk)
Prize: £1000 + mentoring package
A woman reflects on a past love story while she is driving at sunset in BURN & SOOTHE (Shiyi Li, 2019, UK)
CRISPY LOVE-LINE (Stefania Bodescu, 2020, UK) – see Best New Talent section
In stop-motion short EARLY GRIEF SPECIAL (Jessica Chowdhury, 2020, UK), a greasy spoon diner is the only place in London where people are allowed to grieve
MEOW OR NEVER (Neeraja Raj, 2020, UK) – see Best Film section
Claymation film OVERLOAD (Joe Blandamer, 2019, UK) illuminates the audience on the struggles of a train journey for someone with Autism Spectrum Disorder
When an astronaut ponders the silence of space, he comes upon a startling self-realisation in THE QUIET (Radheya Jegatheva, 2019, Australia), which is also nominated for Best International Film
THE TALE OF EDGAR HARE (Hannah Miller, Abigail Lindon, Hana Bhatti, UK, 2020) is a twist on Edgar Allan Poe's literary classic 'The Tell Tale Heart', which is also nominated for Best Micro Short
Best Experimental Film (Supported by Black Dog Films – Judged by BFI Film Academy Young Programmers)
Prize: £1000 + mentoring package
Two villagers hide inside a well to escape an angry mob in BURN THE WITCH (Matty Crawford, 2020, UK)
DAMN HOBO! (Luis Gerardo LoGar, 2020, Mexico) – see Best Director section
Through spoken word poetry coupled with evocative images, DUDU (Simisolaoluwa Akande, 2018, UK) is  beautifully lyrical exploration of the issue of colourism and its effects on self-identity
PLEASE INTRODUCE YOURSELF (Elsa Hunter-Weston, 2020, UK) explores the difficulties facing a young person on the cusp of adulthood as they wrestle with their own identity
THE ROSE OF MANILA (Alex Westfall, 2020, Philippines, USA) – see Best Director section
MOV (Dir. Sam Arbor) – see Best New Talent section
Best Micro Short (Supported by Digital Orchard – Judged by Kate Rolfe, Digital Orchard)
Prize: Grading + mentoring packages from Digital Orchard
BREATH (Aneta Siurnicka, 2019, Poland) questions whether breath is a moment of respite or agitation. Should we let the mind be free or fight with our thoughts? (also nominated for Best International Film)
CRISPY LOVE-LINE (Stefania Bodescu, 2020, UK) – see Best New Talent section
A micro magic show is created from home to bring joy during the COVID-19 lockdown in EDIE + ELIN'S MAGIC SHOW (Edie Morris, 2020, UK)
FROM HIS PERSPECTIVE (Caleb J. Roberts, 2020, UK) is a moving depiction of the daily social struggles which dominate the life of a young, transgender man
MIND(FULL) (Tilly Wallace, 2019, UK) is an experimental pastel-animated short which explores how meditation can take the mind from a state of chaos to calmness
THE TALE OF EDGAR HARE (Hannah Miller, Abigail Lindon, Hana Bhatti, UK, 2020) – see Best Animation section
Best International Film + Special Mention (Supported by London School of English – Judged by Timothy Blake, London School of English)
Prize: £1,000 (Best International Film) / £750 (Special Mention)
BREATH (Aneta Siurnicka, 2019, Poland) – see Best Micro Short section
DAMN HOBO! (Luis Gerardo LoGar, 2020, Mexico) – see Best Director section
DOUBLE HAPPINESS (Scarlett Li, 2020, China, USA) – see Best Film section
A young mother struggles to cope with losing custody of her baby girl in HEARTBREAKER (Aidan Cheeatow, 2020, Canada)
INSTRUCTIONS TO LET GO (Gustavo Gamero, 2019, Mexico) – see Best Director section
LIFE IS A HIGHWAY (Neelakshi Yadav, 2020, India) – see Best Documentary section
MARGINAL: SHORT VERSION (Kota Nakamura, 2020, Japan) is an experimental film featuring young actors as they rehearse for a film about a deteriorating relationship, starring real-life ex-lovers
THE QUIET (Radheya Jegatheva, 2019, Australia) – see Best Animation section
THE ROSE OF MANILA (Alex Westfall, 2020, Philippines, USA) – see Best Director section
An otherworldly place is inhibited by strange creatures and the products of what humans discard in WASTOPIA (Qianhui Yu, 2020, China)
Best Writer (Supported by Chapman Charitable Trust – Judged by Mike Williams, Editor Sight & Sound)
Prize: £1,000
DAMN HOBO! (Luis Gerardo LoGar, 2020, Mexico) – see Best Director section
DOUBLE HAPPINESS (Scarlett Li, 2020, China, USA) – see Best Film section
HEARTTHROB (Chloe Law, 2020, UK) – see Best New Talent section
When the future rocks up at your front door and punches you in the face, there's only one thing to do – experience THE MASSIVE F*CKING BENDER (Laura Marcus, 2020, UK)
MEOW OR NEVER (Neeraja Raj, 2020, UK) – see Best Film section
In SKELETONS (Will Peppercorn, 2019, UK), a young man goes to collect his grandfather on the morning of his own father's funeral
ALSO SCREENING IN THE BFI FUTURE FILM FESTIVAL
A first-time sex worker and a first-time client have a unique encounter in ALMOST BLUE (Oscar Simmons, 2020, UK)
A ballet teacher's fears start manifesting in dreams and reality after being followed on her way home from work in AN ALTERNATIVE METHOD (Hannah Schierbeek, 2020, USA) – to cope, she confides in her neighbour
A young queer couple in love explore their gender expression on an average day in DUNGAREES (Abel Rubinstein, 2020, UK)
EYELASH (Jesse Lewis Reece, 2020, UK) is a moving adaptation of spoken word poet Neil Hilborn's beloved poem "OCD"
While preparing for a party in a cramped bathroom, Mercedes navigates her blossoming desires in GIRLS & THE PARTY (Paloma López, 2020, USA)
In short animated comedy GIRLS' NIGHT (Ismay Bickerton, 2020, UK), four girls prepare for a night out, touching on vital topics like moustache politics and Yoga with Adrienne
In HARD AS NAILS (Tomos James, 2019, UK), set in small-town North Wales, 18-year-old Dewi, armed with a fresh coat of nail varnish, arrives at rugby training only to be met with resistance from his team
Over the span of a single night, the difference between online and real life relationships is revealed through a complex connection between two people in HOVERING BETWEEN US (Miles Blacket, 2019, UK)
IN THE GARDEN (India-Inés Levy, 2019, UK) offers a glimpse into the last day of summer for Frederick and Clementine, two young aristocrats, who talk beneath an old oak tree
In PRINCESS (Edem Kelman, 2020, UK) a troubled mother takes her daughter out for the day; unable to financially provide for her princess, she resorts to petty theft
As the titular Chinese boy in SUNNY (Sky Yang, Benjamin Bainbridge, 2020, UK) moves from childhood to adolescence, he finds himself lost in a world that tells him he should hate where he comes from
Traumatised by the violent videos he views each day, a content moderator is forced to hide his deteriorating psyche from a company-appointed counsellor in THE MODERATOR (Elliot Gaynon, 2020, UK)