Angénieux announces a New Long Range Multi-Format Design Zoom Lens at IBC 2017 (booth number 12.E36)
Angénieux continues to adapt its offer to the market trends by announcing new innovative zoom lens series. Following up the Angénieux Type EZ Series for S35mm and larger image formats recently unveiled at IBC 2016 for the growing corporate, documentary and owner-operator markets, Angénieux is now announcing at IBC 2017 a new multi format 12x Optimo zoom lens for the high-end production market.
Designed by Angénieux for both Super 35mm (S35) and Full Frame/VV (FF/VV) cameras, the new Angenieux Type EZ series zooms have been developed in partnership with Band Pro Film & Digital Inc., and Jebsen Industrial Technology Co. Ltd. The EZ zooms sit between the still photography, and the mid-level zooms such as the Optimo Style series, offering quality optics with precise mechanics at an affordable price. They are the ideal companion for some of the new generation of large sensor digital cameras. ENG-style productions require the flexibility necessary for run-and-gun shooting, combined with good optical quality at an affordable price. The Type EZ lens series has received overwhelming market response. The EZ1 have been delivering since NAB and the EZ2 should come soon.
One of the keys to success of Angénieux latest introductions is the unique IRO Interchangeable Rear Optics technology, a revolutionary modular lens design that enables different lens configurations. "Enabling customers to configure their lenses optimized for projects and/or cameras is truly a unique feature that is only available from Angénieux" says Christophe Remontet – Managing Director, Angenieux Partnerships & Business Development.
The Angénieux IRO technology has been first built into the 10x Optimo zoom, allowing a swap of the lens from its anamorphic version, the 44-440 A2S Optimo, to its spherical version, the 25-250 Optimo Style. The IRO technology built into the EZ zooms allows a configuration of the lens either in S35 or FF/VV format.
The new challenge for Angénieux was to offer a new generation of lenses with an even higher quality for Full Frame feature and high-end digital content production. The lenses should be modular, retain the Angénieux look, and provide the mechanical feel, robustness and optical performances that customers have enjoyed over the past decades with the famed Optimo line.
Once again, the challenge has been fully achieved by the Angénieux development teams with the new Optimo Ultra 12x lens. This fully innovative zoom lens is a multi-format high magnification zoom, thanks to the IRO technology.
Successor model to the industry reference Optimo 24-290 (and 28-340), the Optimo Ultra 12x is the ideal long-range zoom for high-end productions: Feature Films, TV Series, Live Stage, Commercials, Music Videos. The lens features a totally new optical & mechanical design, offering high optical performance (superb image quality, no ramping, minimal breathing, very short MOD) and improved mechanical stability and serviceability. The Optimo Ultra 12x which comes with the standard PL mount lens, has a sub-mount system in order to be equipped with various mount options. Optically, users will appreciate its superb image quality along the full focal length range, minimal breathing and low distortion and its very close focus. Mechanically, the lens features precise and ergonomic focus ring with ability to swap easily the focus scale ring from meters to feet. It is designed for extreme shooting conditions with a better sealed optical area than on its predecessor reducing dust inhale, and can be used in a temperature range from -20°C to +40°C (-5°F to + 105°F).
Thanks to the IRO technology the lens can be configured to cover 3 different formats: S35 (Ø31.1mm image circle), U35 (Ø34.6mm image circle) and FF/VV(Ø46.3mm image circle). It will be the perfect zoom lens for the new generations of high-end digital cameras.
Two packages will be available:
– Standard Optimo Ultra 12x package : Zoom S35 + U35 Kit
– Full Optimo Ultra 12x package : Zoom S35 + U35 Kit + FF/VV Kit
Also available a specially designed Carrying Handle and a Front Protective Glass.
Optimo Extenders 1.4X and 2X can also fit the Optimo Ultra 12x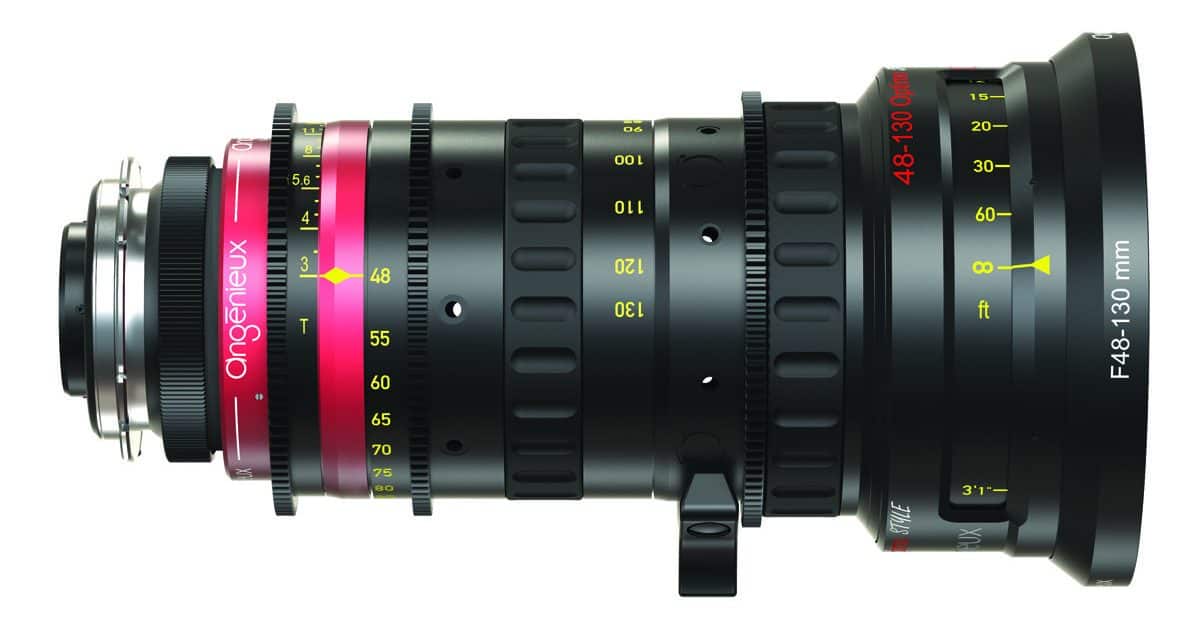 IBC 2017 : First Presentation in Europe in a major show of the Optimo Style 48-130 and of two new accessories for the Optimo Lens lines
Recently presented for the first time in the world at NAB, Angénieux is pleased to present at IBC2017 its new Optimo Style 48-130.
The Optimo Style 48-130 T3 is the third lightweight compact zoom lens in the Angénieux Optimo Style series. It is the ideal companion to the Optimo Style 16-40 T2.8 and 30-76 T2.8, the two other lightweight compact zooms of the range, and the 10x Optimo Style 25-250 T3.5. It weighs only 4.3lb/1.95kg and has a Close Focus at 3'1"/0.94m. With its unique zoom range it is the perfect lens for close-ups, portraits, or tight shots either handheld or on Steadicam, sticks, remote heads, gimbals, or rigs.
The Angénieux Optimo Style 48-130 has high optical performances. It covers an image circle up to 34.6mm diameter (RED 8K helium sensor or ARRI Open Gate for instance) with a constant T3 aperture throughout the entire zoom range. As with the other lenses of the Optimo Style series, it has no ramping when zooming in, minimal breathing, distortion and optical aberration. The lens shares the familiar, precise, rugged construction of the Optimo Style series with 320 degree rotation of the focus barrel, and industry standard 0.8M gears on the focus, iris and zoom rings. With the three compact and lightweight Optimo Style lenses, cinematographers can now cover a focal length range from 16mm to 130mm. It can be extended to 260mm with the Angénieux 2x Optimo extender. As its two companions Optimo Style 16-40 and 30-76, the Optimo Style 48-130 has an interchangeable mount system, allowing easy swap of the mount from PL to Canon EF or Panavision PV. The lens can be equipped with the Angenieux Servo Unit (ASU) with integrated motors for remote control with industry standard wireless and broadcast control systems. It also can be fitted with the Angénieux 1.4x and 2x Optimo extenders. This new Angenieux addition should meet the interest of all cinematographers who look for the Angénieux worldwide famous excellence at an affordable price. The lens will fit the latest digital cameras and cameras with mirror shutters and match with the rest of the Angénieux line as well as the best brands of prime lenses. It has already met the highest interest of a lot of rental companies. The first units of the 48-130 Optimo Style will be released in quarter 4, 2017.
Also presented at IBC 2017, the Angénieux new accessories for the Optimo Lens lines
Angénieux's development teams, in their continuous passion to meet Angénieux customers' and users' needs, continuously strive to develop innovative solutions to increase Angénieux lens creative ability.
Initially designed to add an even more distinctive look to the Angénieux anamorphic image, Angénieux presented at NAB 2017 two new stand –alone accessories for its anamorphic line: an uncoated front element and a special coated rear element. The two short zooms – Optimo 56-152 A2S and 30-72 A2S -can be equipped with an uncoated front element which offers a softer contrast image with additional flares around highlights, whereas the Optimo 44-440 A2S can be fitted with a special coated rear element enhancing blue flare.
To those who are looking for a distinctive look even in spherical, Angénieux is now pleased to announce at IBC that its uncoated front element can also fit the Optimo 28-76 and 15-40.
Both accessories can be bought separately and be installed (or removed) by lens technicians without affecting the superb basic image characteristics such as well controlled breathing and distortion.