Lead image: Zoe Boyle and Kerry Howard lit by China lanterns and covered wagons for Witless shot by Benedict Spence
DYNAMIC ILLUMINATION
We are lucky enough to live in a time when lighting technology runs the gamut from the simplest tungsten globe to banks of programmable LED panels controlled by an app. Six DPs share the kit and techniques they have used to tell stories with light.
Dynamic light sources can enhance the drama of a scene, or even create the illusion of a vehicle in motion, and with today's technologies there are many ways to make your light source move.
"Mike Barker, the director, was the instigator of the drones with lights on them," says Colin Watkinson BSC ASC about the third season opener of The Handmaid's Tale, in which Alexis Bledel's Emily escapes the oppressive Gilead. "He wanted surveillance drones by the bridge as extra tension as Emily attempts to cross the river into Canada."
The Toronto-based production turned to their regular collaborators at the Drone Unit, who fly proprietary "Spyder" octocopters. Head pilot Chris Bacik fitted custom 300W LED arrays into two of the drones' Movi stabilisers, each array producing 39,000 lumens in a 30-degree beam.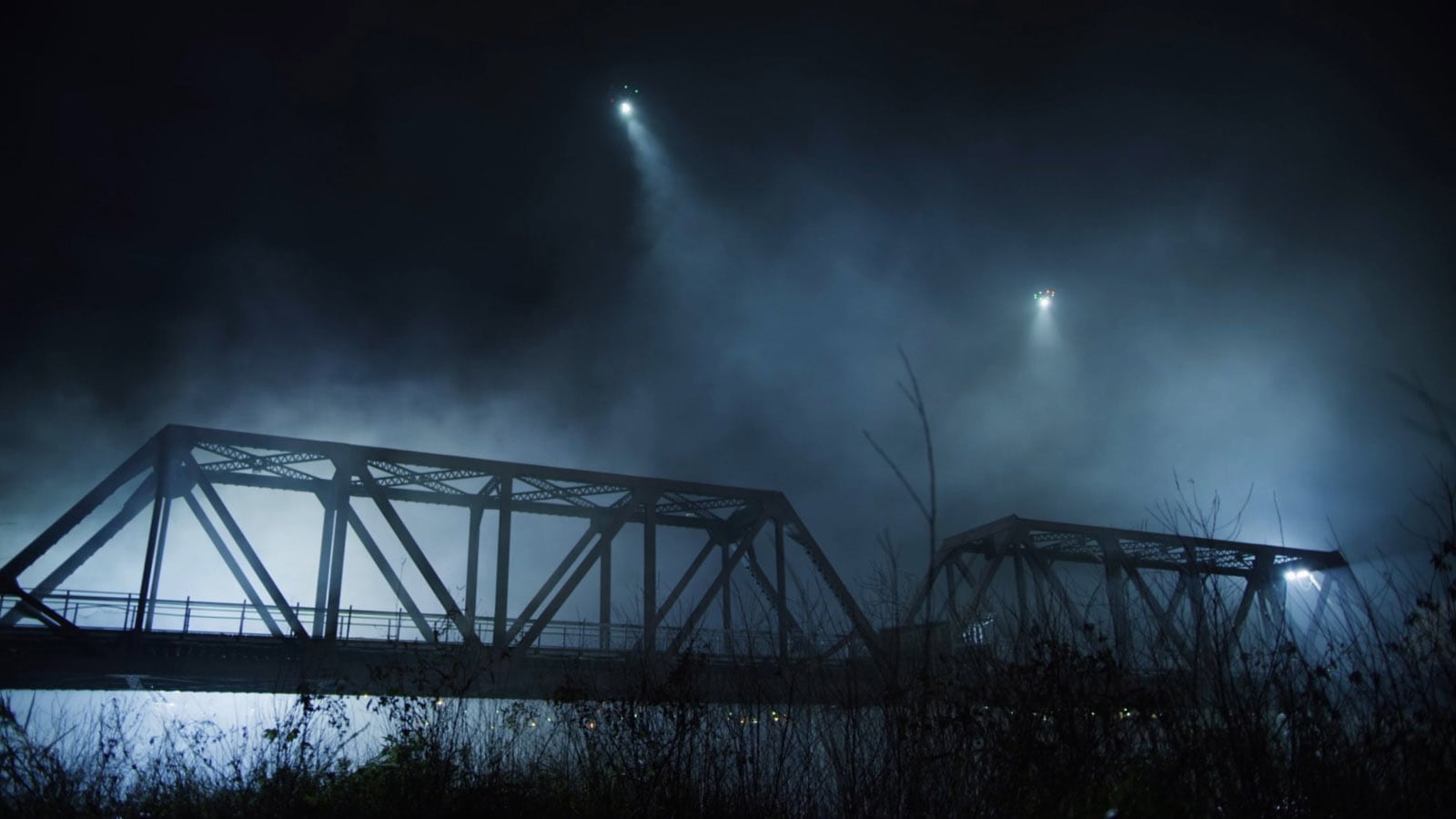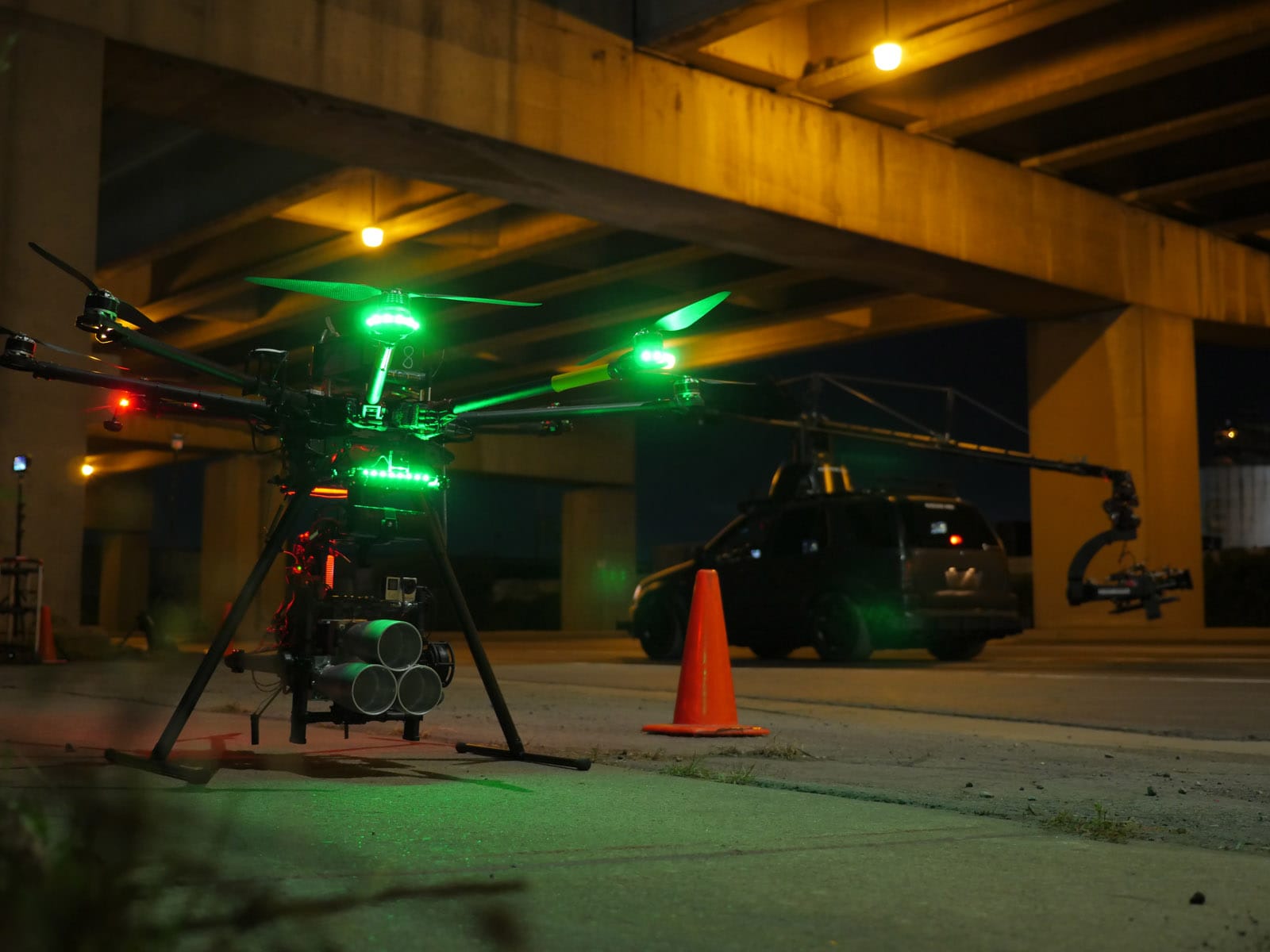 The hovering luminaires took flight again for a scene tracking Emily's getaway vehicle. "For the travelling shot behind the Humvee, we knew we wouldn't be able to light the distance we needed to travel," Watkinson continues, "so we opted to use one of the light drones as an overhead ambience, flying along above the Humvee. We had spotlights in the front of the Humvee, and a light inside the cabin for Emily."
Of the series as a whole, Watkinson offers: "We use LED a lot. The Astera tubes are proving very useful at the moment."
London-based DP Rowan Biddiscombe agrees. "I use Asteras all the time. I really like their warm daylight setting and I've used it on many occasions as a soft kicker or rim-light."
Resembling fluorescent tubes, Asteras are wireless, flicker-free LED batons comprised of 16 pixels which can be individually coloured and flashed to produce a range of effects. They proved invaluable when Biddiscombe was tasked to simulate movement in an old London Underground carriage, for the I Miss U (Live Session) music promo by Jax Jones feat. Au/Ra.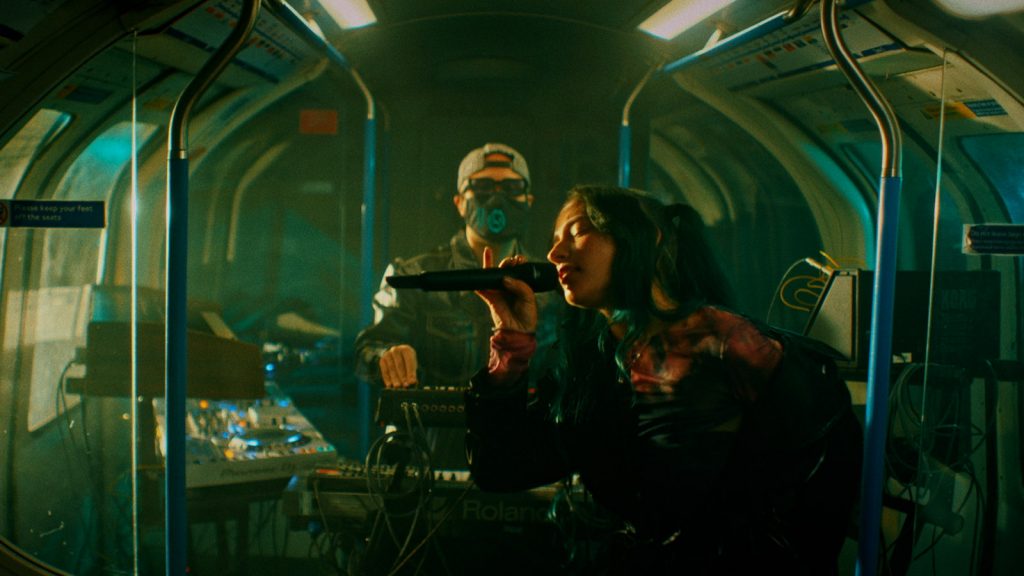 "We decided the Astera Titan tubes would be our 'base' movement lighting gag," says Biddiscombe, "Maybe ten each side, set up to chase from one end of the train to the other. This was to emulate fluorescent lights passing by the carriages." Additional dynamism came from Source Fours flashed or bounced off revolving mirror boards.
"Finally, we replaced a few key practical fluro tubes inside the carriage with Asteras so their intensity could be raised or dimmed during the performance. We ran all of the lights from a single iPad," Biddiscombe concludes.
I was recently called upon to create the illusion of movement in a small aeroplane set piece. The shot was brief but crucial, as Naomi Morris's lead character fulfils the promise of the film's title and goes Above the Clouds.
Filming in a cramped space on location, I used an ARRI D12 HMI fresnel as my sun. As if intercepted by clouds, the HMI initially shone through diffusion; we gradually dropped this and allowed the light to skip off a horizontal poly as if reflected off the tops of clouds.
David Higgs BSC was also required to move the sun on cue when he shot Outlander in 2014, albeit on a much bigger scale. A key sequence of the Starz series' pilot sees Claire (Caitríona Balfe) witness a druidic ritual at dawn.
"The 'sun' was provided by a 12K on a Manitou forklift which we jibbed up to give the effect of the sun rising through the trees," Higgs recalls. The sequence was captured over two days, alternating between the 12K tungsten Mole Beam and the actual setting sun.
Also employed was a dimmable overhead soft box hung from a 100-tonne construction crane. "The lifting crane was used to provide soft daylight to help match the shots as the sun set, and ambient moonlight later on."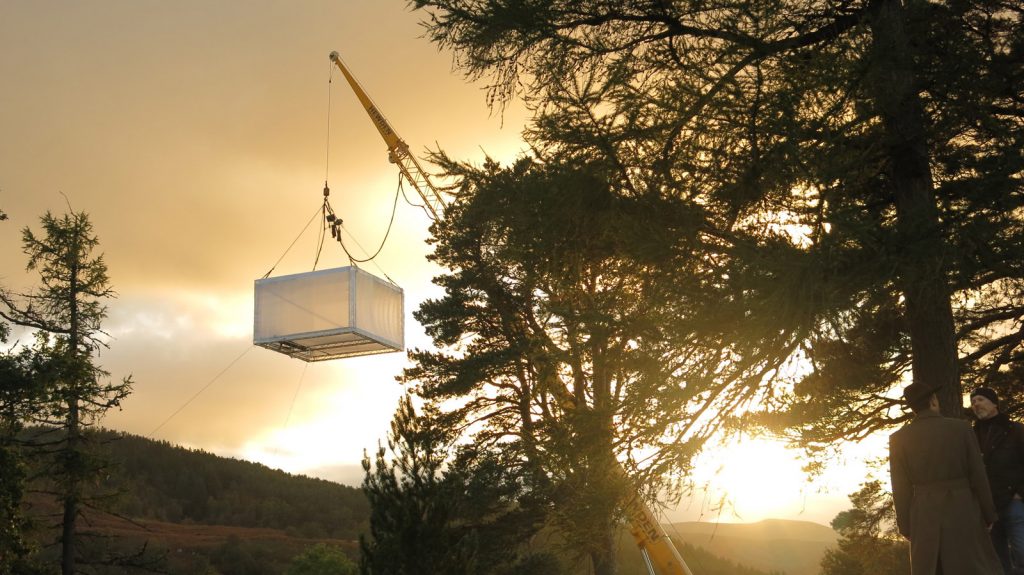 Adding further dynamics were the "candlelit" lanterns carried by the pagan dancers. "We used radio DMX to battery packs and LEDs that the dancers carried to simulate candles," Higgs reveals. Gaffer Scott Napier built the lanterns using Panalux F-Stop wireless LED drivers and four-channel flicker units.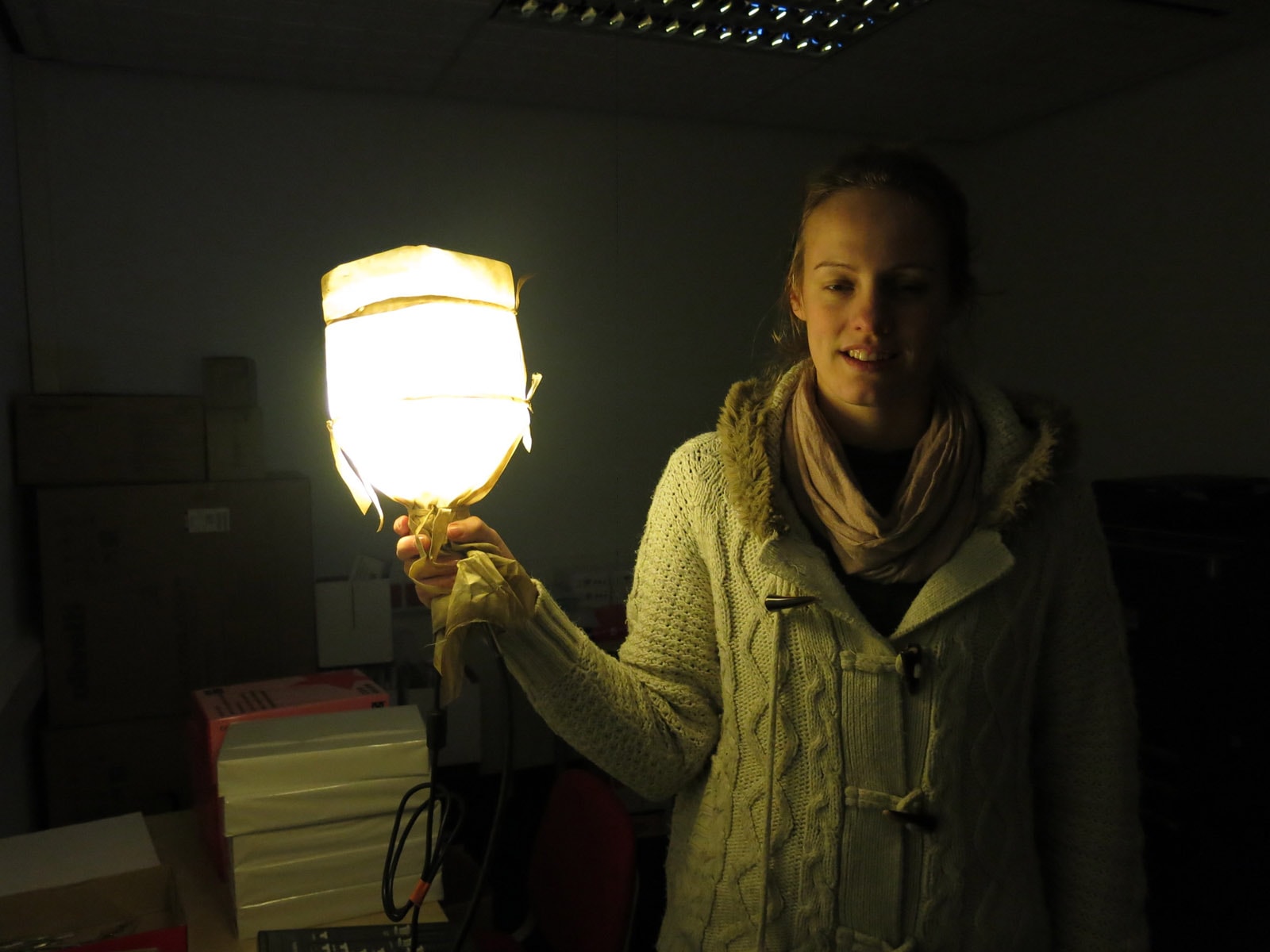 As Biddiscombe's Source Fours and Higgs's Mole Beam prove, the traditional incandescent technology that has served the film industry for over a century still has a place alongside the latest LEDs.
"I have my set of LiteGear LiteMat Spectrums on every single job I do," remarks Benedict Spence, the Emmy-nominated DP of The End of the F***ing World, but one of his favourite fixtures is the humble Chinese lantern, aka China ball.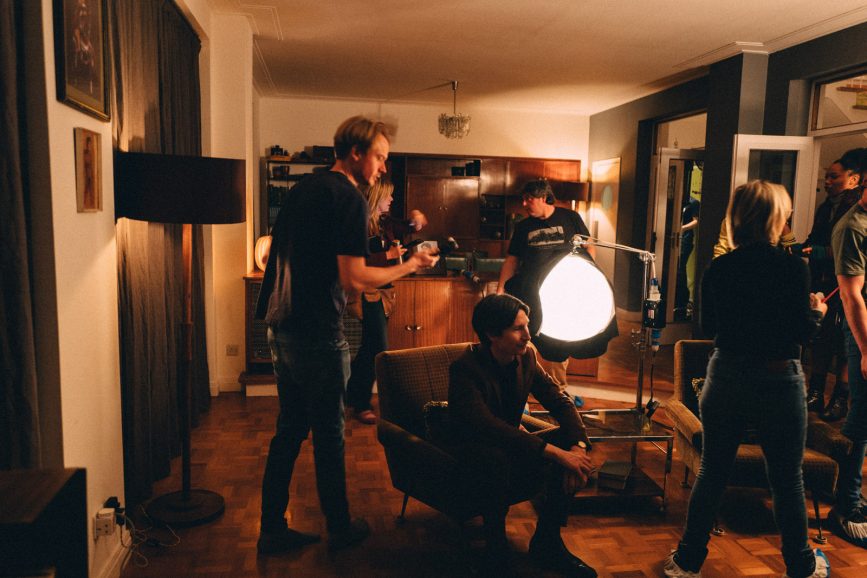 "If I'm working on a residential night interior, with practicals on set, then lanterns are often the first things on my list," says Spence, noting that the fixtures are cheap, lightweight, and easily dimmable. "The texture of the paper is a little blotchy on the face of the lamp, so they produce a very 'real' feeling light.
"I use the Lantern Lock system, supplied in the UK by Barbizon. I will normally cover two thirds of the surface of the lamp with Bolton and go with E39 300W tungsten lamps inside."
Spence is also a fan of the covered wagon, a fixture named for its resemblance to a caravan from the American Old West. "I had two 4ft covered wagons made for me back in 2012," he reveals. "They are essentially six 100W bulbs in a 4ft plank of wood, with some wire bent over them and some spun diffusion placed over the top of that.
"On my first feature, the sub-microbudget AfterDeath (2015), we shot 95% of the film solely on my lanterns and covered wagons. And I've used them in conjunction on pretty much every production ever since."
Anna Valdez Hanks used tungsten sources to create both soft and hard light in the 2020 feature Hope Gap, directed by William Nicholson. Told across multiple seasons, the core of the story took place in a house which was built on stage.
"I used custom soft boxes above the windows, on a pulley system, so they could be lowered down quickly when not in shot," says Hanks. "These were Toblerone-shaped, with 5Ks pointing in at either end, reflective material on two of the triangle sides and diffusion at the front."
Hanks introduced other instruments when a less wintery feel was required. "I began working with Source Fours a few years ago to splash soft areas of light onto the background. In Hope Gap we used them for this reason and also to compose the frame – cutting shafts across the foreground, perhaps in the same orientation as a line of furniture or an architectural detail."
Manufactured by Electronic Theatre Controls, Source Fours (aka Lekos) are ellipsoidal fixtures which take their name from the four strands of their tungsten halogen filaments. Interchangeable lens tubes permit beam angles anywhere between five and 90 degrees, while built-in cutters allow the light to be shaped with more precision than traditional barn doors.
"I used Source Fours a lot on Larissa Sansour's artist film In Vitro for the Venice Biennale," says Hank. "This was shot in black-and-white – a format I love because the framing is so entirely dependent on light and dark areas of the image. With black-and-white, you can use light to create shapes and Source Fours give you perfect control."
A fixture with similar features but on a smaller scale is the Altman Micro Ellipse LV (low voltage), a favourite of stop-motion specialist Laura Howie. Currently a lighting cameraperson on Guillermo del Toro's Pinocchio, Howie typically operates on sets of around 1:6 scale.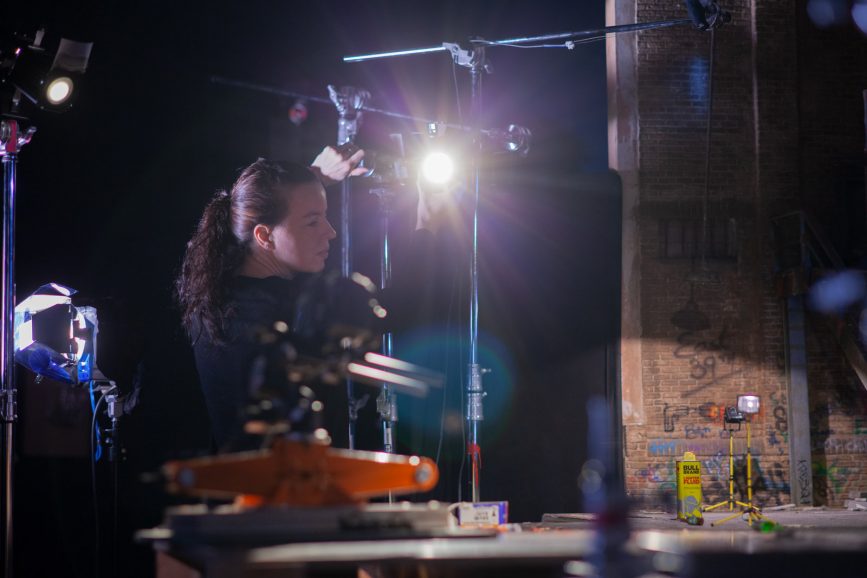 "I usually work with Altman Micro Ellipse LVs for interiors," she states, noting that their small profile makes it easier to fit them into tight spaces without overheating or obstructing the animator's access. "The Ellipses' variable focus allows the beam to be directed at a very small area of the set."
Howie explains that the precision cutters make it possible to light a miniature character without washing out nearby practical lamps. "LV blades are also narrow enough to be used as effective eye-lights.
"Another trick we use is to bounce the Ellipses off mirror tiles or small pieces of poly or silver board hidden within the set," Howie adds. "Shaping the mirror with sticky BlackTak and diffusing with dulling spray can control it further."
Whether lighting the smallest animation set or the longest stretch of Canadian road, DPs in the 21st century have an ever-growing array of technology to call upon, but it's our creative vision and ingenious techniques that will always put the art and emotion into cinematography.