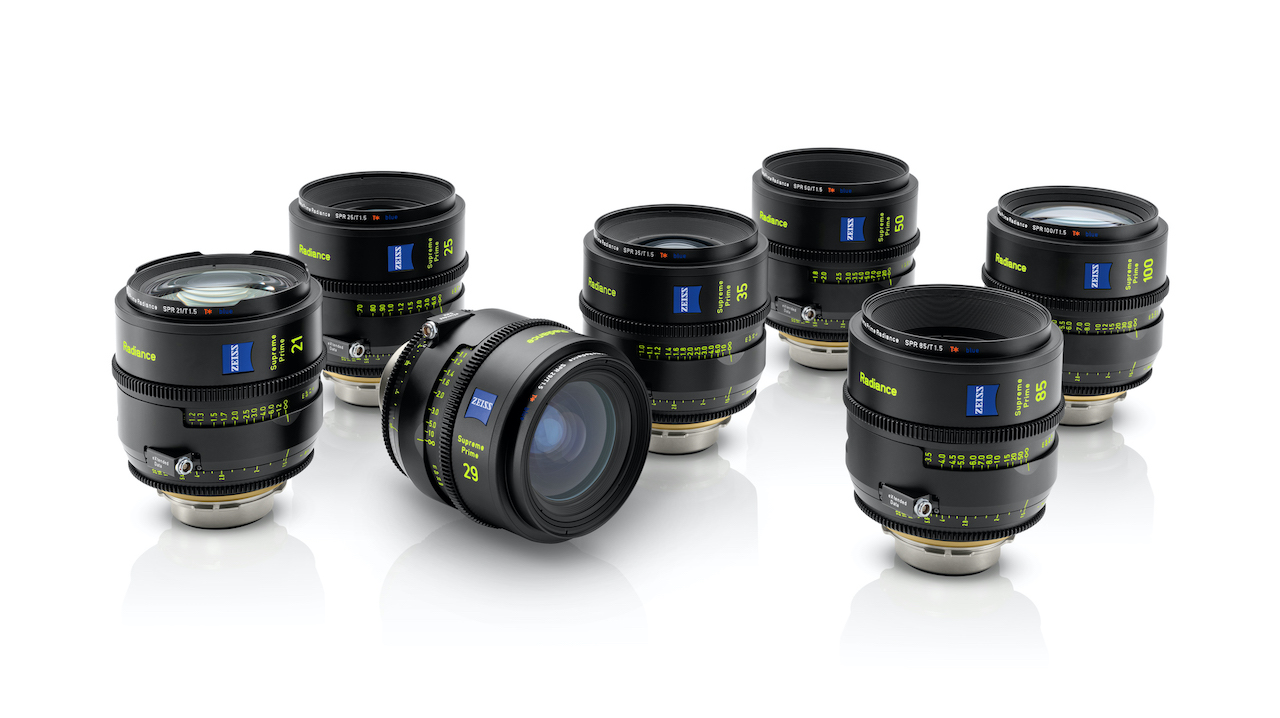 ZEISS has unveiled the ZEISS Supreme Prime Radiance lenses, an exclusive new set of seven high-end cinematography lenses. The lenses are based on the high-speed ZEISS Supreme Prime lens family with the benefit of the new T*blue coating, which offers an uncompromising look and controllable, consistent flares without any compromises.
"The ZEISS Supreme Prime Radiance lenses deliver stunning, consistent flares across all focal lengths that cinematographers can create at will," says Christophe Casenave, Product Manager for Cinema Products at ZEISS. "The new lens family has been infused with ZEISS's experience and passion for premium-quality cinematography lenses – combined with its aspiration to support movie-makers throughout the creative process," says Casenave.
Controlled images that exude artistic flair
The ZEISS Supreme Prime Radiance lenses are available as a set of seven focal lengths between 21 and 100 millimeters, all with a maximum aperture of T1.5. This makes it possible to capture subtle nuances, even in poor light.
"When we spoke to movie-makers and experts, we took a close look at the appeal of flares and their unique impact on the atmosphere of a movie," says Casenave. He describes how ZEISS is responding to users' needs to integrate flares to ensure greater creative freedom with the lenses: "We didn't just want to reproduce the effects, but to create tools that would allow this effect to be achieved at any time and in a controlled manner, and so the T* blue coating was born." The new coating allows users to create flares in the right light without any losses in contrast or transmission – and in the high quality that customers have come to expect from ZEISS.
The versatility of the lenses can be used to create this visual look, which is due to the smooth depth of field and elegant bokeh, thus meeting users' every artistic wish – from a blockbuster to a high-end commercial or a film d'auteur.
Compact, lightweight full-frame lenses
In addition to their flare behavior, the new lenses offer all the benefits of the ZEISS Supreme Primes. Thanks to their image circle diameter of 46.3 millimeters, they cover the current large-format cinematography sensors and are compatible with the latest camera models, such as the Sony Venice, ARRI Alexa LF, and Mini LF and RED Monstro. Moreover, they feature a front diameter of 95 millimeters with consistently positioned focus and aperture rings. They weigh around 1,500 grams on average.
The lenses are equipped with the ZEISS eXtended Data meta-data technology launched in 2017, providing frame-by-frame data on lens vignetting and distortion in addition to the standard meta-data provided using the Cooke's /i technology1 protocol. This simplifies and speeds up work-flows, particularly for VFX and Virtual Production.
Limited availability
The ZEISS Supreme Prime Radiance lenses are available to order from announcement until 31st March 2020. The seven focal lengths – 21 mm T1.5, 25 mm T1.5, 29 mm T1.5, 35 mm T1.5, 50 mm T1.5, 85 mm T1.5 and 100 mm T1.5 – are available exclusively as a set from ZEISS Cinema dealers. The lenses will be delivered from April 2020 after the end of the ordering period.