Book Club

Zac Nicholson BSC / The Guernsey Literary And Potato Peel Pie Society
Book Club

Zac Nicholson BSC / The Guernsey Literary And Potato Peel Pie Society
Increasingly these days, the influence of the modern world means that many places do not look as they did in the past. This problem faced the production team behind The Guernsey Literary And Potato Peel Pie Society. Set during the World War II German occupation of the Channel Islands, the film was mostly filmed in England, taking advantage of the heritage village of Clovelly, which has changed little over the years.
"A lot of the architecture on the island has been modernised," explains director of photography Zac Nicholson BSC. "Because of this, the Guernsey locations were shot in North Devon. Clovelly is a private estate that is completely untouched. There are no roads, just cobbled paths, the original stone harbour, which doesn't have any metal safety rails, and a few houses."
Although Clovelly has the necessary old-fashioned feel and look, there were still some difficulties to overcome. "It looks fantastic from a period point-of-view, and it's just a bit smaller than St Peter's Port, the capital of Guernsey," Nicholson explains. "That meant for the scene where Juliet Ashton [the visiting young author played by Lily James] arrives there from the boat, and looks up the hill, we had to augment the scene with CGI to triple the number of houses. That also dealt with some bits of scaffolding that were in shot."
Directed by Mike Newell, The Guernsey Literary And Potato Peel Pie Society, based on the book by Annie Barrows and Mary Ann Shaffer, is set in two time periods; during the war after German forces invaded, when the Channel Islands became the only British territories to be occupied by enemy troops; and in the years immediately after the end of hostilities and the liberation of the islands. This is Nicholson's first film with the director, who told the DP he wanted it to look "beautiful, but not saccharine". Nicholson adds that Newell also had a very clear idea for the feel of the film: "He wanted it to be a fairy tale, but not overly contrived or sweet."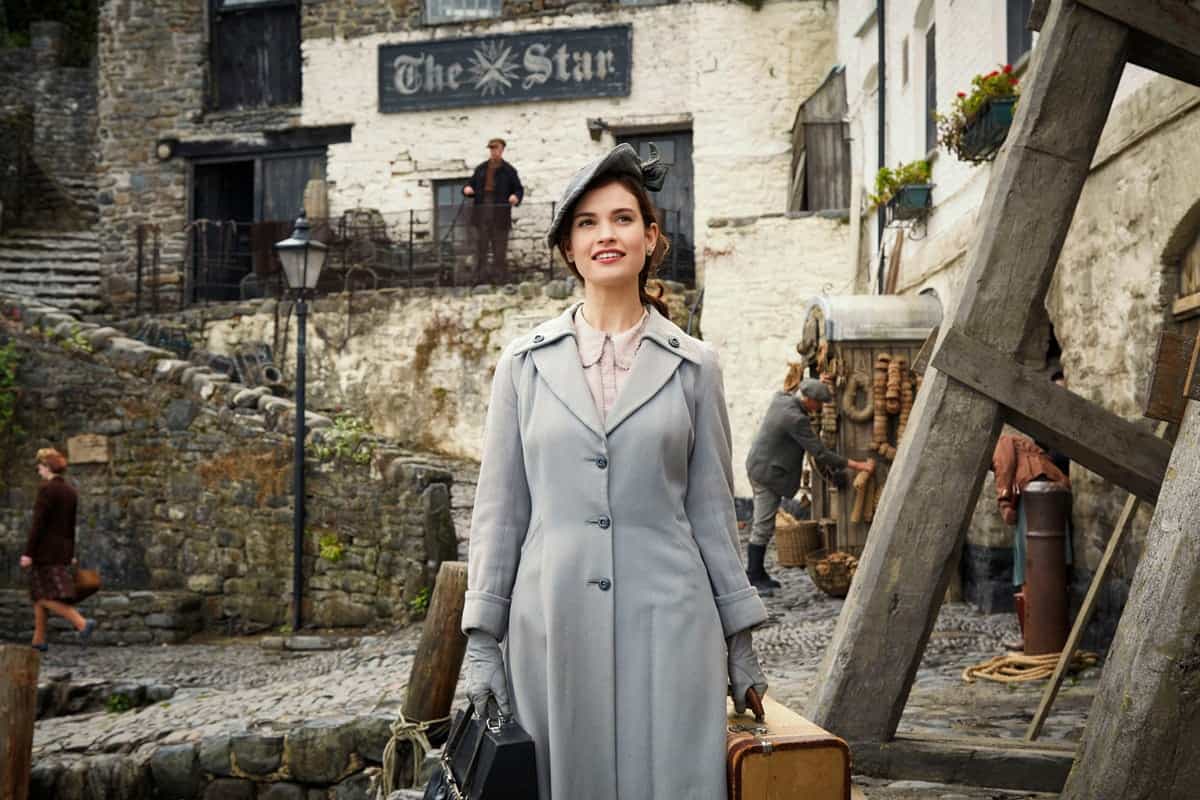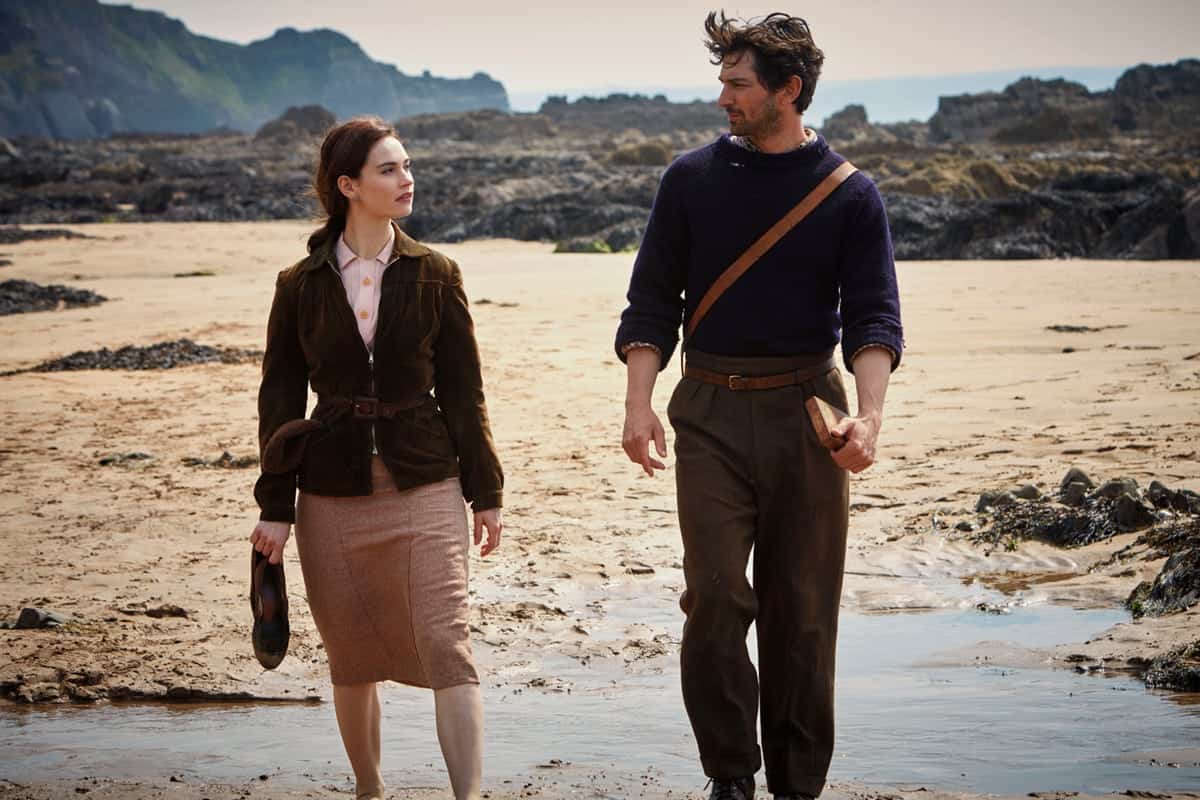 The shoot was on ARRI Alexa using ARRIRAW with a 1:1.85 aspect ratio. "It was always going to be digital," Nicholson comments. "It's my preference, and I'm fairly sure it was of everyone on the production. It's a versatile tool and I subscribe to the Roger Deakins school of thought that you've got the quality of image and you can sleep at night and not worry about the rushes." Lenses were Master Primes, which Nicholson describes as "dependable, beautiful and very crisp". These were used in conjunction with diffusion filters to "pull back" some of the crispness. Other lenses included Allura 45-250mm and Angénieux 15-40mm zooms.
The 'society' of the film's title was formed so local residents could avoid curfew and meet-up, initially to eat locally produced food, using the book club as a cover. Consequently many sequences take place in the home of Amelia Maugery, played by Penelope Wilton. These sets – and those for other interiors – were built at Ealing Studios under the supervision of production designer James Merifield.
"James built a lovely set with a drawing room and hallway," Nicholson says. "The only real challenge was the low ceiling, combined with a high page-count and a large ensemble cast during the society meetings. We got round that by having a central softbox lit by 2K Blondes, which warmed-up nicely and could be dimmed down to give a soft, enveloping look of oil lamps and candles, because there was no electricity at the time."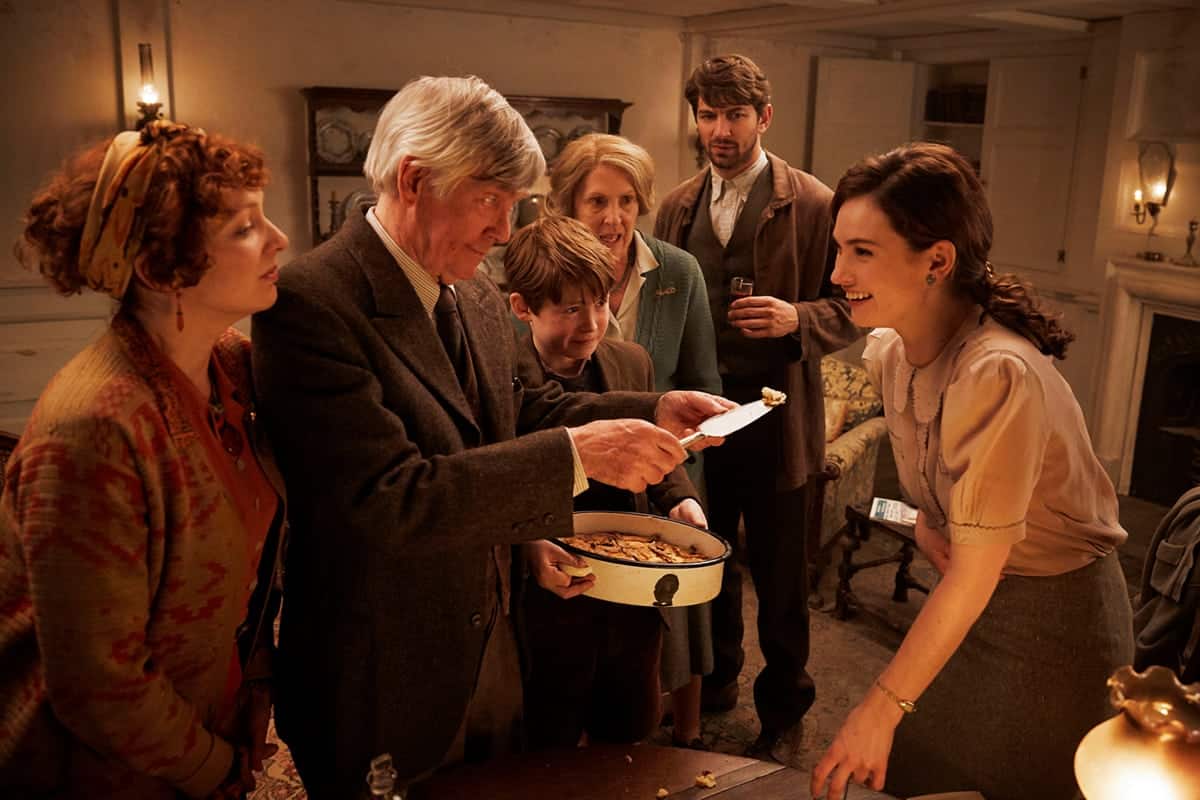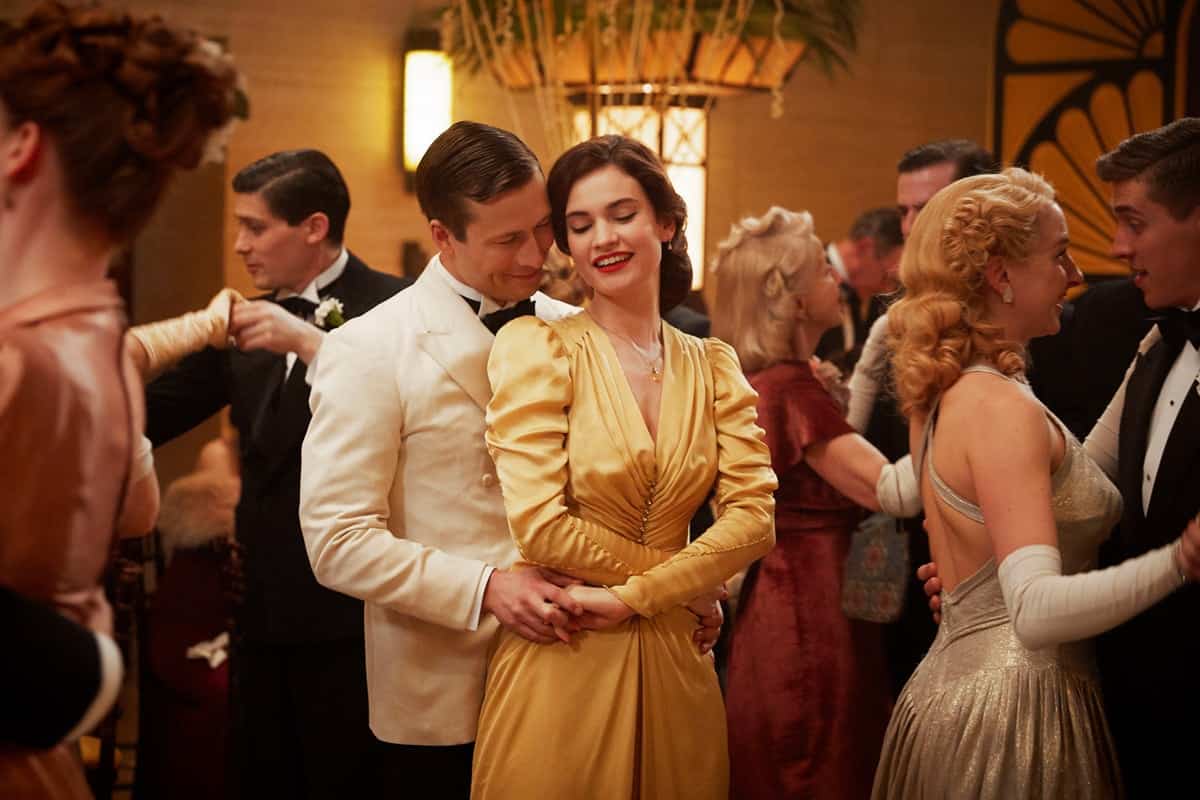 To cover the large number of performers involved, three cameras were often used, operated by Nicholson himself, Ian MacKay, who ran both the A-camera and Steadicam, and James Markwick. The gaffer was Harry Wiggins. Nicholson says that although some LED lighting was used "where applicable", efforts were made to stick with tungsten and HMI as much as possible. "The decision was made early-on that Amelia wouldn't have electricity, because she lived in a remote area," he comments. "So we didn't want to make too much use of modern lighting fixtures. The rig in Amelia's house allowed us to dim the tungstens and keep them as soft as possible without being completely flat. We occasionally used remote controlled LRX 18kW singles for day interiors, with LRX Scorpions for night exteriors."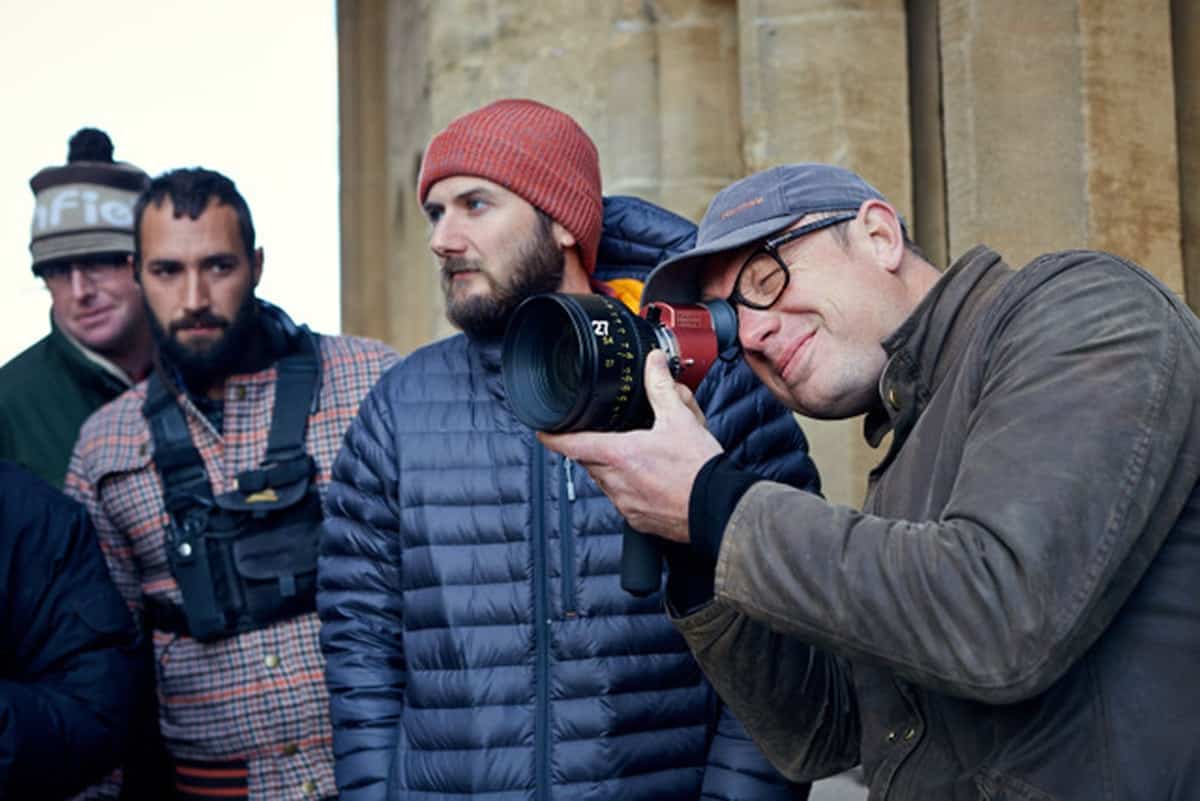 "It was always going to be digital - it's my preference. I subscribe to the Roger Deakins school of thought that you've got the quality of image and you can sleep at night and not worry about the rushes."
- Zac Nicholson BSC
The countryside scenes brought a variety of hardware into play, under the supervision of key grip Malcolm Huse. This included Chapman/Leonard Super PeeWee IV and Grip Factory Munich GF-Primo dollies, plus the Alpha Grip Grip Trix Shadow Tracker powered dolly. "It's a silent four-wheel drive vehicle that runs on batteries," Nicholson explains. "We used that for off-road sequences, following characters in a horse and cart going over fields. This was also the first time I'd used the Primo and it made quite a good combination with the PeeWee because they work in different ways, with their own advantages."
The two time periods were partly differentiated through camera movement. Flashbacks to the war were handheld to give what Nicholson calls "more kinetic energy, action and drama". The later periods were shot using a camera head mount in a more "classical style". Among the big set pieces was landing a Douglas DC-3 Dakota aircraft on the beach at Saunton Sands, also in North Devon. "The RAF already uses the beach for practice landings, so there is a routine in place," Nicholson says. "The beach was closed and we had air marshals hiding in the dunes. It's a fantastic scene and you can tell it's a real plane."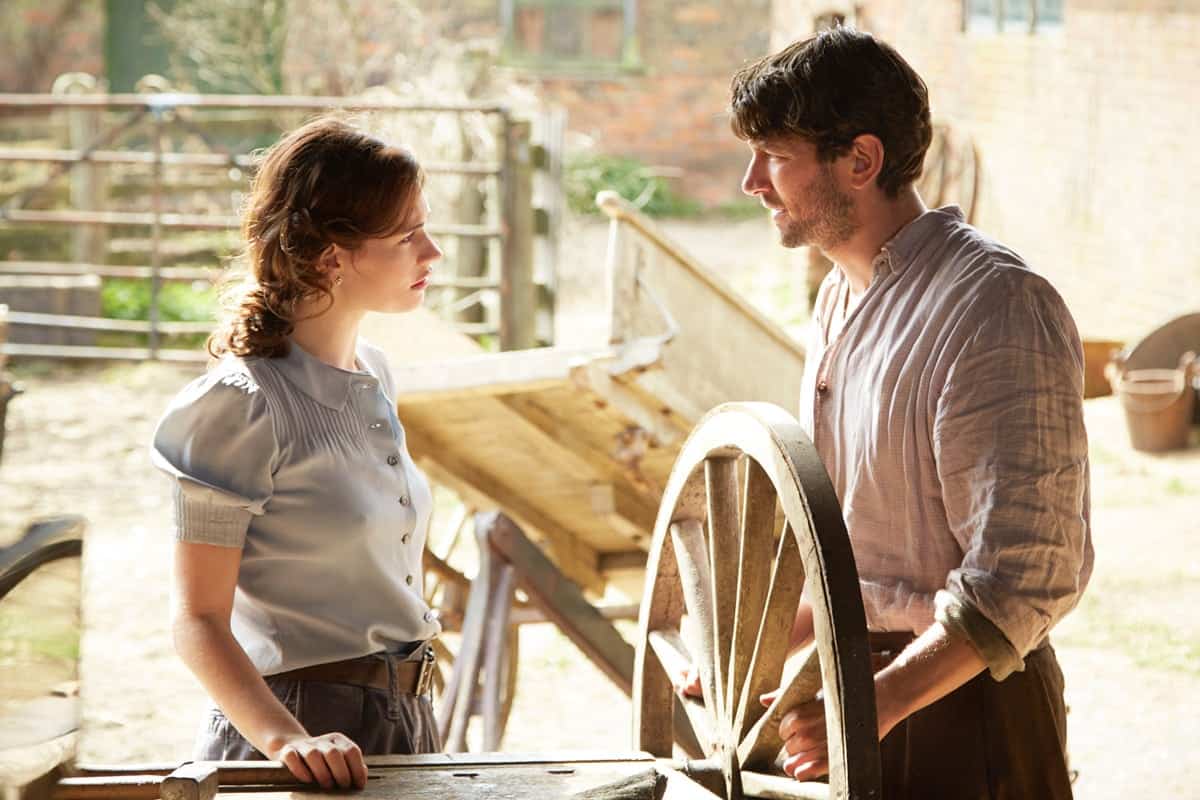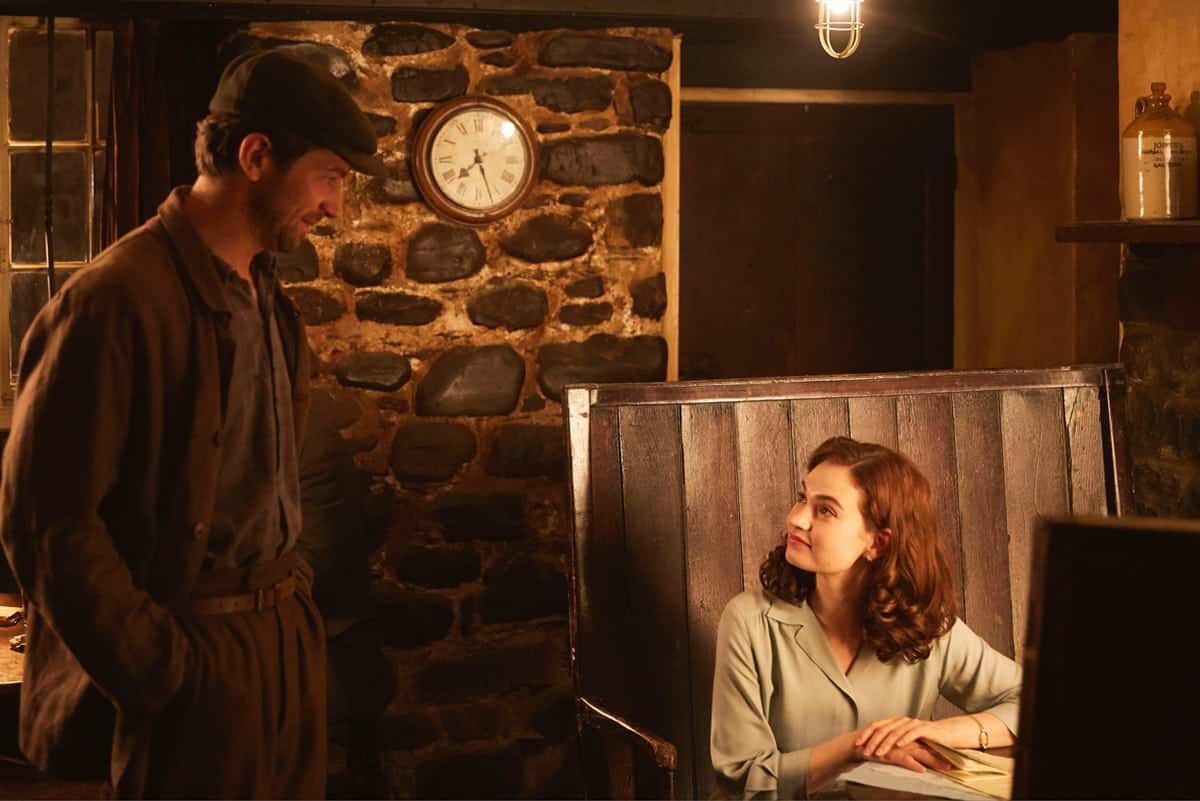 Much of the period look was achieved in post-production by colourist Adam Glasman at Goldcrest Post. Although Nicholson's next project also has a historical source, there will not be similar considerations. The Personal History Of David Copperfield, co-written by Armando Iannucci, who will also direct and for whom Nicholson shot The Death Of Stalin, will have a modern setting. Although, the members of the Guernsey Literary And Potato Peel Pie Society probably wouldn't approve.