TRAIL OF DESTRUCTION
Helping highlight the crack epidemic's impact on '80s LA through the lensing of FX hit drama Snowfall was important to cinematographer Tommy Maddox-Upshaw ASC. Filming the series at a pivotal point of re-examination over how to diversify Hollywood storytelling added another level of significance to the crew's work.
Transporting audiences to the inner-city neighbourhoods of '80s LA, Snowfall takes a 360-degree approach when examining the effects of the crack cocaine epidemic. The fourth season, set in 1985, delves deeper into the world of Franklin Saint (Damson Idris), who escalated from selling marijuana to crack. Physically recovering from being shot at the end of season three, Franklin is also building his confidence and business while coming to terms with crack's impact on his neighbourhood.
Cinematographer Tommy Maddox-Upshaw ASC was welcomed into the Snowfall production family to shoot season three after the late, great filmmaker and the series creator John Singleton (Boyz n the Hood, Four Brothers) brought him on board. "I'd admired John's work for years before we were introduced by Spike Lee," says the DP. "A few years later, John and FX production executive Gigi Causey, who I worked with on Straight Outta Compton, recommended me to the network and I entered the Snowfall fold."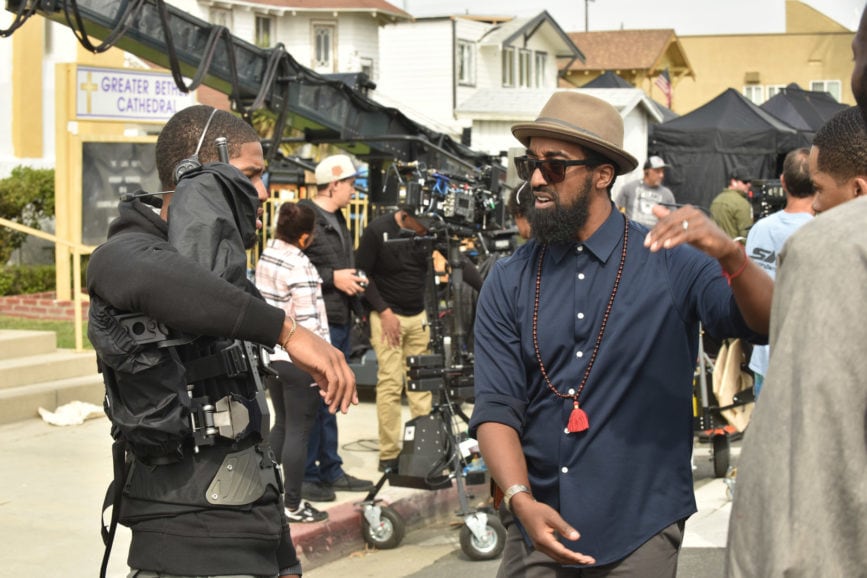 The bold style and colour palettes adopted in the pilot – lensed by Robrecht Heyvaert – and in the first two seasons – shot by Jeffrey Greeley and John Lindley ASC – wowed Maddox-Upshaw. While staying true to this vision, he wanted to put his own stamp on the episodes he shot with cinematographer Eliot Rockett. "It's not a conventional show," he says. "The visual cinematic language cinematographers are bringing to the home screen on series such as Snowfall is now on a par with what we used to only experience on the big screen."
Snowfall's focus on the destruction the epidemic caused in LA – which Singleton drew from the world he grew up in and the things he saw as a teenager – resonated with Maddox-Upshaw due to the similar situation he'd witnessed as a child living in '80s Boston. "Like Los Angeles, Boston was hit hard by the effects of substance abuse," he says. "It became violent and polarising because inner-city youths were profiting from something that was destroying the neighbourhood. Seeing how it transformed lives in my area made telling this story important to me. Snowfall doesn't express it as a one-dimensional narrative about people hooked on crack. It dramatises the bigger picture about what happened in those black neighbourhoods, what appealed to the youths dealing drugs, how the situation turned violent, and the extremes addicts would go to."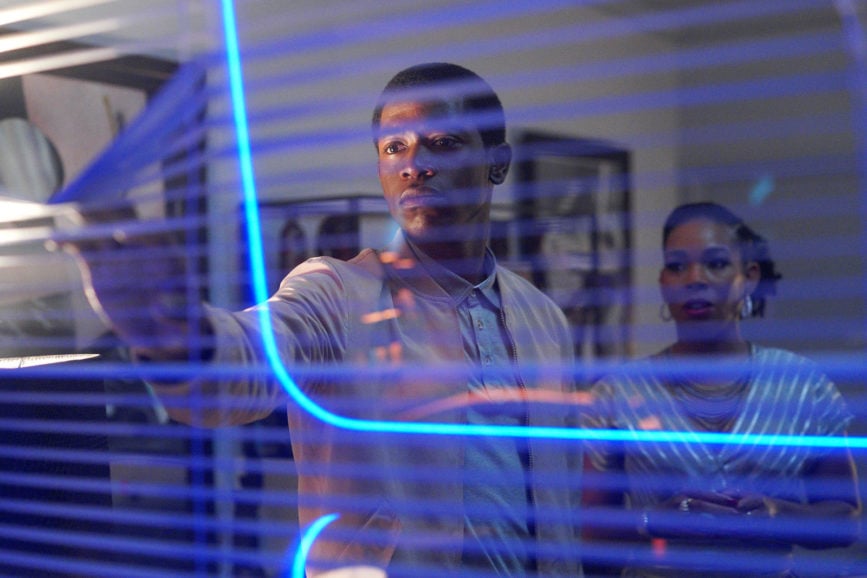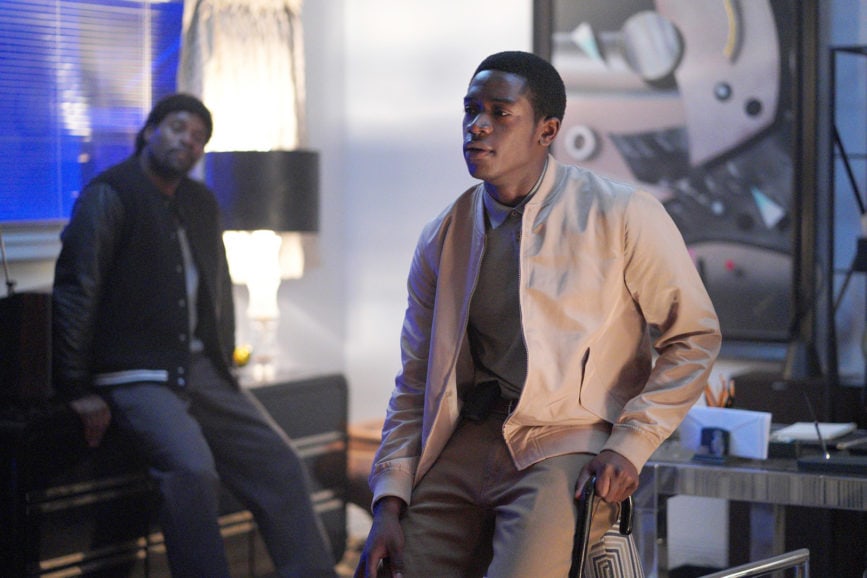 When determining season four's visual language, Maddox-Upshaw and Rockett were given creative freedom so long as they "played within the storyline structures". "I was quite heavy-handed in terms of mixing colour tonalities at times," says Maddox-Upshaw, "because the story becomes more deeply involved in relationships and power struggles. Co-creator and writer Dave Andron, John Singleton and their writing team did a tremendous job peeling back the layers in each episode."
The distinctive style of cinematographers such as Malik Sayeed along with the "masterful techniques when handling brown skin tones and working with different light levels" seen in the work of photographers like Gordon Parks, Roy DeCarava, Barron Claiborne, and Marc Baptiste were influential for Maddox-Upshaw. He also examined the way online African fashion magazines photograph skin tones in contrast to models' vibrant clothing. "This is inspiring because many of them are so beautifully jet black. I look at many images of people from that part of the world because they express themselves within the context of their culture and the chances they take with colour are exciting."
Pre-pandemic, a large chunk of the series was filmed on location in South LA, where the story takes place, with additional scenes shot in LA's San Fernando Valley to double up for South America. Maddox-Upshaw, who has lived in LA for the last decade, found filming on location helped put the story in context, but then production was forced to shut down when COVID hit. When filming returned, with strict COVID-safe measures in place, Snowfall became an isolated show. Sets were built on stages in downtown LA and some scenes were filmed in houses on a disused college's backlot. This allowed the crew – who were having three COVID tests a week and controlling as many variables as possible to reduce the risk of outside transmission – to remain isolated in their bubble.
Helping to craft a believable '80s world on location and on the stages was accomplished production designer Tomas Voth, who carried out extensive research and spoke to people who lived in LA during that period. "Not everything needed to be bright because the characters were not in nice, light, and airy houses; they were making crack cocaine in abandoned warehouses and closed-down restaurants. Tomas would still give us opportunities to light scenes in a variety of ways, such as partially hanging fixtures that we could place a bulb in or gaps in windows which outside light could penetrate."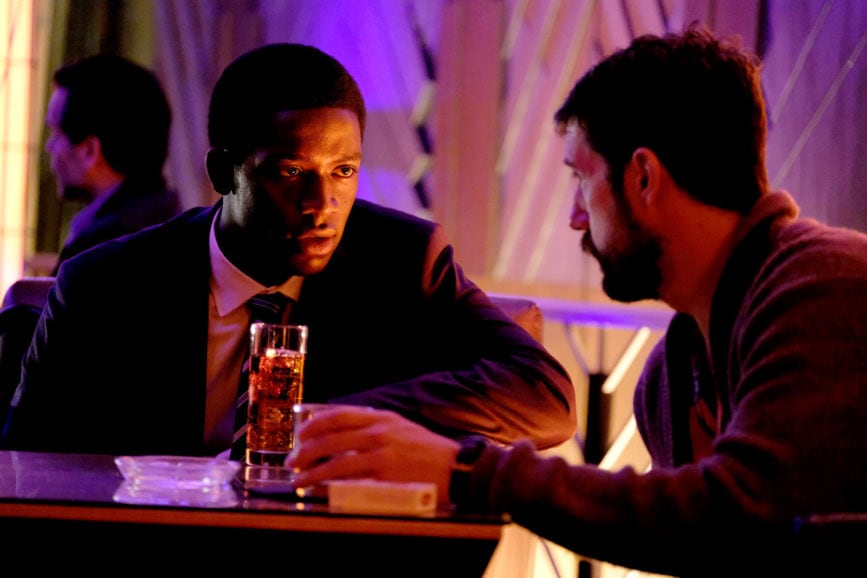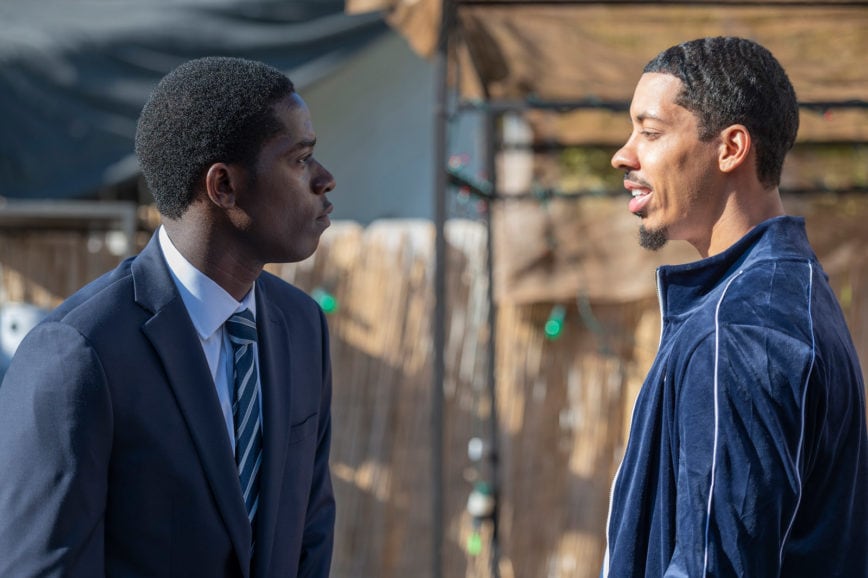 When shooting other shows featuring a black cast such as Empire, I've noticed the Venice interprets skin tones in a different way to other camera systems

Tommy Maddox-Upshaw ASC
LED fixtures were heavily relied upon, including a large number of Astera Titan Tubes. "Shooting at ISO 2500 and using the Asteras allowed me to achieve the nuances of skin tones and I then used a lot of muslin to bounce or diffuse the light. I also like using tungsten fixtures like for backlight. Working with gaffers Justin Dixon and Byron Marigny to shape the lighting was great. We're all friends and we have a shorthand approach and are comfortable suggesting and experimenting with ideas."
Having shot with the Sony Venice for the past few years, Maddox-Upshaw once again appreciated its dual ISO and 16-bit colour depth for Snowfall. "When shooting other shows featuring a black cast such as Empire, I've noticed the Venice interprets skin tones in a different way to other camera systems," he says.
"For example, when shooting against a white wall, you don't have to find a way to neutralise the brown skin tone. The Venice is very true in terms of colour balance which is important because I want to find the most neutral spot and then manipulate. If I have a good base to start from, I know I have the range to manipulate the colour space and push things without it rolling certain colours. I can lower the exposure and make it darker while keeping that colour space and without the skin colour rolling a red or an offset orange."
The Sony Venice Rialto extension system was also invaluable, allowing the front image block of the camera to be removed for mounting in smaller housing. "This meant key grip Bobby Thomas could quickly put the camera anywhere we needed it. Usually, a car rig takes hours to set up, but Bobby and his crew could put the camera in the car within 20 minutes using the Rialto.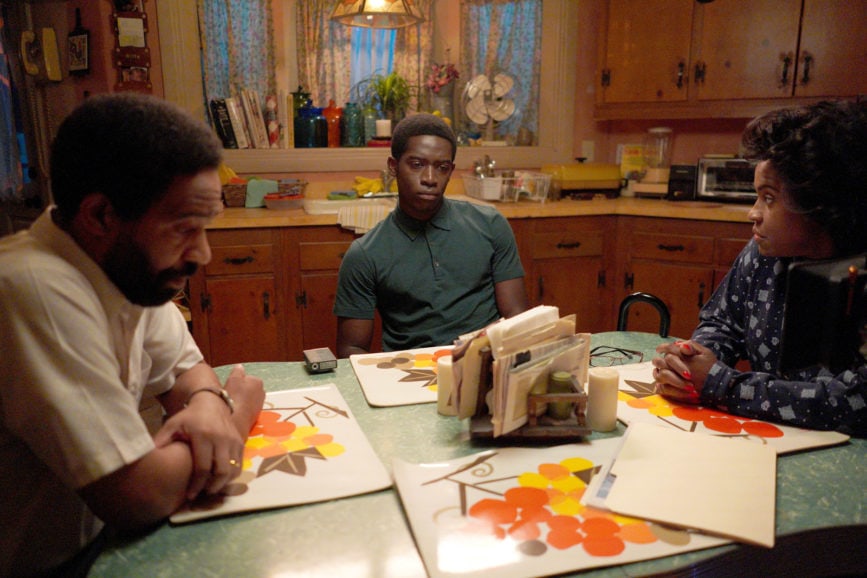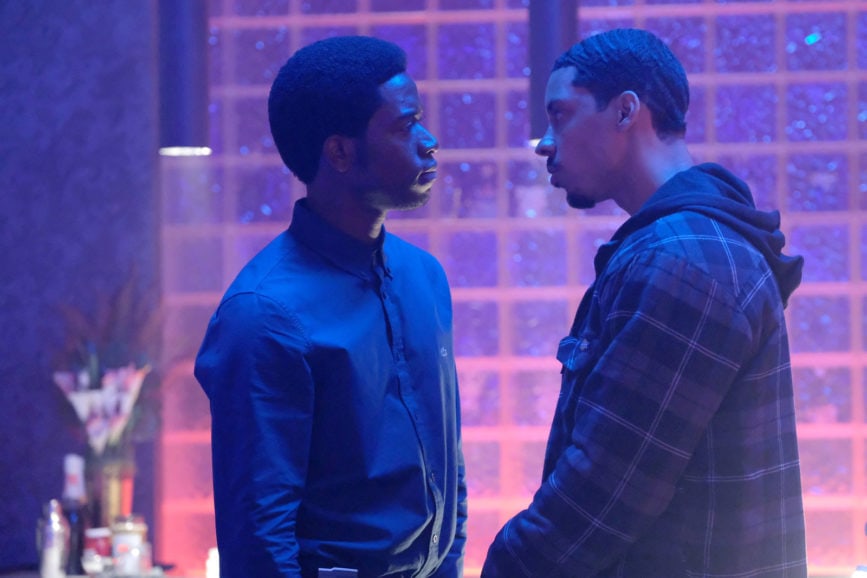 "Manolo Rojas, A camera operator, also loved shooting handheld with the Rialto as he could make the camera smaller and place it right at the edge of B camera operator Pauline Edwards' frame. It was a beautiful thing to watch and so responsive. We call Manolo Mr Fearless – he'll jump off a building with the Steadicam. Pauline's work on the shoulder is amazing. She's our handheld specialist and is one of the few black female camera operators on a studio show. During lockdown, she devoted time to practicing on a remote head and wheels and when we came back, she had an even more impressive skill set."
Also playing starring roles in Maddox-Upshaw's standout camera crew was the "incredibly talented" A cam 1st AC Alex Lim, and B cam 1st AC Prentice Smith. Integral to the show's distinctive look is colourist Pankaj Bajpai (Crouching Tiger, Hidden Dragon, House of Cards), who has coloured Snowfall since the pilot. Maddox-Upshaw and Rockett discussed what they would like to achieve through the LUTs with Bajpai, who developed additional colour manipulation options from the previous series. "We switched camera systems on season three and four, so Pankaj reconstructed the LUTs in line with that. He understands the colour science intimately and helps so many cinematographers, expertly manipulating the colour depending on the storyline. For example, I might ask him to create a LUT that blows the highlight a bit more to add some tension."
Maddox-Upshaw and Rockett paired the Sony Venice with modified 24mm to 290mm Angénieux Optimo, Zeiss Super Speeds and a 15mm to 40mm Zeiss zoom – with both modified by Keslow Camera – along with Kowa Prominar Spherical lenses. "I love the Super Speed's colour balance as it has a little bit of warmth. I'm always looking for a lens that will act up upon being backlit and these have a great flare," says Maddox-Upshaw. "I'm also a big fan of the Prominar's heavier contrast of skin tone, bold flare and circular bokeh which bleeds a little."
This characteristic of the Prominar was utilised in a devastating drive-by shooting scene culminating in the senseless and unintended death of an innocent child. "When Leon [played by Isaiah John] realises there was a child hidden in the back of the car who he has killed, the lens helped in the storytelling. We wanted the sun in shot to explode in the frame because Leon's mind has gone and he is in disbelief at what he's done," says Maddox-Upshaw.
We already knew what we were doing through the making of the show was important and why we needed to examine the complexities of being black in America, but after the lockdown I think we all came back to working on the series with even more energy

Tommy Maddox-Upshaw ASC
While the crew was challenged to rethink the approach to filming within the parameters of COVID protocols, the human element of the production process was also brought to the forefront: "Some crew had relatives in the ICU, so while we were figuring out the physical approach to shooting, there were people in my team who I care about who I also needed to check in with," says Maddox-Upshaw. "It was tough for a lot of people who were going through this strain alongside the 13-month production, and it took a lot of perseverance. It was important for us all to realise people have lives outside of making movies and TV series and to be that much more grateful that they're still coming into work with a smile on their faces and doing a great job."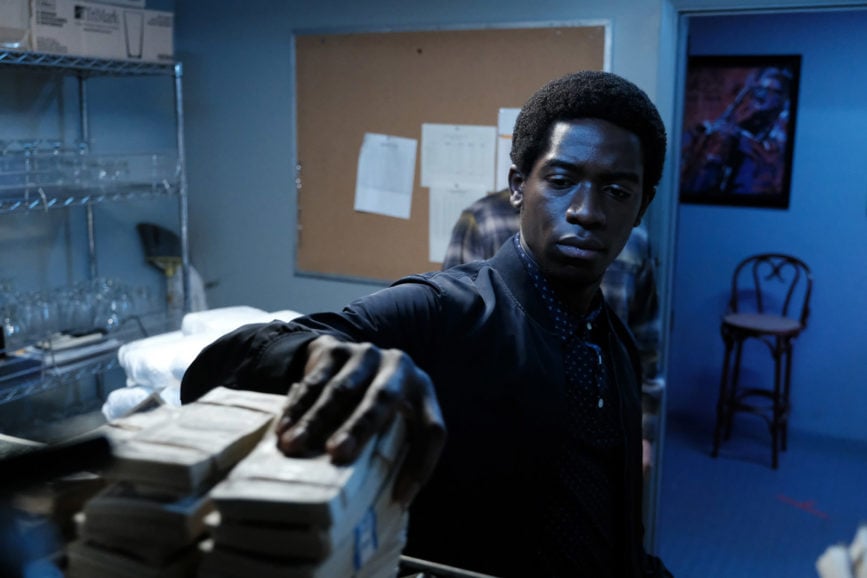 Filming the latest season also coincided with the death of George Floyd and the Black Lives Matter movement, a period that Maddox-Upshaw says was significant for many of the Snowfall crew. "With many of our crew members being black, we had an emotional response to not only the series' storyline but what was happening in the world around us as some of the team have had first-hand experiences of discrimination. We already knew what we were doing through the making of the show was important and why we needed to examine the complexities of being black in America, but after the lockdown I think we all came back to working on the series with even more energy. I also think, as a community, more people are open to discovering the story of Snowfall and how this era affected our lives."
Maddox-Upshaw is encouraged by the positive changes now being made in Hollywood. "After what happened to George Floyd and during the break that followed due to COVID and the lockdown, Hollywood had time to re-examine itself in terms of how inclusive it is. People of colour who are cinematographers and might have been overlooked in the past now seem to be getting opportunities that were not there when I graduated from the American Film Institute. There have been many rejections for fabricated reasons over the years. It's been a long journey, but things are changing, the opportunities are opening up and I'm happy to help spearhead it and promote more inclusive crews."