THE ART OF OBSERVATION
Sir Roger Deakins CBE BSC ASC has published Byways, his first collection of photographs. The Oscar-winning cinematographer discusses his passion for capturing stills, the inspiration behind his photographic work, and the joy of exploration and observation that has spanned more than five decades. 
He's captivated audiences with his cinematographic talent, now Sir Roger Deakins CBE BSC ASC is sharing his still photography. Byways, his first book, features moments captured from the '70s to the present day, with a focus on the coastal and rural splendour of the southwest of England alongside other aspects of life observed along the way.  
The master of moving image finds the process of taking photographs very different to cinematography. "A still is a single frame that has to stand on its own," he says, "whereas when you shoot a documentary or feature film, you tell a story using a different kind of language."
The observational nature of photography drew Deakins to the art form from an early age. "I've never seen myself as a photographer though – it's like my sketchbook," he says. "I daydreamed about being a photojournalist at one point, but when the opportunity to study film at The National Film School arose, I took it. After graduating, I worked in documentary filmmaking at first, feeling I was better suited to that than taking stills." 
Throughout the extraordinary cinematographic career that followed, Deakins continued taking photographs as his passion for moving and still images grew. His desire to "observe life and explore" led him to document the wonders of the world around him using his Leica camera, often only one prime lens. "I like walking and just looking and having a camera with me is a good excuse to do that. It's about using my eye to discover things I connect with and that grab my attention," he says.
Bill Brandt and Alfred Steiglitz are among the many photographers whose work made an impression from when Deakins' fascination with expression through stills was ignited. His shelves are filled with books showcasing photographic creations, from the images of Henri Cartier-Bresson through to photojournalists such as James Nachtwey. 
For many years, he has enjoyed capturing the serene beauty and rugged charm of coastal areas, mainly in his home county of Devon – a beloved place the now primarily LA-based cinematographer still visits when possible. "When you grow up in a place, it means more to you than you can express," he says. "I toyed with the idea of publishing a book on the English seaside, but I thought it might take forever to gather enough photos that I felt confident about.
"I just love wandering which means I also take photographs during my time off when we're shooting in places like New Mexico or Berlin. So, I thought instead of creating a book of exclusively seaside photographs, why not include images from other places? Byways started as something specific and became more about things I have observed throughout my life."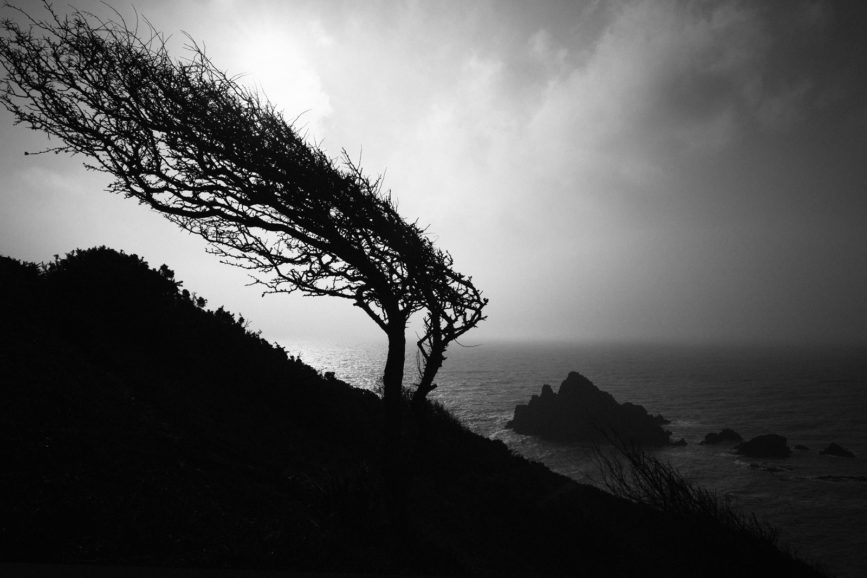 Byways, just like Deakins' cinematography, takes you on an immersive and thought-provoking journey, from candid moments captured by the seaside or photographs taken during the year he spent documenting rural life in North Devon for Beaford Arts Centre through to images of tranquillity and reflection taken on his travels around the world or between shoots while working on films such as Skyfall, Sicario, and 1917. "I take a lot of photographs when I'm shooting movies too, but they are usually location or light references," he adds. "So, I didn't want the focus of the book to be on my work in film."
Working with Italian publisher Damiani to fulfil this ambition was a refreshing experience. "When my wife James and I spoke with them they said, 'If you don't want to focus on films, that's fine. We love your photographs and want to help you publish the book,'" he says. "You need to be selective, especially when aiming to show some sort of progression throughout the book. I think the flow in the images is a result of that collaboration with Damiani." 
In line with his passion for exploring the natural world, landscapes – "and ideally landscapes with people in them" – is Deakins' preferred subject to capture. Images that tell a story and include an element of humour also appeal because "it's not just about lighting and framing. It's what's in the photo. It's all about capturing moments. I like juxtaposing ideas in a frame, so they have some sort of irony to them."
An example in Byways Deakins feels demonstrates this perfectly is a photograph he took in 2004 in Weston-super-Mare of an elderly lady at a bus stop in the rain. "She's looking across frame at a poster of a naked girl lying on the deck in the sun," he says. "I like that image because it makes you wonder what the lady's thinking about whilst looking at the photograph. I enjoy images that pose questions."
Another of Deakins' favourite photographs from his collection is one he captured of children emerging from a ghost train at Barnstaple fair in 1970. "But I also love an image that's not in the book which I took the other day when I was out in my boat in Devon," he says. "It's of Dartmouth Castle at dawn. I've always thought about taking that photograph and on this particular day it was calm, the sun was rising – perfect conditions to take the shot."
Byways is filled with purely black-and-white imagery – a medium Deakins finds powerful and enjoys working in, partly due to the work of the black-and-white photographers Deakins admired when growing up. "I think colour – and this is true for moving images as well – can be a real distraction," he says. "With black-and-white images, the viewer looks at the content and the composition of the light more than anything else." 
While admitting he has never been happy with the colour stills he captures, Deakins admires the masterpieces of photographers who excel in this area such as Alex Webb and Harry Gruyaert. "I really relate to their photographs and understand their vision and what they're trying to do," he says. "They are talented at working in colour, which is frustrating in a way because I know I can't." 
With Byways already receiving rave reviews since its August release, many are eager to discover whether another book will follow. "I have to take some more photographs first," he says. "Everything prior to last year is history now. Part of the reason for creating the book is that I wanted to start again and take new images – a process I'm really enjoying."