You will be able to see the latest products from Tiffen Filters, Steadicam and Lowel Lighting by visiting The Tiffen Company booth at Hall 11, Stand B30 during this week's IBC2019 event at RAI Amsterdam.
They include:
STEADICAM
First time in Europe
STEADIMATE-S (below) – Elevate your images with the DJI Ronin-S and other stabilizers
By combining a traditional Steadicam arm, vest and a custom gimbal attachment, users can elevate the quality of their operating with the DJI Ronin-S, Zhiyun Crane 2, and other single-handed stabilizers to come. Affordably prices for under $1000 USD, it adds additional stability, operational comfort, increased control, and more creative freedom to owners and operators.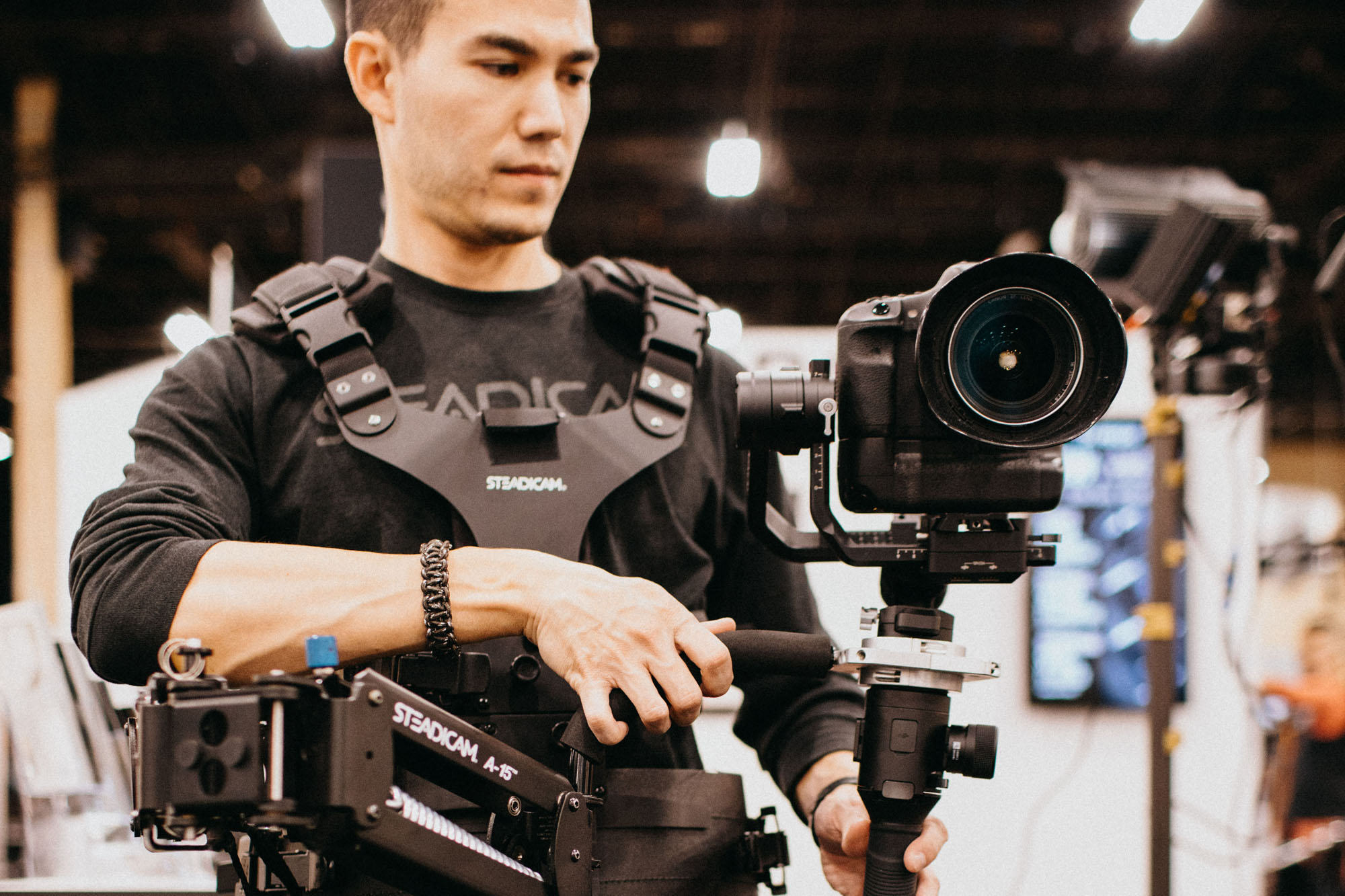 M-2 – The evolution of the Steadicam M-Series
The Steadicam M-2 integrates the revolutionary Volt™ stabilization technology while expanding the open architecture of the industry-leading Steadicam M-1 creating a mix-and-match system allowing operators to customize their rig into hundreds of possible configurations.
LOWEL
Global Launch
EGO LED – A professional production light disguised as a desk lamp
Introducing the new Lowel Ego LED, the first production light attractive enough to hide in plain sight. The Ego LED creates a beautiful, diffused soft light that hides blemishes and imperfections to make everyone and everything look better. And now with bi-color LEDs, the Ego is even more flexible by matching ambient color temperature and dimming with the turn of a knob while generating almost no heat. Plug and go, no assembly required.
Global Launch
BLENDER XL – The next generation of location lighting
The Lowel Blender XL uses modern surface mount bi-color LEDs to produce a very high quality light (98 CRI) that is 4X brighter than a traditional 1×1 panel in a compact package. An included switchable AC/DC V-Mount battery plate allows this rugged steel and aluminum professional fixture to reliably go anywhere.

TIFFEN FILTERS
First time in Europe
NATURAL ND GRADUATED FILTERS (above) – Expanding the leading family of neutral NDs even further
Tiffen's NATural NDs offer the most neutral, clear image allowing cinematographers, broadcasters, and photographers to preserve creative intent while evenly blocking UV, IR and visible light to maintain proper balance for digital sensors. They will not fade or shift over time even with prolonged sun exposure. Now available in graduated filters in either soft or hard gradation in sizes 4×5.65 and 6.6×6.6.