A FESTIVE SPECTACULAR

Remi Adefarasin OBE BSC / Jingle Jangle: A Christmas Story
A FESTIVE SPECTACULAR

Remi Adefarasin OBE bsc / Jingle Jangle: A Christmas Story

Remi Adefarasin OBE BSC creates a believable world of festive fantasy for musical extravaganza Jingle Jangle: A Christmas Story.
Keen to immerse himself in a variety of genres, from historical drama Elizabeth: The Golden Age (2007) through to family comedy Fighting with my Family (2019), cinematographer Remi Adefarasin OBE BSC was thrilled to explore the unique world inhabited by Netflix fantasy musical Jingle Jangle: A Christmas Journey.
"It's a real world, but one we don't yet recognise," he says. "I loved the story of family reconciliation and the songs that come straight from the narrative."
Jingle Jangle centres around Jeronicus Jangle (Forest Whitaker), the despondent former toymaker whose passion for invention was destroyed by his apprentice Gustafson's (Keegan-Michael Key) betrayal. Jeronicus' granddaughter Journey (Madalen Mills) strives to retrieve her grandfather's prized invention and restore his hope.
According to Adefarasin, writer-director David E. Talbert's clear vision and extensive knowledge of film language ensured the production was fully cinematic. The cinematographer believes reliance on other films for inspiration can cloud directors' inventiveness and individuality, but certain productions like the fun and invention of Chitty Chitty Bang Bang were shining examples of musical magic. Adefarasin also admires how Oliver's beautiful sets and photography create a credible world.
Production designer Gavin Bocquet's plans and illustrations of the world the narrative would play out in overflowed with imagination, colour and magic. As Bocquet's bank of 3D printers output models, Adefarasin explored how to make the dreams look believable and how to light and photograph promptly on set.
Bocquet's team created a virtual reality set-up, allowing Adefarasin and Talbert to previsualise the Jingle Jangle world using a VR headset, explore the sets and make changes without construction costs. "It also informed us when we'd be off set so we could get a large enough Translight backdrop," says Adefarasin.
All the vast production's departments, the town's set and Gustafson's world were constructed at Arborfield Studios in Wokingham. A snowball fight scene was filmed at Elm Hill in Norwich and Gustafson's factory was shot at Crossness Pumping Station in London. Low finish set replicas let choreographers Ashley Wallen and Jenny Griffin rehearse moves to the complex musical numbers on a separate stage.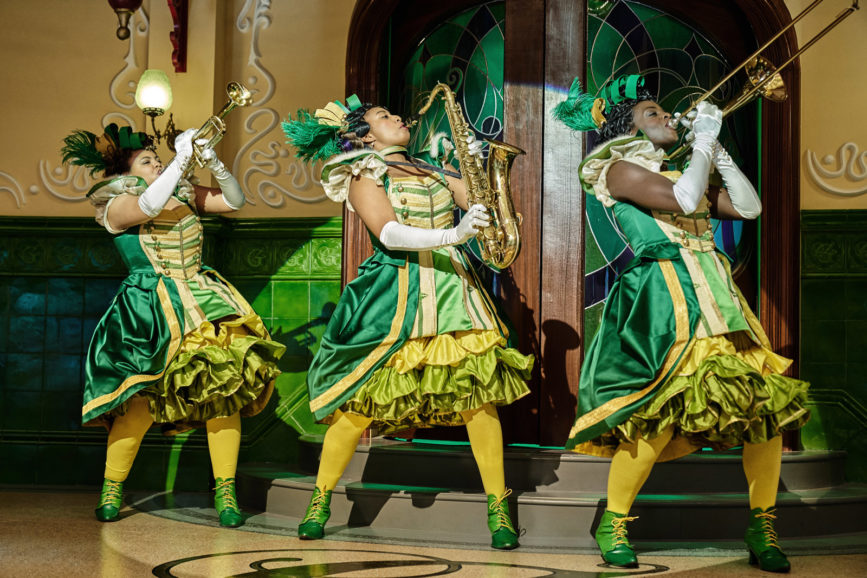 The sets and costumes already burst with vibrancy, so it was unnecessary for Adefarasin to add much additional colour other than some orange, blue, magenta, and cyan variance to adjust each scene's look.
Talbert always envisaged the film's vibrant festive spectacle would light up the screen. Adefarasin explains the choice of camera package to achieve this vision: "My love of ARRI cameras made the Alexa LF an obvious choice with its wonderful tonality, versatility, and dependability. The Signature Primes' uniformity made them a sensible choice. Like the Alexa, they have a great quality without being ultra-crisp and unreal looking."
Collaborating with Adefarasin were camera operators Simon Finney; 1st ACs Tim Battersby and Rene and Ben Adefarasin; dolly grip Josh Close; and key grip John Arnold, with whom the DP has often collaborated.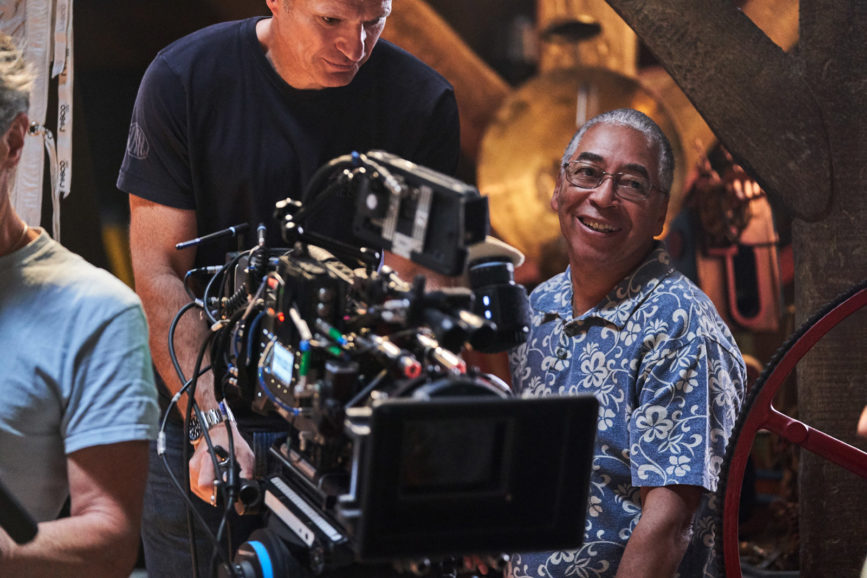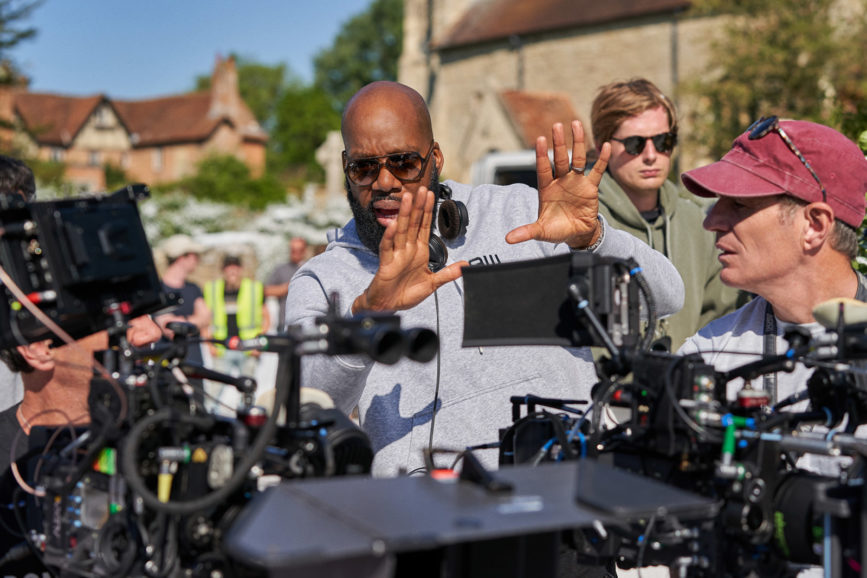 Gaffer Ian Barwick helped Adafarasin create an "unusual yet familiar" world and organised banks of LED heads and tungsten mood lights, keeping the heat low as shooting took place in summer. The inventive lighting crew devised a rig to pan past actors on a Kuka robotic arm as though swirling through a tunnel.
Apart from some tungsten heads for beams and shape, the core lighting package comprised ARRI SkyPanels: 210 SkyPanel S60s on the stage with space light skirts; 110 S60s with snap bags; and 16 of the larger SkyPanel S360s. "We could quickly change looks from morning to midday or night as each panel was identified on a grid," says the DP. "Lighting this film was a joy and Ian achieved the impossible with panache."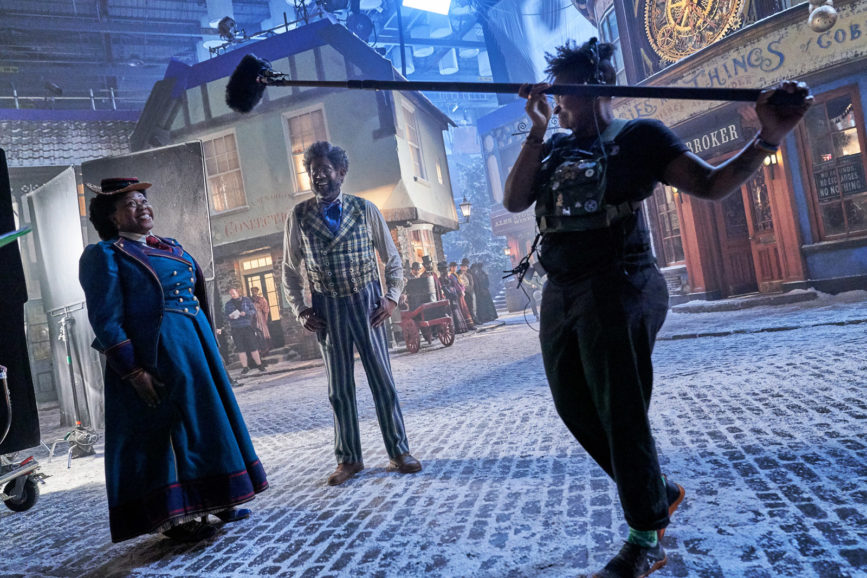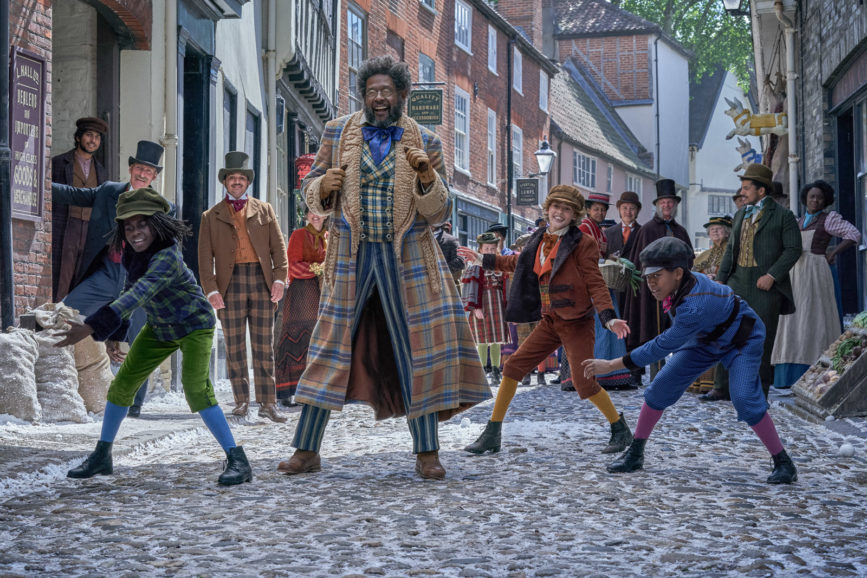 Having worked with film cameras for most of his life, Adefarasin prefers to create the look with light and used only one LUT to add a film quality to Jingle Jangle. Modifications such as occasional desaturation were achieved with DIT Jesse Llande, who sent adjustments attached to the data to editorial and VFX.
The DI was carried out by FotoKem senior digital intermediate colourist Kostas Theodosiou. After seeing the first dailies and reviewing initial preview, he discussed with Talbert and Adefarasin what needed to be achieved in the grade along with every musical number's theme before grading remotely to adhere to COVID protocols.
For the final colour correction, FotoKem headquarters in California sent the conformed timeline to Goldcrest in London, relying on secure, fast fibre connections and perfectly calibrated projectors in each facility.
Over Zoom, Theodosiou discussed the grade with Adefarasin, using a DaVinci Resolve system with nodes, mattes, masks, power windows, and OFX plug-ins, plus the remote Resolve system in London, to work with live colour in 4K resolution. "We graded for the theatrical release on a 4K projector, following with a colour trim for HDR mastering using a Sony X310 monitor. We used this order because VFX reviews and the pipeline were set up for SDR first," says the colourist.
In early scenes of the grandmother's (Phylicia Rashad) storytelling, the filmmakers evoked Christmas sentiments with warm, rich colours, followed by vibrant scenes in Jeronicus' shop, then yellow and gold tones in Gustafson's toy factory.
The costumes' lively colours were emphasised to match the dancing and musical numbers' jollity. In more melancholy moments, a cooler, monochromatic look was created before reintroducing warmth to the workshop as the story becomes more uplifting.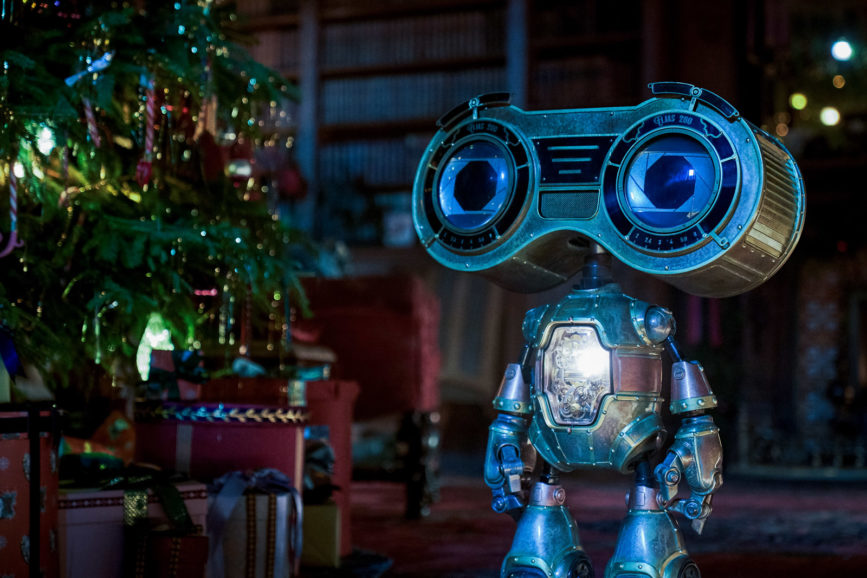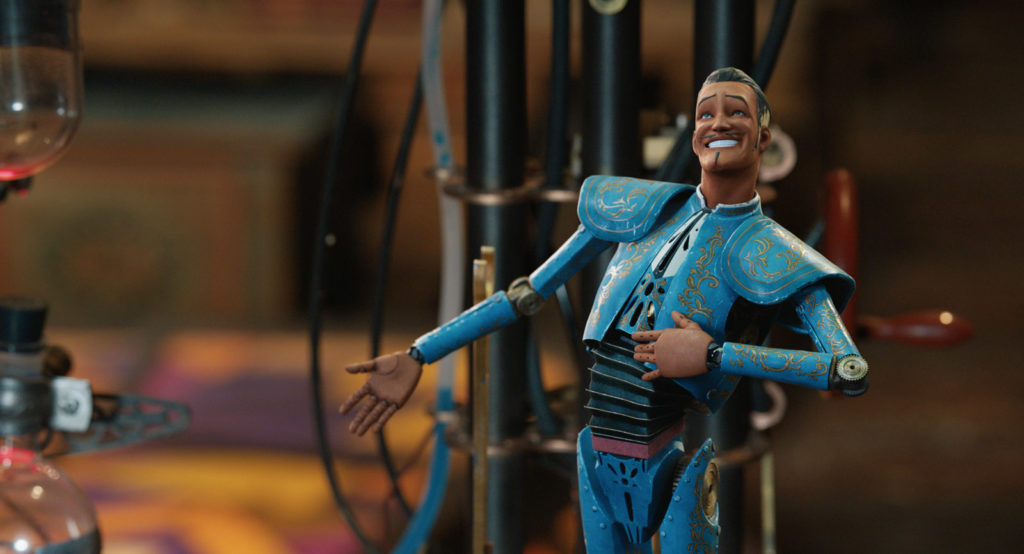 Framestore delivered 350+ VFX shots, including two intricately crafted CG toy characters - matador Don Juan Diego and Buddy 3000 - and a fully digital 18th century and CG-snow-filled town. Theodosiou notes that it was pivotal in the grade to keep set details visible, costume and choreography vibrant, and the intricacies of Don Juan's costume highlighted, including the incorporation of the visual effects of the gears turning on his head.
"As the VFX came in, I created a working node structure to composite the VFX in the proper order. Intercutting some characters from practical to visual effect in different scenes was challenging but we set up a round trip pipeline with Framestore for seamless colour correction under the same look-up table," says Theodosiou.
Adefarasin concludes, "I love doing different genres, so when I read this script, I was enticed by the world that the film inhabits. It was fun to shoot a musical."
BY ZOE MUTTER