On the set of the upcoming, major motion picture, Pirates Of The Caribbean: Dead Men Tell No Tales, award-winning director of photography Paul Cameron ASC had to overcome hefty challenges.
To get unprecedented oceanic shots, Cameron used drones to gather closer approaches and wrap-around shots of the ships. His aerial unit also managed to sink a prototype Cinemoves head (this is the first feature to use the prototype), which until then had been working perfectly. Plus, he designed two massive U-shaped arenas (five shipping containers high by 600 linear feet around) to film the 13 main vessels featured in the story.
"The ships were 150-foot-long on average," said Cameron. "I plotted the sun path and utilised 26-foot-high Aircover inflatable bluescreen walls. This way I could allow sunlight into the arenas a good 40 minutes earlier, as well as extend our day. At night, I incorporated an elaborate rail system to black out the arenas as needed. On any given day, I had to transition quickly from day to night work, quickly and seamlessly. We also dealt with massive weather challenges throughout the schedule."
Cameras and lenses provided by Panavision included: ARRI Alexa XT, shooting ARRIRAW in open gate mode, for 2:40.1 aspect ratio. Lenses included Panavision Primo V Primes and Primo Zooms. RED Weapon cameras fitted with Zeiss Ultra Primes were used for background plate work.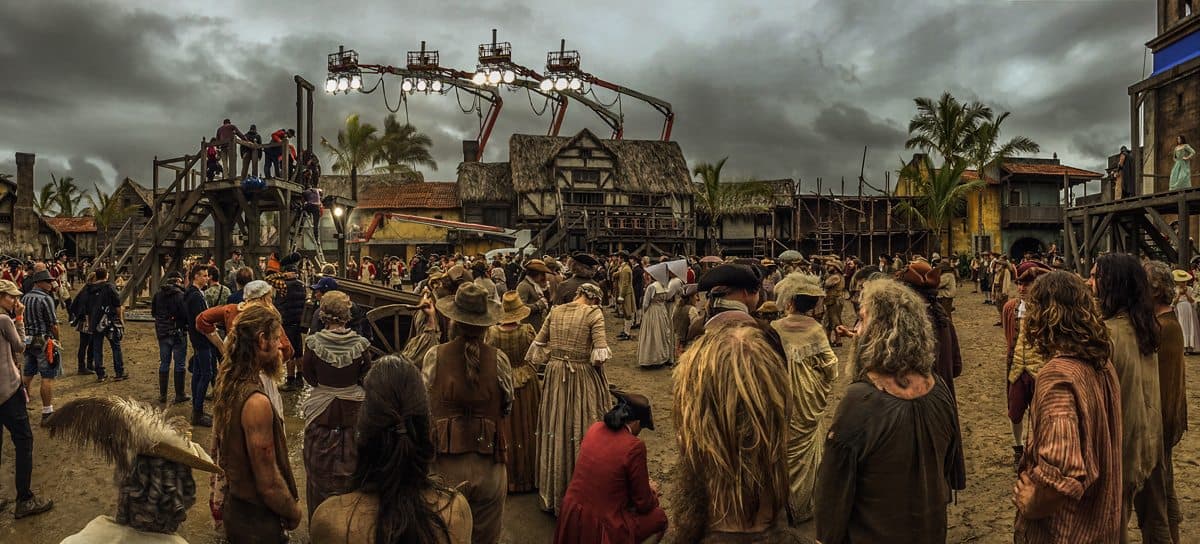 An XM2 drone, fitted with an Alexa M shooting in open gate, was granted special permits to fly by the Australian Civil Aviation Safety Authority. This enabled Cameron to stitch aerial CG shots to closer approaches and wrap-around shots of ships, thus allowing him to fly over decks and actors.
Lighting equipment included 6 x 120 foot Condors, with 3 x 18K Arrimax and MaxMovers per Condor, which were used on a daily basis in the bluescreen arenas and in the Caribbean town set (shot on the Australian Gold Coast) when the weather proved to be challenging with clouds and rain.