The need to greet the future
Across The Pond / Mark London Williams
The need to greet the future
Across The Pond / Mark London Williams
We caught up recently with ICG President Steven Poster (whose epistles from these same shores also appear in British Cinematographer), he of ASC, Testament, Rocky V, Big Top PeeWee, Donnie Darko, and numerous other fames. Indeed, we caught up with him twice - for he was at the opening of Canon's new Burbank facility - helpfully known as "Canon Burbank" - as they relocate from Hollywood to provide a state-of-the-art facility for gearing up, cross-pollinating with creative collaborators, and getting your gear on (and about which, more in a moment).
We then circled back with Steven the next day to get his own views on the current "state of the art" in image capture, as we like to call this digital era of picture-making. Though Poster uses the equally helpful phrase "computational photography."
"There are new technologies on the horizon, or even a little closer," he noted, " that we have to be conscious of, because in fact they are going to affect our workplace and the way we capture images. That's the whole world of computational photography - AR and computational photography."
AR, "augmented reality," and its more immersive sibling. "VR," will certainly be touched on here in columns to come. Though when it comes to virtual reality, Poster says "don't let anyone tell you it isn't a cinematographers' medium. If you're creating images, it's a cinematographers medium. People in the world of VR are insisting you don't need a cinematographer to do this, just point the camera and turn it on. About ," he concludes, "the dumbest thing I've ever heard."
"As true futurists, we can't sit here and tell you which of any of the new technologies and techniques will be around with us more than the next couple years until something else comes along," he added. "We don't have the luxury as directors of photographers and as skilled crew people." Instead, he advocates a more practical approach when the future arrives, recounting how he saw his first drones at IBC a half-decade or so back, and "right there, we decided to learn about it, train members in it, and bring in people who were already experts."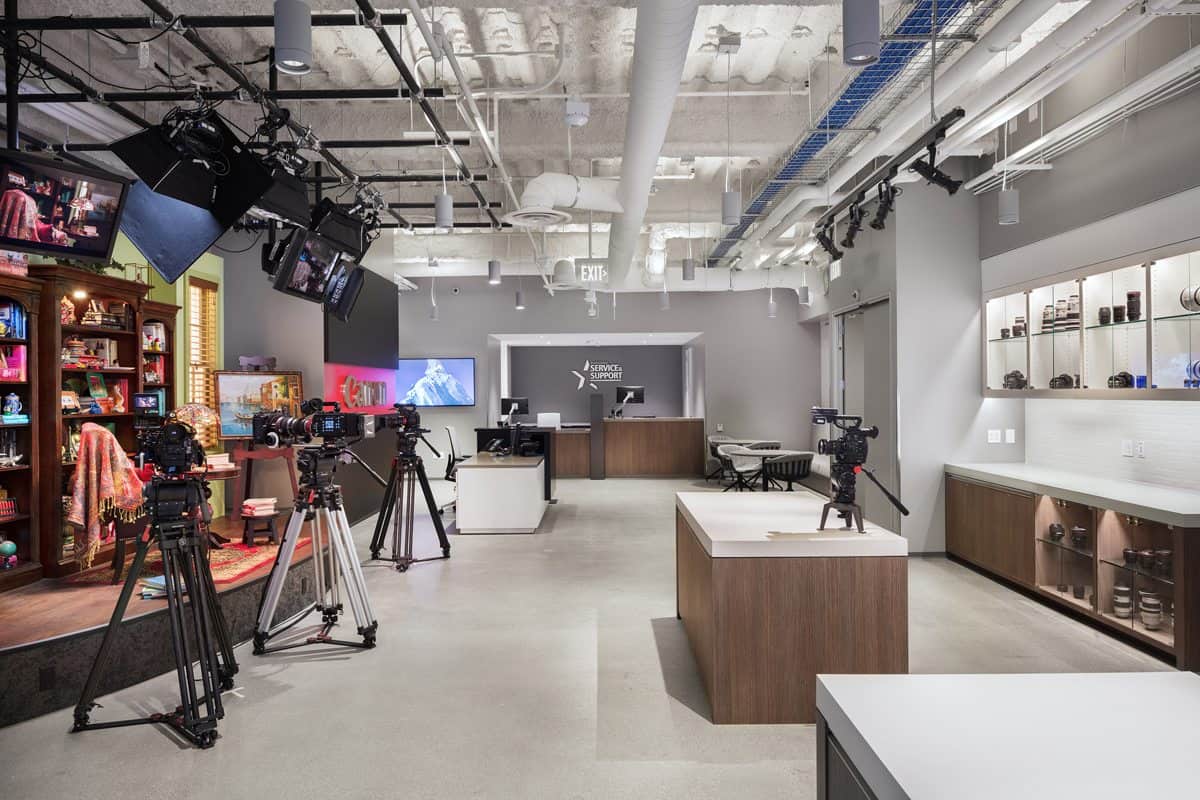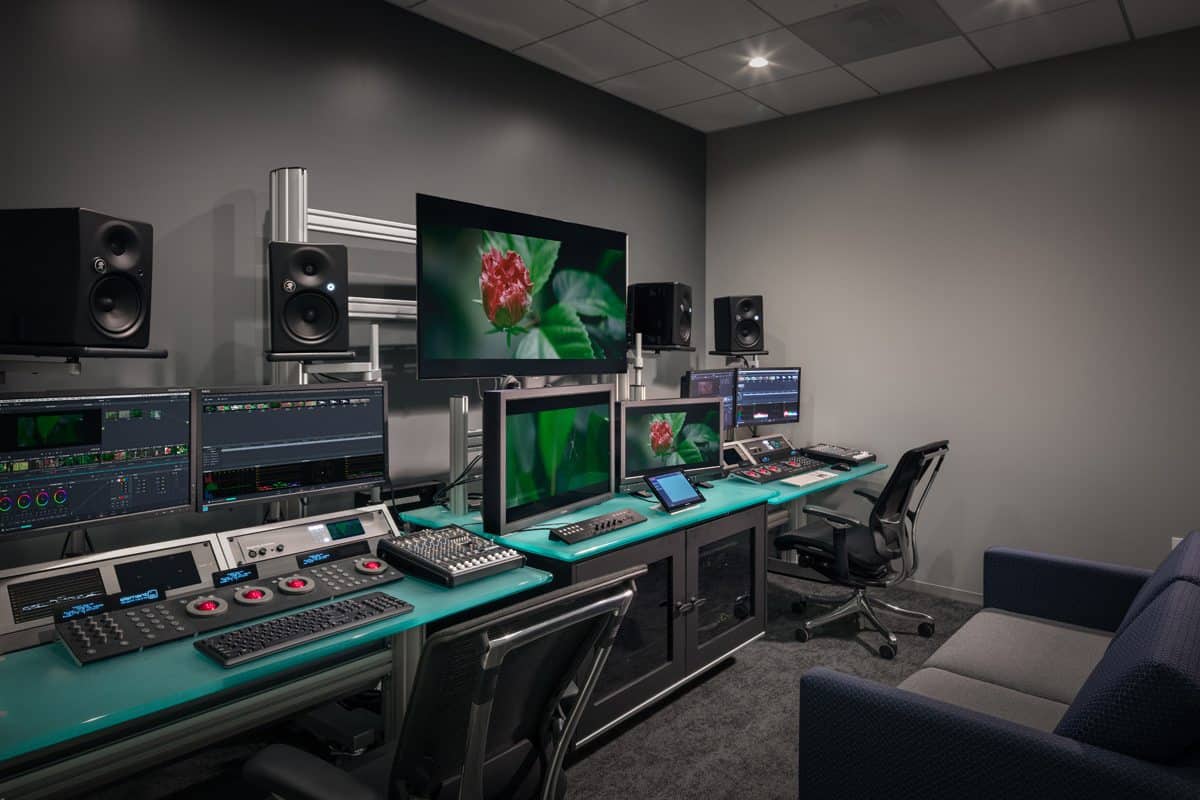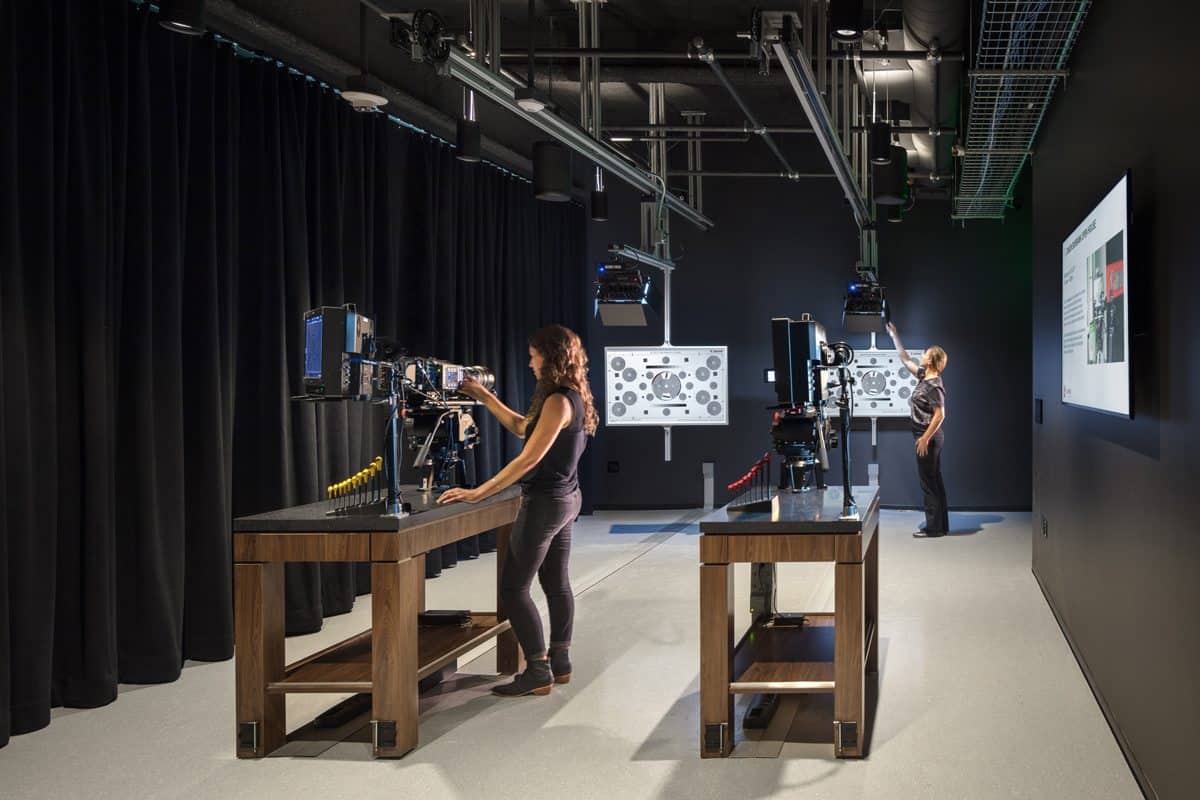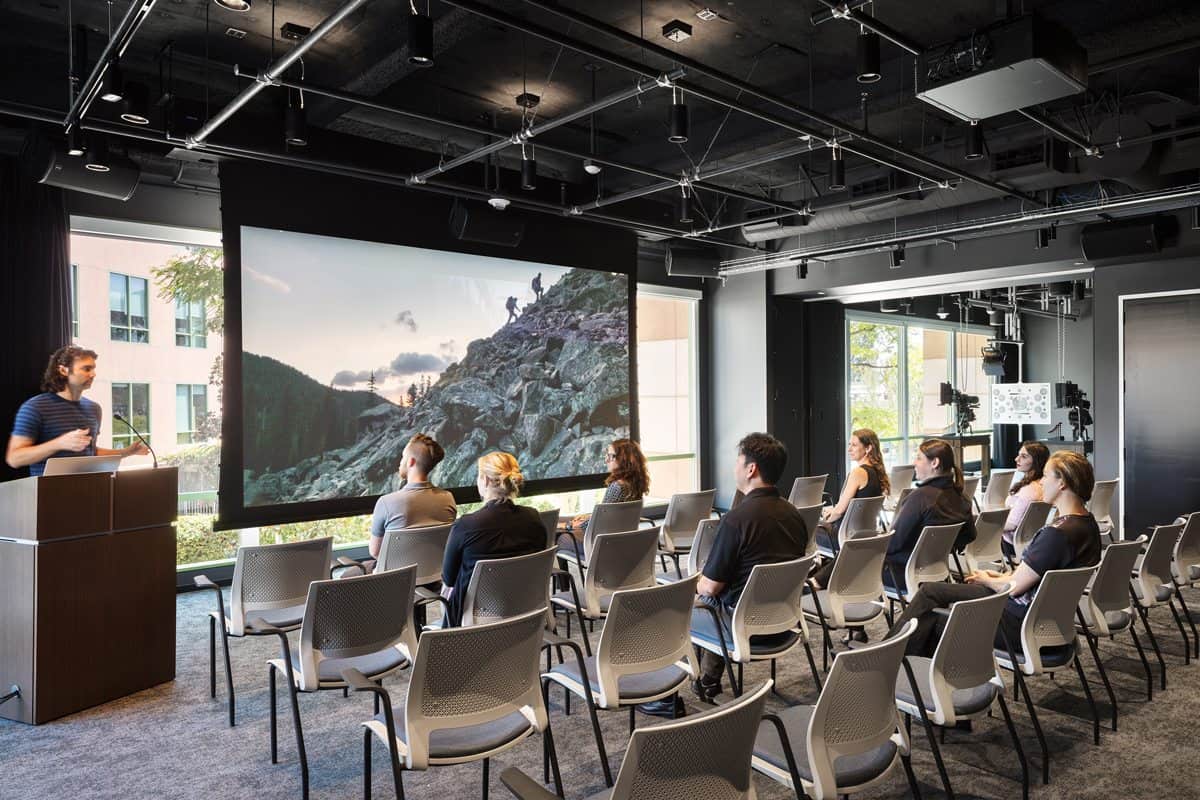 That's the same approach - the need to greet the future, and help everyone cross-pollinate enough to grow into it - that animates some of the thinking behind two "campuses" we visited since our last time here.
This included the launch of the aforementioned Canon Burbank, where executive VP and general manager of imaging technologies and communications, Elliot Peck talked about the discovery, some 7 or so years ago, that the company's 5D Mark II "could take video images," which from there grew into a dedicated line of increasingly advanced EOS cinema cameras, and a facility on Sunset Boulevard the company has already outgrown.
We toured, lunched, and later cocktailed our way around the new Burbank grounds - occupying the whole second floor of a building located on a kind of entertainment-themed piazza where you'll also find the likes of Warner Bros. music.
But the kind of idea exchanges that Canon hopes to foster with filmmaker access to newly expanded prep bays, a DI suite, and a 4K screening room (as they are fond of pointing out, you could actually finish an entire feature there), also yielded some Hollywood-like results by virtue of having a Morton's Steakhouse located on the same grounds.
It was there that an over-lunch conversation lead to the use of the company's C-700's on the upcoming reboot of Dynasty (a conversation about Hollywood's technical side pressing further into the future than its perpetually rebooting IP side might be saved for another day).
There was even a room for testing workflows, whether your conduits run through PCs, DaVinci Resolve, Mac, etc., and of course, you can hook whatever lens you have to a Canon box, or whatever box you have to a Canon lens, as you tinker with options for your shoot. "We couldn't do this in Holywood," said Tim Smith, Canon's pro market rep, "and we needed to. I love the espresso machine, but I needed the charts."
He was referring to the charts at the other end of the room we were standing in (and also the espresso machine in the new lobby) though it turned out the vista through the room's window provided enough different focal lengths and lighting exposures- down through the foliage, the faux-arches, and toward the fateful Morton's - to give potential camera packages a little workout, too.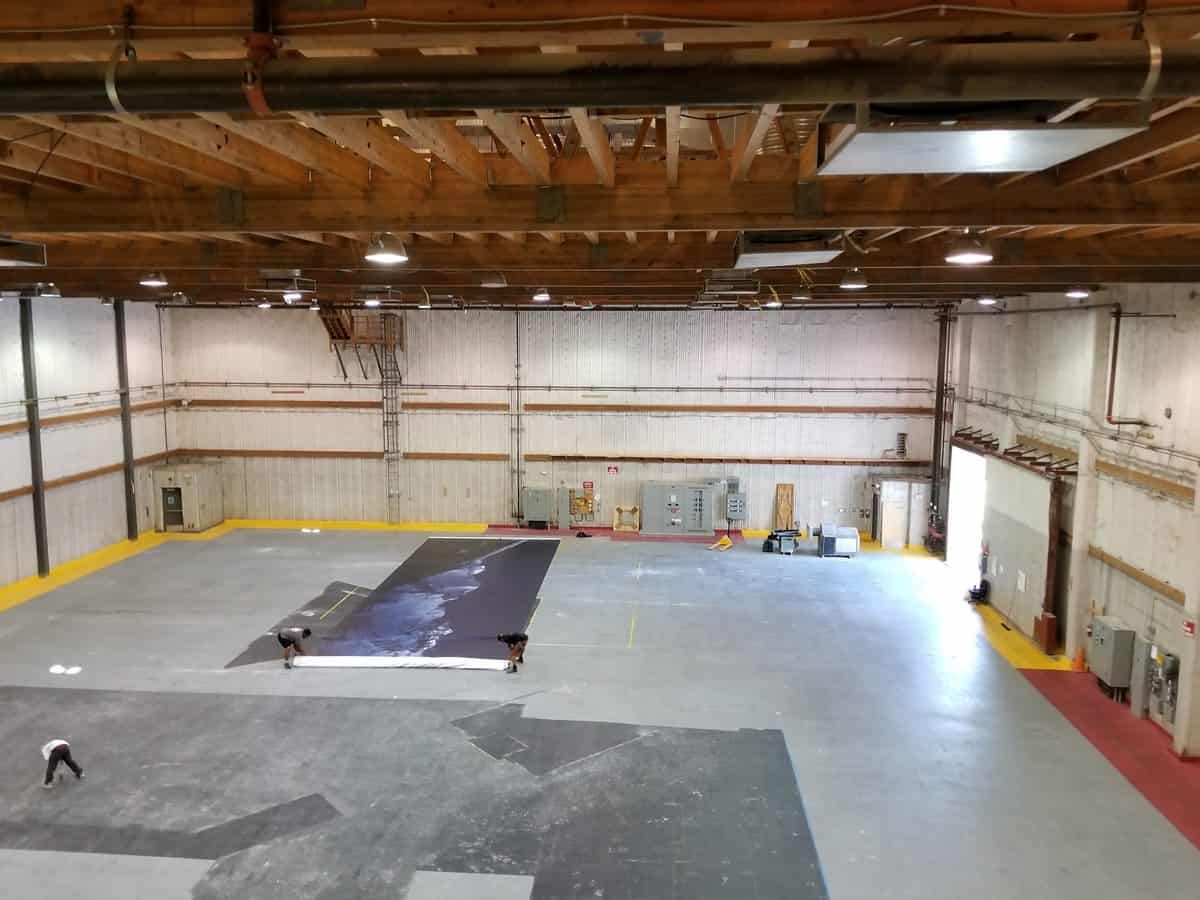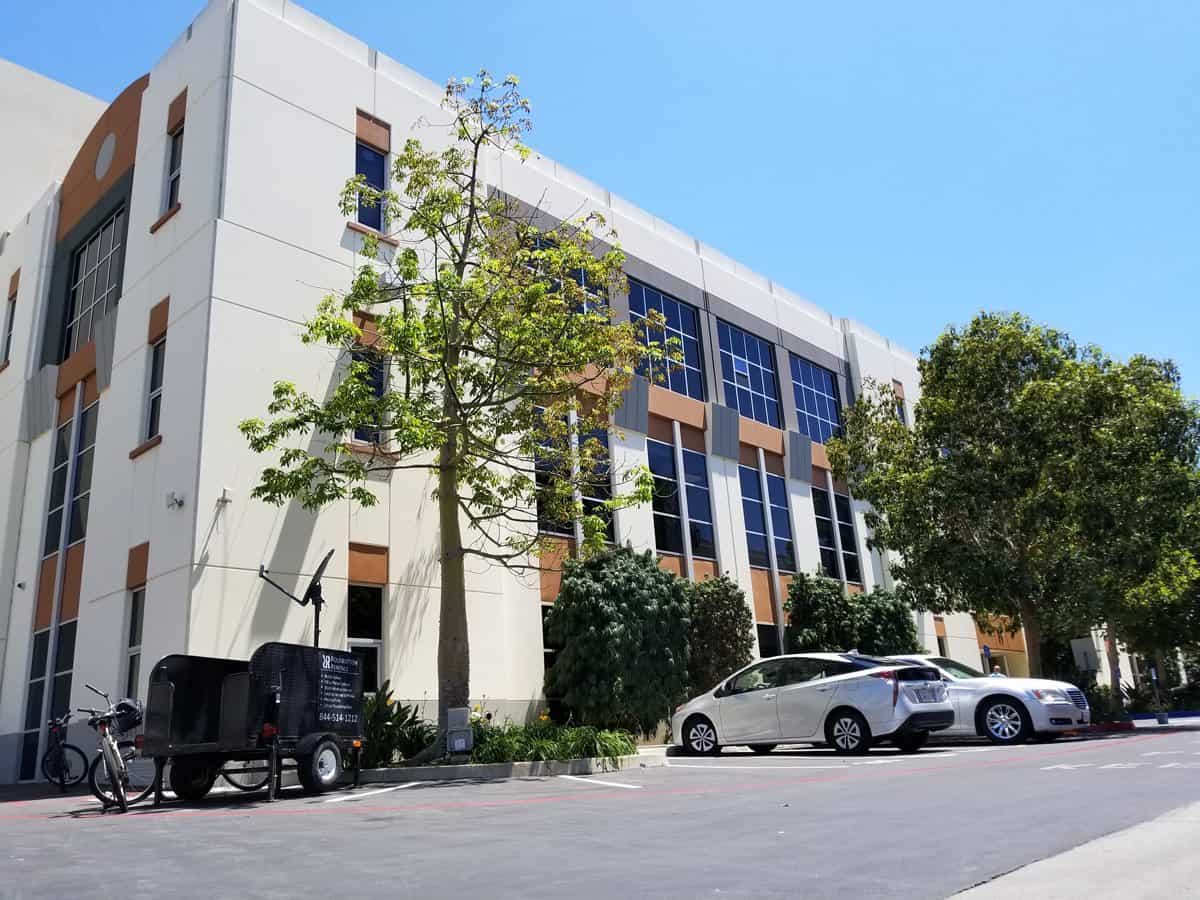 These same themes were echoed down the highway a few days later at the MBS group's Manhattan Beach media campus, which they describe as a facility where "media arts, studio production, new technology and ideas converge."
That convergence includes not only "a lot of camera tests, and demoing of equipment for DPs and gaffers," as MBS Vice President Jeremy Hariton told us - along with being a leader in developing LED technology and increasingly green ways to run a studio - but the things happening on their numerous sound stages. Not only are many of those stages being solarized, but they're playing host to James Cameron's next slew of Avatar sequels, along with other tenants like game-maker Blizzard Entertainment, and an Intel R&D lab, researching "360-degree technology for immersive entertainment." In other words, the kind of AR & VR that Steven Poster was talking about at the outset of this column.
The facility had originally been built at the turn of this century by Roy Disney, in anticipation of a Dreamworks studio-sparked boom along Playa del Vista and L.A.'s west side, which never came due to a development backlash in the area.
Still, numerous tech and VFX houses are located in the area, and Cameron's Lightstorm Entertainment has server rooms and fiber running directly from the MBS lot to WETA in New Zealand. And speaking of cross-pollinating collaborations, Lady Gaga was ensconced in a trailer, shooting a video there, on the day we made our tour.
Of course, you can also come down to rent your equipment from MBS, too. But it's possible that once you're over on that side of town, you might just stay for one of the seminars or demos that get put on there.
"If history is "past," and "past is prologue," it's all part of the unfolding future in which the place where you get your gear... can play as big a role in a production's success as the gear itself"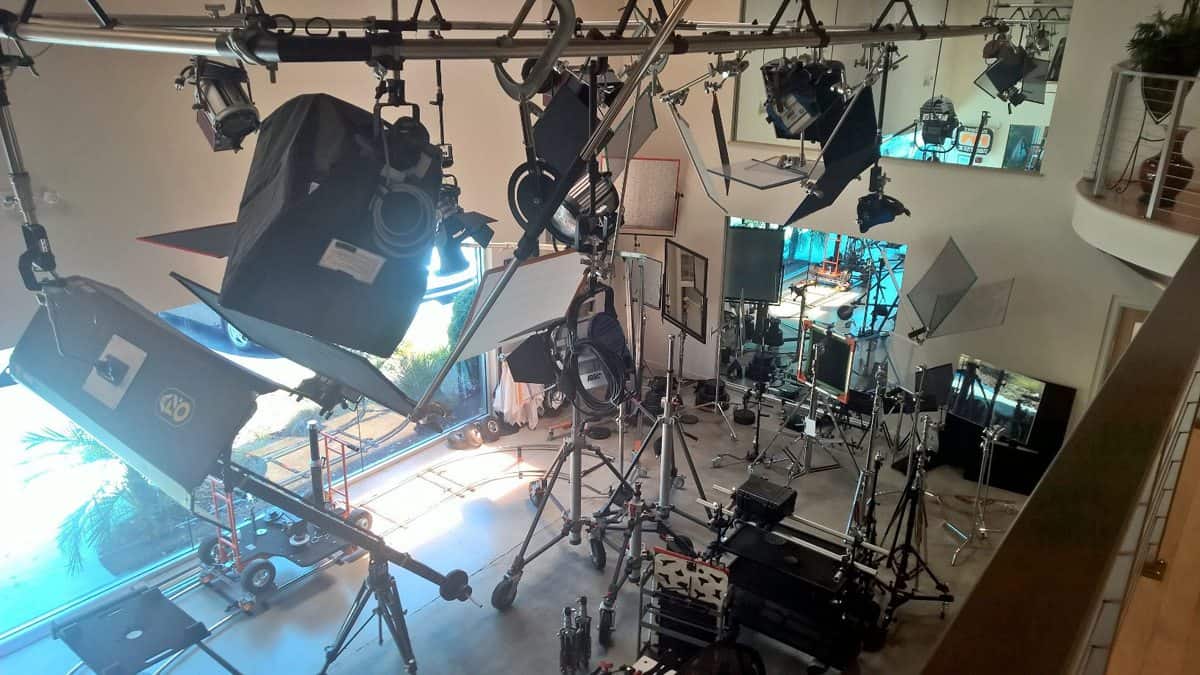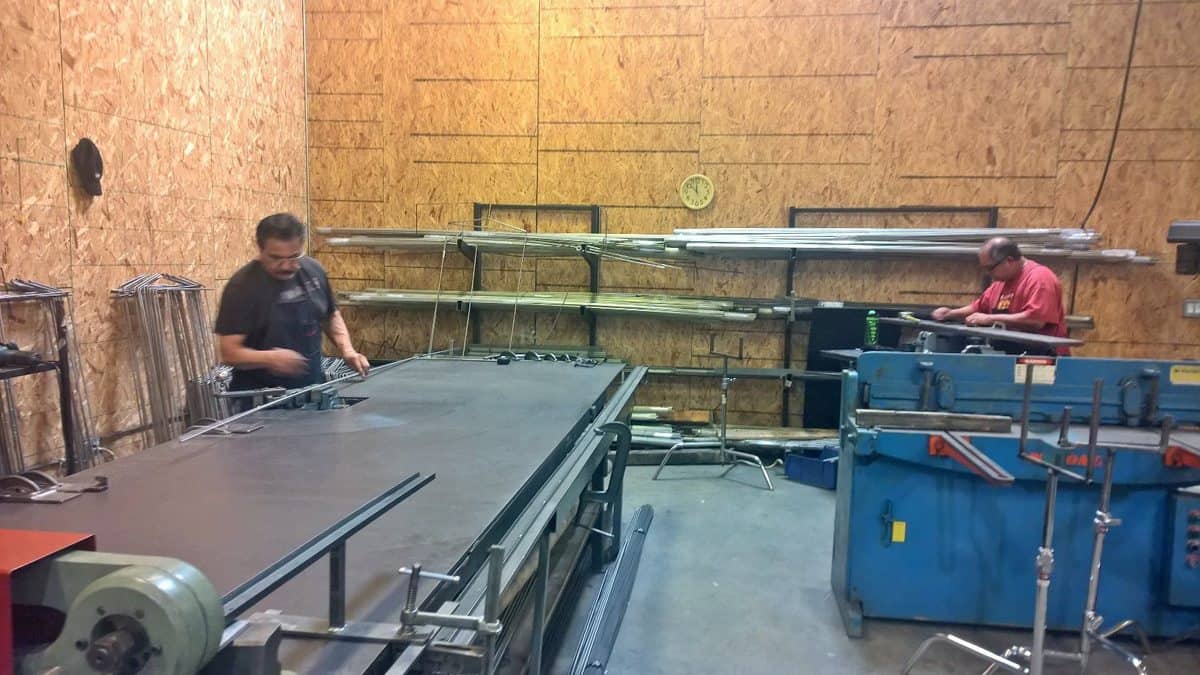 As for where MBS Equipment gets a percentage of that same gear they rent to provisioning grips, some of it is made and invented at Matthews Studio Equipment, also in Burbank, though across town from Canon's new digs, and nestled in an industrial park near the airport.
Matthews own VP of sales, Robert Kulesh, took us around on a behind-the-scenes tour during our third "facilities" stop in the merry month of July, though Matthews is more of a functioning modern plant, rather than an open campus (their annual post-Cine Gear BBQ notwithstanding).
And while Matthews itself is in its 48th year, they've only been in their new plant for three - taking over from iWerks Entertainment, which specialized in venue-based, immersive entertainment experiences.
As Kulesh told us, Matthews immediately immersed in another way: "We stripped down the place to the poles, which allowed us to start with an empty slate." The redesigned plant, with around 90 - 95 employees (and sometimes more with temps, depending on workloads), has several distinct, yet fairly open areas, dedicated variously to storage, fulfilment, machining, sewing, and of course, offices up front, and along a landing, to oversee it all.
In their previous facility, Matthews worked out of a series of low, connected buildings, requiring constant forklift traffic between each of them. In the old place, Kulesh recounts, "the highest ceiling was ten feet. Now we have a twenty-foot clear span."
At the new place they can "cut, bend, weld, mill and sew," each activity just yards away from the others, in facilities that were designed with OSHA standards in advance. That resulted in things like installed vents whisking away the silicon dust from fillings for their sandbags, helping to prevent hitherto unforeseen showbiz hazards like "silicosis," and preventing after-the-fact safety write-ups.
Simply by virtue of the move, Kulesh told us, with its improved workflow, they noticed a 7% uptick in overall efficiency. If your Dutti Dollies are getting to you that much faster, now you know why.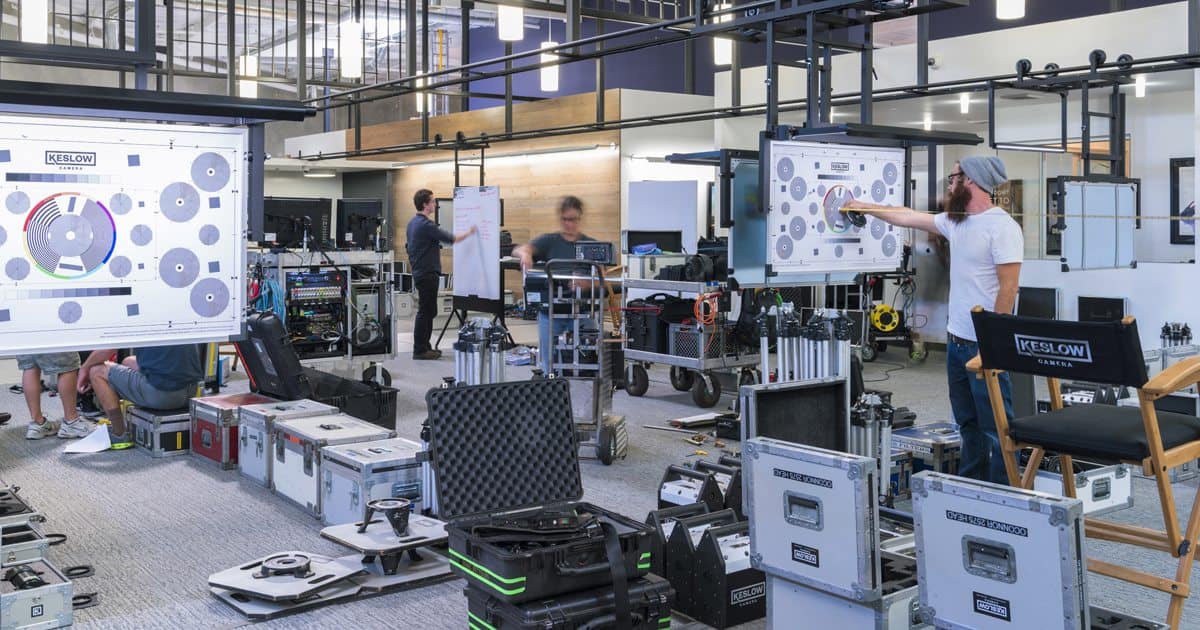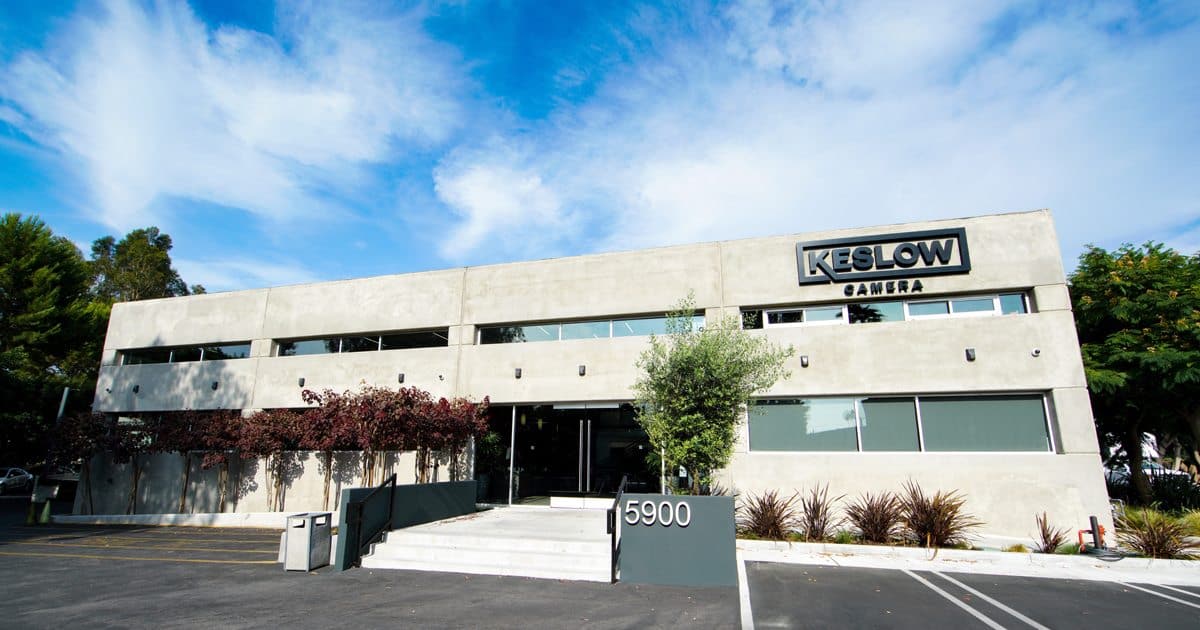 Efficiencies (along with time's moving hand) are behind another big, recently announced change: venerable Clairmont Camera is being acquired by Keslow Camera, on the announcement of Denny Clairmont's retirement. This makes Keslow - already the largest privately held film camera rental house in North America - even larger.
Brad Wilson, Keslow's VP of business development, told us that when Denny decided it was time to retire, he'd "wanted to ensure his legacy and company was left in the hands of a company with a shared passion for the craft and an incredible track record of service and support. He felt Robert Keslow and Keslow Camera ticked all of those boxes, so he approached Robert a couple months back with the option and the rest is history."
Or perhaps, if history is "past," and "past is prologue," it's all part of the unfolding future in which the place where you get your gear - what kind of campus, facility, hands-on idea incubator, etc. - can play as big a role in a production's success as the gear itself.
Meanwhile, the summer swelters yet fall, even Emmy season, is in the air. Write us, and we'll see you in September.