FOOD FRENZY
Depending on which side of the pond you see it, Boiling Point is either a very savoury year-end cinematic dish, or a great way to start the new one, especially once the New Year's black-eyed peas are finished.
This is a sponsored article, created in partnership with Focus24/Canning24.
Starring the always redoubtable Stephen Graham, surrounded by an ensemble that includes Vinette Robinson, Jason Flemyng, Graham's fellow executive producer (and wife) Hannah Walters, Boiling Point tells of a singular night in the life of head chef Andy Jones, as he seeks to guide his upscale London restaurant through one of its busiest evenings of the year, smack dab at Christmas time.
Or rather, it tells of a singular hour-and-a-half in Jones' life, as the film is done in one, long, continuous take.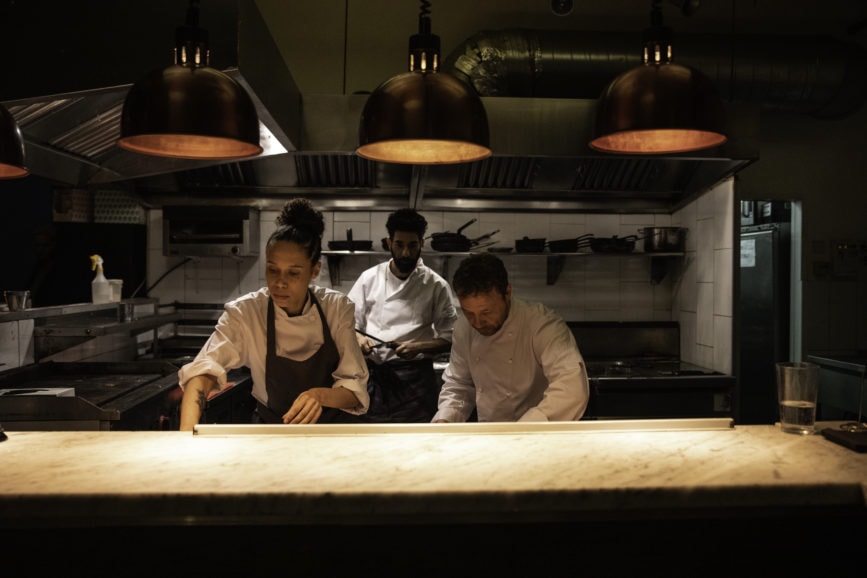 And not an artfully stitched together recreated single take, like 1917 or Birdman, but an actual, everything rehearsed, know-your-marks-all-the-way-through unfolding single moving shot, like a play. One where the audience's gaze is always focused for maximum tension.
And while set in a moment just before COVID – every table in the establishment is full, and no one's wearing masks – the pandemic still made itself known during production, literally shutting things down between takes.
Though keep in mind, by "take," we mean doing the entire film, each time.
The story is the brainchild of writer/director Philip Barantini, co-writing with James Cummings, and surrounded with some long-standing collaborators, like cinematographer Matthew Lewis, who'd done shorts with the director, and some TV, prior to their launch into features. Among them was the initial version of Boiling Point, which Barantini described as a "proof of concept," and which also starred Graham, who he'd known in his acting days. And who'd politely declined to be in the director's first short.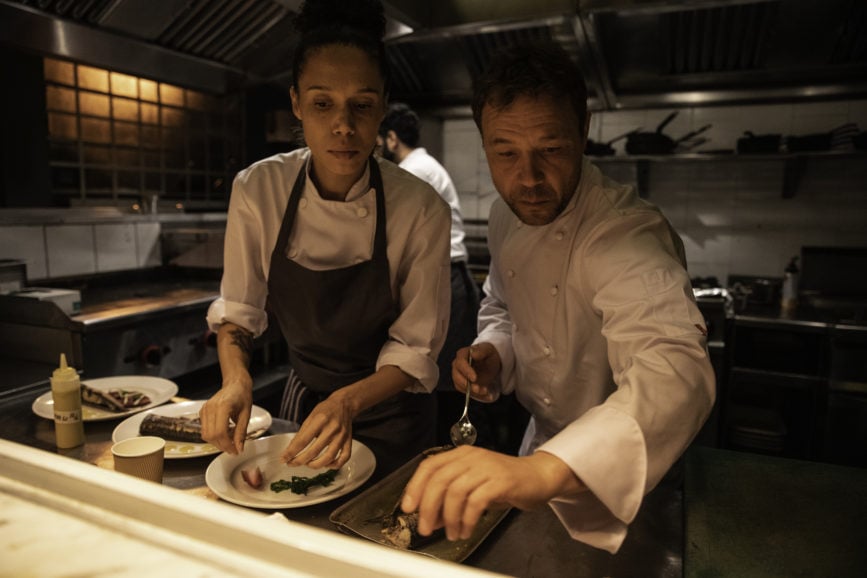 "Why don't you get your first film out of the way," Graham suggested, so he did. And then, when Barantini showed it to him, "he loved it," asking what was next.
Barantini, who'd worked as a chef for 12 years, including at the same Hackney-area Jones & Sons eatery where the film is set, said Boiling Point was next, and pitched the idea, which Graham also loved. The successful short allowed them to parlay the film into a feature. Lewis, meanwhile, geared up – literally and figuratively – to operate with a camera strapped to him for not merely a 22-minute take, but now, just over 90. All while constantly moving through the restaurant. The actors, at least, got to rest briefly when they weren't in the frame.
For Lewis, there was a "masseuse on standby" to use between takes. His lone respite was a quick sit on an apple box, "at one of the dining tables," while his reloader, dressed as a guest, swapped memory cards in the camera, an operation the director describes as "like a Formula One" style pitstop.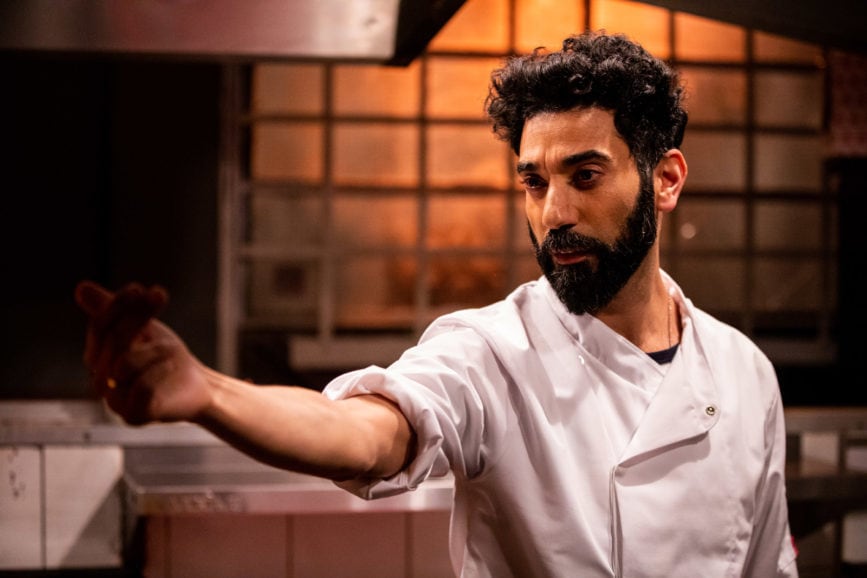 Those cards were going into a Sony Venice, which Lewis liked not only because there were two card ports, but because the company's Rialto extension system allowed the sensor to live several feet away from the camera, with no loss of image quality, literally taking more weight off his shoulders. Added to that were Zeiss Supreme lenses, and strapped to his back, a Teradek transmitter.
"I love operating," Lewis emphasises, but in this particular case, he also "wanted to take the blame if anything went wrong."
By way of minimising mishaps, the camera was on a "purpose-built" Easyrig, adapted at Canning24 – the feature length side of Focus24, where the short was prepped. "If you're running around on an Easyrig, it can be a bit choppy, you can notice the footsteps," Lewis says. Particularly, of course, if your entire film is shot that way. With the customising, "we could stabilise a little bit."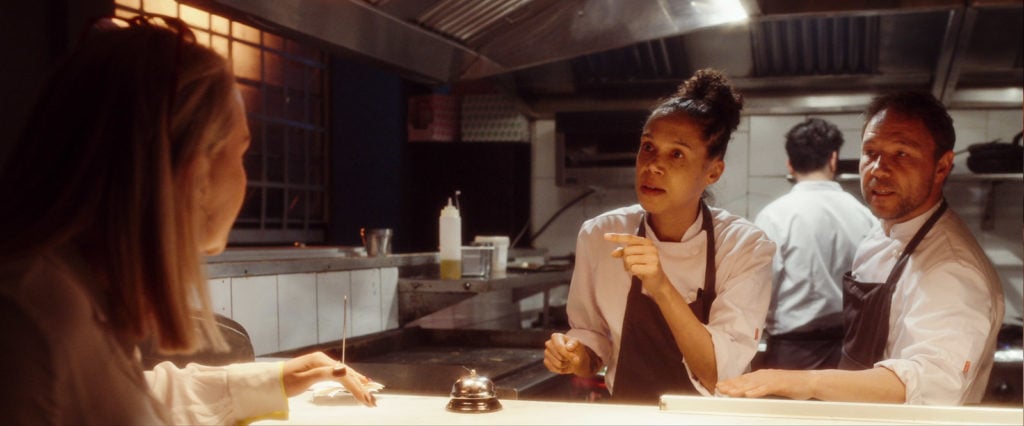 As for lights, "I tried to approach it – where are my key areas? My action beats? I'd light for these key areas," like the back kitchen, where a critical gathering of staff occurs late in the film, and "used as much practical as possible."
And given the constant motion, Lewis is quick to credit his entire crew, focus pullers, gaffers, et al, who helped him keep moving, and often moved with him, through the unfolding story. An additional trick was to avoid inadvertently winding up in the film himself, especially since "the kitchen environment is a very shiny space – you've got light bouncing everywhere," which means not only can light be unexpectedly reflected – so can the camera operator.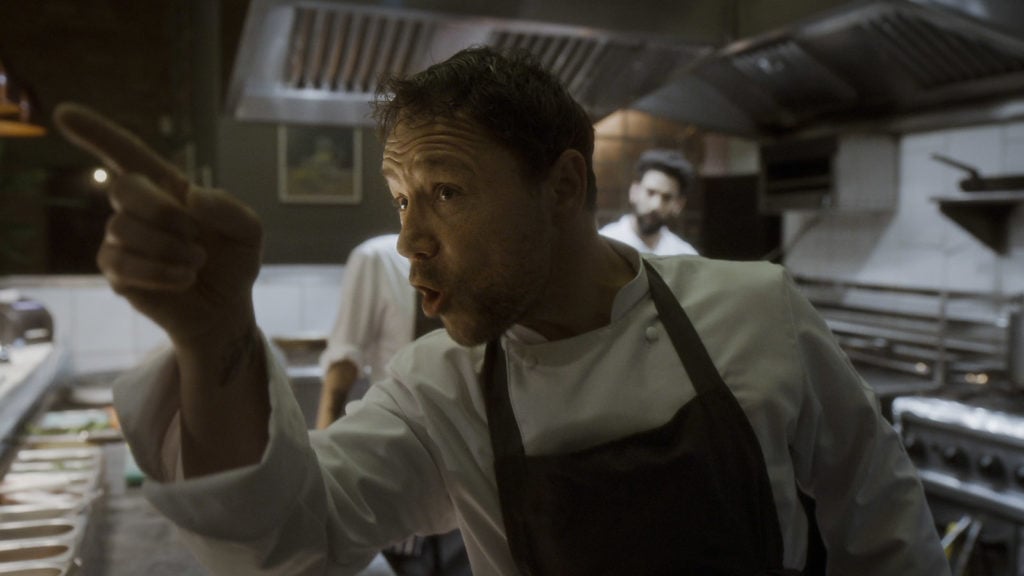 It did happen once: "I do show up in the bathroom," a women's bathroom, where a hair dryer, caught his reflection, but, he adds, "the VFX guys managed to get rid of me."
The fact that it only happened one time shows how carefully planned everything was, especially given that it's a story about losing control, as Graham's character increasingly reels from a rough marital separation, an ambush visit from an old colleague-turned-Ramsay-like TV personality, a downgrade from a health inspector, and more.
One thing no one was able to control, however, was the arrival of the pandemic. They were shooting in March of 2020, with weeknights in the restaurant available "as long as I have my weekends," the owner told them.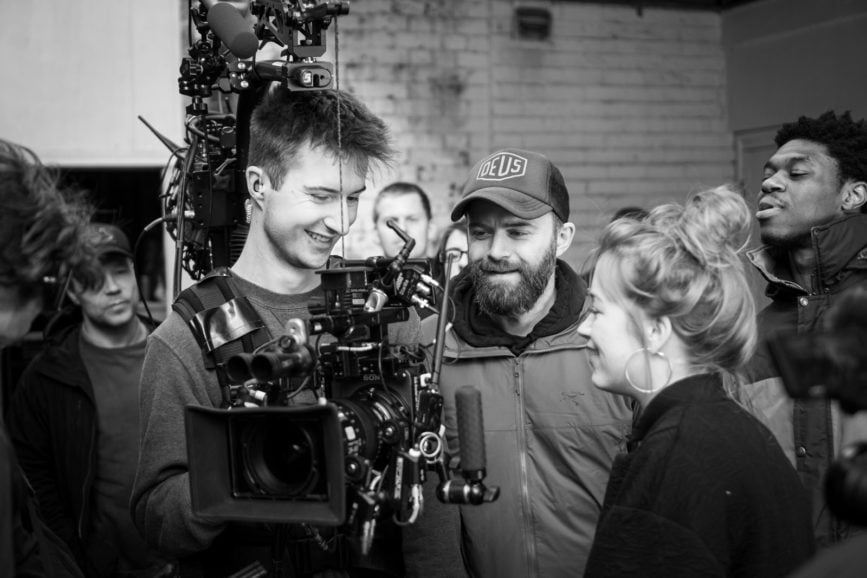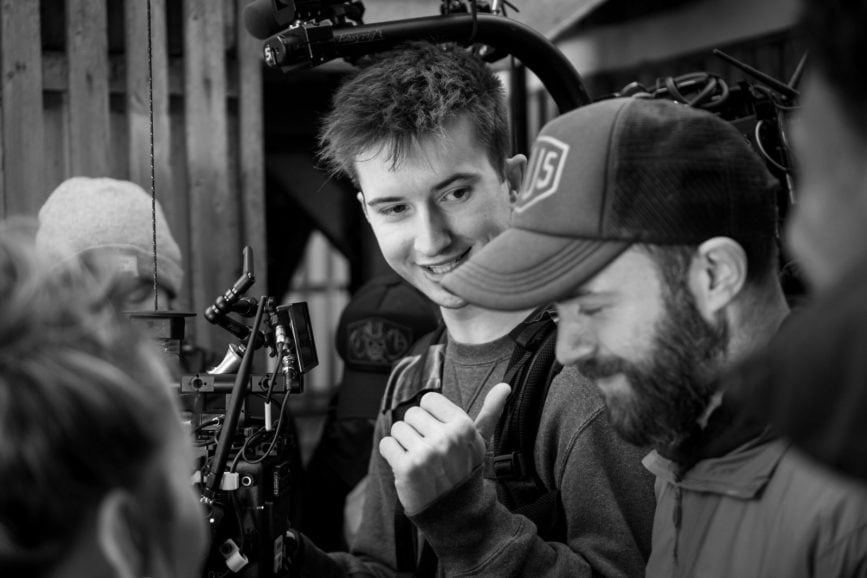 But soon both weeknights and weekends would be lost altogether. "We were going to do eight takes over four nights," Barantini says. "Two takes a night, but the producers started to pull the plug on it," letting them know during that week the following evening was "going to be our last day."
"We managed to obviously get it," Barantini says, in a bit of understatement. They'd already had "two good takes," when they received the news, but went back for two more. "And then the third take is the one that was used."
With COVID resurgent, it remains to be seen how this affects plans for an early 2022 theatrical release in the UK, but word of mouth has already been steadily growing with its VOD release, as viewers – unable to freely gather inside actual restaurants – can still savor this particular cinematic dish, with its minimalist-yet-complex approach in providing a very rich filmgoing meal.
This is a sponsored article, created in partnership with Focus24/Canning24.