IN THE FAST LANE
Markus Förderer ASC blends vintage Hollywood with 8K images on race drones for action thriller Red Notice. 
How do you squeeze Ryan Reynolds, Gal Gadot and Dwayne Johnson into a car along with three cameras and still maintain production quality?
"We needed a small camera to fit into cars and helicopters where so much of the action takes place, but I didn't want to compromise on image quality," says Markus Förderer, ASC (The Colony, Bliss, Independence Day: Resurgence), who faced the conundrum while prepping Red Notice. "By the time we'd compared lenses on all the major large format cameras, the MONSTRO sensor gave us the sweet spot. It's wider than other cameras and its compact form factor was essential."
Netflix's Red Notice is an action thriller written and directed by Rawson Marshall Thurber (Central Intelligence, Skyscraper). Forderer says it takes tonal cues from The Talented Mr. Ripley and sequences of Bond movies. "What we wanted was a filmic and classic look and feel. This is a film with many different and beautiful locations, from cold icy situations to warm desert scenes, so it was important for us to find a look that tied it all together," he says.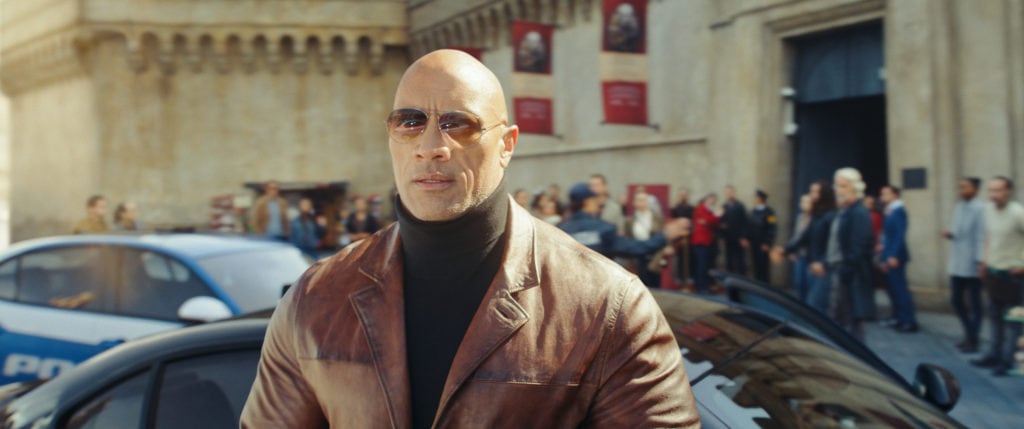 Tests led the DP to Panavision Ultra Panatars, a large format lens with "subtle anamorphic" squeeze that Robert Richardson ASC had revived on The Hateful Eight. "It's the most beautiful glass I've ever seen – the way it renders skin and depth. I talked to Dan Sasaki at Panavision and over six months we managed to track serial numbers down all over the world, including two of the originals made for Ben Hur in the 1950s."
Thurber wanted every scene cross covered by at least two cameras, so Panavision built two sets of lenses with new glass that was modified to sit alongside the original pair. "Usually when shooting anamorphic with Alexa or Venice you are cropping some part of the frame, but the aspect ratio of the MONSTRO sensor multiplied by Ultra's 1.25 squeeze gave us 2.40:1 widescreen, allowing me to use the whole sensor," Förderer adds.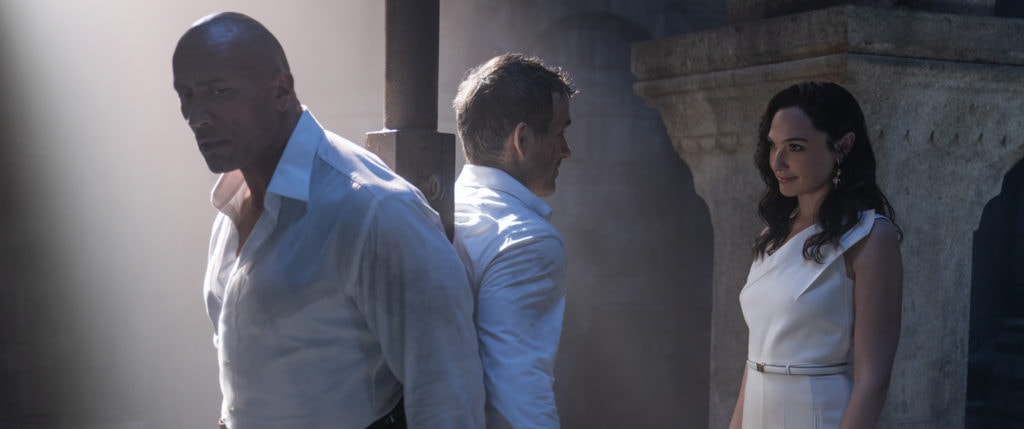 The most challenging sequence was a chase set in an active mineshaft 400 feet underground, near Atlanta. To illuminate it, lights were bounced onto the tunnel walls and ceiling from a car-mounted Edge crane. "With the LEDs, I could alter the colour contrast, shadow and highlights. It worked out beautifully. I knew I was working at the maximum range of the camera's 1600 ISO because it was pitch black down there."
The setting was dangerous for stunt work let alone placing the actors on a moving vehicle underground. Eschewing green screen, Förderer later shot close-ups in a volume stage with wind and smoke effects. Other elements of the film, including sky backgrounds and water for a scene set aboard a luxury yacht, were also shot against a video wall in Atlanta.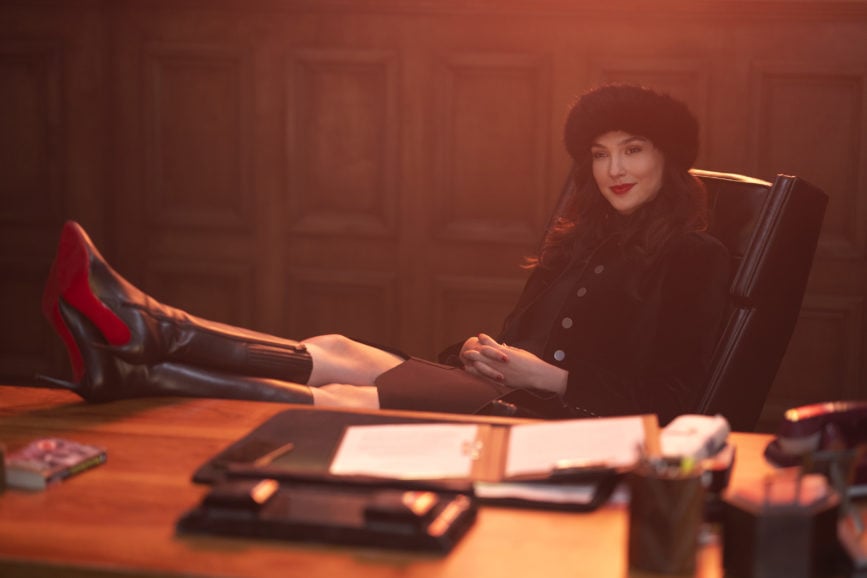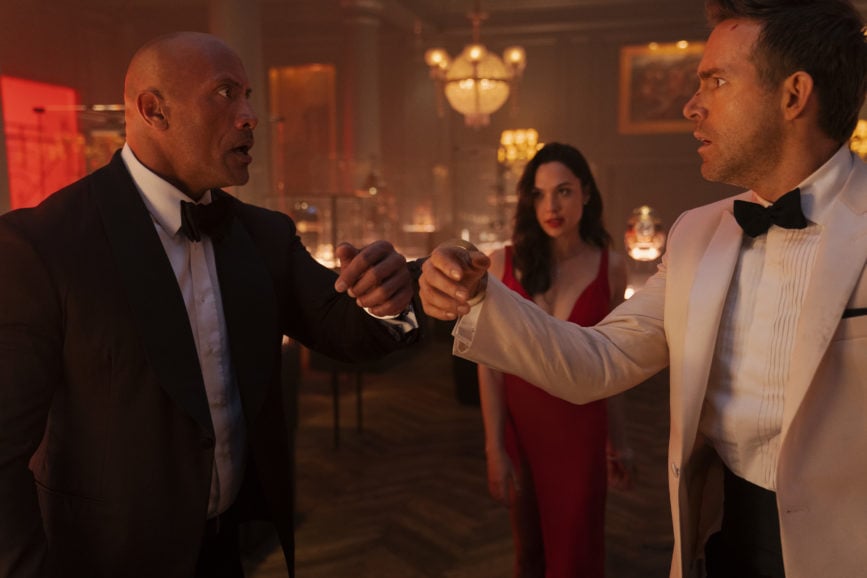 "You need the highest resolution plates with a really wide lens because you want to be able to project onto the video wall and reframe and adjust to camera," says Förderer, who previously shot with video walls on the Netflix and Syfy horror series Nightflyers. "People think 8K is overkill but it's not on a huge video wall. Sometimes we shot plates with an array of four MONSTROs. The fact that we could shoot with the same camera we used for principal photography helped everything tie in really well."
To generate even more dynamism for some of the action sequences, Förderer used prototypes of the RED KOMODO, which RED had stripped down even further to fit on race drones. Usually with UAVs, image quality is traded for speed – the faster race drones only suitable for smaller payloads like GoPro or DSLR. "I feel you can always tell where the cut is between an A camera and action-cam. I didn't want the quality to drop while showing the most exciting sequences of our film. KOMODO filled that missing link."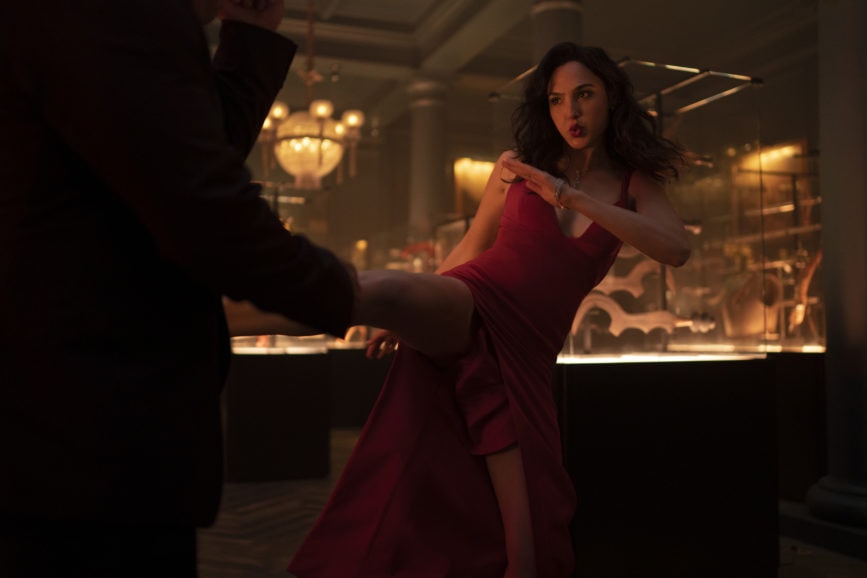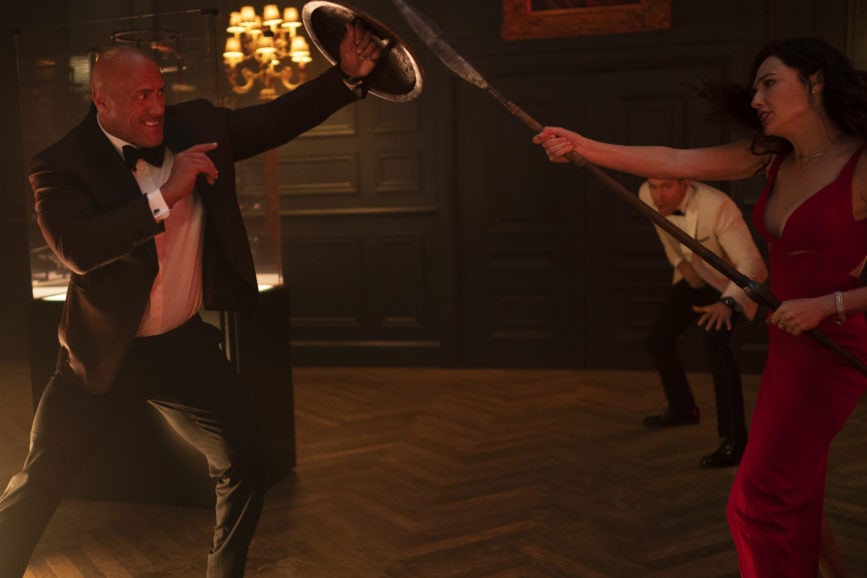 First-person race drone shots are popular in commercials but rare in features. Förderer reached out to pilot Johnny Schaer (aka Johnny FPV) and together with Thurber came up with some unique sequences for Red Notice. "We worked hard to blend the aerials into handheld, flying the drone on ground level so it doesn't feel like there's this impossible camera flying around," the DP says.
KOMODO's global shutter helped eliminate the split exposure that blights fast action. "The larger the sensor, the longer it takes to read out the image causing a Jell-o motion," Förderer explains. "That's just the way sensors are designed across the board. We couldn't have put a camera in cars flipping around if we didn't have that shutter."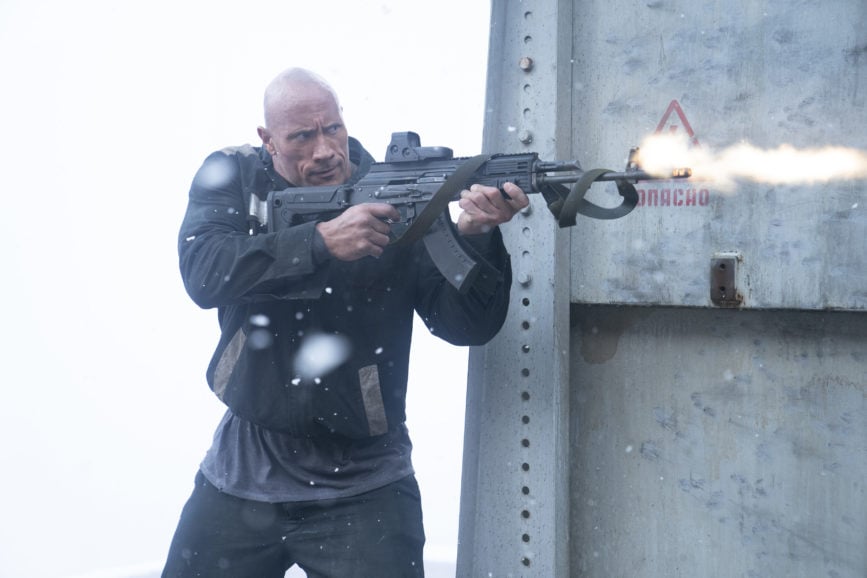 Sharing the same REDCODE RAW and IPP2 colour science made it easy to match camera footage. Förderer worked with colourist Walter Volpatto at Company 3 to create a single LUT for the entire film.
He monitored on set in SDR, knowing what to expect of the HDR version. "I've learned how to expose for this scenario. If you light and expose your scene so it looks rich in SDR, it will translate beautifully into HDR." 
Förderer's approach to unifying various locations – from Sardinia to Egypt – and studio work, all shot at different times, required creative enthusiasm and technical rigour. "This is what interested me," he says. "The opportunity to combine classic kit like Panatars with a LUT that simulates a blend of Kodak and Fuji stock combined with RED colour science."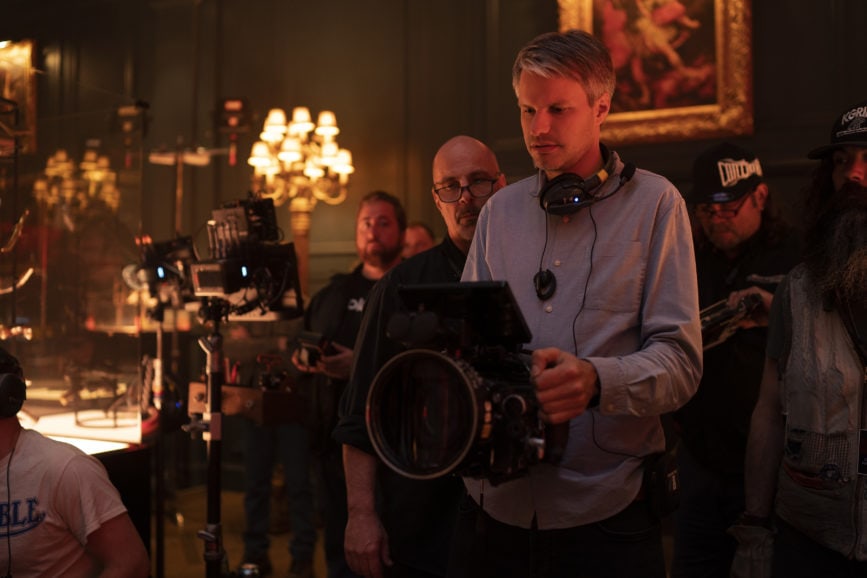 He even used net diffusion, a technique from the golden age of Hollywood, to add glamour. "We used old school techniques combined with cutting-edge technology – like an LF 8K sensor and LUT – to digitally simulate film and give us the best of both worlds."
He concludes, "It was a big production, requiring us to think outside the box and find unique solutions, but I think the result looks pretty seamless."