And so, the blurred end to award season is now in sight. We'll have Oscar talk next month, after the existential suspense is already taken care of (though Dune is certainly looking good in the crafts categories). We'll also be taking not one, but two different COVID tests to get into the restricted Oscar interview room this year and will report back. Though, if the current odds-on favourite to win that evening's cinematography award, Dune's Greig Fraser ASC ACS, can't show up, that may be because he, alas, is already suffering from the infamous virus, which has so far caused him to miss the BAFTAs, and just a few days ago, the ASC Awards.  
The irony for the latter is that they were about the most COVID-proofed of the semi-revived award circuit here, since they opted for another small gathering at the Clubhouse, which would be livestreamed.
Earlier shows, like the Independent Spirit Awards, insisted on both recent tests which they contracted for – and vaccination proof, but ironically, once you arrived at the Santa Monica beach where those awards are traditionally held, no one actually checked for either when you entered the proverbial tents. Showing that they were still using a template from earlier, more analogue crises, the security folks instead politely searched your bag.
On the other hand, the fresh test results provided by the Indie Spirits' compliance partners came in handy the night before, for the Art Directors Guild, where one stood in line in the lobby of downtown's Intercontinental Hotel, having to provide both jab card and test results, and an ID – making sure you weren't hitching a ride on someone else's clearance – before getting a wrist band which was then checked as you stepped off an elevator upstairs.
Another irony came when Jane Campion, recipient of the ADG's Cinematic Imagery Award, could only send video greetings, because she was in New Zealand, on the mend from from COVID! Although she recovered to make the Directors Guild Awards in person a week later, and now awaits the final showdown between The Power of the Dog and CODA on Oscar night.  
Also interestingly, while the Oscars are still beset with controversy over the decision to have "non-live" presentations in eight different, mostly craft categories (Prompting IATSE to issue a statement early this week, officially decrying the Academy's decision saying that "behind the scenes workers get little recognition as is, despite being the backbone of every production. The Academy Awards has been virtually the only venue where the very best on and off the big screen, above and below the line, gather to honour each other's incredible contributions through their crafts, inspiring millions who tune into the TV broadcast in the process.") 
That "millions" may actually hold the key to the whole imbroglio. Earlier, the Indie Spirits did essentially the same thing, though in their case, it was three categories – editing, cinematography, and best International Film (won by Joi McMillon for Zola, Edu Grau ASC AEC for Passing, and Drive My Car, respectively), all of which were presented during commercial breaks as the show was broadcast on IFC and AMC+. But far fewer advertising dollars were involved, and a much smaller audience was at stake and in any case, the Indie Spirits have always been a more laid-back affair than their Academic counterpart.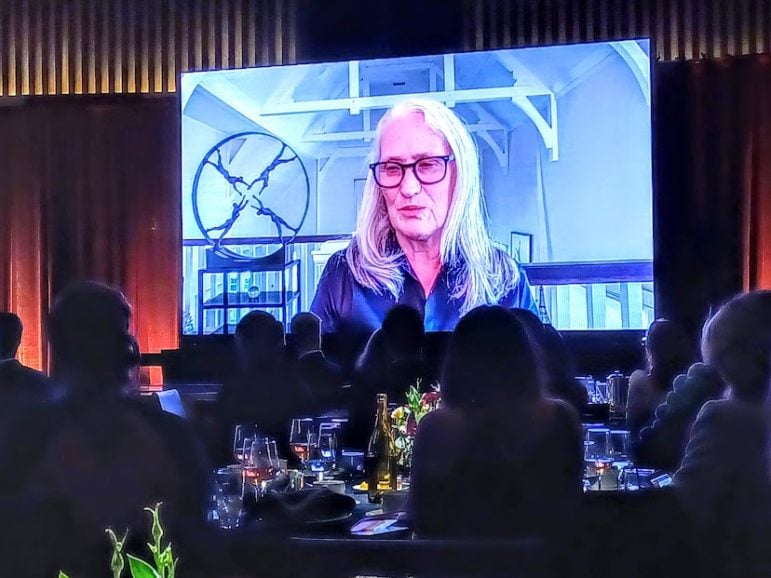 On the other hand, it made this correspondent wonder – as they started to run out of awards to present –if they'd cut cinematography out entirely, but it turned out, they were just waiting for a later commercial break to present the trophy.
The winner was the aforementioned Grau, for his work on the Netflix film on racial identity, directed by actor-turned-helmer Rebecca Hall. We caught up with him in the press tent, though in his acceptance speech, he brought some of the outside world into the ceremony, talking about his own wife and daughters, and wondering what it would be like to have to run away from their homes right now. That came after the show was prefaced at the outset, during the take-your-seats announcements, that it was "hard to imagine a more frivolous pursuit than an awards show," given current events.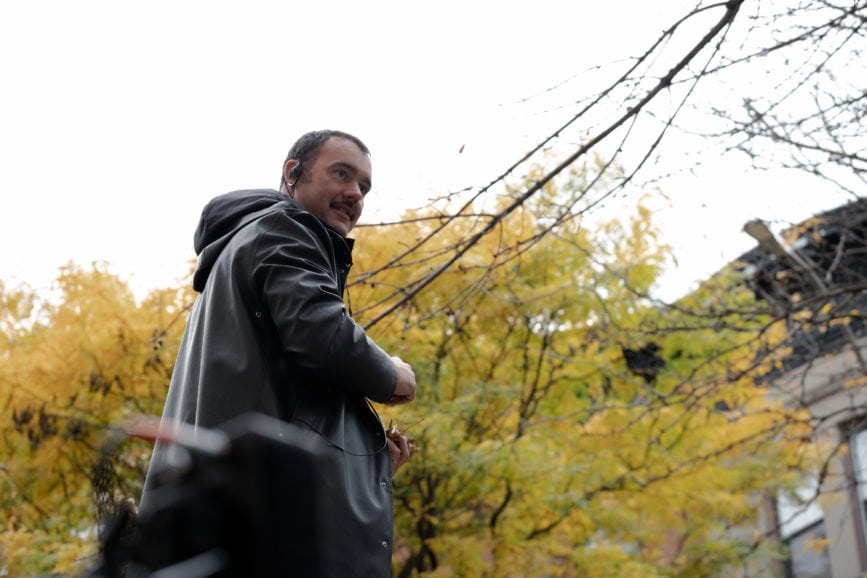 Back in the press area, Grau remained equally thoughtful, talking about how excited he was to get the call from Hall, with whom he'd previously worked when she was in front of his lens.
He says, of picking his projects, he "doesn't care about budget. I'm a passionate guy! I'm from Barcelona!" and he was grateful that the passions brought to this project – including the decision to shoot in black-and-white – was a "rare experience to do what was right for the picture. At the end of the day," he concluded, "that's why we make films, to get into people's hearts."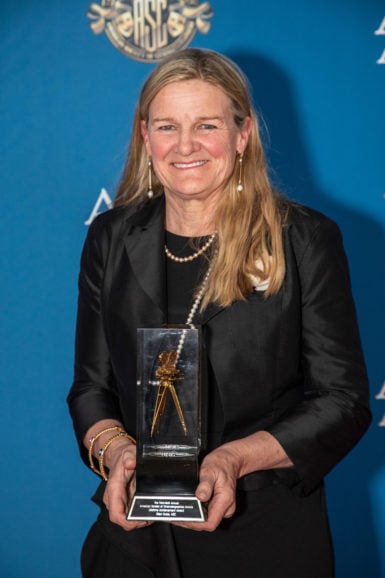 That same generosity was on display at the ASC Awards. Peter Levy ASC ACS, who won the Lifetime Achievement Award in Television – presented to him by frequent collaborator, director Stephen Hopkins – looked around the room, which is to say, the Clubhouse, and, after profusely thanking collaborators, said "we're the living embodiment" of what the group stands for, a certain set of "standards, and integrity."
This was further amplified by Ellen Kuras ASC – documentarian, director, and DP – receiving a Lifetime Achievement Award presented to her by Rachel Morrison ASC. Kuras recalled being the group's fifth female member and now was its first female lifetime honouree.
In a quite generous speech, replete with video greetings from occasional collaborator Martin Scorsese, Kuras, like Levy, thanked crew folk she worked with, including her gaffer, and also rental and post houses, and more, emphasising that no single person's success would be possible without that too-infrequently-acknowledged support along the way. She also said that the "number one rule to being a good cinematographer, and director," was "please don't be an asshole. Go forth with kindness," she admonished, while acknowledging the world is, at present, in fairly short supply of that commodity.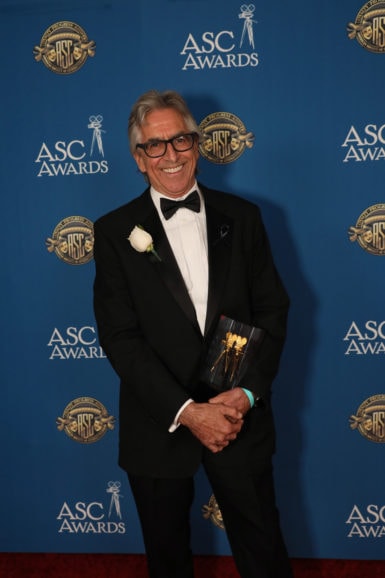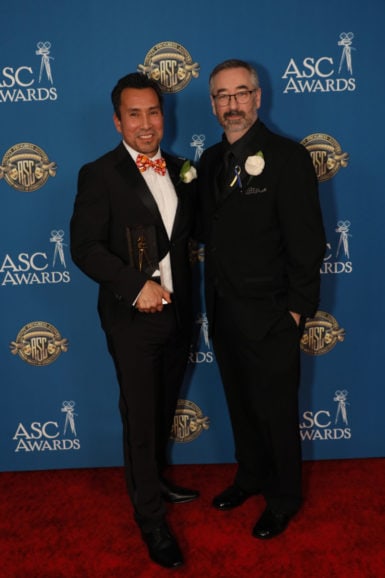 Even ASC President Stephen Lighthill had earlier noted the event was being held on "the vernal equinox," the first day of Spring, and said he'd hoped everyone would use the time between then and the Summer Solstice to do some good and bring some light into the world.
Perhaps it was Lighthill's own background as a documentarian that allowed for such a startling acknowledgement of these broader realities – not of the "metaverse," but the actual universe we inhabit – which can often be absent from showbiz realities entirely.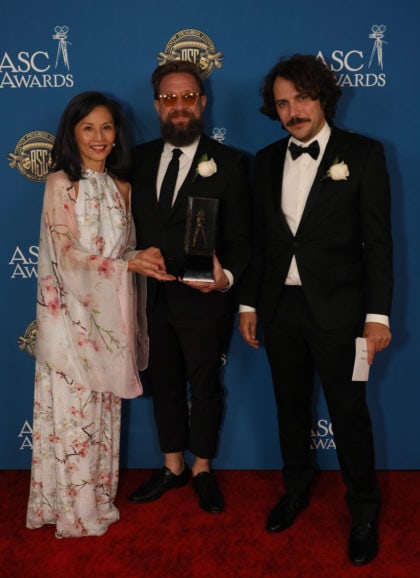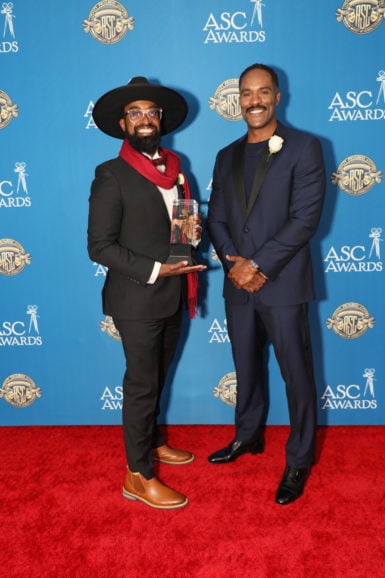 That left the award for feature film cinematography, which as you already know, went to the busy, and still mending, Mr. Fraser. His Second Unit DP Katelin Arizmendi, accepted the award for him, reading his prepared remarks where he also thanked crew members and post houses alike (such as FotoKem, where he'd return for The Batman), and Arizmendi herself, saying, "Kate pretty much lit and framed every single shot in Dune." 
He also gave a shout-out to fellow nominee Ari Wegner ACS for her work on The Power of the Dog, harkening back to when the two of them operated together on earlier Australian projects.
"If anybody in this room gets to work with any of my team, you should be very grateful," he said, as read by the bemused Ms. Arizmendi.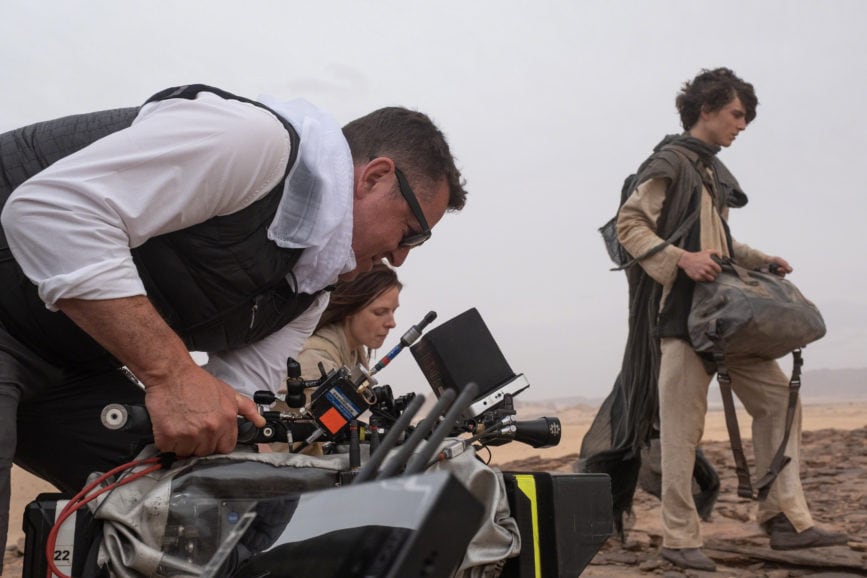 There may have been one or two missed remarks, because the stream had stopped working halfway through, and when it returned some minutes later – after the deserving indie flick Pig had won the Spotlight Award, and often referenced, but rarely interviewed Dan Sasaki, Panavision's Vice President of Optical Engineering and Lens Strategy, received the inaugural Curtis Clark Technical Achievement Award, shrouding him in a sense of further mystery – the whole middle section of the show was missed to anyone not in the Hollywood Clubhouse (or the tent set up right outside). 
Indeed, the glitch – and the stream was never quite the same once it recovered – put one in mind of the late George Spiro Dibbie ASC's remarks, when, just last fall, he led an ASC panel for Cine Gear that was broadcast from the Clubhouse to the expo's downtown locale.
There were glitches then, too. "We're the American Society of Cinematographers, not broadcasters!" he'd said, when asking for patience in his inimitable way.
And now, these many weeks later, there was George again, the first entry on this year's "In Memoriam" reel. Halyna Hutchins was on that reel too, of course. All of it serving as a reminder that Lighthill was right – the time between Equinoxes and Solstices is always short, and there's never a guarantee of getting a full stretch between them.
Use your time until Solstice well. Should the fates allow, we might have written another two or three columns by then.
[email protected] / @TricksterInk
Lead image: Ellen Kuras ASC (right) is the first female recipient of the ASC Lifetime Achievement Award. The award was presented by Rachel Morrison ASC (right) (Credit: Hector Sandoval)