NIGHT TERRORS
Magdalena Górka PSC reveals how – along with a truly multi-national crew – she helped craft a new world and fresh style for the second season of Into the Night, exploring different ways of working along the way to capture the action as well as the emotion.
Season one of Netflix's first Belgian original series Into the Night sees passengers and crew on a flight from Brussels battle to escape the sun following a cosmic disaster which causes the sun's rays to kill everything they touch. The adventure continues in series two of the apocalyptic sci-fi drama, moving the action from aircraft to a military bunker as the characters desperately seek safety in the cover of night.
When joining the ambitious crew to capture the second series, cinematographer Magdalena Górka PSC was tasked with creating a revamped look to set it apart from the first six episodes. "Each episode is a different story. It's like an action movie in parts – the tension building with every episode. The series creator Jason George is not afraid of being bold and killing off key characters either which is rarely seen in TV series," she says. "As a cinematographer, filming a series like this was a huge opportunity and I was excited to first establish the core feeling of the bunker before focusing on multiple locations and storylines."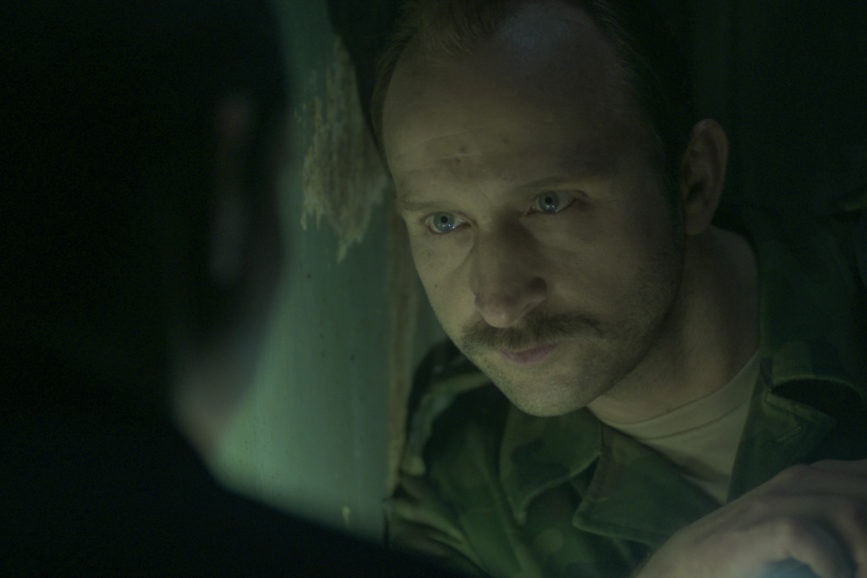 When Thomas Hardmeier – the cinematographer who shot season one – was unavailable, Into the Night executive producer Tomasz Baginski approached Górka, having been impressed by her visual style. The timing of the project and concept of the series appealed to the LA-based Polish director of photography. "It was June 2020, in the middle of pandemic, and going to Europe sounded wonderful as Los Angeles was still in full lockdown," she says. "It was also a really tense time politically in America and I felt it would be a good idea for me to spend some time in Europe, get a different perspective and work in a system I grew up in."
Capturing the Into the Night world in close alignment with the second series' two directors introduced Górka to a different production process. Working in two blocks, each director focused on separate elements of the episodes. Belgian filmmaker Nabil Ben Yadir directed the scenes in the bunker filmed across three months and French director Camille Delamarre directed all the action scenes outside the bunker for the next two months.
"I had never worked in this way. Normally a director directs the whole episode so they can control the storyline and acting," she says. "This was interesting because each director had different strengths, styles and working methods. Nabil enjoyed working with actors and focusing on the character while Camille focused more on how to make the action scenes as exciting as possible."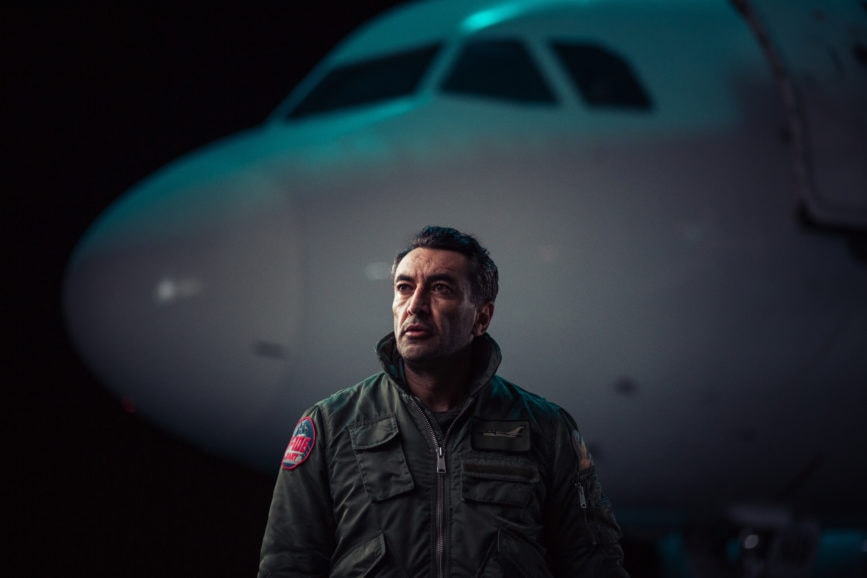 Yadir wanted to follow characters with a handheld camera and capture their emotions, inspired by deep character studies and the work of the Dardenne brothers, Polanski and Scorsese. In contrast, Delamarre was primarily motivated by the style of James Bond films and action thrillers such as Ronin (1998) and communicated his desired vision with Górka through video examples. "On location scouts, he showed me carefully selected movie clips that inspired him to demonstrate how he wanted me to shoot a scene and envisaged it looking," she says. "One of my specialist areas is car chases – it's something I really enjoy shooting for movies, television and commercials. His approach was similarly fast paced, with a lot of movement using cranes, Steadicam, and Russian Arm. He just didn't want the camera to stop. I constantly heard, 'Faster!'"
The two worlds the filmmakers crafted were unified with the help of production designer Bart Van Loo. "His role was even more crucial than I've ever experienced. It was one of the most successful and satisfying collaborations I've ever had with a production designer," says Górka. "We became friends for life, and I joke that I will drag him with me on projects everywhere. His attention to detail is incredible and his approach is extremely realistic."
As most of the series takes place in a NATO bunker where the characters create a life underground, this restricted space during filming. "Due to a fire in the bunker they have to seek food and organise a foraging expedition to try to reach a seed vault in Norway so they can grow their own food. I thought this was an exciting concept," says Górka.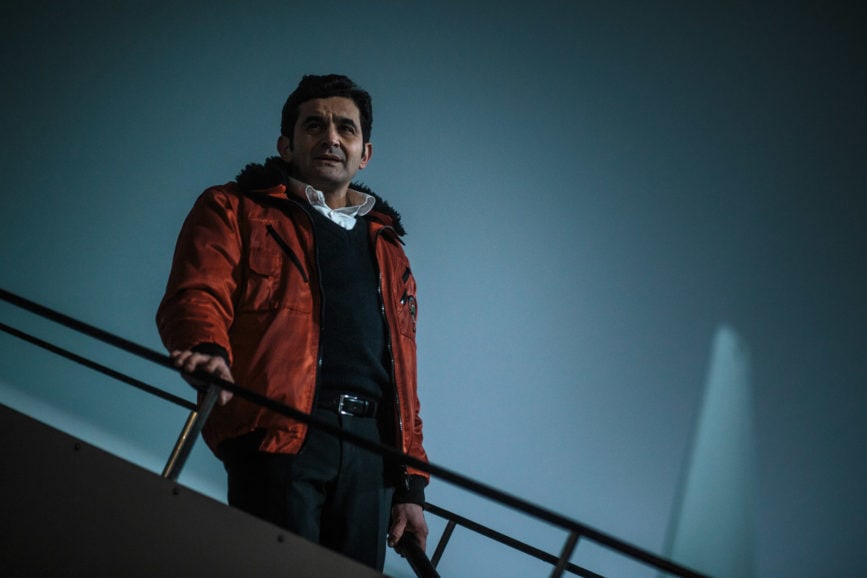 The cinematographer and Van Loo discussed which colours to use for the bunker to make it appear earthy, natural, and aged. It was important it looked like an authentic Eastern European NATO bunker that had been built in the '70s or '80s. "Showrunner Jason George wanted to create a feeling of being trapped with everybody on top of one another and little space around them. We also wanted the bunker scenes to contrast with later episodes when we visit the outside world in Norway and create a feeling of coldness using blue and cyan hues."
The bunker corridor was only two metres wide, and the use of practical light within that space was crucial – every light had to serve the purpose of lighting the actors. Van Loo made iron brackets to create a grid for the lights to sit in, with a plastic aged cover over each one to prevent the light spreading. "We mainly lit the bunker with practicals with Astera tubes, flashlights and Lite Mats. Every time a fixture was placed it had to go through Bart to ensure it fitted in with the wider design," says Górka.
Writer, creator, and showrunner Jason George was involved in every aspect of the series' style and how it was shot. "I had him on a speed dial, and we talked about the vision regularly. He really pushed for a dark show. Parts of the first two episodes are shot in complete darkness because the bunker is blacked out. This meant working with flashlights and making sure the actors were familiar with how to hold them while we bounced the light onto their faces."
For sequences which were plunged into darkness, Górka sought inspiration from David Fincher films and in particular the colours used in Seven. "Marc Caro and Jean-Pierre Jeunet's Delicatessen was also a huge influence due to the production design, use of colour and the fact most of it was filmed underground. I also felt the use of darkness, blue, green and fluorescent light in Alien was appropriate for what we wanted to achieve and explored this with our production designer."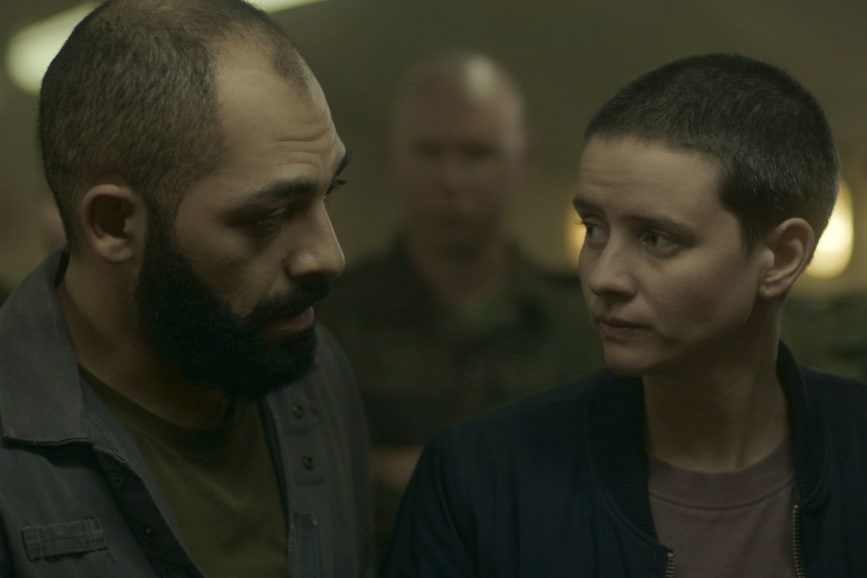 Adapting environments
While the first block was shot in a bunker set built on a stage at Lites Studios in Brussels, the second block was captured on location around Brussels and Antwerp in addition to a week-long studio shoot in the plane set which had been transported from Bulgaria. The team used the original plane set built for the first season, revamping the interior, and changing the colour of the seats.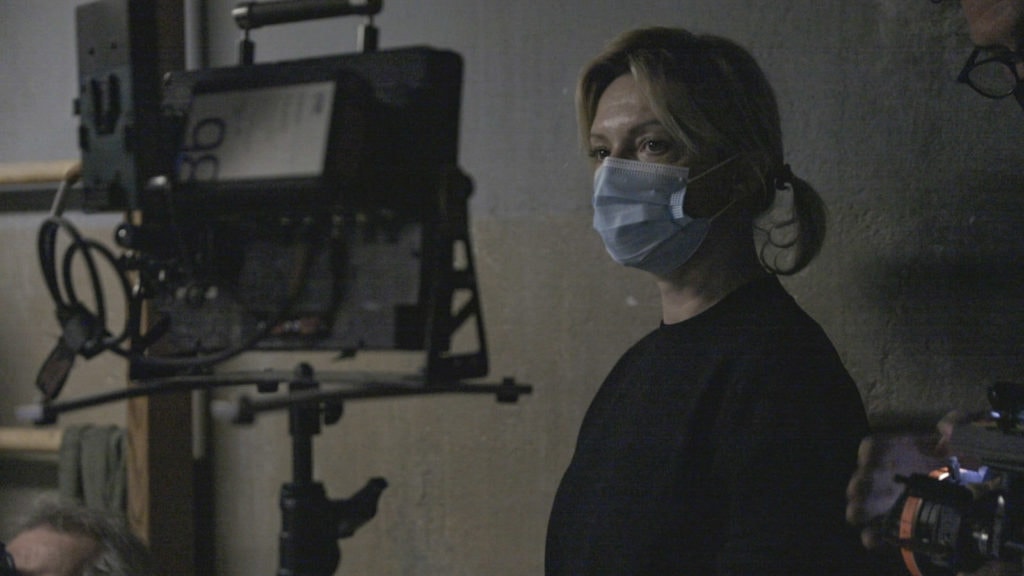 For sequences outside the bunker, they adapted a quarry in Belgium. The logistical challenge of lighting this vast space saw the crew position a large construction crane with SkyPanel 360s in the middle of 40 x 20 soft box to illuminate the half a square kilometre area. We wired 20 street lamps around the set and positioned 18Ks and 6Ks all around the top ridge of the quarry to easily switch the backlight. "Huge kudos to my Belgian gaffer Tim Janssens – we spent six weeks planning how to approach the lighting so these scenes could be shot 360-degrees, as the director wanted. Working with Tim was fantastic as we had the same sensibility about light and he mapped everything out so clearly beforehand," says Górka.
"We couldn't just use flat ground for the exterior bunker scenes because it would be impossible to light at night and we would need to cover our lighting towers, so we settled on a quarry because we could build it down and then have lighting standing on the top. On the other side of the quarry, there was a road which we built the seed vault on."
Van Loo's "extraordinary" design for the seed vault entrance incorporated fake snow and wowed Górka and the team. "When I first saw it, I gasped because it was so amazing. As a cinematographer, I love shooting in the snow because it reflects everything, and it always looks so beautiful. One scene of the seed vault entrance – captured using drones and with the Northern Lights added by the VFX team at Paris-based Mikros Image – is so beautiful I couldn't believe we were doing it on a TV budget."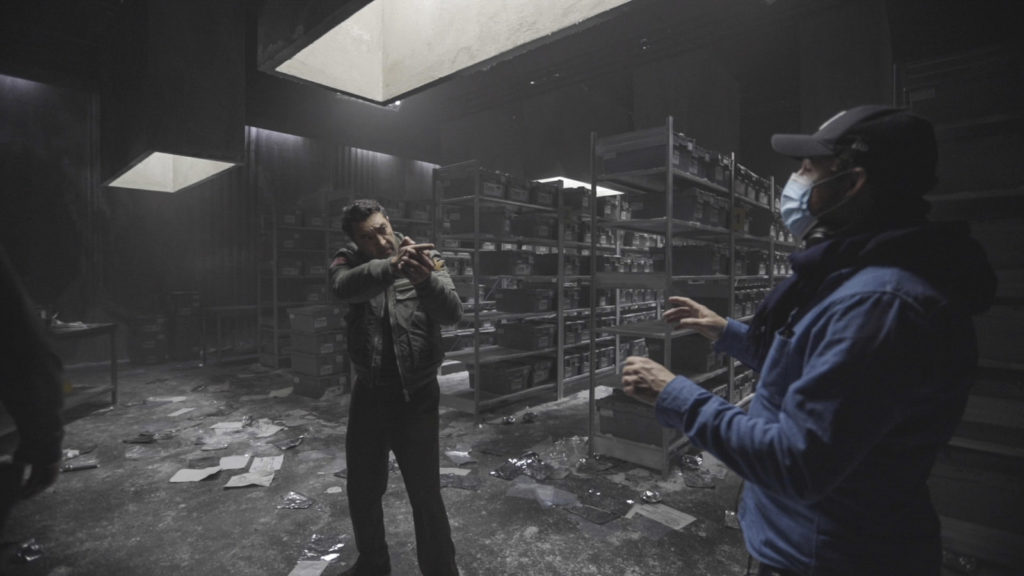 When creating the interior leading to the seed vault, Van Loo was inspired by Blade Runner 2049, brutalist architecture and Bauhaus style. "We wanted something grand, overpowering and monolith-like that would make an impression. He turned the corridor upside down and, according to my instructions, placed the lighting inside the walls, creating a sci-fi feeling," says Górka. "The seed vaults only had shelves filled with seed boxes inside and Bart built two giant walls on wheels, so if we looked one way, we could see the wall closing the seed vault. If we turned around, we could move the walls on wheels and place them at the other end."
For the scene in which a missile blows up a plane, Van Loo excelled once again, preparing 250 square metres of set, rubble, and burning pieces of plane to be combined with visual effects.
All action and plane scenes were filmed at Antwerp Airport which doubled up for Norway and Bulgaria airport. It was the most challenging location partly due to its small size and the additional security measures the pandemic presented. "We shot one way for Bulgaria and worked with sodium lighting and then shot the other way for Norway and all the lights were LED which creates a bluer tone.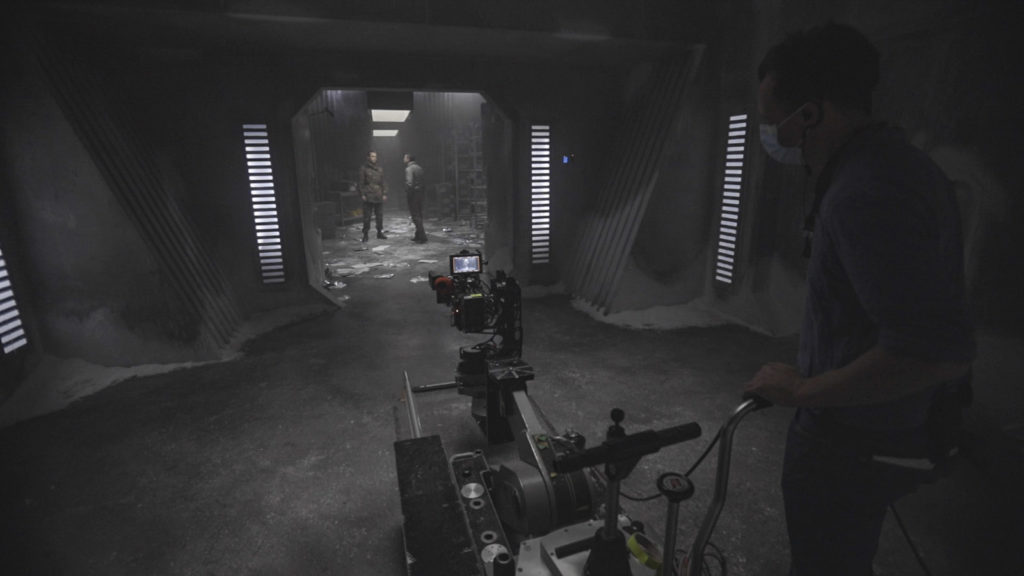 The team had a narrow window in which to shoot the scenes in the airport, from 11pm to 5am, meaning they had to promptly roll in their pre-built lighting rigs and use every second wisely. "We also used Manitou construction equipment and ARRI SkyPanels to create a soft light on the actors standing underneath the plane. This series looks like art, but it is all based around very complicated logistics."
Further challenges were presented when trying to find a road to shoot car chase scenes which matched the roads in Bulgaria where some of the first series was shot. "There is mostly LED lighting in Belgium, whereas the original highways that were used featured sodium lighting. It was also difficult to find a huge stretch of road we could close that had no lights or buildings and would fit in with the desolate world depicted in the series."
Following a three-month search, Górka suggested they create the road themselves. The team adapted a private airport road, rented 50 sodium lights, and cabled them to allow for full control. Vehicles were filmed driving back and forth on the same stretch of road and the footage was skilfully edited to create the illusion of one long road.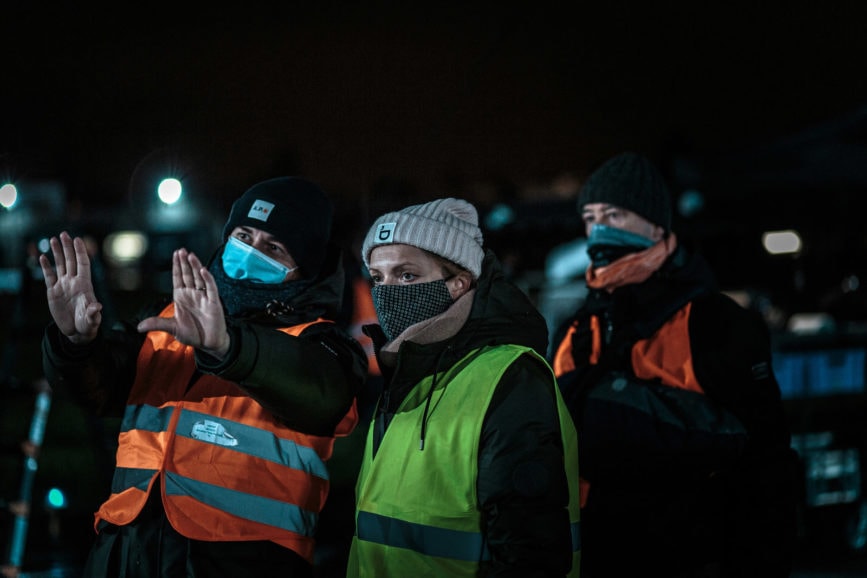 Capturing the action
From the project's inception the search was on to find the perfect lens and camera combination that would best suit the visual style of the show and Netflix's 4K requirement. "We needed large format sensors to deliver 4K. I also needed really fast lenses to tackle shooting in the dark and something portable and compact to shoot handheld in some of the confined spaces, so we knew we had to shoot spherical."
After choosing to capture the dark world the characters inhabit with the ARRI Alexa (supplied by Lites), partly due to "how well it handled the shadows", Górka tested a variety of large format lenses, seeking one that could cope with the fast-paced series' constant movement. "I tested everything that was available at Lites and I didn't find this special texture. I needed something uniform but with character, and my friend Robrecht Heyvaert recommended I talk to Philippe Piron at Vantage Brussels which is how I found the Hawk Vantage One4 spherical lenses. When I tested them, I fell in love because I'm a huge fan of soft contrast. I just love how the light spreads on soft glass. Although they weren't large format, luckily new sets were being created using the same glass as a base."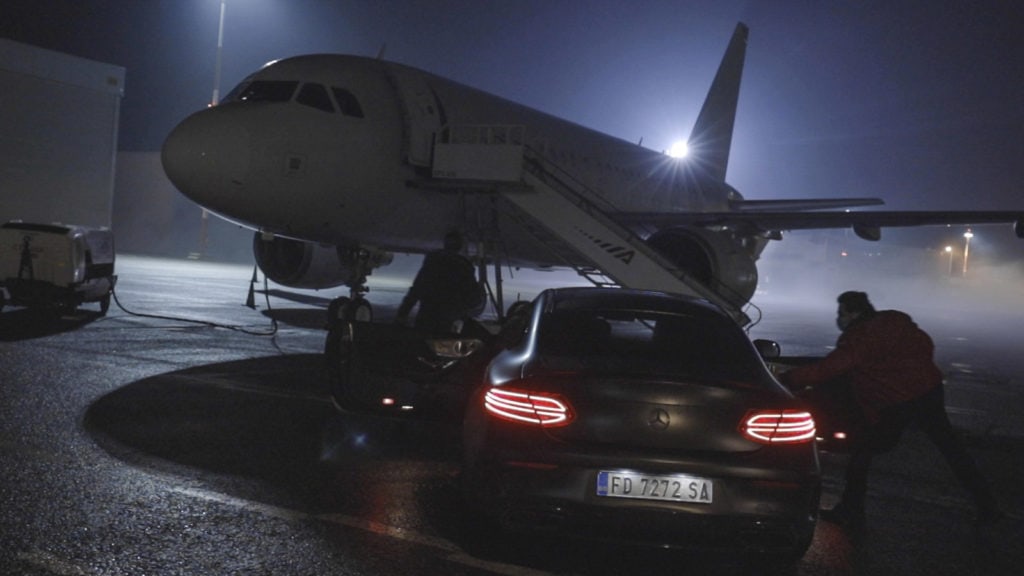 When Górka was sent three lenses to test, the results were not as soft as those she had originally tested and there was a greater contrast, partly because they were large format versions. "However, when I used the lenses in the bunker, I discovered the large format offered a very shallow depth of field that the other lenses didn't. It meant I could shoot an actor in the tight corridor and have the background fall off beautifully half a metre away. The flare also had to be perfect because of the proximity to sources, and these lenses have beautiful round bokeh. Hawk Vantage One4 lenses were perfect for what I wanted to achieve."
Aside from the stellar equipment, Górka's crew enhanced the experience of shooting Into the Night. "My key grip Kurt Reybrouck had so many incredible ideas and solutions, as did my two fantastic camera assistants – Didier Frateur my 1st AC on A camera and Ruben Appeltens on B camera. We all became firm friends."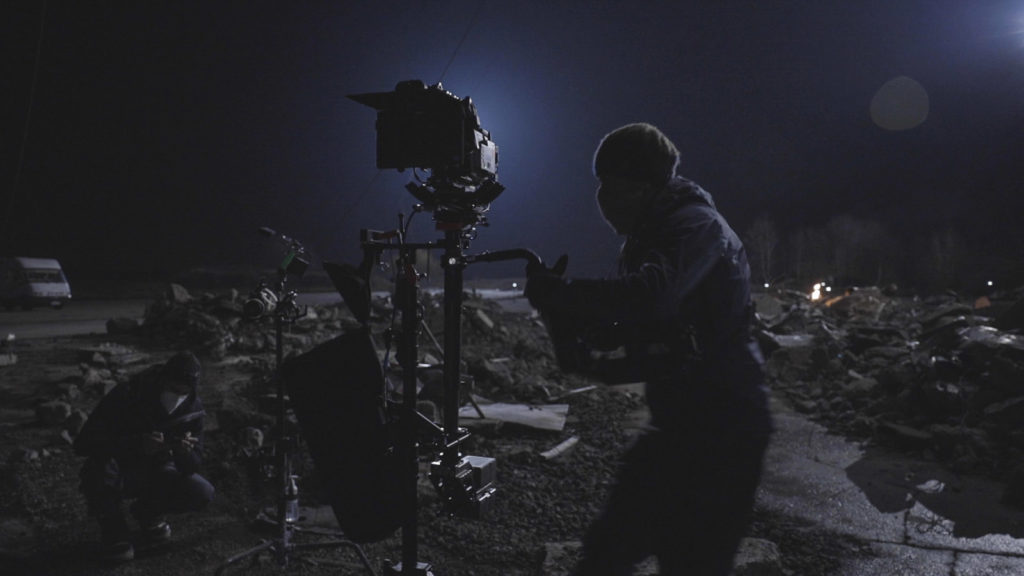 Believing it to be crucial to determine the look early and to set a unified vision across the team, Górka was keen to partner with another core collaborator, colourist Peter Bernaers from Sondr in Brussels, early during prep. "He's one of the best colourists in the world," she says. "I knew that the six-week colour correction would probably take place remotely because I had already signed up to shoot Star Trek: Strange New Worlds, so I had to be confident the person handling the grading could work well this way and had a clear idea of the look we wanted. He knew we were going for an industrial but warm feeling, and he could get just the right shade of olive green better than anyone else."
The pair achieved a great deal in their first hour-long session alone, after which Bernaers created a LUT for Górka to work with. "Thanks to DIT Benjamin Dewalque being so precise about the colours throughout, the picture we delivered to Netflix was pretty much exactly what the audience will see."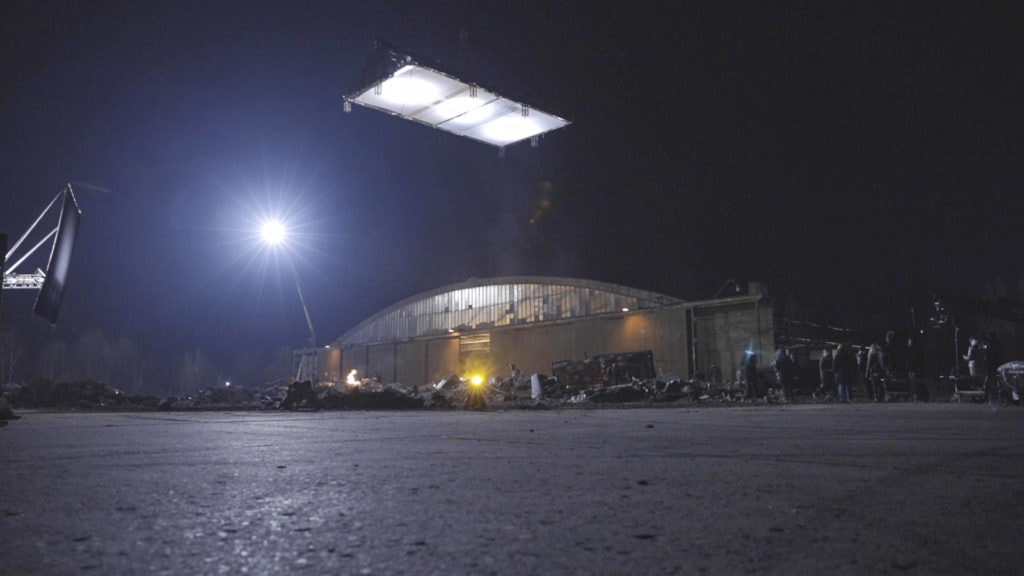 A multi-national production
It's been a jam-packed year for Górka who shot two high-profile and ambitious series back-to-back. After spending four months in Belgium shooting Into the Night and wrapping at the end of December 2020, she headed to Canada in early February to film Star Trek: Strange New Worlds.
"I'm incredibly proud to have worked on such unique and bold productions and put everything into both series. It was demanding but also tough due to the pandemic which just adds another layer of pressure and isolation. Netflix put all the possible safety measures in place for Into the Night such as special machines that would clean the air. We were living in the bubble, and you couldn't hang out or bond with the crew, except in your work environment. It's such a simple but important thing to miss and it was extremely difficult living in such isolation."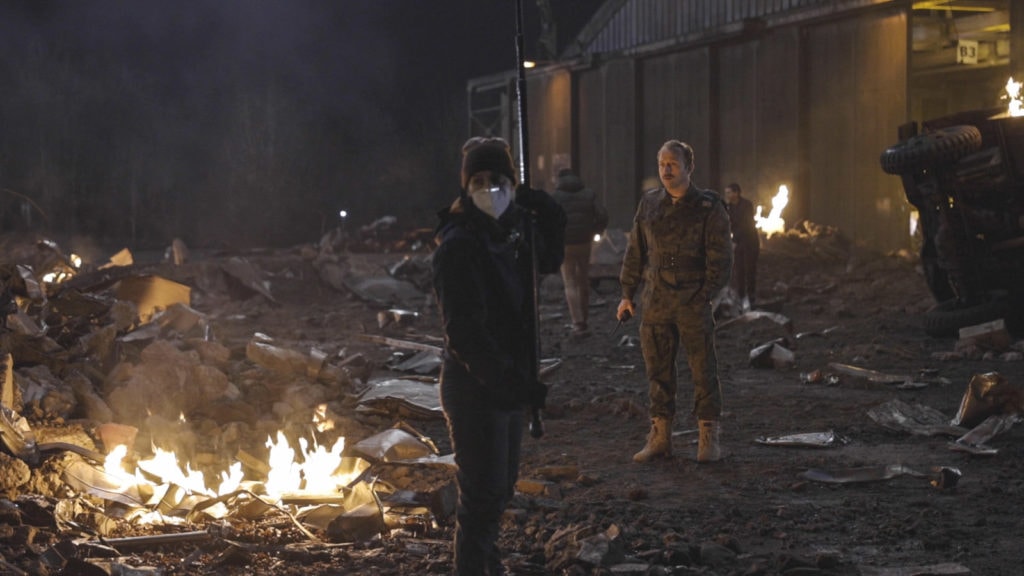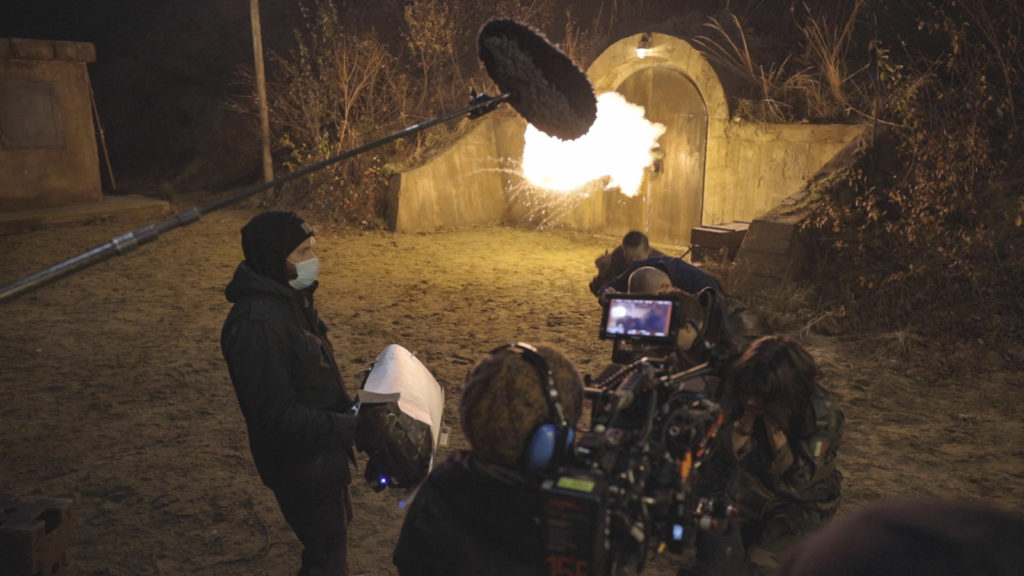 Into the Night was a truly multi-national production. This was a unique experience for Górka which she embraced but she also admits the different languages and ways of working could sometimes prove tricky. "When making a series there will always be a mixture of emotions and points of view involved, so learning how to navigate this and step back to look at the big picture is vital. Gathering a bunch of people who don't know each other in one setting that is a film set environment is an interesting experiment in itself but gathering multiple nationalities in a bunker in an enclosed environment during COVID takes things to a new level.
"We had American, Belgian, Polish, Moroccan, French, Turkish, Russian, English, Spanish, so many nationalities involved in this show which meant communicating to ensure we were on the same page was crucial. In the end, we became friends and made a series which looks exactly how we intended. It's astounding to think we created such an authentic and unique world whilst working with so many restrictions."