RISING STAR
Filmography so far:
Feature films: Boxing Day (2021)
Branded content: YouTube Legacy, AXA, Swarovski, Shelter – Scotland, Juvenile Consciousness, Rejoice Resist, A Response to
Music: Hope Tala – Cherries, Yonaka – Seize the Power, V9 – Do It
When did you discover you wanted to work in film and what inspired you to follow this career path?
My passion started when I was very young. Films were an escape for me – an opportunity to jump into a different world where anything was possible. It wasn't until I got to university that my mind was opened up to the art of film. It was after watching films such as Do the Right Thing (1989), In the Mood for Love (2000), Soy Cuba (1964), Punishment Park (1971), Schindler's List (1993), and The Battle of Algiers (1966)that my passion for films really began.
Where did you train?
My training was varied as I initially entered the film industry as a runner and then moved into lighting, gaining my electrical qualifications as I worked. Prior to this I was a professional photographer. All of this was self-taught and stemmed mainly from my passion for imagery. After several years lighting in the capacity of a gaffer and best boy, I began the transition into Steadicam. My training up until this point was all on the job. I had to learn deep and fast. Attending Sab Steadicam workshop – Tiffen Silver Workshop gave me a valuable insight into understanding the equipment and plugged me into a community alien to me. This was an important turning point as it allowed me to push myself further to understand movement, cameras, and Steadicam on a professional scale.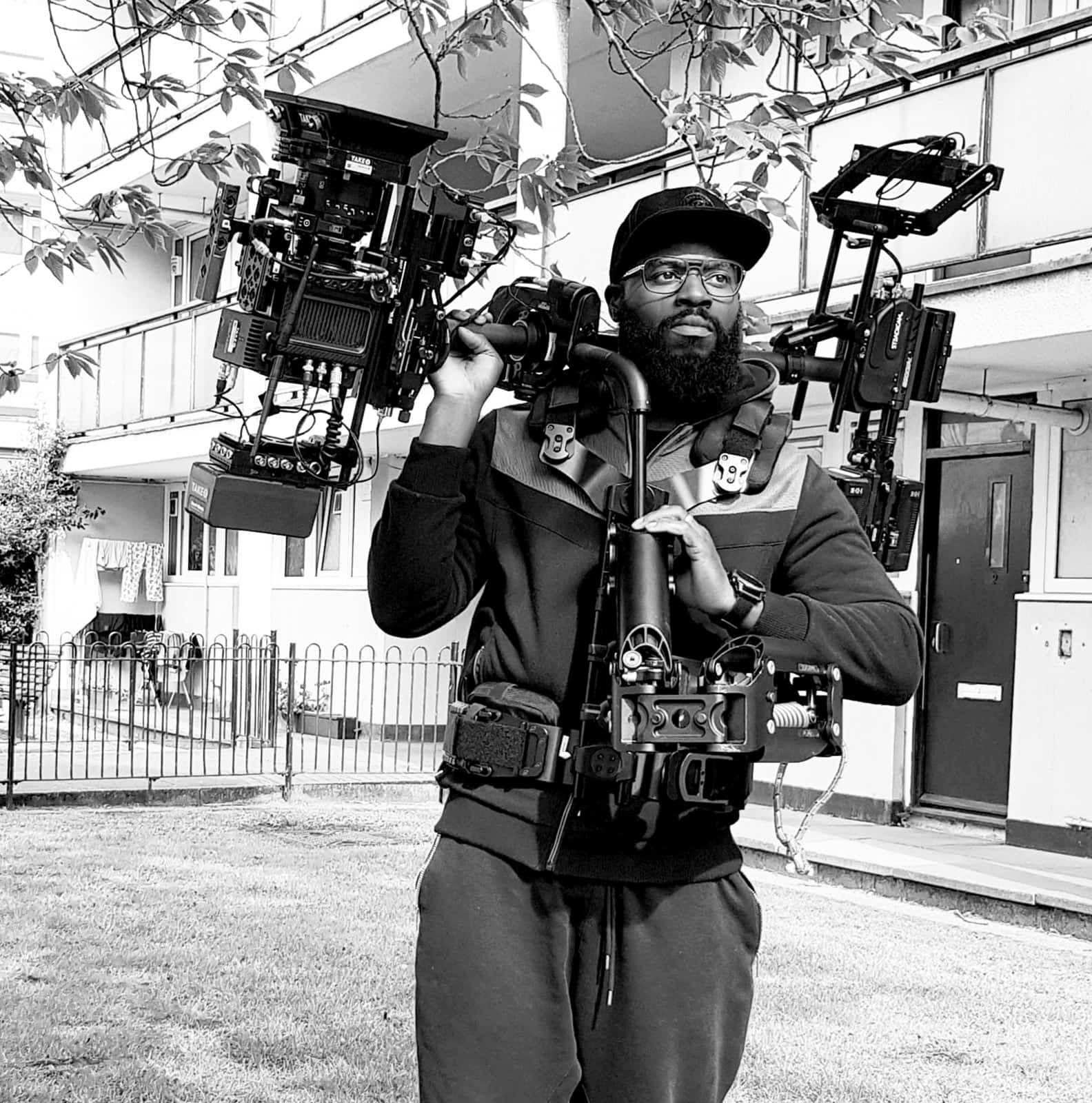 What are your favourite films, and why?
There are a few that connected with me and inspired me in a very particular way. Do the Right Thing by Spike Lee really showed me how a film can reflect a culture that's familiar to me yet say something that such a group of people feel in an unapologetic way. This film was funny, raw, politically relatable and had a timeless message: my voice matters! Wong Kai Wai's In the Mood for Love was a visual expression of love. I felt the cultural barriers that were preventing two individuals from demonstrating love to one another due to society's acceptance of such people. Peter Watkins' Punishment Park gave me goose bumps. The film is completely fictional yet Watkins' approach visually in telling the story of a group of young activists in American was in the style of a documentary.
Who are your industry heroes?
There are many such as Garrett Brown, Peter Robertson, and Charlie Rizek.
What's the best advice you've received and from whom?
Robert Beck recently told me that "in order for you to make it far, especially in long form, people have got to like you. Focus on being likable whilst obviously working on your skills." That was sound advice, as there are varying levels and requirements needed based upon the job. Skill level will always increase based upon application and experience but being likeable by others is a choice.
What advice would you give someone considering becoming a Steadicam operator?
You need to be committed not only in the craft but in the art of movement. Jump in and make movement your life, people will see that devotion and flock to you.
What was been your best moment on set?
One of my best moments was when I got a standing clapping ovation after doing a physically demanding shot on a recent music video. It was tough. All low mode and I had to move my rig like it was light as a feather.
What lights your fire outside of work?
I do a lot of CrossFit, BJJ and capoeira. These activities keep be busy and in shape physically and mentally. I love to scuba dive wherever I get the opportunity.
What was your biggest challenge on your latest production and how did you overcome it?
There were daily challenges working on my last feature film Boxing Day. This wasn't based upon my ability, more on the lack of experience in doing certain types of shots using particular equipment such as walk on cranes with a Steadicam. My approach to many of these challenges was to plan the earth out of each shot, leveraging the experience of my team, especially my grip, whilst ensuring I had the best equipment to do the job. I also had to be honest with myself and my DP in what was achievable from a safety perspective. I want to do everything thrown at me but not everything was designed for me to do, especially with a Steadicam.
Walking onto a walk on crane that took me 25ft into the air was one challenge. The shot started off with me chasing a car whilst running backwards. The car pulls up to the curb and I circle around the car and capture dialogue. There are a lot of character exchanges which eventually lead to the actress walking away from the scene and jumping into a car before driving off. As she drives off the camera should crane up into the air and capture the buildings, the flag and the car driving into the distance. And this is a one shot. Each element was fine, but as a collection, with a heavy camera and very little time to get this in the can (three hours) was tough. Using a rickshaw at the beginning helped save my legs and trusting my gripping to navigate me around the car and onto the crane was vital. I arrived super early and spoke to the rigger building the crane who told me to listen to whatever he said. When I get on that crane, I was to just plant my feet and trust in the team. A combination of leaning on my team, simplifying the shot and using an array of equipment allowed me to achieve this shot whilst being honest to my DP in what was achievable safely within the time.
You need to be committed not only in the craft [of Steadicam operating] but in the art of movement. Jump in and make movement your life, people will see that devotion and flock to you.

Junior Agyeman-Owusu
What is your must-have piece of kit?
All kit when it comes to Steadicam is vital from my Transvideo CineMonitor HD8 XSBL (amazing) to my Tiffen Shadow steadicam rig with Volt, G70X arm and amazing Exovest.
Which film would you love to have shot?
I would love to shoot the next Star Trek. I am a big sci-fi geek!
What's the best and worst thing about your job?
Best: The intensity that being an operator demands. Plus, I get to work with some very cool people.
Worst: Sometimes my fingers get cold, and I need my fingers a lot. If they get too cold I over grip. That's a huge problem for a Steadicam op as operating is about sensitivity.
Give us three adjectives that best describe you and your approach to Steadicam?
Safe, bold and sensitive.
What are your aspirations for the future?
To do high-end feature films and TV dramas.