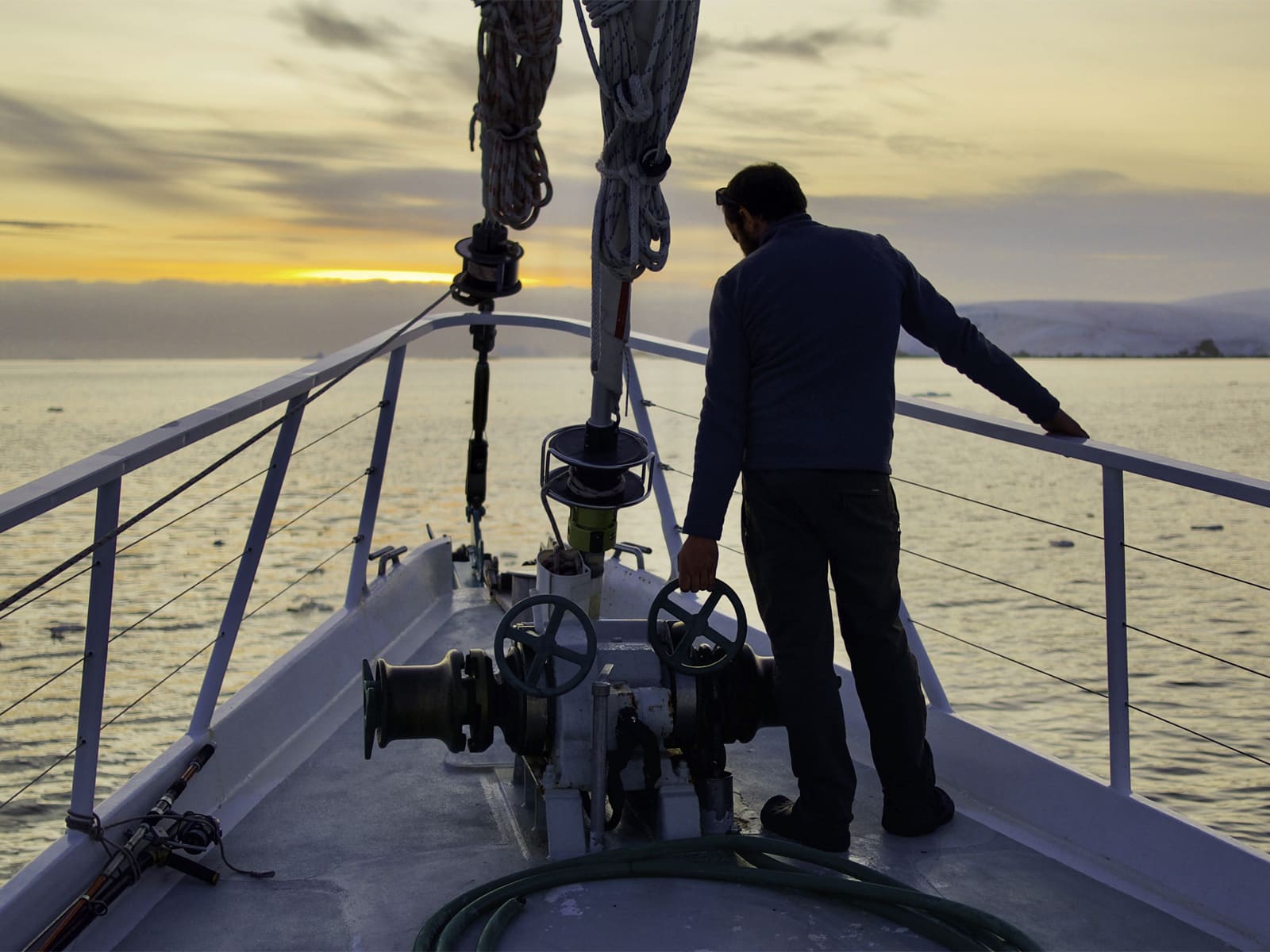 The opening shot of a bubble rising to the surface of the ocean lasts 24 seconds. "This is the breath of a giant," informs Sigourney Weaver's narration. "Not just any giant – but a sleeping one." The shot tilts down and we see a forest of sperm whales as still as statues underwater.  
It's an astonishing, beautiful and fascinating glimpse into a society of warm-blooded creatures that might just be more like us than we think. 
"The most important thing is for the viewer to feel connected with the whales and that means the quality of the image is very, very important," says Brian Armstrong who heads Red Rock Films, and is the executive producer, co-director and writer for Secrets of the Whales. 
The four-part series plunges viewers deep within communities of whales to reveal the lives and interactions of a variety of species: orcas, humpbacks, belugas, narwhals, and sperm whales.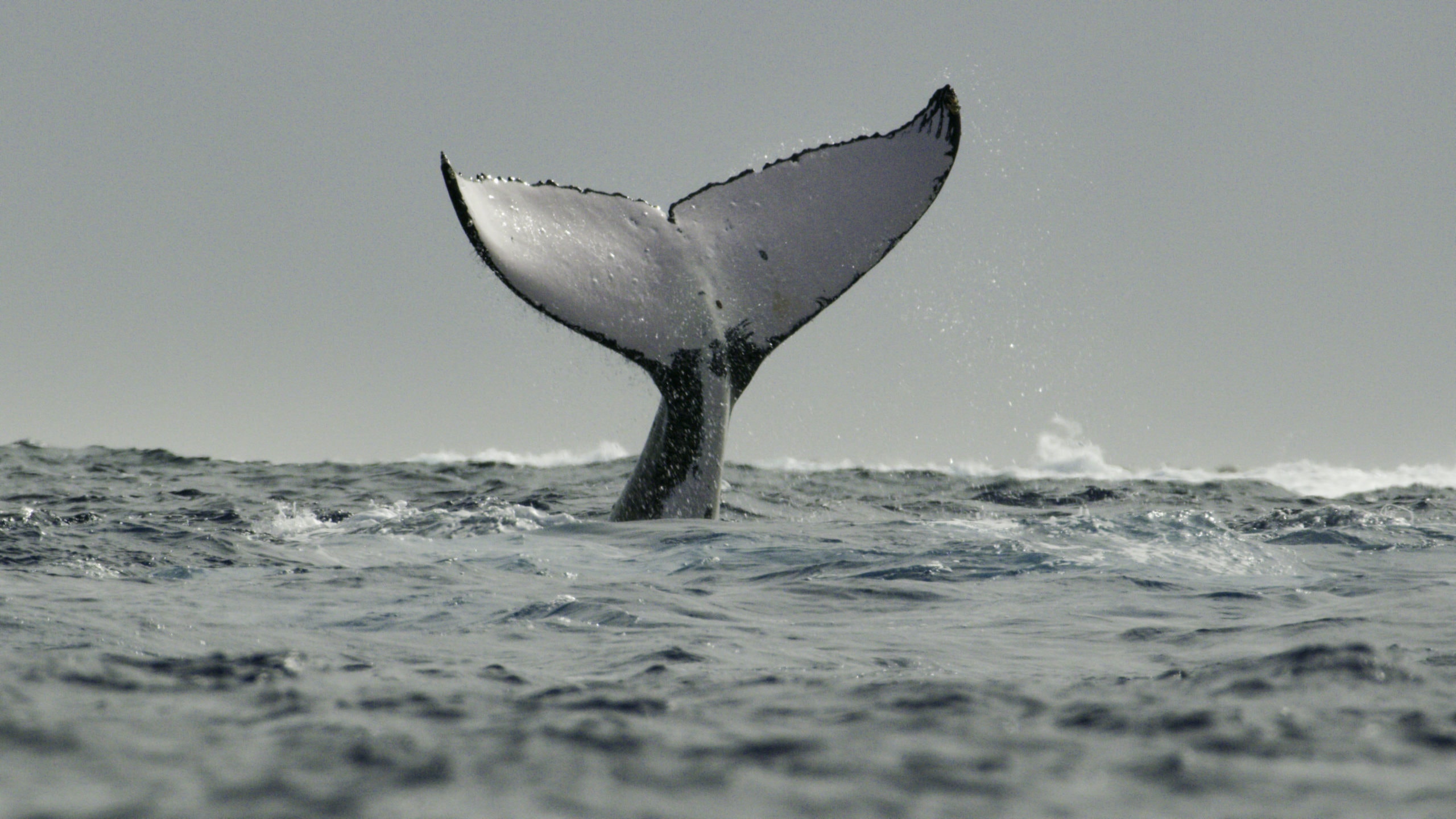 Premiering on Earth Day 2021, the Disney+ show was initiated by National Geographic explorer and photographer Brian Skerry. He came up with the idea to show just how similar we are to these majestic, ocean-dwelling giants. In turn, National Geographic called Red Rock which is not only the premier provider of wildlife content in the U.S., but a production company that prides itself on being able to make emotional connections with its subjects. 
"Our belief is that you shouldn't just watch a film from Red Rock you should be able to feel it," says Armstrong. "The more we delved into the concept that Brian Skerry had brought to National Geographic about whale culture, the more we realized aspects of their story had sort of been taboo on screen. What breakthroughs in science over the last decade have revealed to us is that animals do exhibit emotions—they grieve and play and love. The more we explored the life of whales through that lens we realized we were seeing evidence of their culture and emotions. That made for a really rich and inspiring story."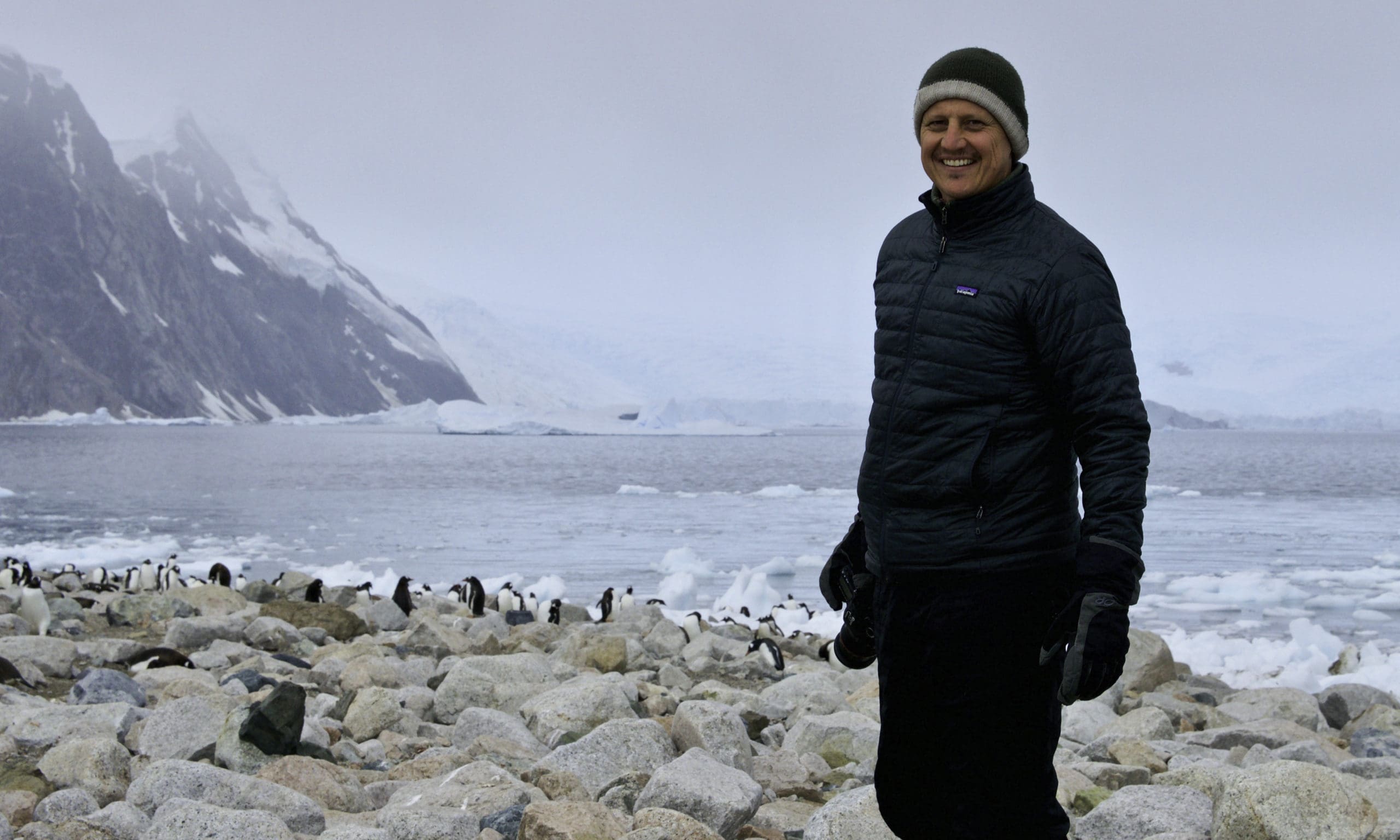 Red Rock knows only too well that detailed research and planning made in advance will likely go out of the window when shooting in the wild.  
"Whales don't get the script," says Hayes Baxley, an Emmy Award-winning producer, DP and director who was lead cinematographer on the series. "And if they show up, are they going to do something interesting for the camera and not just swim by? You aim to capture certain things but there's a lot you don't know." 
Through luck, judgement and a great deal of skill, the team was able to capture some extraordinary behavior over the course of three years and across 24 locations. This included capturing a sperm whale nursing her calf for the very first time. 
"The whales gave us a gift because time and time again they enabled us to gain real insight into their lives," Armstrong says. "Sometimes these are things we may have been able to film before but the new information we have about their culture enables us to see it in a different way." 
For topside filming, the production predominantly used a RED HELIUM 8K S35 combined with a Canon CINE-SERVO 50-1000mm and mounted on a Gyro-Stabilized System (GSS). 
"The HELIUM perfectly matched with the zoom lens and the GSS gave us the ability to get amazing water shots really close to the whales when they spend time at the surface," Baxley says.  
Even experts in marine behavior find it hard to predict the exact moment when whales come to the surface to breathe. Filmmakers have to have a lot of patience and skill to capture them when they do. 
"Sperm whales, for instance, spend 50 minutes of every hour at depth feeding," Armstrong shares. "You have the camera trained on the surface and never know when they are going to breach or where. So having a long lens combined with the GSS to get stabilized shots in big seas is essential."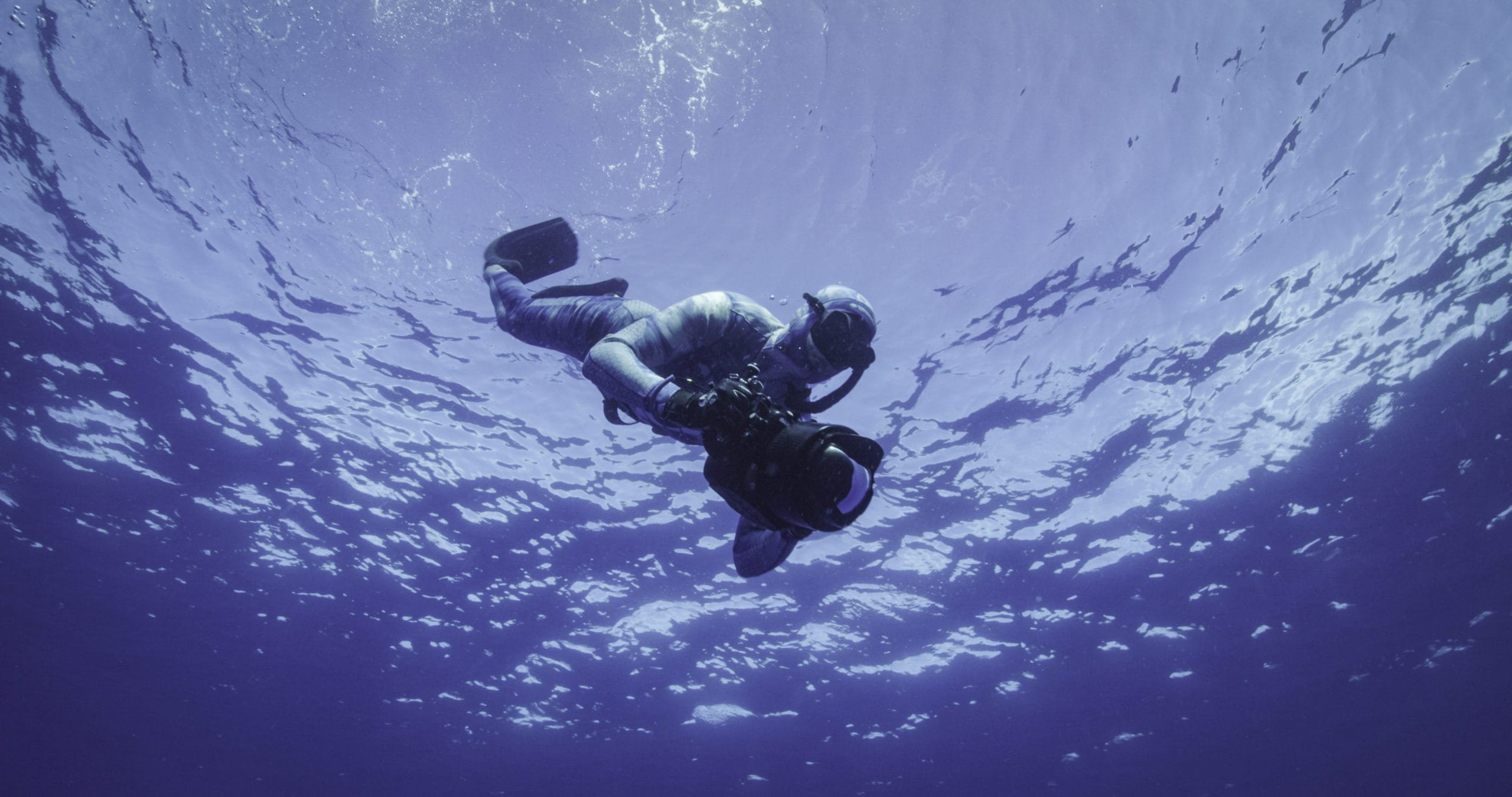 A key advantage that the RED offers for shooting wildlife is a pre-record function that gives a minimum of 4 seconds (up to 20 seconds) for insurance.  
"Pre–record is a life saver. We couldn't film whales with any other camera," says Baxley. "As long as you have memory caching you know you can always capture the moment." 
Aside from second-guessing their appearance with a finger on the trigger there is the added challenge of capturing key behavior in a split-second. 
"There is no way we could have gotten the spectacular shots we did without the RED camera cache function," says Armstrong.  
Another primary tool at their disposal was the HELIUM's 8K capability. After all, there's a lot of ocean to cover. "Recording 8K allows us to punch in where we have to or, when we focus in on a whale, we can frame for detail in an eye or a tail or move around in the image in post," Armstrong notes. 
Topside filming with RED enabled them to film slow–motion action at frame rates ranging from 60fps to 120fps. Example sequences included showing detail of drops of water sliding off the backs of whales when they breach the surface. They recorded 350 hours to make the four shows, equating to 180TB of data offloaded from cards to a portable media management station. 
Dual ISO excels underwater  
RED DSMC2 brains with DRAGON, HELIUM and GEMINI sensors were also used extensively underwater in various Gates and Nauticam housings for the series.  
"GEMINI was definitely the workhorse for us underwater," Baxley explains. "It pairs really well with a lot of lenses for us to obtain great wide-angle shots as well as shoot HFR at 5K. The massive advantage is having dual ISO. We're often shooting in dark murky water and the dual ISO is a gamechanger for filming in low light conditions." 
He adds, "The dynamic range of the camera giving us 800 and 3200 ISO modes is really incredible. To be able to work a lot of time in backlit conditions where the camera could be shooting below a whale and looking up toward the light and for the camera to handle that kind of contrast is remarkable."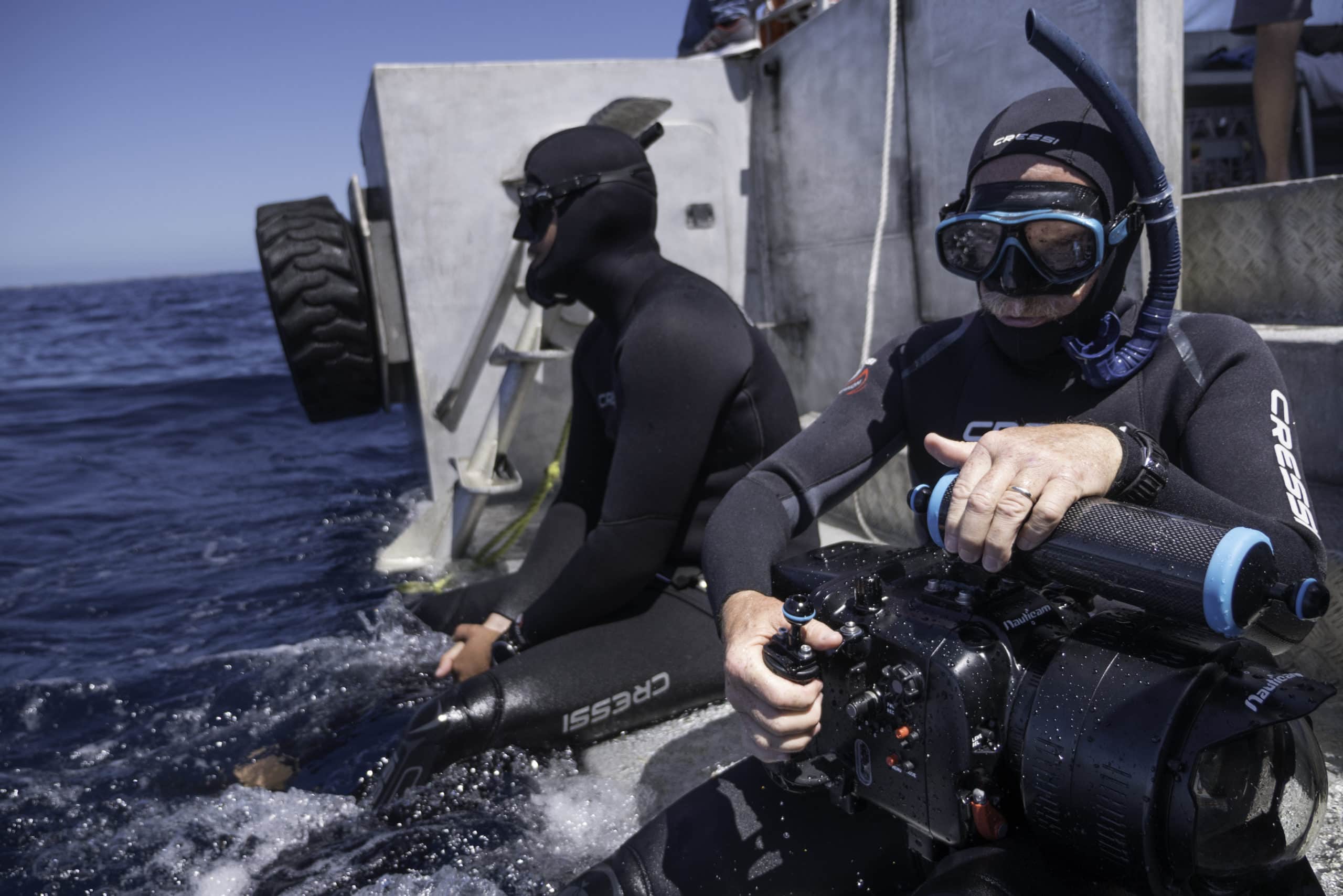 Taking great care not to disturb the whales, the team worked with camera operators skilled at filming while freediving to 60-to-70 feet. Filming at depths of 120 feet was accomplished using scuba tanks. Either way, light and color fades very quickly from surface. 
"Without doubt the GEMINI was the best performer underwater," Armstrong reports. "We did a whole hour on the white beluga whale often in challenging conditions against dark backgrounds. The GEMINI was so important to giving us the detail in these extremes." 
The series is a celebration and a discovery of whale culture but the impact of environmental change is not ignored. Climate change and human pollution underpins the challenges that the species face to survive. 
Armstrong explains, "We filmed krill in Antarctica to illustrate the effect of climate change on the food chain. Our team freed four turtles in Sri Lanka from marine debris and our divers had cause to rescue an orca that was caught in fishing rope. We filmed an orca mother that had lost its calf almost certainly because of heavy-metal pollution in the water that she passed onto her baby."  
These are critical issues not lost on the project's executive producer James Cameron. The Osca-winning film director and National Geographic explorer is a long-standing advocate for ocean conservation and has filmed underwater for features and documentaries including Aliens of the Abyss. 
"We may be the biggest provider of wildlife content in the U.S. but when National Geographic paired us with one of the most profitable film directors of all time – well, that was pretty intimidating, at first," says Armstrong. "We showed him the rough cut of the orca film and he said he learned more in that film than in his previous 20 years on the ocean. That made us very proud. He said, 'It's in such good shape right now it could go to air,' then he added, 'Now let's get to work.' He added nuances of story, music and structure to our editing that helped us to make a great series even better."
Published with permission from RED