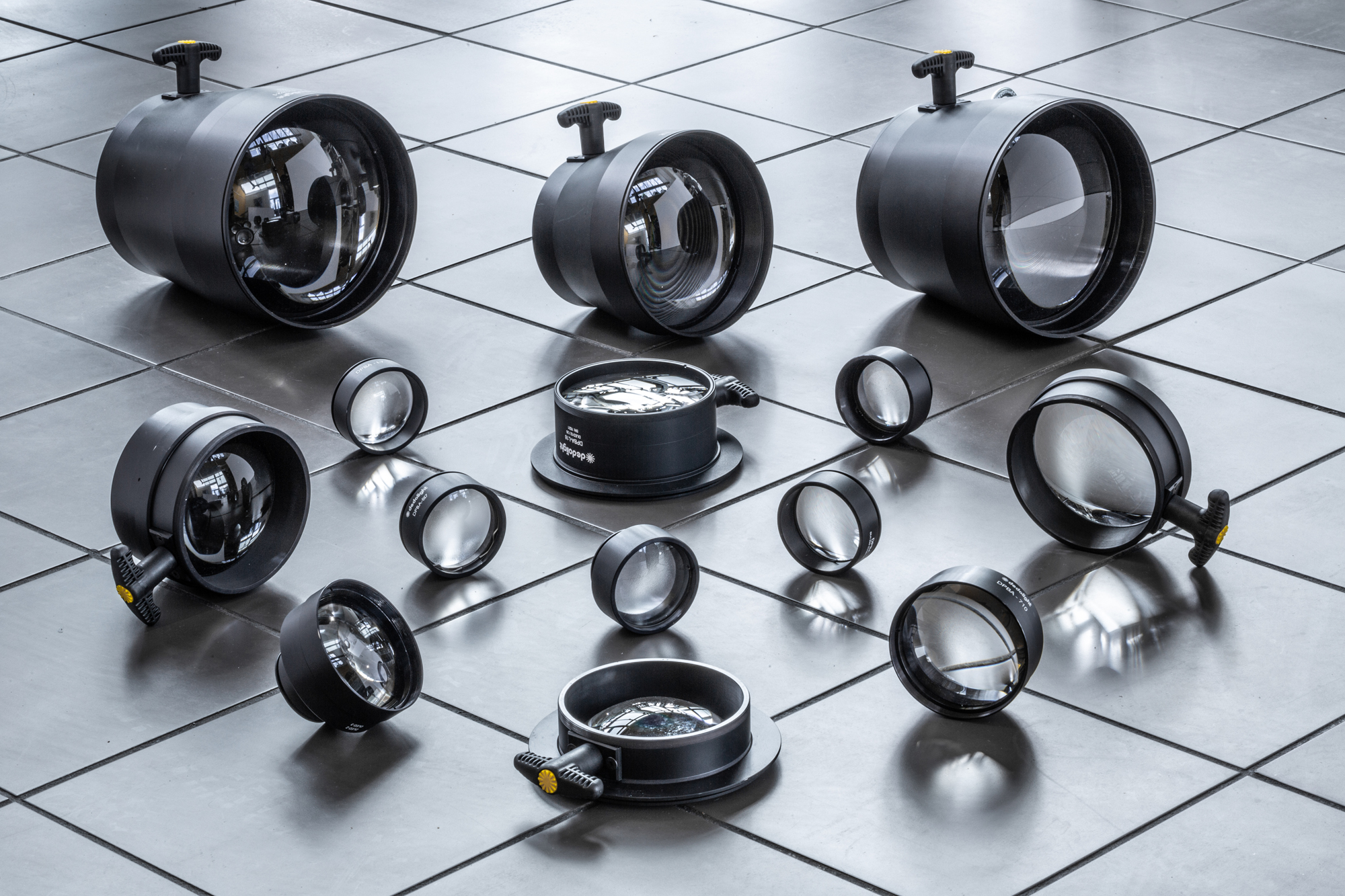 Dedolight have recently introduced two new Parallel Beam attachments, the whole family currently totalling 14. Now, each focusing Dedolight model, from the tiny DLED2 to 150W classics, and up to the 1200W metal halide, all have varying intensifiers, built to optimize the output.
These precision-engineered optical devices give an impressive power boost to the lighting fixtures – up to 600% when compared to the regular spot position – and without consuming any more power. This is extremely useful when it comes to portability: a shooter can now work with much smaller kit and the power management becomes much simpler on location. For example, 1.2kW HMI head DLH1200D with the biggest parallel beam adaptor DPBA-1821 will outpower a 4kW HMI Par head in spot position. Furthermore, the attachments produce a very clean near-parallel beam which creates a virtual light distance far greater than the actual distance from light source to the subject. This is a key component to producing convincing natural sunlight.
Focusing Dedolights have been conceived with a revolutionary optical system, surpassing any traditional Fresnel concept. Now, the parallel beam intensifiers comprise the latest stage of innovation.
'Dedolight Parallel Beam Intensifiers add new functionality to our lights which borderline on the miraculous', says Dedo Weigert, the CEO of Dedolight. 'Fundamentally, they allow you the ability to turn any of our focusing lights into multiple light sources. Think about the impact of this ability for a moment; the very real impact of increasing light efficiency and performance while decreasing budget, time, heat, power consumption, and on-set lighting footprint has staggering potential.'
The Lightstream system including the new parallel beam intensifiers can be seen and tested at Cirro Lite in London who are the UK and Ireland distributors for Dedolight. The system is now also available for the rental.