Iconic Obsession
Christopher Blauvelt / The Bling Ring
Iconic Obsession
Christopher Blauvelt / The Bling Ring
Based on actual events, The Bling Ring centres on a group of teenagers obsessed with fashion and celebrity, who break into and rob celebrities' homes in Los Angeles. For a film set in Hollywood's heartland, the decision to go for a hand-held aesthetic almost seems out of keeping with the luxurious surroundings.
However as Christopher Blauvelt, DP on The Bling Ring explains, the decision was directly influenced by the ubiquitous use of camera phones by the young protagonists and the way modern kids record each other.
Blauvelt came on board (writer and director) Sofia Coppola's project after original cinematographer Harris Savides ASC became seriously ill. Blauvelt had worked with Savides for many years as first assistant camera, as well as camera operator.
"Harris was a great friend and mentor to me, and I learned a tremendous amount from him," says Blauvelt. "He had been working with Sofia for quite a while, and as good friends they would talk frequently about the film. They were just about to start prep when Harris found out he was going to have to deal with some more medical issues. So he wanted me to be around to take up the slack where he wasn't able. I was more than happy to support him and Sofia in this role and would work with Harris in any capacity regardless of moving into the DP category in the previous years."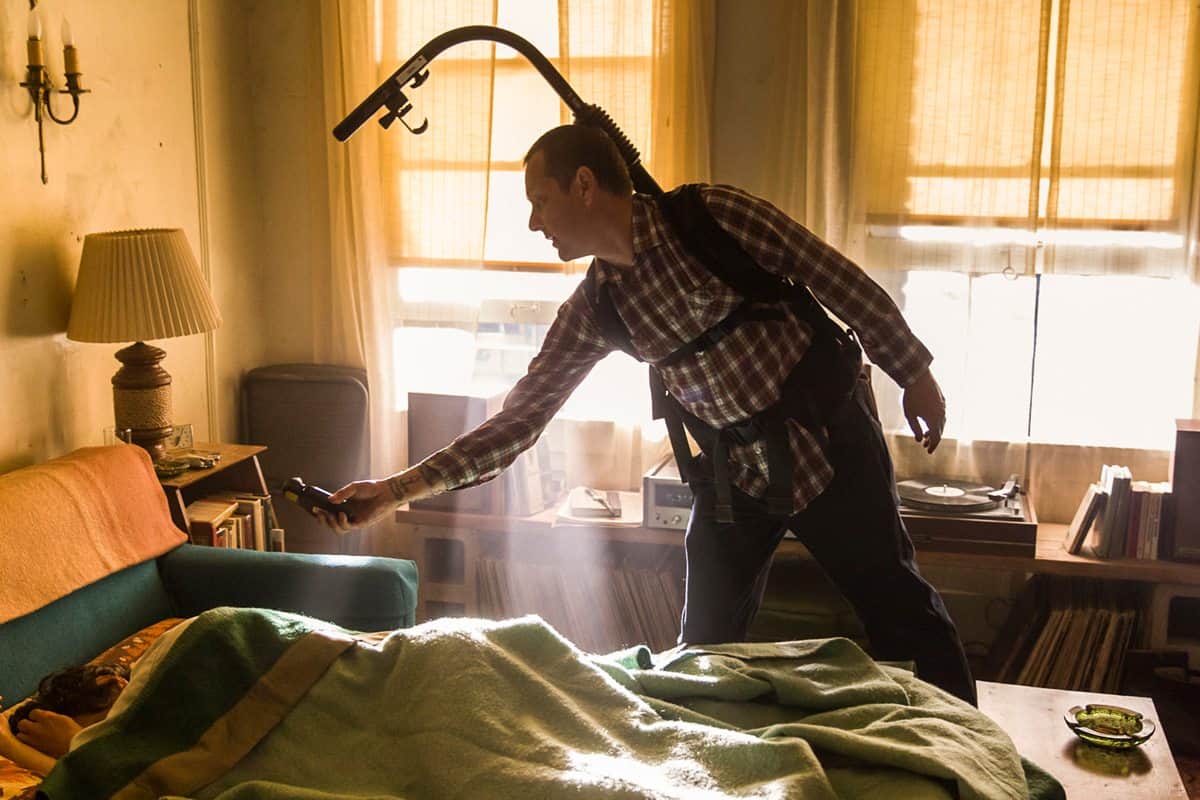 Blauvelt continues: "He was a beautiful person and the hardest-working DP I've ever been around. I think that what made Harris great was the willingness to try new things for every project. He became famous for imagery that was at the forefront of the times – and he would be the first to throw it away and try something new. Whereas a lot of people will stick to a style that works for them, he was adamant about testing before any shoot, whether it was a commercial or film, to discover the specific look for that particular project. Through trial and error we learned so much about film, and in the end, digital. I've always felt very lucky he let me be a part of this process."
"They sent me the script and I had a good idea of the aesthetic Sofia was going for from Harris. I brought in some references from photo books and they lined up well with Sofia's and it went from there. Sofia is a fashion icon herself, and very aware of what's cutting edge, so we looked at a lot of high fashion magazines, as well as contemporary media that the kids put out themselves on social networks."
References for camaraderie within a gang and other aesthetics were drawn from films like Foxes (DPs Leon Bijou, Michael Seresin BSC, 1980) and Over The Edge (DP Andrew Davis, 1979). "We definitely bonded over these films that we grew up with together," recalls Blauvelt.
Savides had been working on developing digital looks with DIT Jeff Flohr for a few years, and it was decided early on that digital was the way to go for The Bling Ring. "With all of the knowledge that Harris and Jeff had gathered, it was time to see if it would work on a feature," explains Blauvelt. "We tested ARRI Alexa and the RED Epic and the decision was made after trying very hard to tear the digital image to pieces."
"Without giving too much away, the look was discovered by a process of stretching the quality of the digital sensor by using very high ASAs and introducing digital noise into the image," he continues. "We found that the noise started to look good and almost grain-like when we punched into the frame and blew it back up a certain percentage. We had to tone down the initial approach, but after the first few days we knew where to take everything. We used the RED Epic for its high resolution and Zeiss Super Speeds (both supplied from Keslow Camera in LA) for their speed and older softer look, to balance out the high contrast of digital."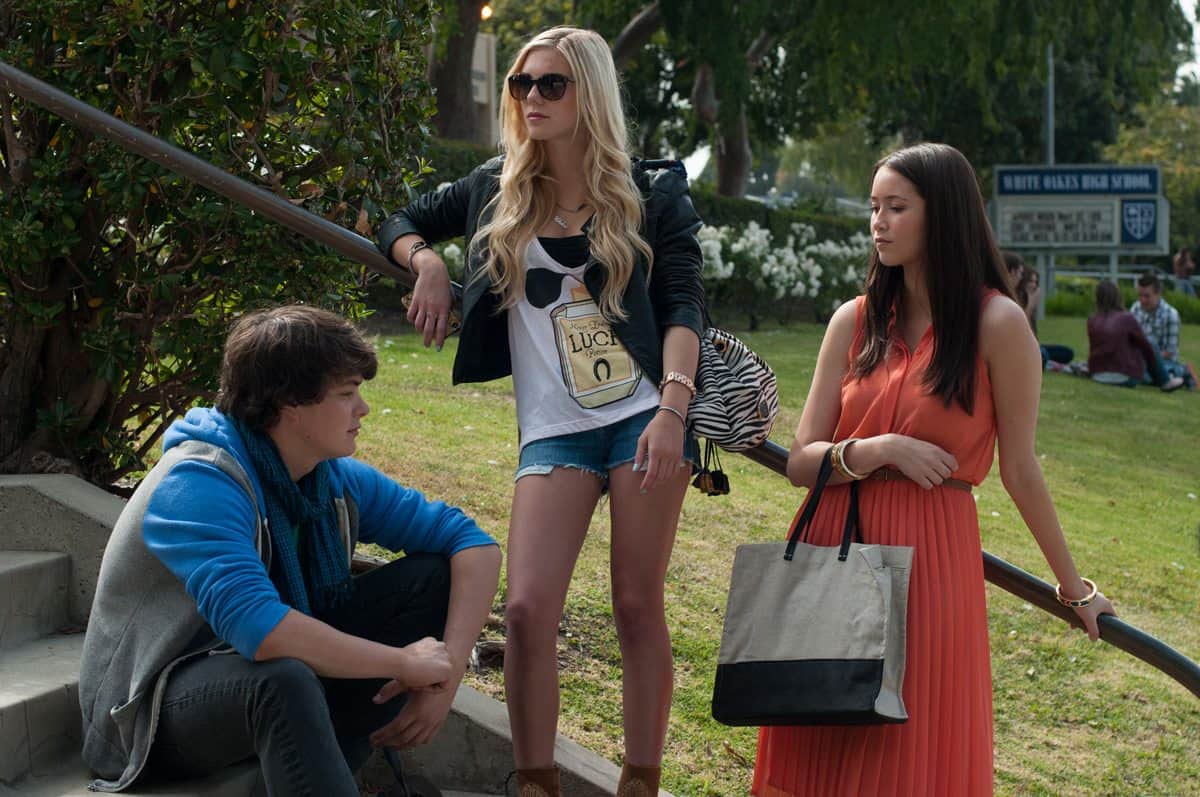 Over the six-week shoot, Blauvelt tried to do everything with the least amount of coverage and cuts. "This is something I've heard Harris and Gus [Van Sant] talk about for many years in the vein of keeping things authentic – not forcing your hand on what's happening in front of you," explains Blauvelt. "It was tricky at times, but Sofia would always work with us and make the blocking tell the story. It's a case of, 'Who cares if we don't see one person talking, we'll hear them and we already know they're in the room'. It's this kind of filmmaking that makes things seem more real and in the moment."
The quest for authenticity extended to the practical locations in Los Angeles, where the whole movie was shot. "One of the true locations was in fact Paris Hilton's house," says Blauvelt. "We had to shoot during the day but most of the scenes were night-time, so we had to tent ourselves in. Every night we would go back to the house where Harris stayed with Jeff. Jeff would grade the footage and lay everything down on drives for dailies [screened at Light Iron Hollywood] as well as editors. It was the first time we had taken on so much and it was not an easy lifestyle for Jeff."
"We used the RED Epic for its high resolution and Zeiss Super Speeds (both supplied from Keslow Camera in LA) for their speed and older softer look, to balance out the high contrast of digital."
- Christopher Blauvelt
As well as Flohr, Blauvelt also considers others essential to the production. "Harris had hired the key grip Tana Dubbe and gaffer Mike Bauman, and I was more than happy to take them on when I was offered this job," Blauvelt continues. "It's an absolute pleasure to be on set with the talent that they and their crews bring. Tana's equipment was supplied by her company 8 Point Pictures, while Michael Bauman's company is Lux Lighting."
"Litegear was our supplier for LEDs, which we used quite a bit, especially in Paris' shoe closet," adds Blauvelt. "The camera department was helmed by first AC Zoran Veselic, a mentor in his own right, and the rest of the crew followed."
"I would also love to give a great credit to our location manager Chris Miller who takes the script to heart and understands the true relevance of the places we shoot in. First AD Richard Styles is one of the best in the business and a great friend to Harris and myself. Stacey Battat (costume designer) and Anne Ross (production designer) are so good at what they do. They deserve a huge credit for making The Bling Ring what it is."
Sadly, Harris Savides passed away in October of 2012, shortly after The Bling Ring completed principal photography.