That riviera touch
Chris Goodger / Absolutely Fabulous: The Movie
That riviera touch
Chris Goodger / Absolutely Fabulous: The Movie
After the best part of 25 years since they first burst onto TV screens, champagne-quaffing fashion PR expert Edina "Eddie" Monsoon and her best friend Patsy, are back. But this time they're on the big screen, in Absolutely Fabulous: The Movie.
Helmed by English TV and film director Mandie Fletcher and written by Jennifer Saunders, this Fox Searchlight Pictures production of the hugely-popular BBC television series of the same name oozes glitz, glamour and comedic chaos in equal measures. The action begins at an uber-trendy fashion party in a London warehouse, where Eddie and Patsy are blamed for the sudden death of supermodel Kate Moss in The Thames. In an attempt to escape attention, the pair flee penniless to the playground of the super-rich, the French Riviera, but soon succumb to the desire of living the high-life.
Absolutely Fabulous: The Movie stars the same names as the original line-up, including Saunders and Joanna Lumley in the lead roles, along with Julia Sawalha as Eddie's long suffering daughter Saffy, June Whitfield as her mother, and Jane Horrocks as ditsy PR assistant Bubbles. Along with supermodels Kate Moss, Jerry Hall and Cara Delevigne, the sitcom spin-off brings together around 60 celebrities including fashion designers Stella McCartney and Jean-Paul Gaultier, pop stars Lulu, Emma Bunton, Harry Styles and Tiny Tempah, comedians Janette Krankie and Barry Humphries, both as himself and Dame Edna Everage, plus actors Rebel Wilson, Kathy Burke, Joan Collins and Mad Men's Jon Hamm. There's even a part for Saunders's long-time comedy partner Dawn French as a breakfast TV show presenter.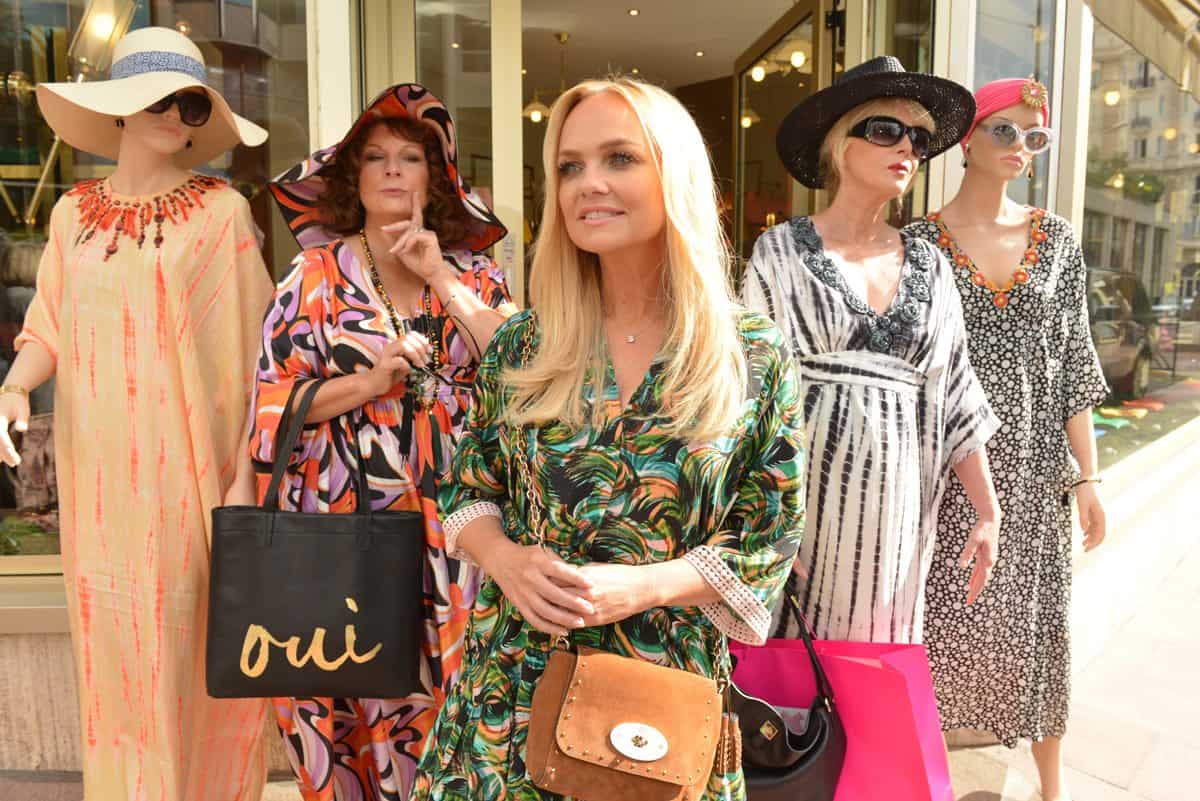 Principal photography began on 12 October 2015 in the south of France, under the auspices of cinematographer Chris Goodger, whose credits include the TV series Jam & Jerusalem, Blandings, Not Going Out and Citizen Khan, with longform productions including the TV movie Dustbin Baby (2008) and the hard-hitting Afghan war drama Kajaki (2014). Goodger says he had no hesitation in accepting the invitation by Fletcher to lens the production.
"Mandie and I first met ten years ago, and have worked together many times since on shows such as Jam And Jerusalem and Blandings. She is a decisive director who knows what she wants and understands how the camera frames the comedy," he says. "Our biggest concern was how best to turn a high-profile TV brand, with a cult following, into a movie. You don't want to change or reinvent things, and although the audience expect something bigger, they also want it to feel like they are back with a familiar old friend. Also, Fox were not after a quirky little English film, rather one with international appeal.
"So cinematographically we decided to make the movie alluring and colourful like the TV series, but wanted to elevate in some way too. Our early conversations included the excellent production designer Harry Banks, and we discussed how we might find ways to bring a dynamic excitement to the many locations we were going to shoot at, especially the party and fashion show venues in the movie, such as the warehouse where Kate Moss falls into the river."
He continues: "Looking back at the original Ab Fab series, 90% took place as a multi-camera, kitchen-based shoot, with 10% on location. We ended up with the exact opposite, 90% on location and 10% in the kitchen, shooting with one camera ­– which I think really helped it transition into the feature format."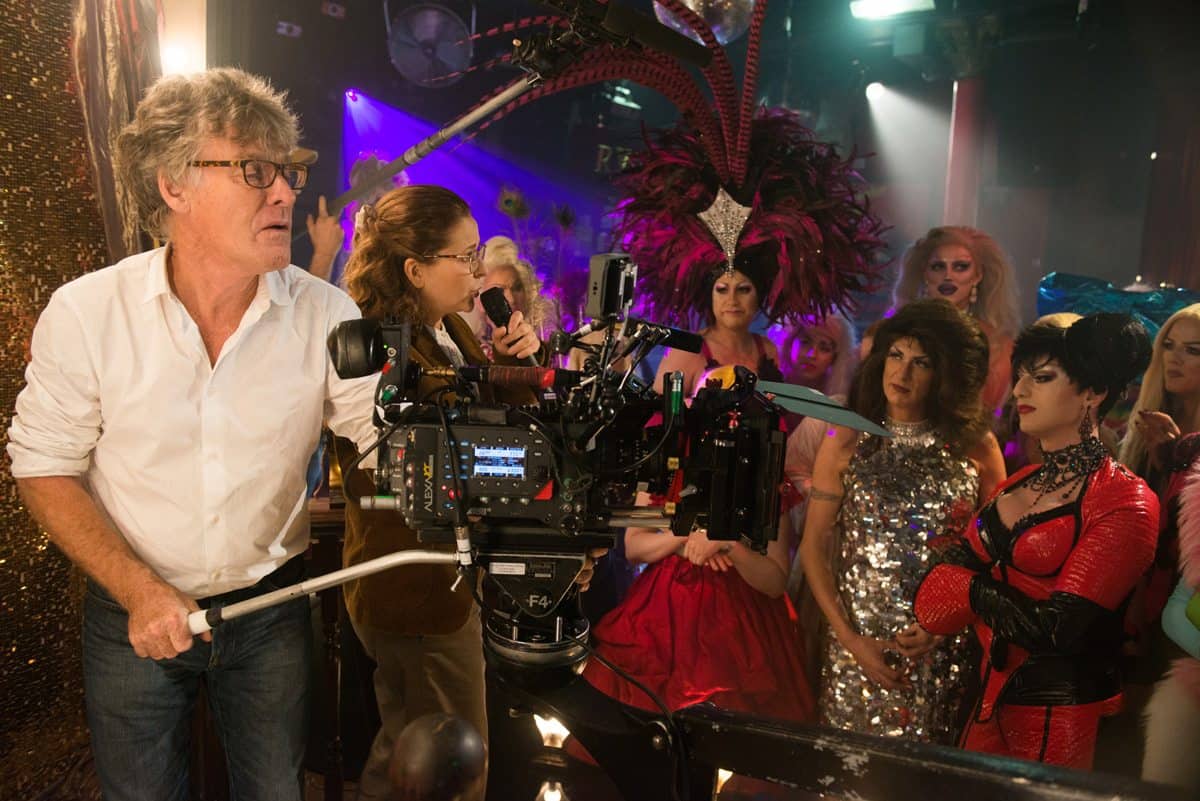 "We decided to keep everything colourful and high key, eschewed shafts of moving light and shadows, and moved the camera simply on a dolly with a jib arm to keep things straightforward and fast flowing."
- Chris Goodger
Apart from viewing a range of glossy, sun-kissed and super-glamorous Martini commercials from the 1970s, Goodger says they did not look at any creative references for the movie, although he says they were aware of TV comedies, series such as Only Fools And Horses and The Inbetweeners, successfully transitioning from short to long format.
"We wanted to stay true to the Ab Fab brand, and there was simply no need to change things by introducing a handheld look, or shallow depth-of-field. I think it's unfamiliar enough to watch the show in the cinema, never mind assimilate the inherent visual difference between TV studio cameras and modern digital cinematography cameras. So we decided to keep everything colourful and high key, eschewed shafts of moving light and shadows, and moved the camera simply on a dolly with a jib arm to keep things straightforward and fast flowing."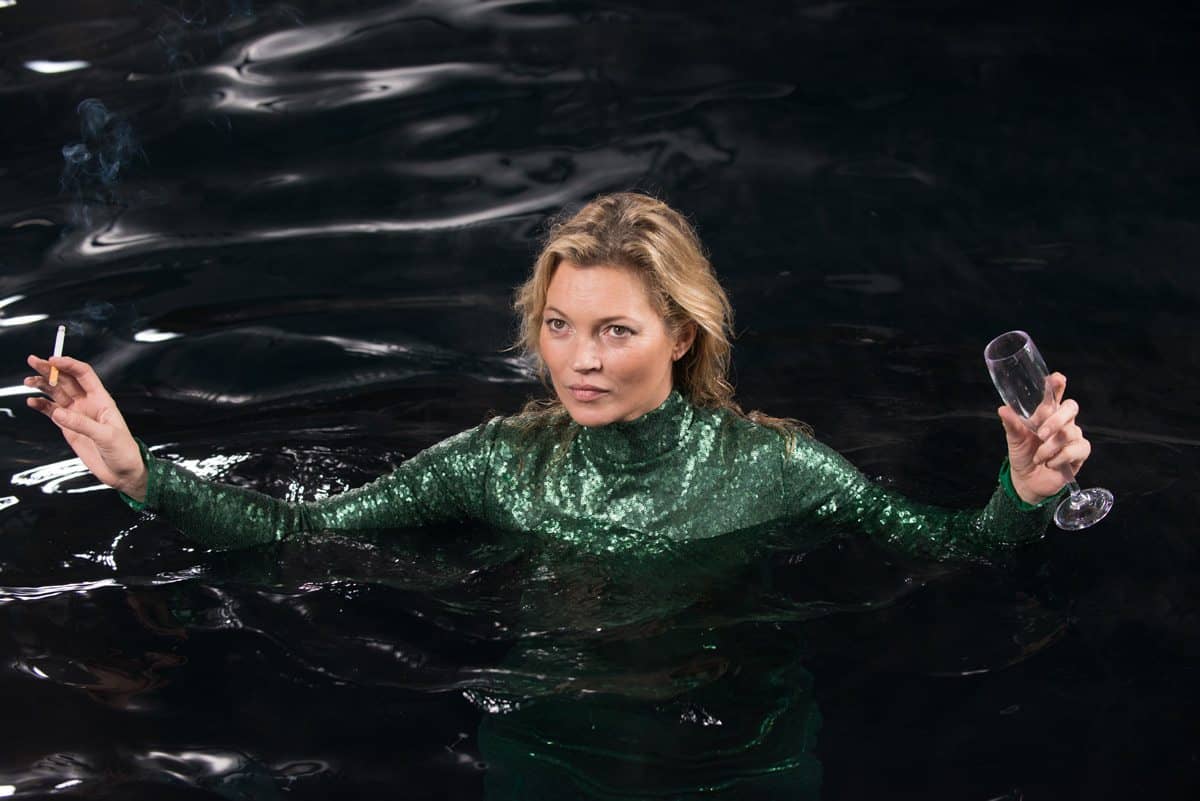 The production was framed 2.35:1, shooting ARRIRAW with Alexa XT, mainly using Ultra Primes in the 24mm to 50mm range, rented from Video Europe, with the idea of keeping fairly close-up to the characters. Although he prefers to shoot without pre-set LUTs in-camera, Goodger opted for ½ Schneider Hollywood Blackmagic filtering to soften down the image. He also operated, remarking "I just love this part of being a cinematographer."
The crew included Goodger's son Toby as focus puller and first AC, with Sam Hayes the second AC, who Goodger calls his "dream team." They were supported by DIT Alastair Holloway and camera trainee Kit Mackenzie. Performing grip duties was Josh Close, with longtime collaborator Doug Goddard as the gaffer. On the French side of the production Goodger worked with gaffer Didier Versolatto and grip Thierry Garcia, who he says were both excellent.
Goodger first saw the script in July 2015, and had four weeks of non-consecutive prep before production began in the south of France. Working hours during the seven-week shoot were 11-day fortnights. "I'm not sure who invented that one, as it's a tough regime for a crew," he remarks. "But Mandie is a fast director, so we never overran and on many days we wrapped early."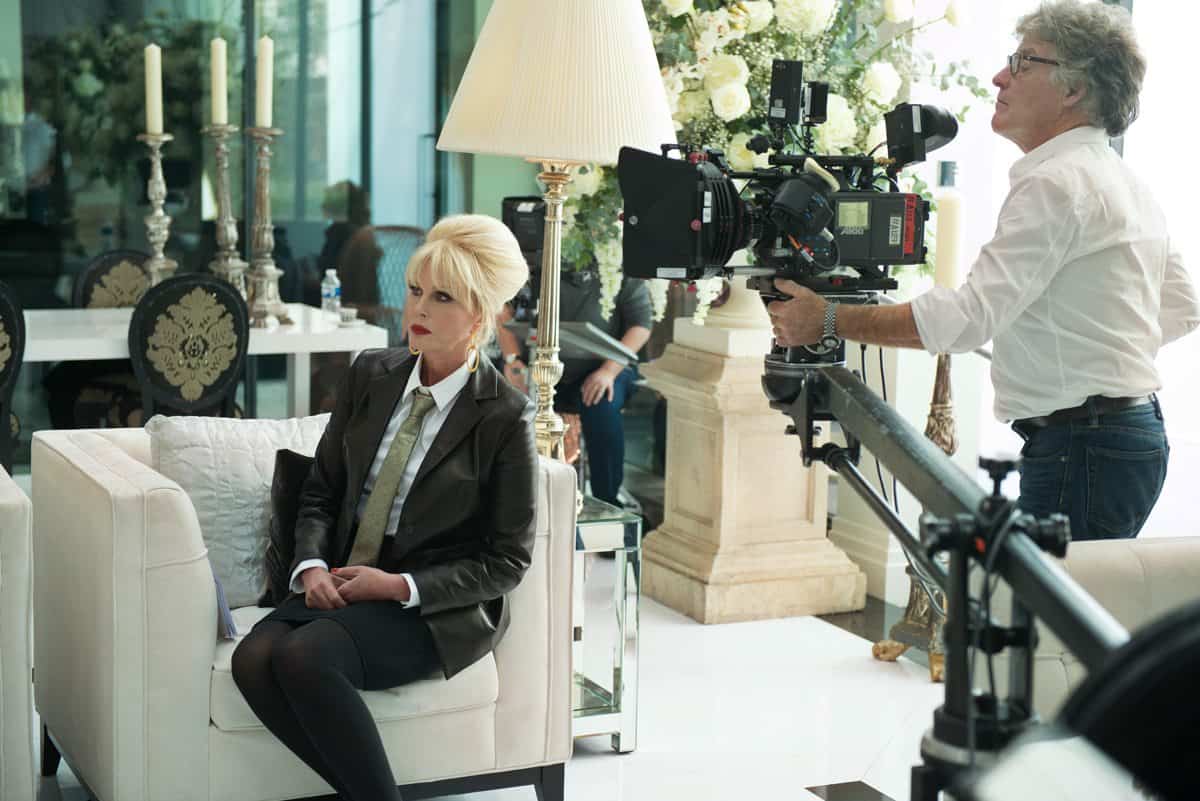 The production shot entirely on location, with no studio builds. Shooting started in France to take advantage of the autumnal weather and the light. As luck would have it the Cote D'Azur was deluged the week before the cast and crew arrived. "On the odd occasion when we didn't have a sunny day I knew the magical talents of our colourist Gareth Spensley would more than make up for it later in the final DI," he recalls.
A private home in Finchley, with an extensive dig-out basement, was eventually found as the location to match the kitchen of the TV series. "It took a lot of finding," notes Goodger. "It's amazing how many kitchens we had to look at before we found the right one, with the famous staircase. But even then the art department had a lot of work to do remodelling things to get it just right. We shot there during November, and you start losing the natural daylight by about 3pm. So I was able to keep things going by firing-in a lovely wash of light through the windows with some ARRI M-90s along with diffused two and four bank Kino Flos dotted around the interiors."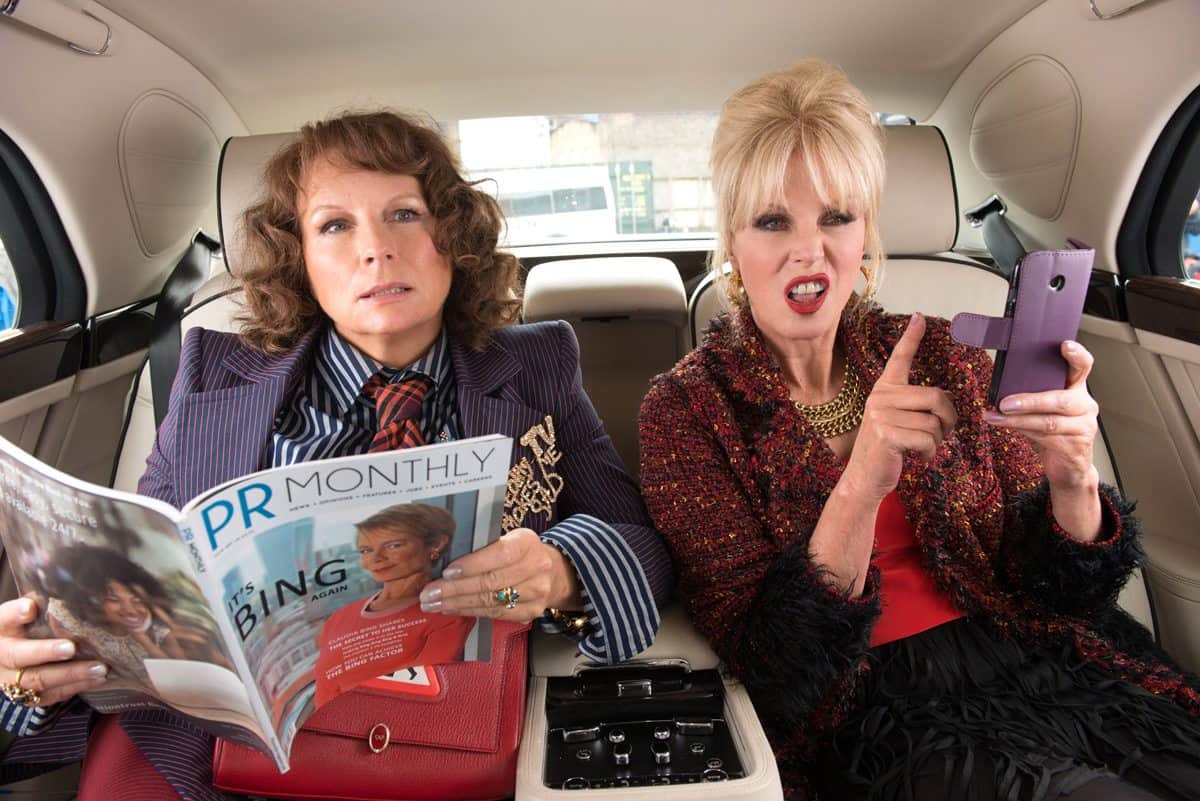 Regarding the lighting on the production Goodger says, "Although we had quite a small lighting package, the production design team and art department proved to be fantastic collaborators in dressing scenes and making them look fun and glamorous. For example, the party scenes in Cannes, shot above the Crosiette, and the scene in which Kate Moss gets pushed into The Thames, which we shot at a cavernous brick-built Victorian pumping station in the east end of London, were each cleverly dressed with a mixture of practicals – stick lights, rope lights, festoon lights – which worked a treat."
Regarding the DI at Molinare, Goodger says there was not a huge amount to do apart from some beauty work on the skies, actors and celebrities, and making sure that bluescreen VFX shots from the London warehouse scene were invisibly melded into the final picture.
Goodger concludes: "For me, Absolutely Fabulous: The Movie was a great experience, and the polar opposite of my previous film, Kajaki, which was a gruesome tale that we shot in the sweltering deserts in Jordan. I think we have delivered a result that that people will enjoy watching, and I really hope it will rocket."