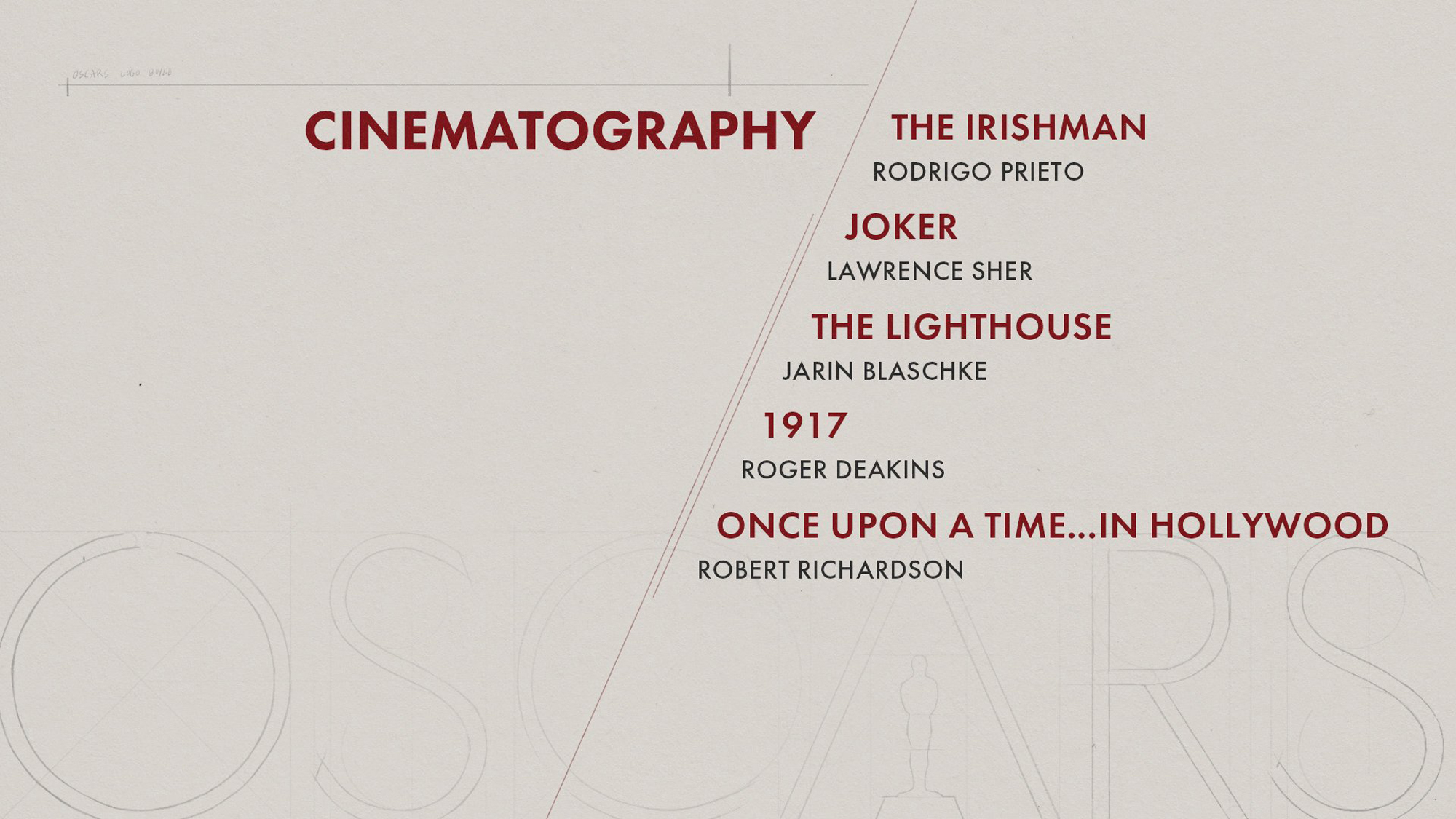 Roger Deakins CBE BSC ASC is in contention to collect a second Oscar in three years in the 'Best Cinematography' category after being chosen in the 92nd Academy Awards nominations for his work on 1917. There was also arguably a surprise contender in the mix, as the final five were revealed earlier today.
Deakins, with his 15th Academy Award nomination, will look to follow his success in taking the Oscar at the 90th awards ceremony in 2018 for his work on Blade Runner 2049. Deakins' selection adds to a growing list of cinematography selections recently, which have included the 34th ASC Awards' for 'Theatrical Release' and the 2020 BAFTAs.
As with the ASC and BAFTA awards, he will go up against Rodrigo Prieto's The Irishman and Lawrence Sher's Joker – a high 11-time nominee for this year's Academy Awards. For Prieto it is his third Oscar selection for Cinematography, after being selected for 2005's Brokeback Mountain and three years ago for Silence, whilst Sher will be aiming to emulate last year's champion, Alfonso Cuarón, in winning at the first attempt. In alignment with the ASC's recent choices, Robert Richardson also gets an Oscar nod for Once Upon A Time In Hollywood – and will look to win a record-equalling fourth Cinematography Academy Award, after triumphs for JFK, The Aviator and Hugo.
Completing the line-up was perhaps a surprise choice, as Jarin Blaschke was selected for the black-and-white pyschological feature The Lighthouse, adding to his BAFTA nod.

Four of the five Oscar nominated cinematographers and their work either have already featured, or are coming soon, to editions of British Cinematographer magazine. Deakins' work on 1917 is set to adorn the cover of our January 2020 edition*, Blaschke's The Lighthouse and Prieto's The Irishman – as the cover feature – all appeared in the November 2019 edition, whilst Richardson's work on Once Upon A Time In Hollywood was the cover feature of the July 2019 edition.
You can read more about the very best in international cinematography by subscribing to British Cinematographer today! Buy a digital subscription from just £30 and receive instant access to our extensive back catalogue, or maybe a print subscription from £40 to keep up-to-date on the industry throughout 2020.
(*Please note: A print subscription purchase is required by 17th January 2020 to receive the January 2020 edition in print as part of your subscription).