At The Peak Of Their Craft

Across The Pond / Mark London Williams
At The Peak Of Their Craft

Across The Pond / Mark London Williams
By the time you read our next column, the Oscars could well be in the rearview mirror, and it would seem probable that Roger Deakins will be holding another statue in hand for his work on 1917.
That, at least, was the sense coming out of the recent ASC Awards, where Deakins' took the evening's top prize, in the feature film category. "I'm not nervous when I'm shooting," he said up on the platform, "I'm nervous up here."
But Mr. Deakins will likely have another chance to be nervous, at least based on the momentum that the "one shot" World War I epic has built across awards season. There was the recent DGA win for director Sam Mendes, and an earlier win at the PGA - the Producers Guild - with Mendes wearing the latter cap, along with his producing partners.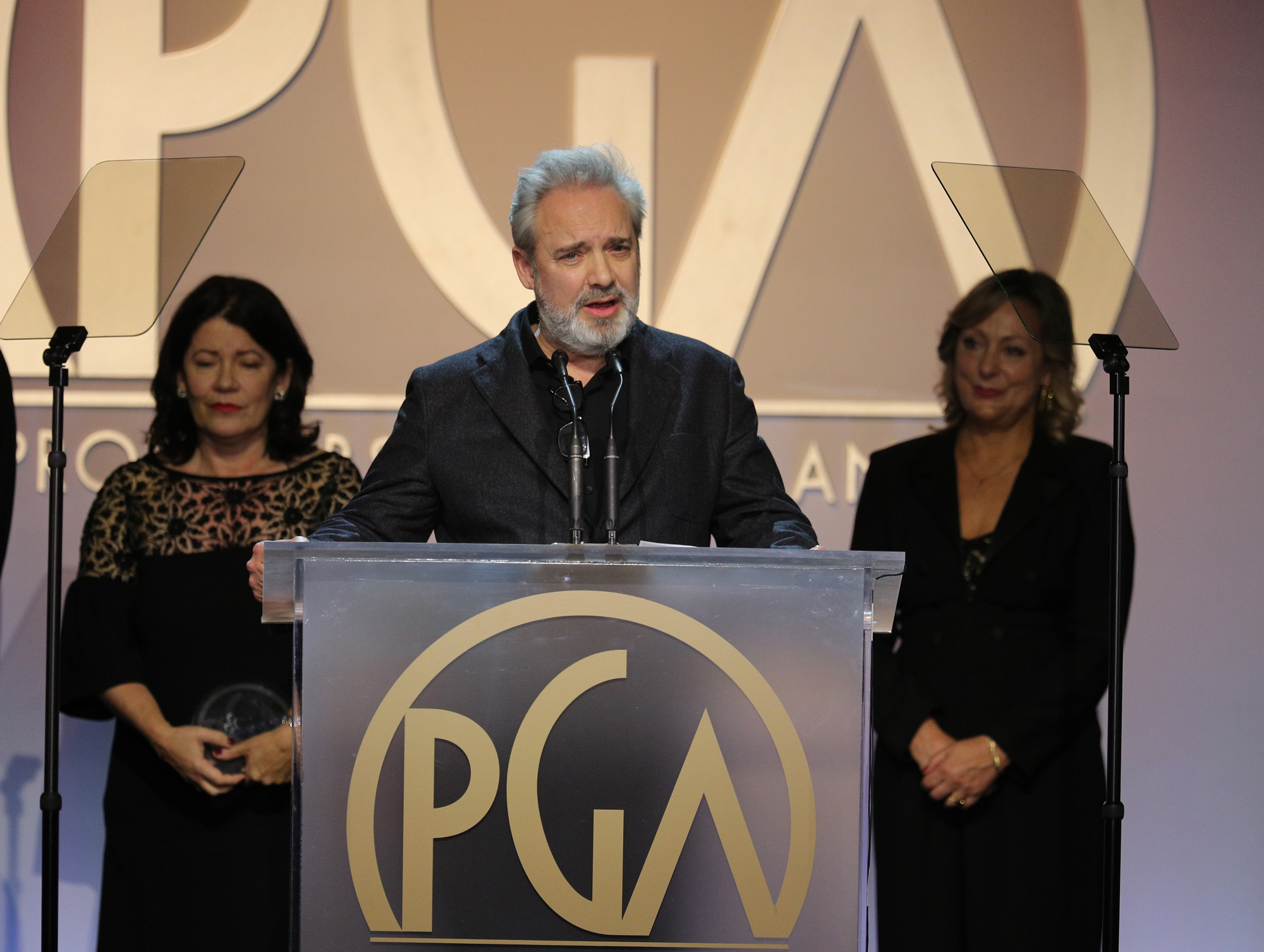 There, Mendes talked about working with Deakins, who deployed - and pushed for - "a camera that hadn't quite been invented yet," by which he meant the now quickly storied ARRI ALEXA Mini LFs, with Full Frame sensors, the better to both capture images, yet still swerve and swoon through the trenches of No Man's Land during that long, recreated "single take" in which the film tells its story.
Later, as the film became the night's big winner and continued its momentum, Mendes talked about working with a crew at "the peak of their craft, led," he noted, "by Roger Deakins."
And of course the ASC Awards (now in its 34th year - the Oscars are entering their 92nd edition, so there's some catching up to do) honor folks on that same peak.
Most of the winners are already known to the astute readers of this space, by the time our monthly posting comes out, but sometimes a deeper sense of the gratitude and camaraderie that fill the evening elude a simple recounting of the winners' list.
Snippets include Panavsion's President and CEO President Kim Snyder, who was given the Bud Stone Award of Distinction, to honor an ASC Associate Member demonstrating extraordinary service to the society or making a significant contribution to the film industry itself. She talked about cinematography residing at the "intersection of art and science," all of which is true in a business marked by a constant dialectic between its own "art" and "commerce" sides.
Of the science, outgoing ASC President Kees van Oostrum observed that "we can look backwards with nostalgia, but we have to look forward with concern," noting the iPhone in his pocket "can even shoot 4k."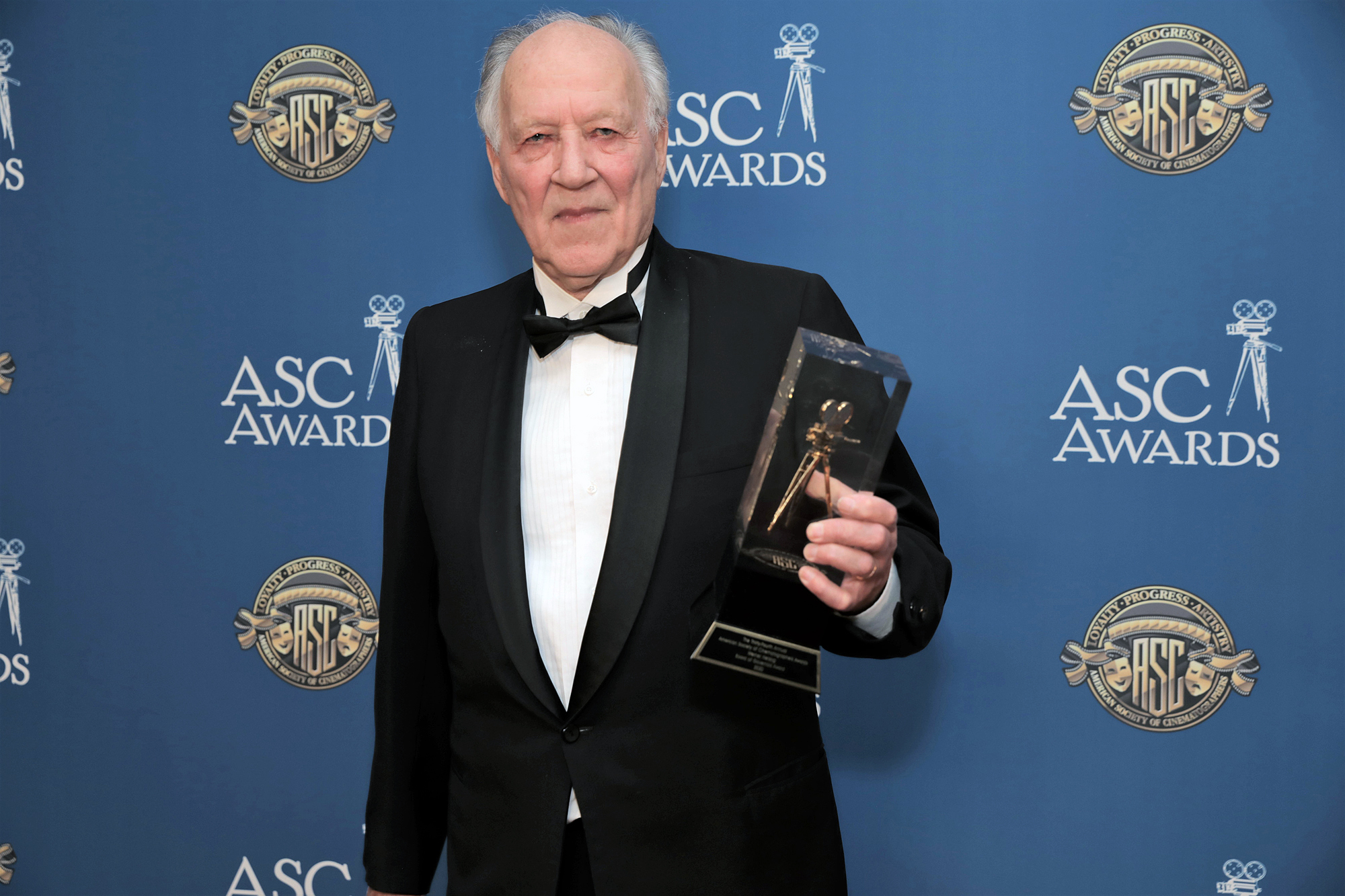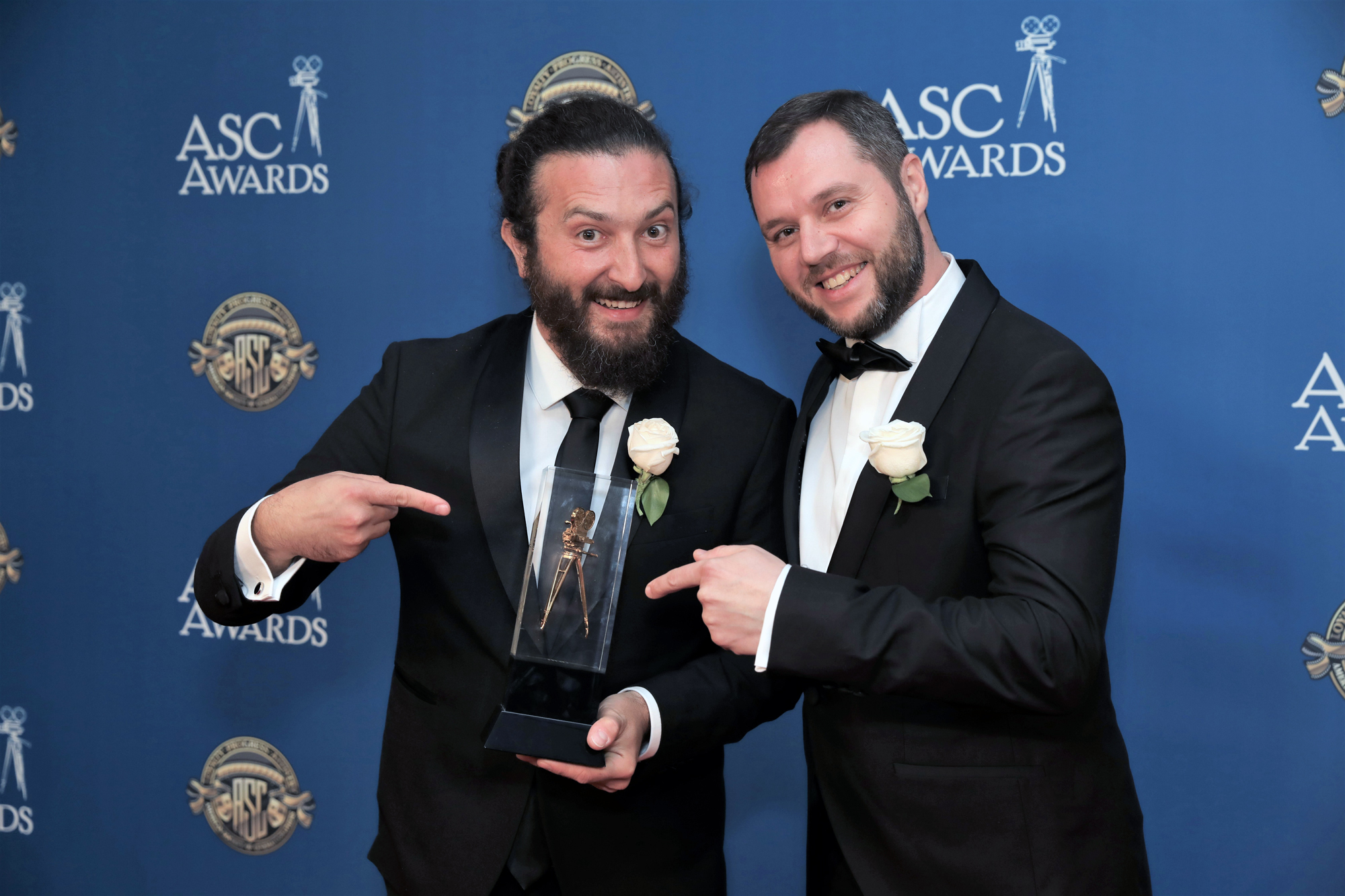 So what of the future of image capture? Well, a director like Werner Herzog (above, top), the recipient of the ASC Board of Governors award, took more of a "by any means necessary" approach, as it was revealed that he teaches lockpicking in his film classes since movie-making "is all about trespassing."Which means he may not be adverse to using that iPhone when you have to.
Though perhaps such "trespassing" is even more applicable to documentaries than features.
On which note, Samir Ljuma, the winning DP on the doc side - along with Fejmi Daut - (above, bottom) for the highly touted Honeyland (itself nominated for both best doc and best International Feature, on Oscar night), said that trespassing or not, documentaries were "where we go to learn about real life," which he contrasted with the fake news - by which he meant actual fake news, and not simply unpleasant facts to which the name is ascribed - currently inundating societies on both sides of the pond.
"You gotta keep pushin'. You see the change that's happening. More and more young people want to be cinematographers"
- Donald A Morgan ASC
As for the evening's Career Achievement in Television honoree, Donald A. Morgan, he began his career back when much programming, including news, was gathered and broadcast locally, long before its current incarnation of broken delivery via Facebook or Twitter. That start came at storied L.A. T.V. station KTTV (which is now, ironically, part of the Fox Network).
He trained there as a lighting director in the 70's, and eventually, found himself overseeing multi-camera shoots for TV shows, including a long stint on Home Improvement, where he won many of his numerous Emmy awards. Tim Allen (above, left) was there to present the award to Morgan (above, right), who cracked that Allen looked "a whole lot prettier when I light him."
Ribbing aside, Allen also said that "Don makes a sitcom somehow look like film," which appeared to be what Morgan had in mind all those years ago.
"I came up through more of electric, lighting designer, and then to cinematography," Morgan recounted to us, but "by watching black and white movies, I knew that television could get a little better," especially, he adds, with four-camera set-ups.
His mentor "was a man named Tommy Schamp (who) developed a cross-lighting scheme for Playhouse 90. By doing early multi-camera shows, I was learning what I needed to do - I had to follow the bright, Norman Lear-type stuff," he says, perhaps referring to his long tenure on The Jeffersons. "I knew I wanted to make a change and get more depth."
But there's another kind of depth - the kind that comes with diversity - that he's keenly aware of, now that he's the one in the "mentor" role.
"In the beginning," he says, "I was so focused on getting my craft together, that I didn't realize what was happening around me. I knew that in my early years as a lighting director, there were only two people of color doing it - and this was in the mid-70's. There was a gentleman, Walt Glover and myself - and we were doing Norman Lear shows. Once I started to do more 4-camera shows - I really didn't see anybody out there. Since (then) I've gotten involved with the Diversity Committee," particularly through the union, he notes, where "there's more diversity; women, women of color, and also men. But," he says, "you gotta keep pushin'. You see the change that's happening. More and more young people want to be cinematographers."
And perhaps if they stick with it long enough, they can share the same "humbling experience," as Morgan called it in the Dolby Ballroom, of their own lifetime achievements.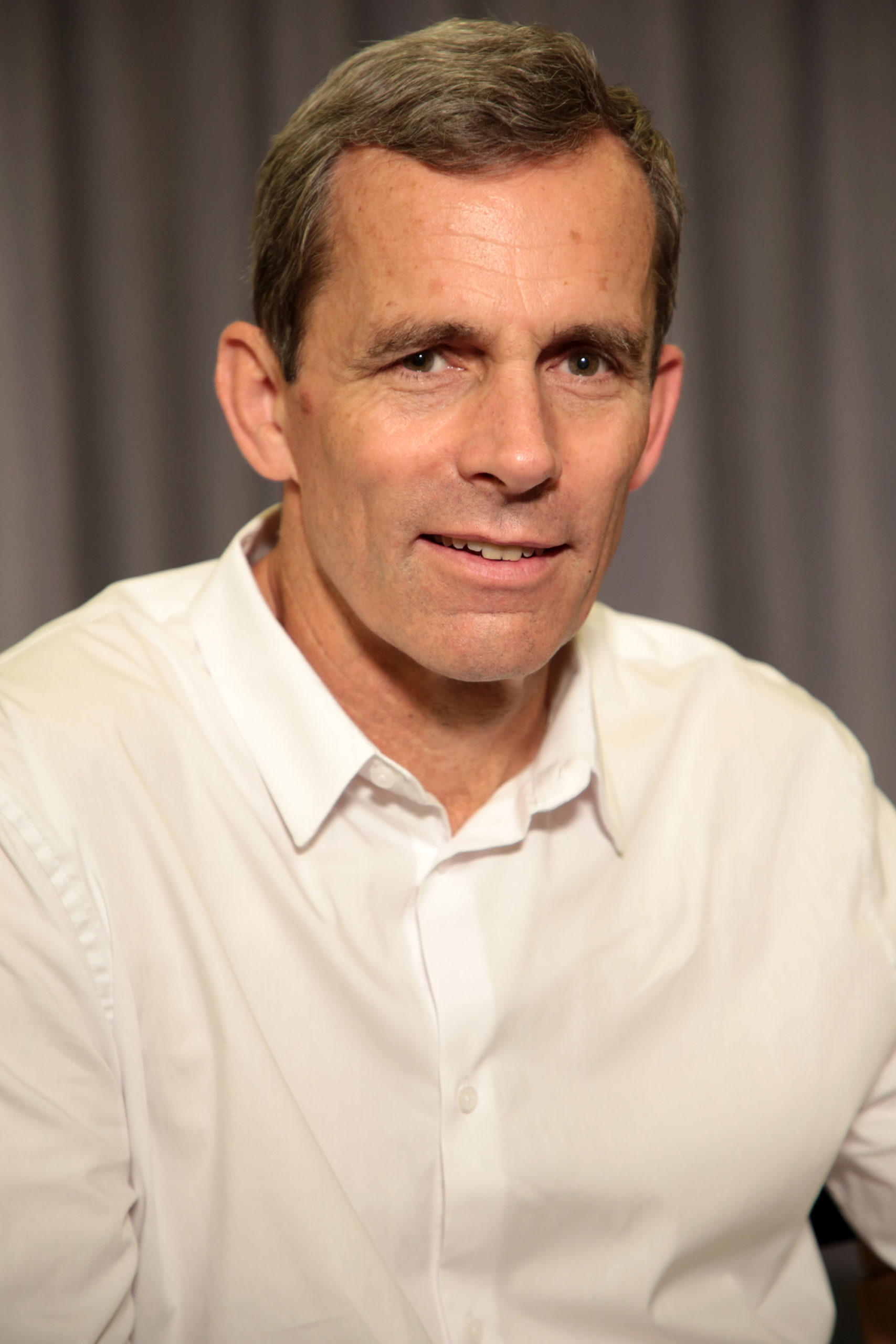 Extending the possibility of such experiences to a wider array of participants was also on the mind of the ASC's new CEO, Terry McCarthy. With a 30-year journalism background, McCarthy has himself won Emmys, and was the recipient of an Edward R. Murrow Award.He was previously president of the American Academy in Berlin, and before that, president and CEO of the Los Angeles World Affairs Council.
He'd like to involve more of the world in the ASC's affairs, when possible, saying that "the ASC will be pursuing more Master Classes overseas, working closely through our new membership with IMAGO and the various cinematography associations. Having lived 11 years in Asia, I am also particularly interested in expanding our presence there.
"In our case we will be looking to increase diversity amongst our regular membership, amongst the students who come to our Master Classes, and across the entire range of people whom we reach out to and invite to our events."
McCarthy also spoke of the same "creative tension" - to apply that phrase in a new context - that Snyder referred to, mentioning the ongoing disruptions caused by both digital tools, and distribution: "Cinematographers, with one foot in the creative side and one in the technical, are well placed to help shape the future, but it will require them to adapt and learn new ways of looking at their craft."
Such new ways of looking were spoken of by Joker DP Lawrence Sher at a screening (below) where he took questions with director Todd Phillips. This wasn't an ASC event, though Sher, of course, is an ASC member, and also up for an Oscar.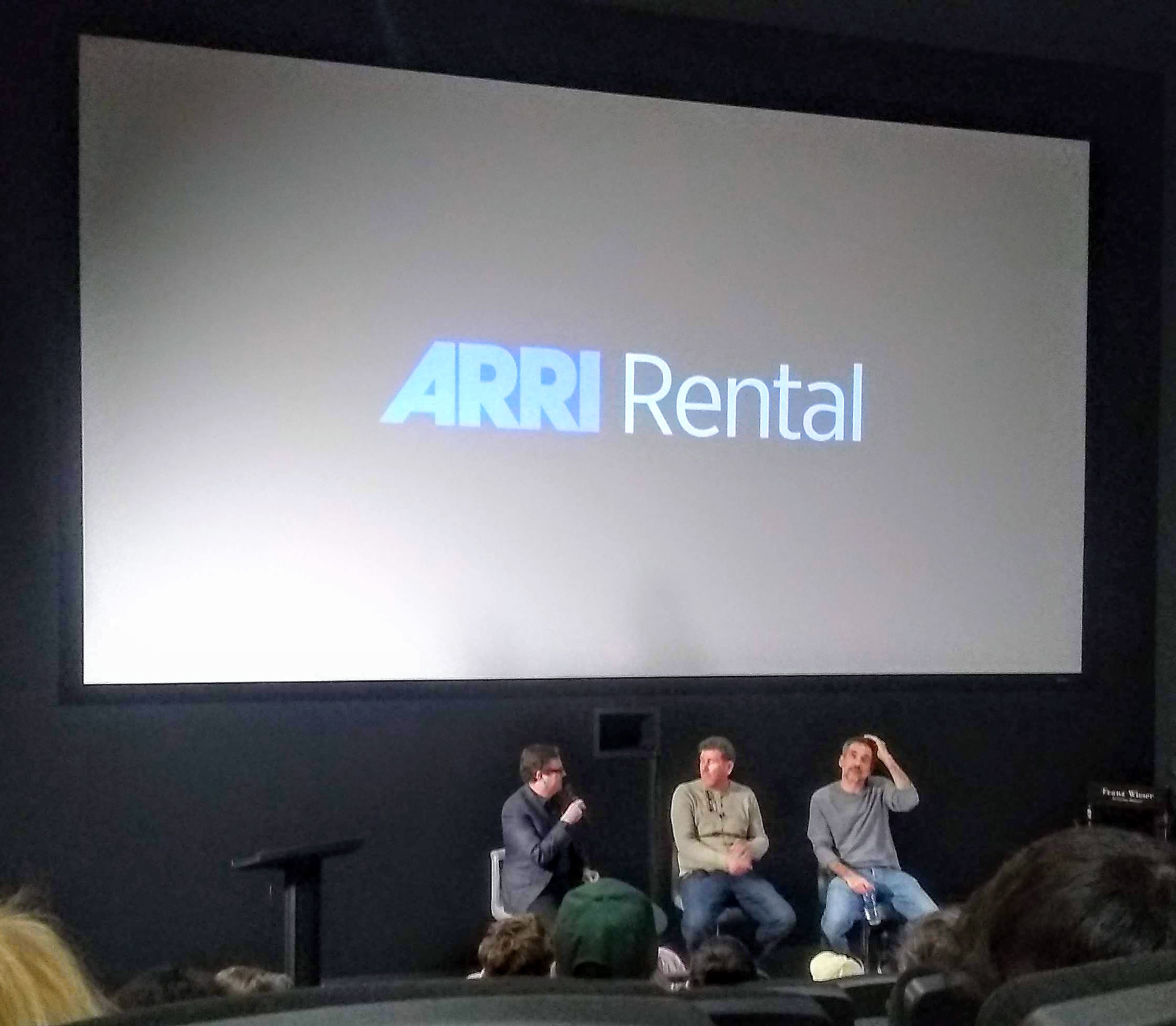 Since the event was actually held in ARRI's screening room in their Burbank facility, we can assume the new gear brought a fruitful relationship to all sides.
Phillips also mentioned that while they used new technology to make the movie, he "hates technology in films," like cell phones, etc., which was part of the reason to give the story a late 70's-thru-mid-80's look. But some of the technology used to turn New York into Gotham City also netted Joker a nomination for best supporting visual effects in a photoreal film, from the Visual Effects Society.
The movie was up against Pablo Helman's work, in support of Rodrigo Prieto, in The Irishman, and Guillaume Rocheron's work helping stitch 1917 together. In spite of the latter film's momentum, it was The Irishman that won on VES night (along with The Mandalorian on the TV side, and the Lion King in terms of best effects in an FX-driven film).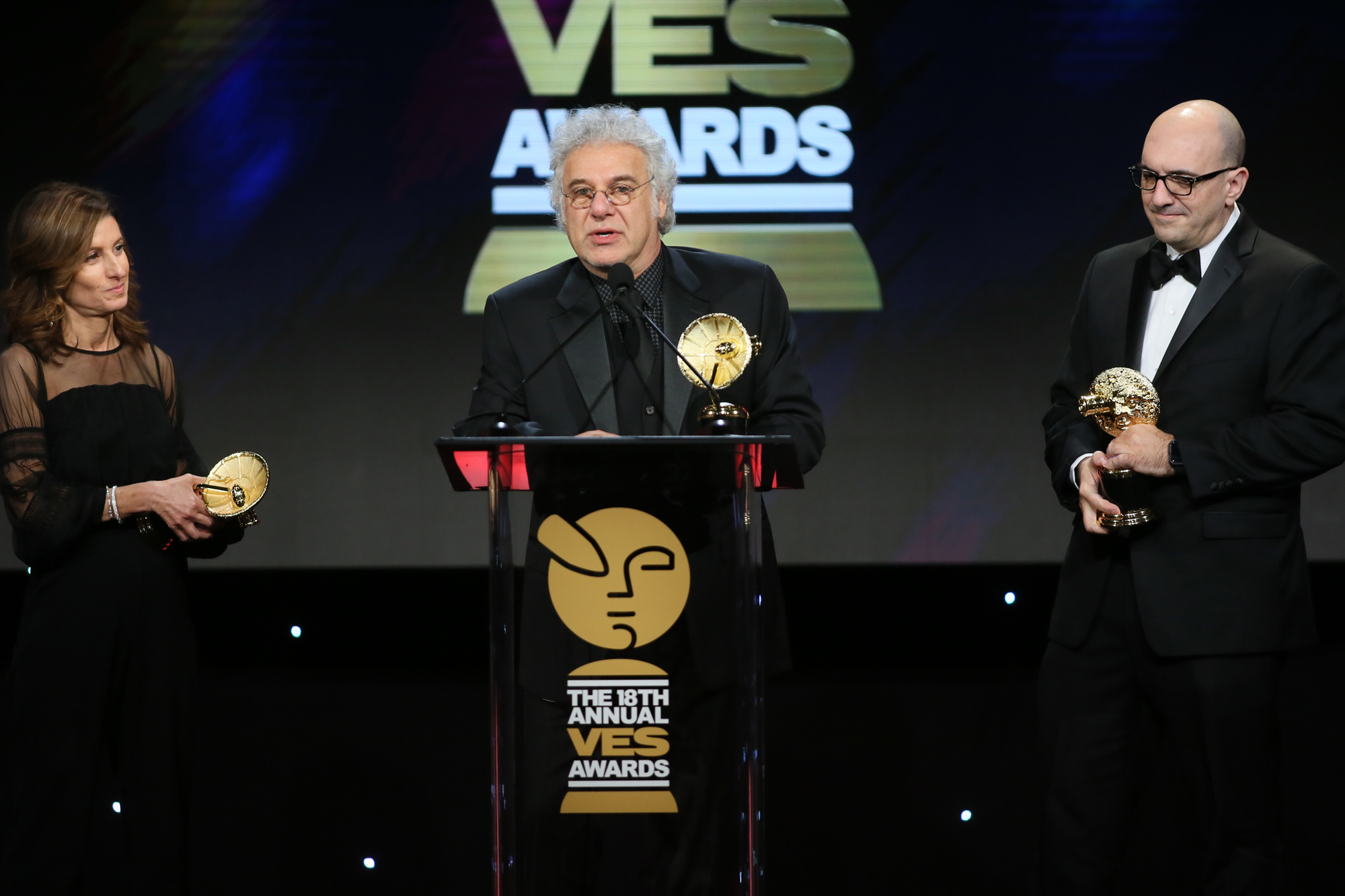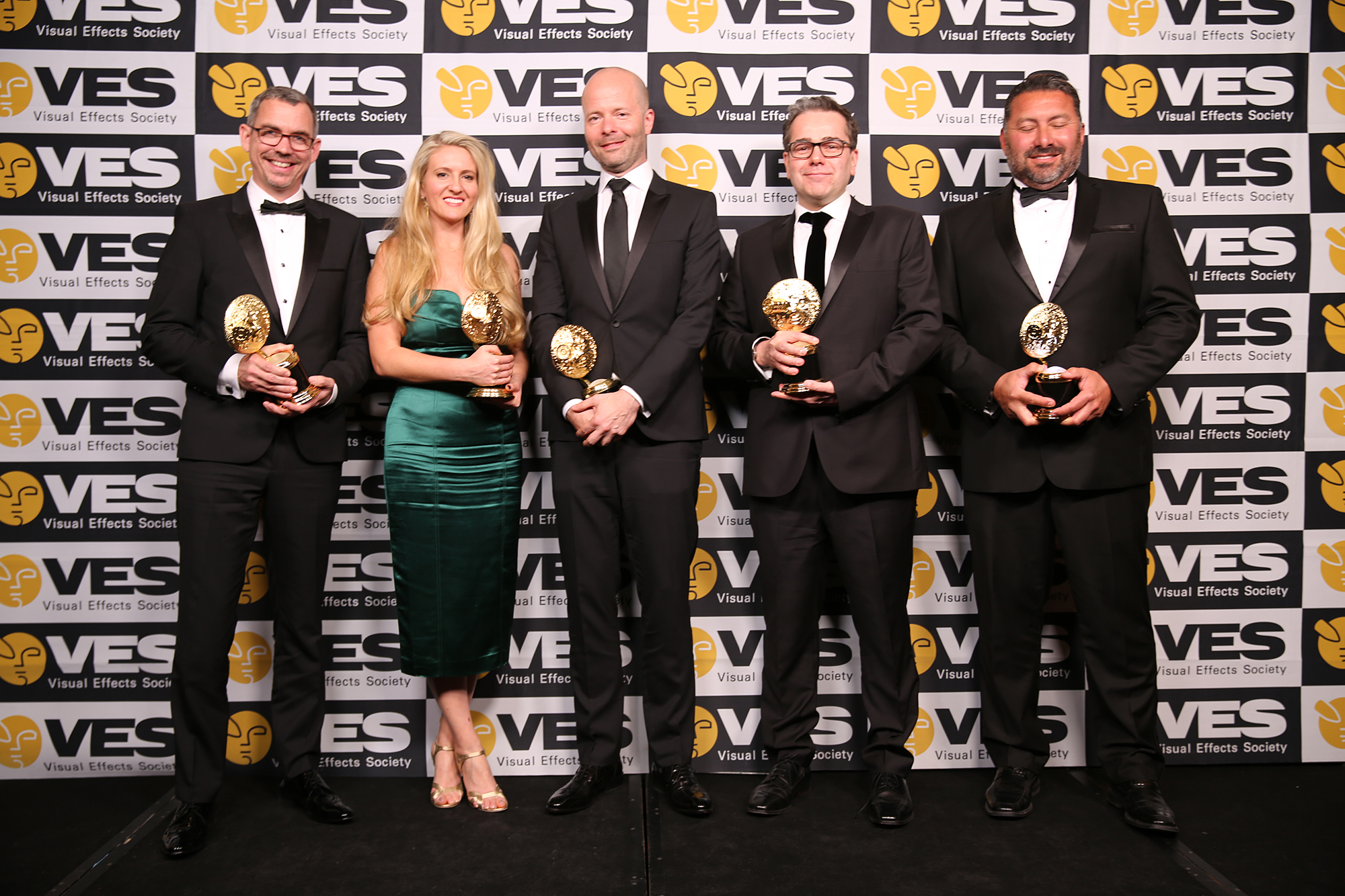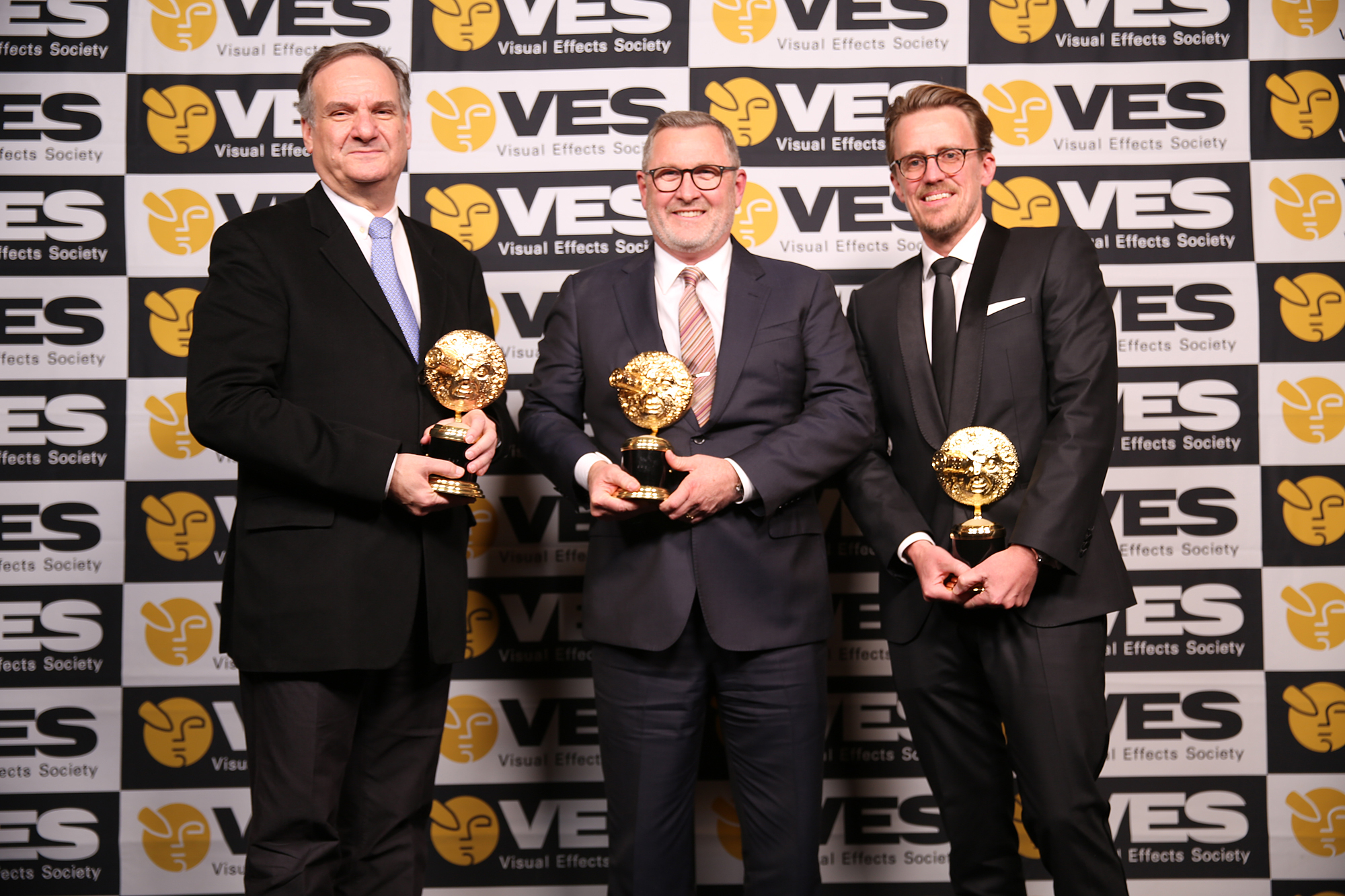 1917 and Irishman are both up for Oscar's VFX award, too, but whether the Academy will honor "realistic" work in this category - in contrast to virtual lions, the travails of the Skywalker clan, or the final reckoning of Marvel's Avengers - remains to be seen, along with whether the supporting digital work - that technology in support of art - will have any suasion on how Academy voters choose their cinematography winner.
Right now, it still seems likeliest that Deakins will repeat, given that he's also added a BAFTA award to his ASC trophy. At the ASC Awards, he also thanked his camera operator, who, he noted, was a fellow Manchester United fan.
As the various teams of nominees keep driving down the pitch as the clock on this season's award rituals runs down, we'll see you in a month to tally up the goals.
And if you want to kick things around a little: @TricksterInk and/or AcrossthePondBC@gmail.com