Blood Red

Ari Wegner ACS / In Fabric
Blood Red

Ari Wegner ACS / In Fabric
Presented as a distorted, hyper-real vision of Britain in the 1970s, director Peter Strickland portrays the zombifying effects of consumerism in his most recent feature, In Fabric, in which a cursed, blood-red dress brings devastating consequences to whoever wears it.
Set in Thames Valley-on-Thames, the highly-acclaimed film follows Sheila, a recently-divorced bank teller who is frequently chastised for trivial work errors by her painfully bureaucratic bosses, and intimidated by her son's new girlfriend. Sheila buys a bewitching red dress in the January sales from the spooky assistant at Dentley & Soper's department store for an upcoming date, only to notice an alarming rash on her chest when she wears it. Whilst trying to clean the dress, the washing machine breaks down violently, and Sheila injures her hand. Returning the dress to the store, all manner of eerie and bloody events unravel as the haunted garment variously casts its murderous spell on other hapless victims.
The low-budget, BFI/BBC Films-funded production stars Marianne Jean-Baptiste, Hayley Squires, Leo Bill and Gwendoline Christie, and features a retro-infused score by Cavern Of Anti-Matter.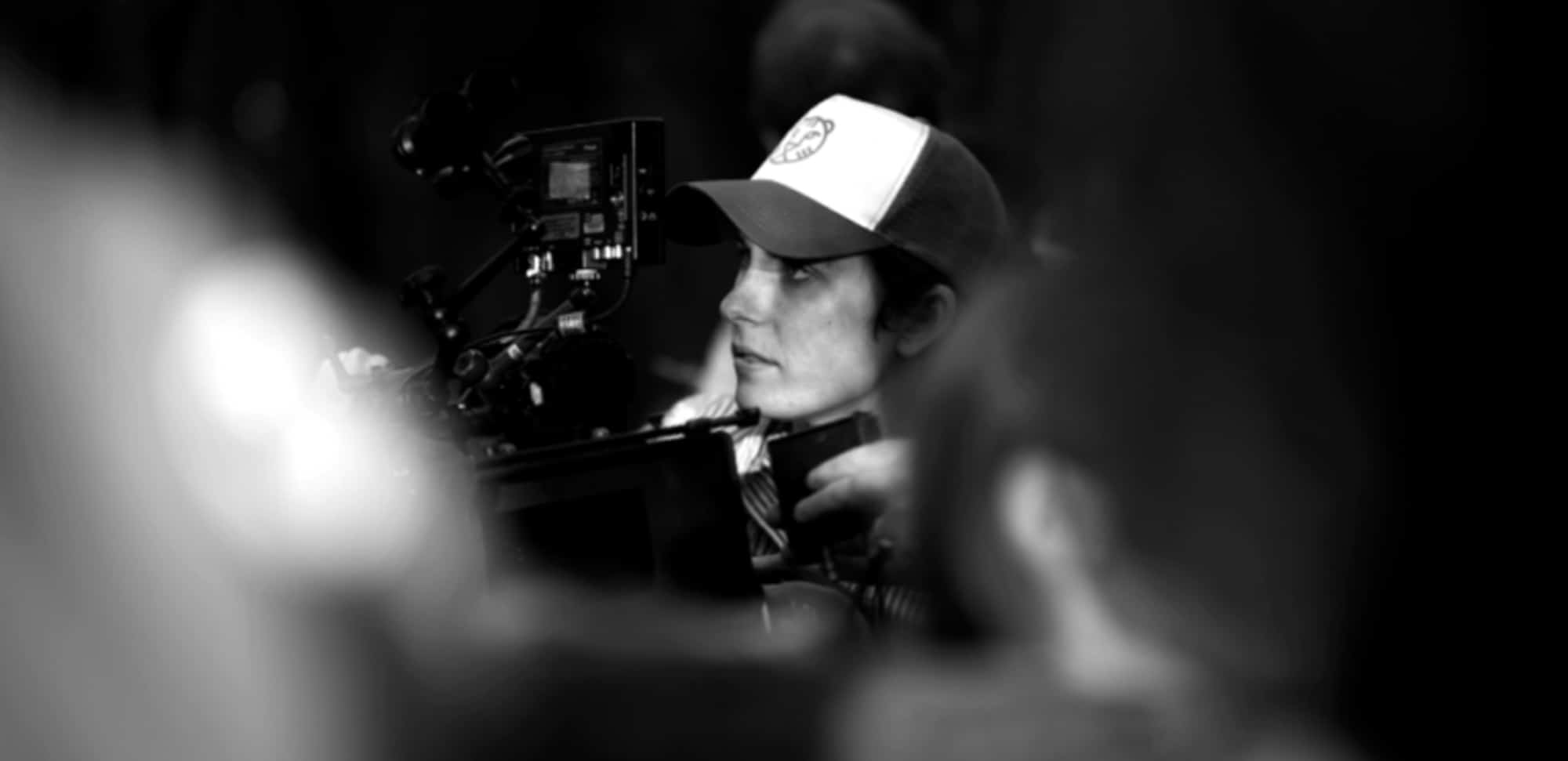 In Fabric was shot by Australian cinematographer Ari Wegner, supported by Daniel Foeldes and Amy Wilson as her 1st and 2nd ACs respectively, with Aldo Camilleri performing duties as gaffer and Fric López Verdeguer as key grip. Joaquin Blunt rounded out the team as camera trainee.
Wegner's recent credits include Lady Macbeth (2017, dir. William Oldroyd), for which she won the BIFA for best cinematography, Stray (2018, dir. Dustin Feneley), which earned her the corresponding gong at the 2018 Golden Eye Festival, and the up-coming True History Of The Kelly Gang (2019, dir. Justin Kurzel).
"I love Peter's work," Wegner says. "He is the sort of filmmaker who brings a singular vision to each production, which I am always drawn to. And the script he had written was fabulous as well as slightly insane, so I was unequivocally excited on a number of levels."
Regarding creative touchstones that helped to inform the look of the film, Wegner says she and Strickland spoke in detail about the off-beat, theatrical and unpolished aesthetics of the psychological murder/mystery and horror thrillers of the Giallo movement. These included Dario Argento's Four Flies On Grey Velvet (1971, DP Franco Di Giacomo) and Suspiria (1977, DP Luciano Tovoli AIC), together with Mario Bava's Blood And Black Lace (1964, DPs Ubaldo Terzana/Mario Bava). Other related inspirations, included Eyes Without A Face (1960, dir. Georges Franju, DP Eugan Schüfftan) and Carnival Of Souls (1962, dir. Herk Harvey, DP Maurice Prather) for their "haunted, noir looks, which make the audience do a lot of the imagining."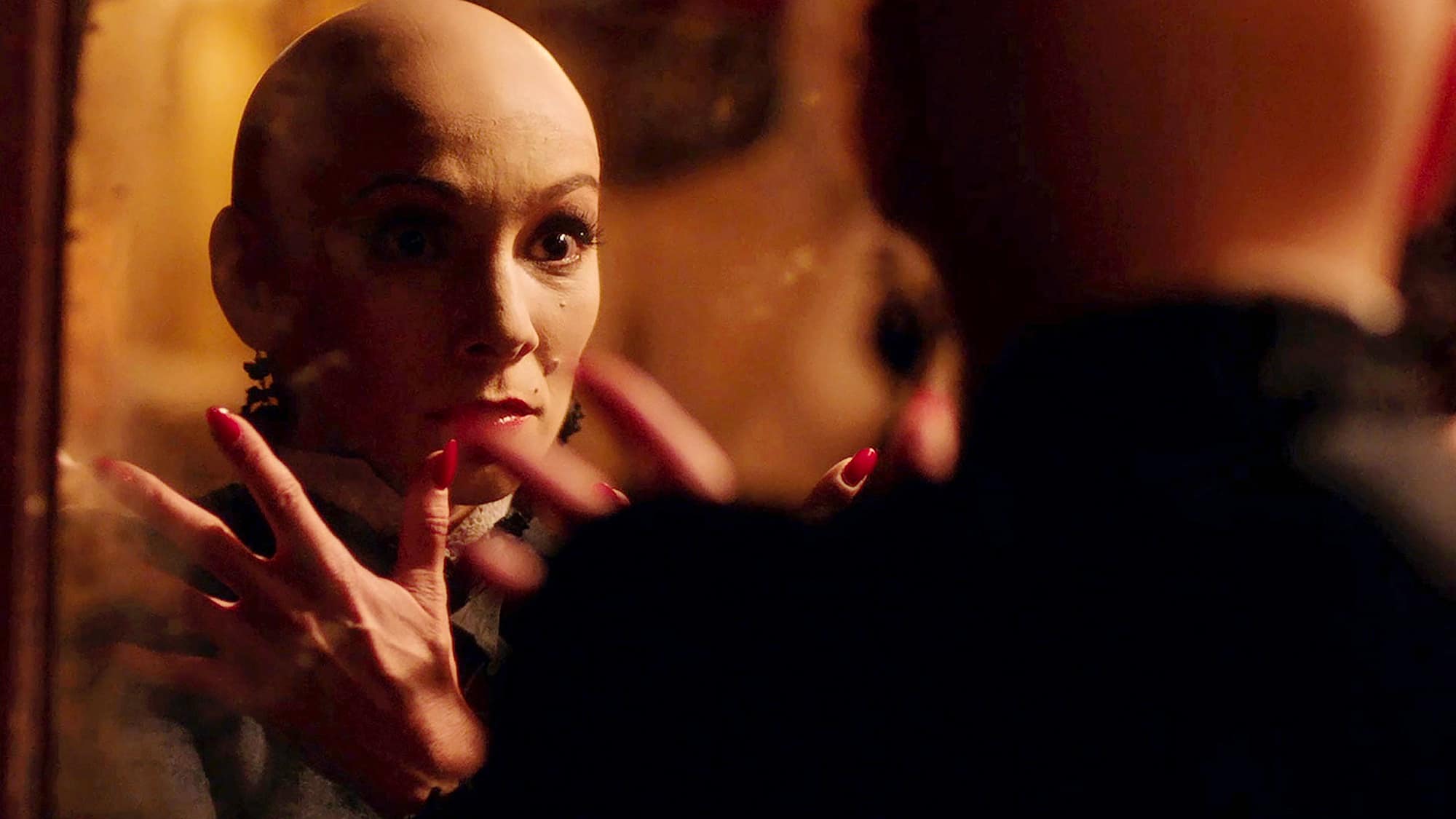 Principal photography on In Fabric took place over 25 days, during October and November 2017, at a decommissioned department store in Croydon, where the main floor was carefully dressed for the centrepiece sets of the movie. Other spaces around the building were similarly dressed to create several other locations, including the bank in which Sheila works. The store's loading bay was employed as a makeshift greenscreen studio to capture the movie's driving scenes, with backplates for these scenes shot around the streets of Croydon.
"Each location had its own visual identity through the colour of the costume and set designs: the bank was a pale green and pink; Sheila's house more suburban brown and green; and the main department store set was another world entirely, with an altogether more elevated look using strong whites, black, reds and golds as the main motifs," says Wegner.
"Of course, this was also a production where the reds had to be striking throughout - from the bold scarlet hues of the lipsticks and nail varnish, to the arterial colour of the dress and the blood."
For the production, Wegner selected ARRI Alexa Mini, shooting ARRIRAW and rating the camera at 1600ISO for interiors, and at 400 to 800ISO on exteriors.
She shot with the assistance of Mission Digital DIT Jacob Robinson on-set, who had earlier helped to develop a small range of basic LUTs that were tuned to bring a vividness to reds while suppressing any other highly saturated tones.
She chose Zeiss Super Speed lenses, and the Angénieux HR25-250 zoom, framing through the eyepiece in widescreen 2.40:1 aspect ratio. The camera/lens package was supplied by Movietech.
Wegner admits, "I would have loved to have shot In Fabric on celluloid, as film would have suited the story and the period really well, but because of the budget, I went with the next best thing, the Alexa Mini.
"Many of the films we wanted to pay homage to were shot Anamorphic, so that was my first instinct about the overall framing. However, when we did some side-by-side tests, Peter had a strong gut feeling that Anamorphic just didn't feel right. So we decided on spherical, cropped to 2.40:1. For me, a director's gut feeling is everything, certainly more important than any academic idea."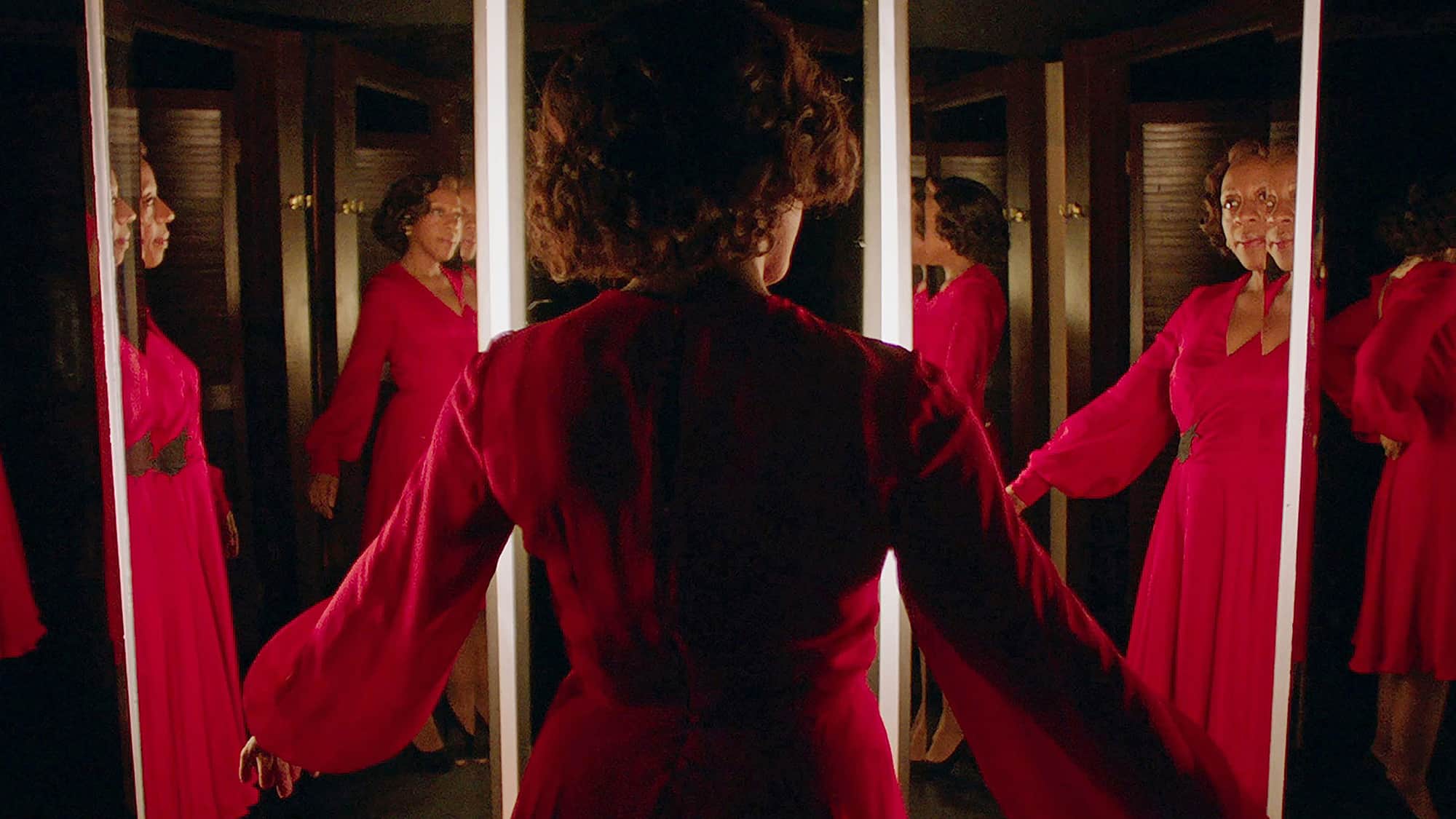 "I don't fixate on particular lamps. For me, the important conversation is about the tone of a scene and then what quality and direction of light will best create that tone."
- Ari Wegner ACS
With respect to the camera positioning and movement, Wegner says, "In most scenes there is a lot going on visually already - especially in the department store - so we didn't often feel the need to adorn it further with choreographed moves. For the most part the camera stays in one position with the occasional simple lateral track. There is also something about the dryness of British humour which is extra-funny with quite matter-of-fact frames. I'm also quite partial to the odd slow zoom, especially to enhance the absurd."
Wegner explains there were two fundamental strategies when it came to the lighting. "We purposefully wanted to make the department store almost shadowless and otherworldly, to create a glowing seductive wonderland. Outside of the store, at Sheila's house and the bank, for example, we wanted bolder, more Giallo-like lighting, not motivated by anything in particular, with uneasy hard shapes or aggressive shadows thrown on the walls.
"I don't fixate on particular lamps. For me, the important conversation is about the tone of a scene and then what quality and direction of light will best create that tone. I love to work collaboratively with a gaffer, and Aldo was fantastic in that regard.
"One of the challenges of lighting the department store was headroom," Wegner remarks. "I am not very tall, but I could almost jump and touch the ceiling! It was also a huge room without windows - so lighting, especially the wides, was going to be tricky.
Desperately wanting to avoid an 'overhead fluoro' look, I convinced the art department to run sheer white curtain just out from the walls, which we backlit with LED strips, creating a soft illuminated background of almost 360º. For the centre of the room we designed some illuminated pelmets to match the architecture of the existing pillars and retrofitted the display cabinets to glow with more hidden LEDs." Wegner completed the final DI grade on In Fabric with John Claude at Twickenham Studios over the course of ten days.
"What we captured on-set, in-camera really came together in the DI," she concludes. "Not being wedded to naturalism was a real treat, we had a lot of fun."