Working conditions
Together with FERA, the European Federation of Film Directors, IMAGO will strengthen its focus on working conditions for cinematographers, directors and our other colleagues in the film business. In September, FERA and IMAGO had meetings and discussions with EU ministers in Brussels to prepare for a larger conference on working conditions in 2019.
More than 20 EU parliament members attended the meeting, and the level of understanding amongst these MEPs regarding the working conditions of European audiovisual artists was surprisingly high, as was their realisation of the necessity to look closer into how things can be improved.
But, even if the understanding is high, the EU is a large institution that moves slowly. So we cannot expect fast legislative results. We will have to count on cinematographers, directors and filmmaking colleagues, to start taking action themselves. Soon, 15 years will have gone since Haskell Wexler and Rod Stevens formed the 12-on/12-off organisation, and it's time we made their dreams come true.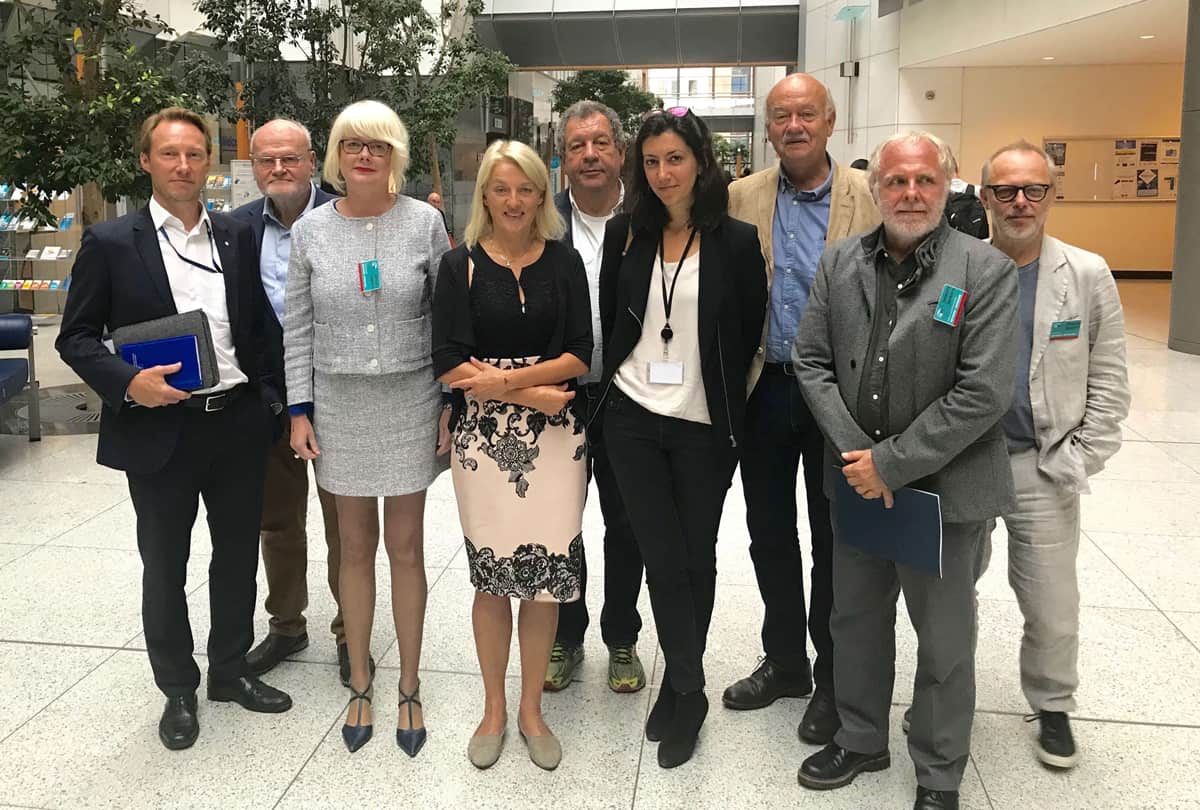 The IMAGO International Award for Cinematography
The invitations to submit films to the IMAGO Awards will be sent out shortly. The next IMAGO Awards ceremony will take place in Belgrade, Serbia, on 16th of March 2019. Last year's IMAGO Awards event in Helsinki was a great success, and we welcome you all to the new grand cinematographer's gala in March next year. All nominees for the awards will be presented at a ceremony during the BSC Expo in London, early February.
Cinematographers & Authorship
IMAGO believes cinematographers are authors of the image. There are many collection societies collecting remuneration for IMAGO members, but a significant proportion of what they collect never reaches our members. Many cinematographers are members of any collection society. IMAGO's Authorship Committee is working to check the possibilities for how many more of our members can benefit from the remuneration collected by the secondary use of our images. More and more of us find it unfair that stills photographers have full authors rights to their images, but cinematographers in too many countries have none.
The BSC has taken the initiative together with other audiovisual players in the UK to set up Screen Craft Rights, a British Collection Society collecting remuneration from (so far) Finland, Germany, Sweden and Norway, and this is a great success.
British cinematographers do not yet have legal authorship rights in Britain, but they still get considerable sums from the use of their images in countries where cinematographers do have authorship rights.
IMAGO therefore is looking into the possibility of helping cinematographic societies to establish collecting systems that can provide remuneration for the use of their images abroad, also in countries where cinematographers do not have authorship rights, and to pave the way for cinematographers to become members of existing collecting societies abroad. The IMAGO Authorship Committee is working to see how this can be done, and more information will follow.
More and better communication
One of the reasons for IMAGO's establishment 26 years ago was to create an effective communication line between international cinematographers, to exchange views and experience, and to transmit valuable news and information between ourselves.
IMAGO is these days working to intensify and broaden communication towards members and colleagues. You can expect more news and updates, more informative newsletters about what is going on around the world, along with offers, news and updates from our sponsors and partners. Our Facebook and Instagram activities will more than double in the months to come.
IMAGO is a worldwide federation, and many of us live far apart. Good communication is the main tool to strengthen good collaboration between us.
The Manaki Film Festival 2018 and the Balkan Cinematographers Conference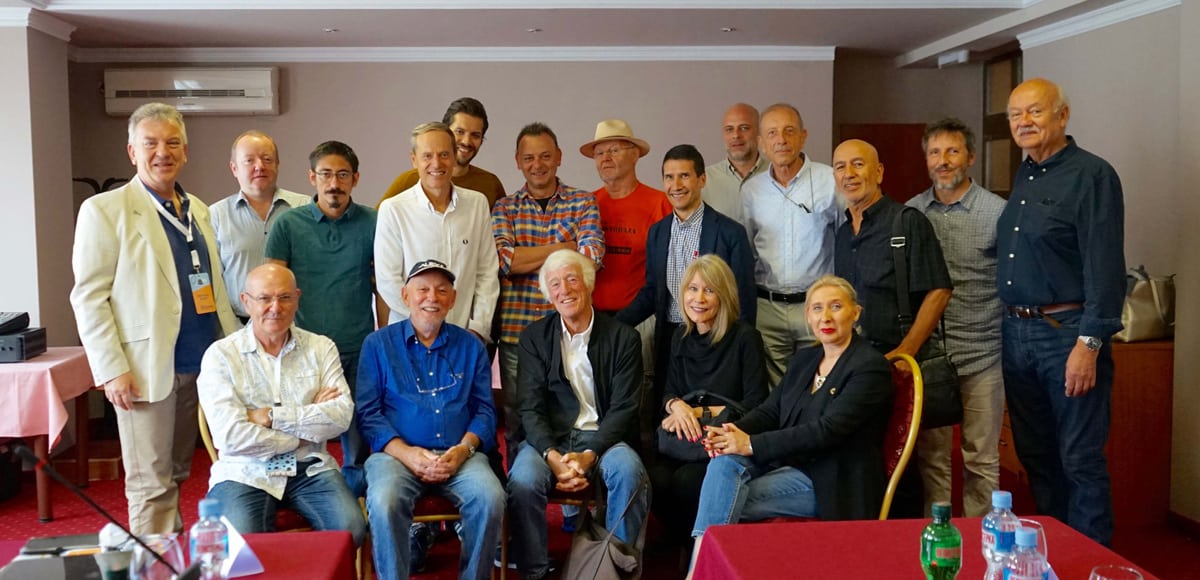 As always in September, the wonderful Manaki Film Festival was arranged in Bitola, Macedonia. The oldest film festival focusing specially on the art of cinematography, it was again a great success, providing a great programme of very good films, high-profile guests, and a warm atmosphere. With almost no money, the festival's organisers, director Gena Teodosievska and artistic director Blagoja Kunovsky, produce a high-quality festival that every visitor feels warmly welcomed and included in.
This year, Roger Deakins CBE BSC ASC received the Golden Camera 300 Lifetime Achievement Award, and Roger and his "right and left arm", creative partner James Ellis Deakins, participated in masterclasses and student arrangements all filled to the brim of enthusiastic participants. The festival is growing very positively, the many films screened had overall the highest standards, and this year's festival had a record participation. We already look forward to next year, where the festival's 40th anniversary will be arranged.
The Balkan Cinematographers Conference
For many years, Nigel Walters BSC, previous IMAGO president and VP of the BSC, has been arranging the Balkan Cinematographers Conference during the Manaki Festival. With participants this year from all Balkan cinematographic societies, topics from authorship and working conditions to challenges of restoration and archiving of the region's film heritage were discussed.
As cinematography societies in the region are relatively small compared to many larger countries, it was decided to form a Balkan section of IMAGO, where Balkan societies operate under an umbrella within IMAGO. The idea is that closer collaboration between Balkan societies will create a more effective and stronger voice in all situations – political, artistic, and also within IMAGO.
Furthermore, due to the very positive development of the creative debates during the Balkan Conference, it was decided there was a need to develop a second annual Balkan Cinematographers Conference. The Conference in Macedonia during the Manaki Festival will continue, but in addition there will be an annual "travelling Balkan conference", the first one will be arranged in Ljubljana in November 2018 with the support of IMAGO.
IMAGO at IBC Amsterdam – Report by Lars Pettersson FSF
IBC was arranged from 13th to 18th of September in Amsterdam, and IMAGO was as usual strongly represented. Large format equipment was dominant, with new lenses to accommodate it, along with gear to allow every conceivable way of camera movement through three-dimensional space. Beyond that, there were no discernable new trends. Perhaps this means that the industry is gathering momentum before the next major trend makes itself known? Time will tell.
The IMAGO Technological Committee (ITC), led by Philippe Ros AFC and Mick van Rossum NSC, had meetings with several camera and software manufacturers, among them Panasonic, Canon and Filmlight. The objective of these meetings is to create a dialogue between the ITC and the manufacturers of primarily production cameras, in order to make aspects of digital cinematography – for instance the debayering process – more accessible to creative and artistic adjustment by the cinematographer.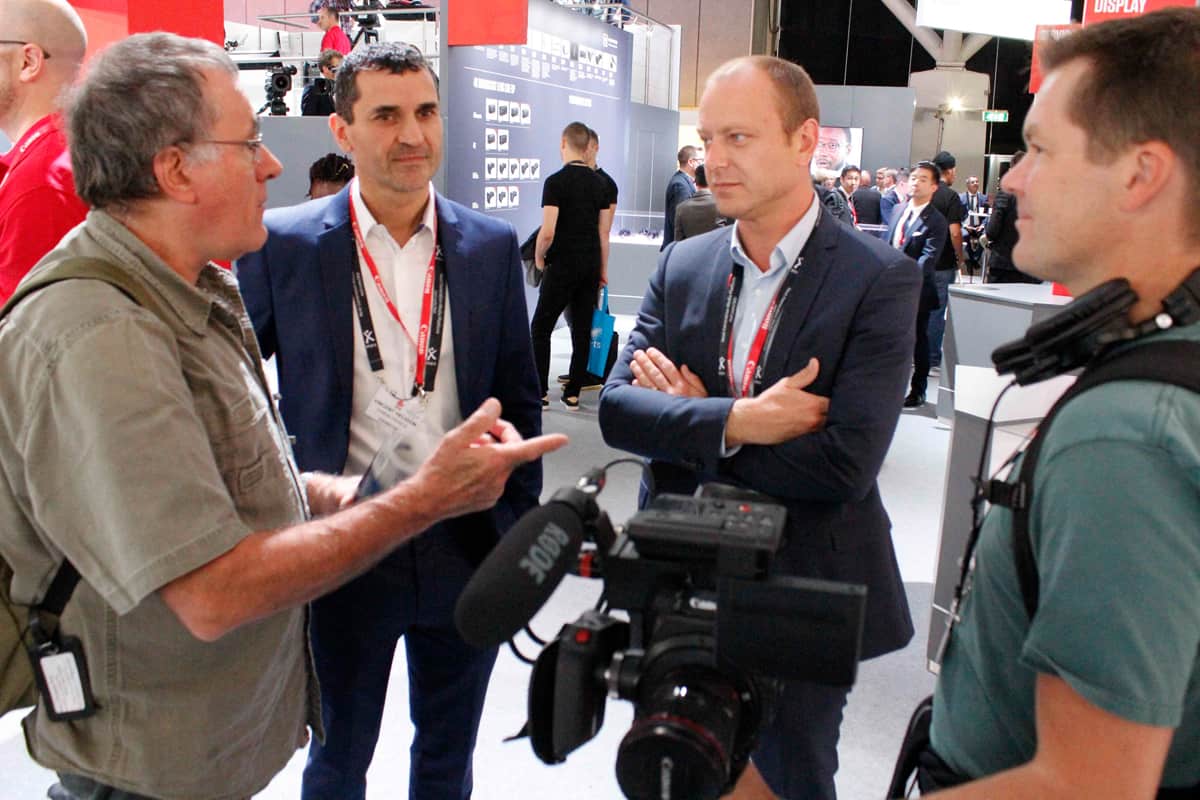 New lenses: P+S Technik unveiled at the IBC no less than two brand new series of lenses inspired by classic lens design! They are offering a series of Anamorphic lenses inspired by the classic Technovision Anamorphics, which gave films like Apocalypse Now (1979) their unforgettable look. And these new T2.8 P+S Technik Technovision lenses cover large format, enabling you to shoot Anamorphic with the Alexa LF! Angénieux unveiled a brand-new Optimo zoom lens of magnificent proportions. Leitz presented a brand-new series of Vistavision lenses: in fact no less than twelve T1.8 prime lenses and two T2.8 zooms.
Leitz representative Tommaso Vergallo said Leitz have chosen to unveil all these 14 lenses at once, rather than a few at the IBC, a few more at the BSC Expo and the NAB, etc. And the reason for this is to provide the market with a clear "roadmap" of where Leitz is heading in terms of products, because you can order these lenses today, but delivery won't be until 2019/2020.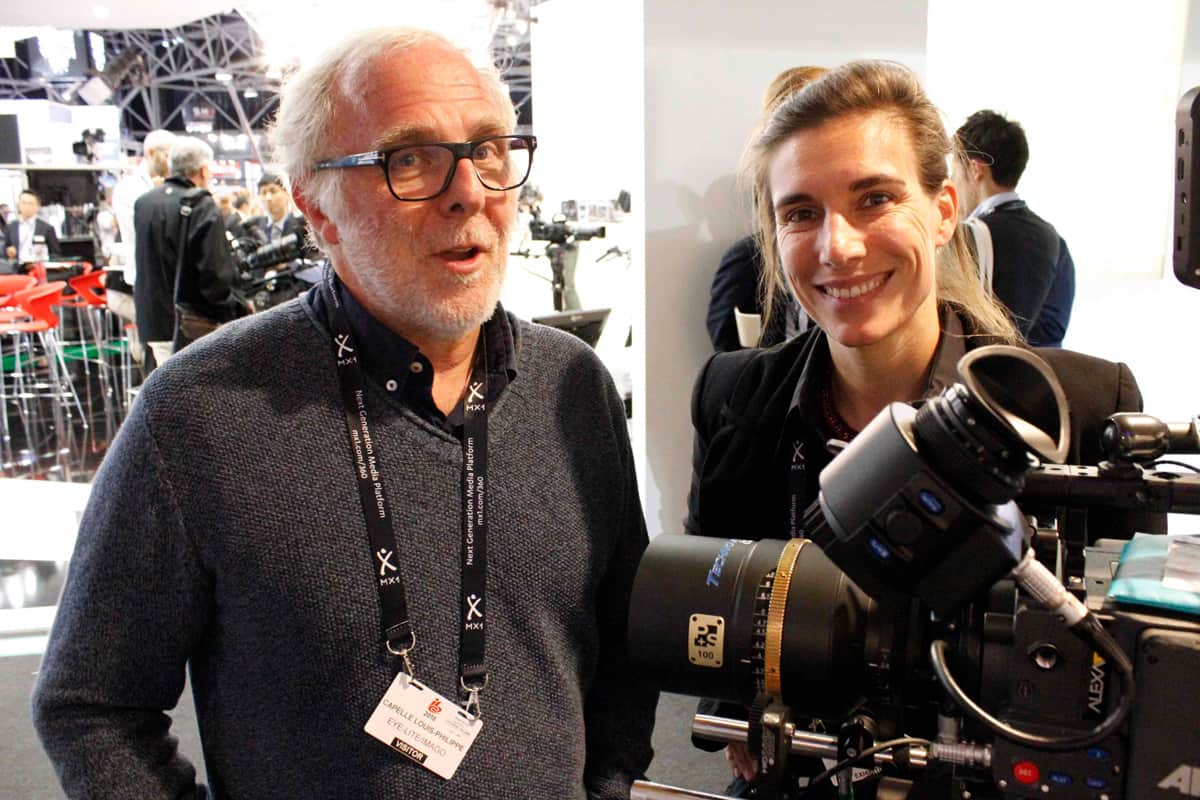 IMAGO at Cinec in Munich
Whilst IBC focusses greatly on equipment for the broadcast industry, Cinec focusses more specifically at film production gear. Cinec has been in operation for more than 20 years, and it is expanding every year. This year, 172 leading companies from 22 countries showed their latest equipment and solutions in camera equipment, lighting, editing systems, post production, dollies, cranes and new drones, to the latest software for digital devices and VR productions. Munich is the "home" of the German Society BVK, so they were naturally strongly present, together with Camerimage and IMAGO. IMAGO was represented with its own stand.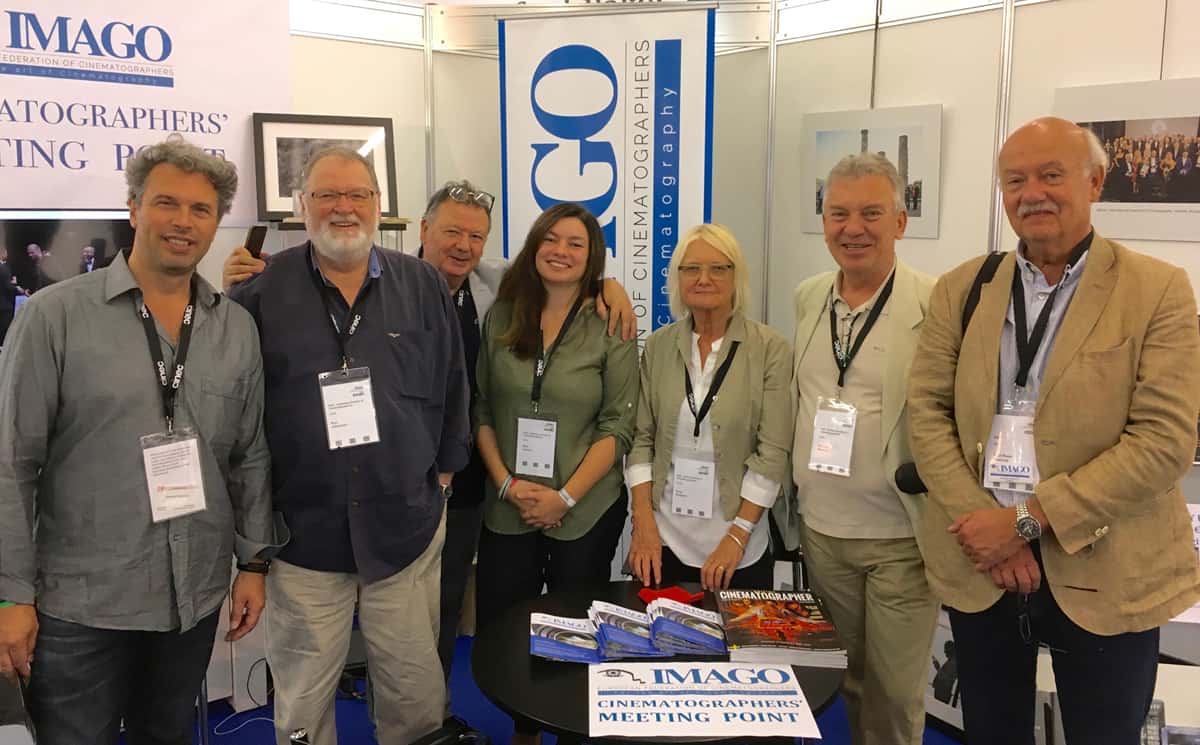 IMAGO Board member Rolf Coulanges BVK held lectures on visual perception, and IMAGO's administrative coordinator Katrin Richthofer was on the Cinec Awards organising committee. In addition, there were many interesting in-depth conference sessions, for instance on VR. One thing international cinematographers would like to ask for, is more lectures in the English language. Apart from that, all was perfect. IMAGO also held a Board meeting during Cinec where the road forward was discussed.